Carolina Hurricanes: Breaking Down Their Playoff Chances in 2013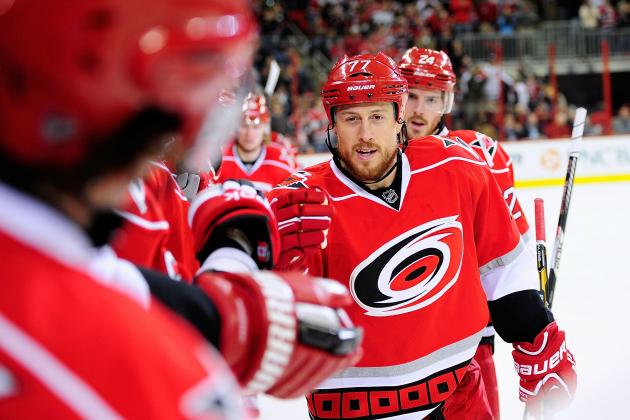 Grant Halverson/Getty Images

Despite an onslaught of injuries, a turbulent goaltending unit and two dreadful special teams units, the Carolina Hurricanes' first 22 games of the 2013 season couldn't have gone much better.
At 13-8-1, the 'Canes hold a six-point lead on the Southeast Division lead and fall just one ROW (regulation/overtime win) between the Eastern Conference's leaders.
Carolina hasn't made the playoffs in almost four calendar years.
But that could very well change in the next two months.
As the halfway point of this shortened 48-game campaign, the Hurricanes' postseason chances have climbed to a remarkable 86.8 percent.
How can that be possible? How can a team with so many injuries, so little experience and so little time together be in such good shape?
We break down how, with 26 contests remaining in the 2013 regular season, the Hurricanes' playoff chances stand on the three coming slides.
All odds and percentages courtesy of SportsClubStats.com.
Begin Slideshow

»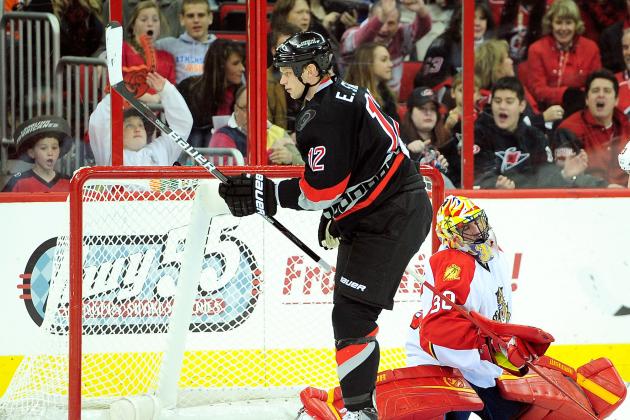 Grant Halverson/Getty Images

Odds: 71.1 percent
The Southeast Division's 107 combined points through March 6th are the lowest of any NHL division, and—with four of its teams (Tampa Bay, Winnipeg, Washington and Florida) mired among the conference's bottom five—there's little wonder why the Southeast gets so little respect.
The 'Canes certainly don't mind the struggles of their geographical neighbors, though, as only three other teams currently have better odds of becoming division champion. Entering the playoffs as a top three seed will not only give them home advantage for the first round but also—based on the number of upsets in recent years—potentially the second round, too.
To hold on to their lead, however, the Hurricanes will need to beat their Southeast foes a lot more often than they have.
Their two victories over Florida last weekend were Carolina's first divisional wins of the year, improving their record vs. divisional opponents to a still-inexcusable 2-5-0. By comparison, the 'Canes are 4-1-1 against Atlantic and 7-2-0 against Northeast teams.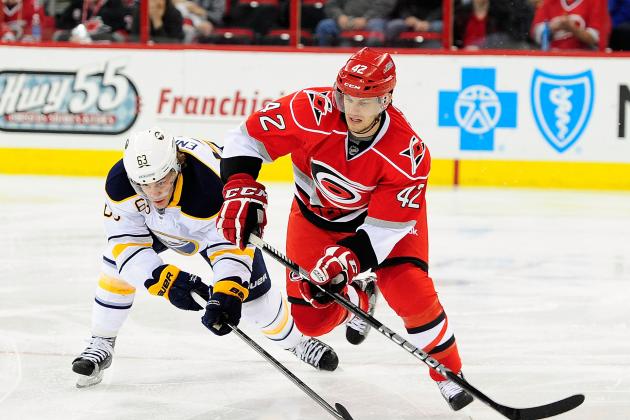 Grant Halverson/Getty Images

Odds: 15.7 percent
Playing in such a weak division makes a top three seed actually a lot more likely than a fourth- through eighth-place finish for the 'Canes, who would have to stumble enough to be surpassed by Tampa Bay or Washington yet still earn enough points to make the playoffs anyway for that scenario to happen.
The 'Canes have been in this situation before, having lost out on the 2011 playoffs on the regular season's final day.
In the past three year of April golfing, conversely, they've been doomed by poor starts and, in fact, finished the season impressively. From Feb. 1 on, Carolina has accumulated a 48-29-15 record over the last three seasons despite finishing, for the campaign as a whole, below .500 every time.
If they can finish this 2013 season on that kind of pace, the 'Canes will be in fantastic shape come playoff time. Nonetheless, even if they do end up scraping into the postseason as a seventh or eighth seed, there's no reason that this season wouldn't still be viewed as an important step in the right direction.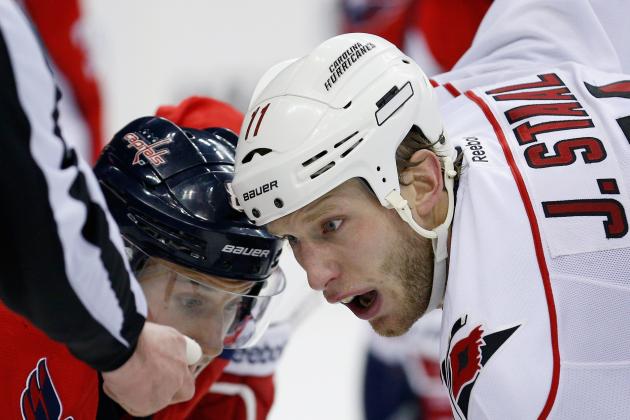 Rob Carr/Getty Images

Odds: 13.2 percent
While the Hurricanes look to be in a solid position right now, there remain many reasons to believe that the coming two months will be quite a challenge for this team.
After slow starts, the Capitals and Rangers seem to be returning to their normal form. Canadian rivals Toronto and Montreal are proving themselves the new elites of the East. And Carolina may well be without starting goaltender Cam Ward for the rest of the regular season.
Fortunately, replacement netminders Dan Ellis and Justin Peters have held their own so far this year. It seems inevitable, though, that the duo will eventually experience some hiccups and confidence-testing moments down the road.
The Hurricanes will also have to fight through 16 of their final 26 games coming against 2012 playoff teams, and they'll most certainly need to improve in games against dynamic single-dimension squads such as the Flyers and Lightning—the Flyers with physicality, the Lightning with offense—who have already beaten the 'Canes twice each.
For now, the odds of missing the playoffs seem low.
But this is the NHL, after all. Anything can happen.