Ranking the Most Important Pro Day Workouts
Ezra Shaw/Getty Images

Pro-day season kicked off on March 1, with Purdue and UTEP getting things started.
But the majority of the major programs and high-profile prospects pushed their workout dates back to middle to late March.
At this point in the process, NFL teams have essentially finalized their grade on most prospects, but there are lingering questions that need to be answered.
In most cases, the pro day is the final opportunity for teams to watch a prospect work out, and could be the lasting impression each prospect leaves on a team.
Here are the 10 most important pro days to focus on in the coming weeks.
Begin Slideshow

»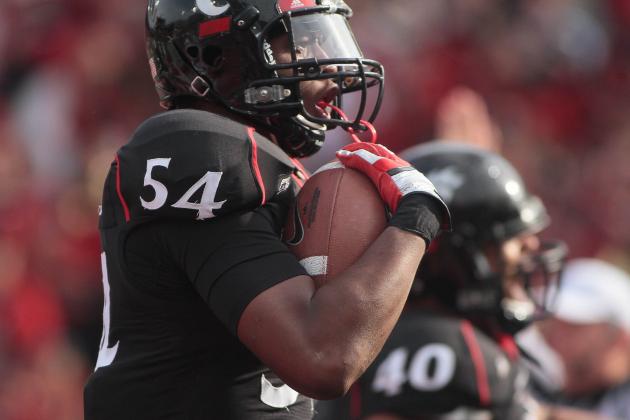 USA TODAY Sports

Notable Prospects: Walter Stewart, DE; Travis Kelce, TE
Cincinnati's pro day won't receive a ton of media attention, but it could have significant implications on the second day of the draft.
During the 2012 season, Cincinnati's team doctors discovered that Walter Stewart suffered from a spinal condition that they believed would immediately end his career.
But after checking in with multiple specialists, Stewart is now trying to resume his career and hopes to be cleared to participate in the Bearcats' pro day.
Even if he's cleared to work out, Stewart's condition should have a significant impact on his draft stock. But NFL Network's Mike Mayock believes that with a positive report, Stewart could still come off the board higher than expected:
"If he checks out medically, he's a Top 10 pick." Mayock on Walter Stewart, this year's best-kept secret on.nfl.com/CombineSec

— NFL Network (@nflnetwork) February 18, 2013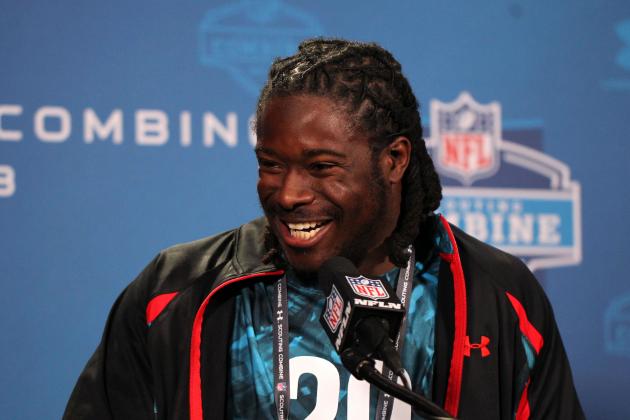 Brian Spurlock-USA TODAY Sports

Notable Prospects: Eddie Lacy, RB; Chance Warmack, OG; D.J. Fluker, OT; Dee Milliner, CB; Jesse Williams, DT; Michael Williams, TE; Barrett Jones, OG; Robert Lester, S; Nico Johnson, LB
NFL scouts will be drawn to Alabama's pro day for a variety of reasons, but Eddie Lacy will likely receive the most attention.
Due to a minor hamstring tear, Lacy was unable to work out at the combine, but he did speak to the media and say that he plans to run at his pro day.
A lot could be riding on Lacy's time in the 40-yard dash.
He's a fringe first-round prospect, with speed being his biggest question mark.
If Lacy runs in the 4.4 range, it could be enough to convince a team, such as the Bengals, Falcons or Packers, to call his name in the first round.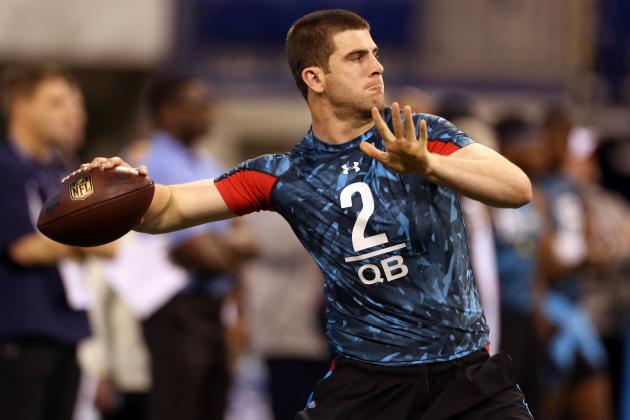 Brian Spurlock-USA TODAY Sports

Notable Prospects: Tyler Bray, QB; Justin Hunter, WR; Cordarrelle Patterson, WR; Dallas Thomas, OT; Da'Rick Rogers, WR
There are a number of reasons for scouts to show up for Tennessee's pro day, most of the negative variety.
Multiple prospects working out at Tennessee have significant question marks in their scouting reports that can begin to be answered at the pro day.
Tyler Bray needs to answer questions regarding his maturity and work ethic, and while his workout won't necessarily answer those, scouts may take advantage of the trip to Tennessee to speak with his coaches on the issue.
As for Justin Hunter and Cordarrelle Patterson, scouts will be interested to see their technique catching the football.
Both prospects have received criticism for their technique, and it will be telling if they fail to demonstrate improved fundamentals in the scripted workout.
Da'Rick Rogers, who was kicked out of Tennessee prior to the 2012 season, will also be working out with the Vols. He played his final collegiate season at Tennessee Tech.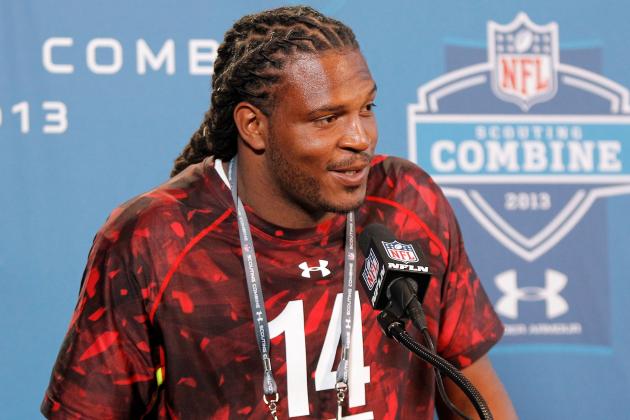 USA TODAY Sports

Notable Prospects: Jarvis Jones, LB; Alec Ogletree, LB; Cornelius Washington, LB; John Jenkins, DT; Bacarri Rambo, S; Shawn Williams, S; Kwame Geathers, DT; Tavarres King, WR
Jarvis Jones' draft stock has been the center of much debate this offseason due to his significant injury concerns, which nearly ended his career while he played at USC.
It would be wise for Georgia to help Jones out by making members of the medical staff who cleared Jones to play available for questions from NFL personnel.
While USC believed Jones' career was over, it was the Georgia staff that cleared him to play. Further explanation from them could go a long way toward solidifying his spot in the first round.
Cornelius Washington is another interesting prospect who could benefit from Georgia's pro day.
He was primarily a backup during his senior year but was impressive at the Senior Bowl and combine. This is one last chance for him to continue to boost his stock.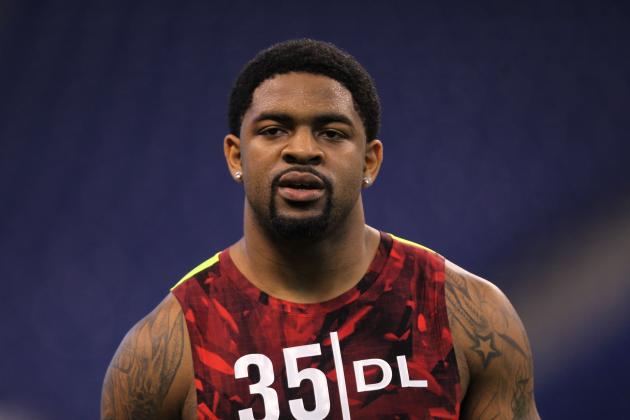 Brian Spurlock-USA TODAY Sports

Notable Prospects: Damontre Moore, DE; Luke Joeckel, OT; Christine Michael, RB; Ryan Swope, WR; Sean Porter, LB; Uzoma Nwachukwu, WR
After a pitiful performance at the combine, Damontre Moore needs a strong showing at his pro day to solidify his status as a first-round prospect.
Moore managed just 12 reps on the bench press—one fewer than Arizona State punter Josh Hubner—and he would be wise to give it another shot at his pro day, assuming he's capable of more.
Christine Michael should also draw significant attention.
He has the physical tools to be a feature back at the next level, but off-field concerns have hurt his draft stock.
Michael struggled to get along with Aggies head coach Kevin Sumlin this season, and, according to NFL.com's Gil Brandt, slept through two interviews at the combine.
A&M's pro day will give Michael one last shot to address those issues.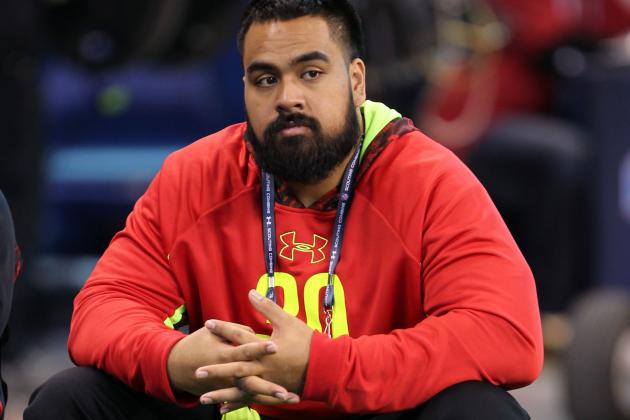 Brian Spurlock-USA TODAY Sports

Notable Prospect: Star Lotulelei, DT
Due to a heart condition that doctors discovered at the combine, Star Lotulelei has yet to work out for teams this offseason.
As a result, there should be a large contingent of NFL personnel on hand for the Utes' pro day.
Lotulelei was supposed to return to Utah after the combine for further tests on his heart, but there has been no news as to what the tests revealed.
Assuming Lotulelei is cleared to work out, he will have an opportunity to solidify a spot in the Top 5.
But if the doctors choose to keep Lotulelei from further physical activity, his stock will begin to plummet.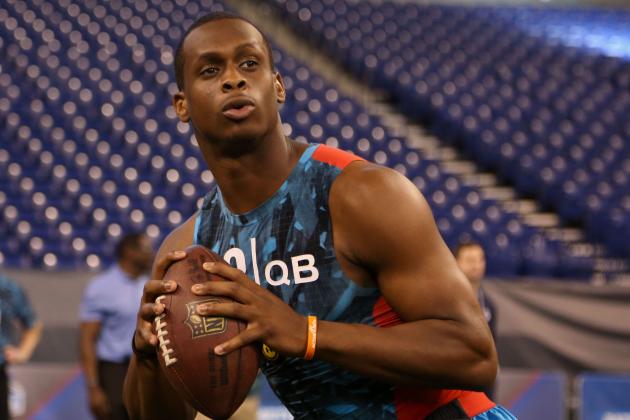 Brian Spurlock-USA TODAY Sports

Notable Prospects: Geno Smith, QB; Tavon Austin, WR; Stedman Bailey, WR
Geno Smith is expected to be the first quarterback off the board, but where he goes is still up for debate.
Quarterbacks rarely, if ever, disappoint during their pro day. But, amazingly, teams still fall in love with prospects based on the scripted performance.
A strong showing by Smith could definitely wrap up a spot for him within the Top 10 picks of April's draft.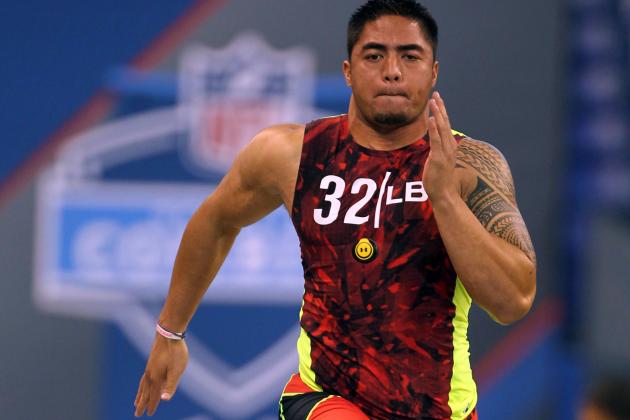 Brian Spurlock-USA TODAY Sports

Notable Prospects: Manti Te'o, LB; Tyler Eifert, TE; Theo Riddick, RB; Cierre Wood, RB; Braxton Cave, C; Zeke Motta, S
Manti Te'o's combine performance was underwhelming, highlighted by a disappointing 40-yard dash.
But Te'o told NFL Network that he is "obviously faster than a 4.8," and that he expects an improved performance at Notre Dame's pro day.
Te'o isn't known for his speed, so the combine performance didn't necessarily raise as many red flags with teams as it did for the media. But an improved time certainly couldn't hurt.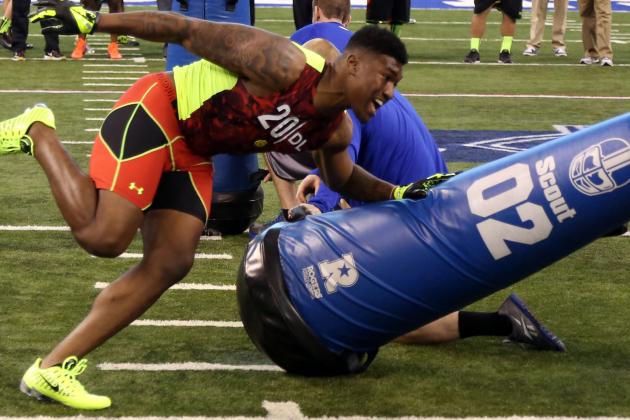 Brian Spurlock-USA TODAY Sports

Notable Prospects: Brandon Jenkins, DE; Bjoern Werner, DE; EJ Manuel, QB; Menelik Watson, OT; Xavier Rhodes, CB; Vince Williams, LB; Tank Carradine, DE
Florida State's pro day isn't necessarily crucial for any one player, but NFL personnel will be flocking to Tallahassee based purely on the number of elite prospects.
Three potential first-round picks will be working out—Bjoern Werner, Xavier Rhodes and Menelik Watson—and a fourth, Tank Carradine, will be on the sidelines with an ACL injury, hoping to work out at some point in April.
Brandon Jenkins, who didn't work out at the combine due to a Lisfranc injury which ended his senior season, may draw the most attention.
Early in his career, Jenkins was viewed as a potential first-round prospect.
With a strong showing at the Seminoles' pro day, Jenkins could regenerate some momentum for his draft stock and potentially climb back in the Day 2 discussion.
Brian Spurlock-USA TODAY Sports

Notable Prospects: Matt Barkley, QB; Robert Woods, WR; Khaled Holmes, C; T.J. McDonald, S
Without question, the pro day that will receive the most media attention will be USC's on March 27.
Matt Barkley will throw for scouts for the first time this offseason (unless you count Jon Gruden's QB Camp).
All eyes will be on Barkley's right arm as he attempts to answer questions about his arm strength and accuracy.
As previously mentioned, it's tough for a quarterback to fail a pro day, but a lack of arm strength is difficult to cover up.
A lot will be riding on Barkley's deep throws on March 27.