Ohio State Basketball: 5 Biggest Questions Buckeyes Face as March Heats Up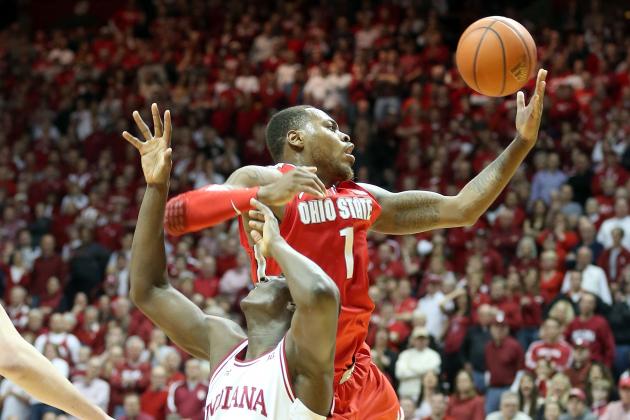 Andy Lyons/Getty Images

Remember when the Ohio State basketball team got eviscerated in Madison against Wisconsin and it seemed like the wheels were coming off the season?
Funny how things change.
The Buckeyes picked up a monumental victory at Indiana Tuesday night to fill the one glaring hole on their resume—a road win against a nationally-ranked team. Aaron Craft and Shannon Scott were beyond fantastic on defense, and Deshaun Thomas ended up with 18 points even though he struggled from the field.
So what does this mean in terms of the bigger picture for this Ohio State squad? For one, it can't be caught in a big-game hangover Sunday when Illinois comes to town. For everything else, read on to see the five biggest questions the Buckeyes face as March heats up.
Begin Slideshow

»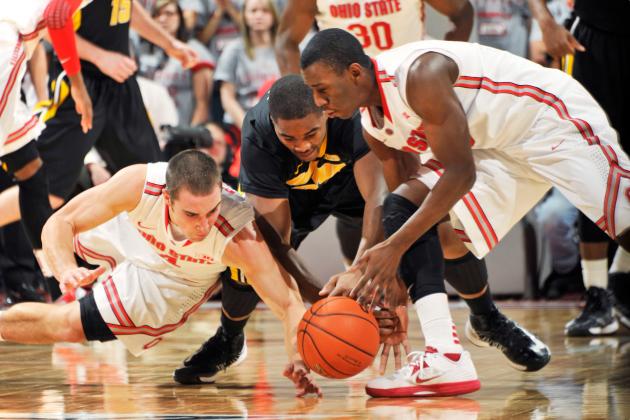 Jamie Sabau/Getty Images

Lenzelle Smith Jr. and Sam Thompson (who has been playing great lately) may be in the starting lineup, but it is the Shannon Scott and Aaron Craft duo that has arguably changed the entire trajectory of the Ohio State season.
Thad Matta has embraced this team's strength as a defensive pressure machine that gets to the basket in transition off of forced turnovers. Part of that is in response to a struggling half-court offense, but it is also a direct result of the tenacity Scott and Craft bring to the defensive side.
Craft and Scott each had four steals Tuesday night against Indiana and were instrumental in the Buckeyes' second-half dominance. They were also forces to be reckoned with against Michigan State's backcourt of Keith Appling and Gary Harris.
The Big Ten is loaded with talented backcourts, but none are quite as destructive on the defensive side of the ball. If Craft and Scott play like they did in Bloomington, Ohio State can go much deeper in March than once thought.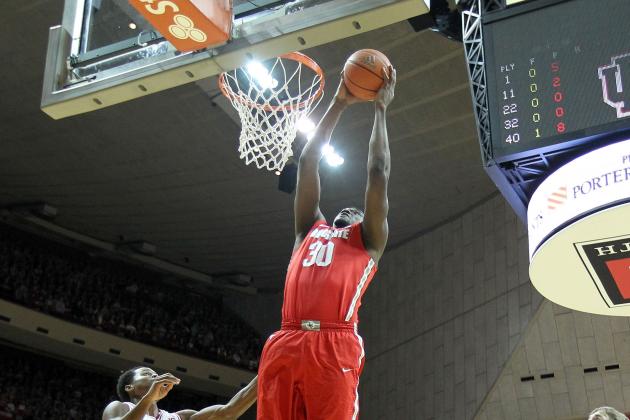 Andy Lyons/Getty Images

There has been much handwringing among Buckeye Nation about the lack of Amir Williams' development, but Evan Ravenel's late-season emergence has made that less of a concern for this season.
Ravenel was instrumental in Ohio State's victory in Bloomington Tuesday night with eight points and six rebounds, three of which were of the offensive variety. He put back two tip-slams that helped the Buckeyes during their second half spurt.
Ravenel also kept Cody Zeller off the glass. Indiana's much-hyped big man ended with a mere four rebounds, but he only had one with about a minute left in the contest. Ravenel was also important in Ohio State's last "big game" against Michigan State. He tallied 10 points, five rebounds, one block and one steal and played effective defense against Derrick Nix.
Ravenel's tendency to show up when the spotlight is brightest is encouraging for Buckeye fans because the spotlight is always bright in March.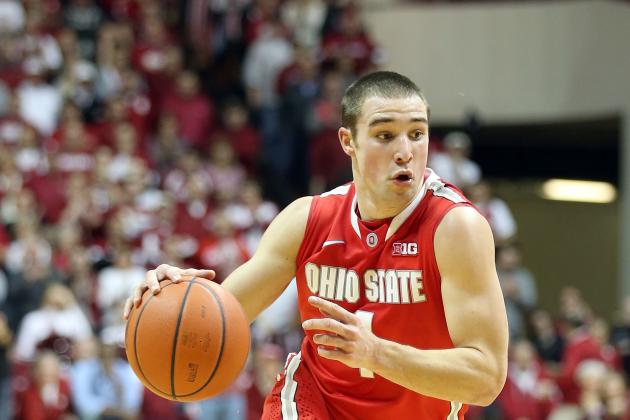 Andy Lyons/Getty Images

Aaron Craft was the most important player on the floor for either team Tuesday night against Indiana. He brought his typical tenacity on the defensive side of the ball, but was also the focal point of Ohio State's offense.
He scored 15 points, dished out four assists and operated every critical possession down the stretch with the ball in his hands. It was one of the most impressive offensive performances of his collegiate career considering the circumstances and how desperately Ohio State's resume needed the win.
But it may not have been his most impressive offensive performance in the last two weeks. Craft destroyed Michigan State's defense with 21 points and six assists on 7-of-12 shooting. He shot a combined 14-of-22 in the games against the Spartans and Hoosiers.
If Craft can consistently bring the offense, this Buckeye team is much more formidable. Deshaun Thomas is going to get his points, but Craft gives the squad a steadying presence who can set others up to succeed.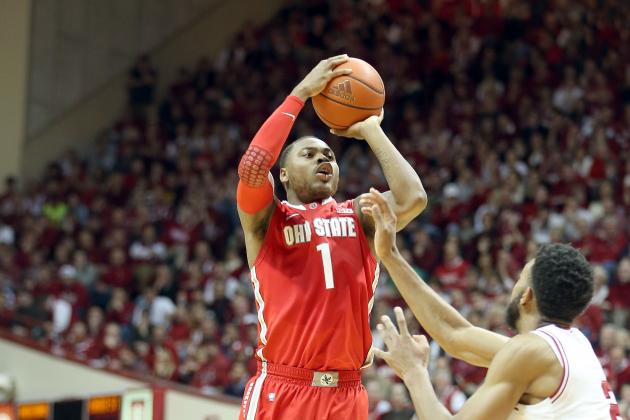 Andy Lyons/Getty Images

While Ohio State's season is on an upward trajectory, Deshaun Thomas' field-goal percentage is heading the wrong direction.
Thomas is still scoring at a consistent clip, but he is doing so much less efficiently. He is settling for contested outside jump shots just inside the 3-point line instead of working for better looks down low or waiting for the offense to come to him.
Thomas' struggles continued Tuesday night in Bloomington to the tune of 6-of-17 shooting. He did make a crucial three in the waning minutes, but his dipping percentages are certainly something to be concerned about.
As great as Aaron Craft was on offense against Indiana and Michigan State, Ohio State is going to need Thomas to be a scoring force in March. He is the one premier scorer on the roster that is capable of carrying the team deep in the NCAA tournament.
But his shooting touch has to return.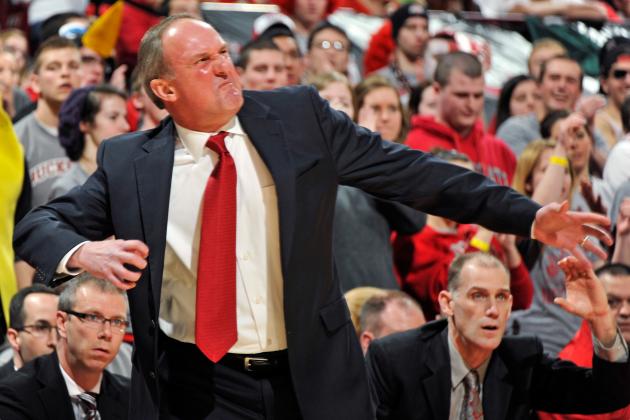 Jamie Sabau/Getty Images

Ohio State was given a No. 4 seed in the latest projections from the mythical world of Bracketology from both ESPN and Sports Illustrated, but that was done before the Buckeyes went into Bloomington and crashed Indiana's senior day.
All year long the one criticism of the Scarlet and Gray's tournament resume was the lackluster performances against marquee opponents. It was warranted because they started 1-7 against ranked squads (at the time of the game) and were blown out at Illinois and Wisconsin.
However, after victories over Michigan State and the Hoosiers, all of a sudden Ohio State has more wins over AP Top 5 teams than anyone in the country except Duke.
Throw in the fact that the Buckeyes have not lost to a single "bad" opponent, and that resume stacks up nicely against the majority of teams across the country. The significant road win was the only thing missing, but that is no longer the case after Tuesday night's contest.
A No. 3 seed in the NCAA tournament is very much in play now, which would prevent a date with a No. 1 seed until the Elite Eight. A Big Ten tournament title could put the Buckeyes in discussion for a No. 2 spot, but they would probably be satisfied avoiding the dreaded 4/5 line.