Dan Henderson vs. Rashad Evans Head-to-Toe Breakdown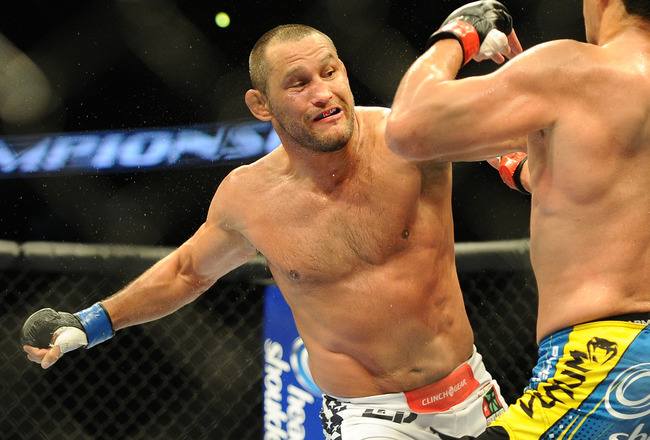 Jayne Kamin-Oncea-USA TODAY Sports
The UFC has just confirmed that Dan Henderson and Rashad Evans will face off against each other at UFC 161 in June.
Both men have had illustrious careers in the light heavyweight division, and each were title hopefuls only a year ago.
However, each has suffered recent losses, setting back their title aspirations in a heavily packed division. Their contest will be crucial in establishing the pecking order at 205 pounds, as the UFC continues to search for worthy opponents for Jon Jones' belt.
Here's how the two break down.
Striking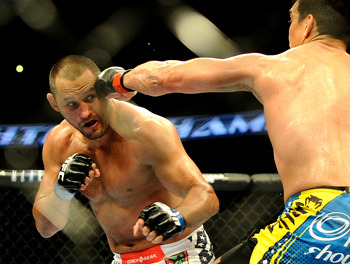 Jayne Kamin-Oncea-USA TODAY Sports
As two men with a solid wrestling foundation, Evans and Henderson have evolved a mean striking game.
Their height and reach are only inches apart, and they both primarily use their fists, as opposed to leg kicks, in their fights.
Both also possess knockout power.
Henderson is famous for his H-bomb, his devastating right hand which has knocked out 12 of his 38 opponents. Hendo possesses great head movement and timing and works by getting on the inside of his opponent to deliver powerful counterstrikes.
However, this does not always come off in his fights.
Against Lyoto Machida, a match he lost by three-round decision at the end of February, he was completely neutralized by a more experienced striker with a better understanding of range and timing.
The story is similar with Evans.
While he possess durable boxing, having knocked out a range of opponents in his career, he uses a similar style to Hendo, working on the inside of his opponents to either fight in the pocket or set up a takedown.
However, his KOs aren't as numerous as Hendo's, and Evans has been knocked out before while Henderson hasn't.
Advantage: Henderson
Wrestling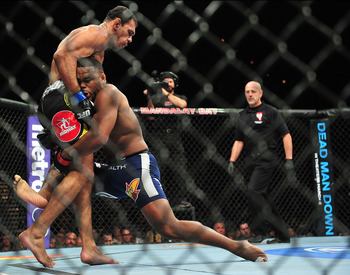 Gary A. Vasquez-USA TODAY Sports
Evans and Henderson are similar fighters in many ways, and this similarity extends to their wrestling.
Both have an impressive wrestling base, although Henderson is more decorated with appearances at two Olympic events in the 1990s.
This hasn't necessarily translated to Hendo's performances inside the cage. We rarely see him use his wrestling, except to stuff takedowns while he is susceptible to takedowns himself.
Evans, on the other hand, has masterful MMA wrestling technique.
He's made other superior UFC wrestlers look like chumps—such as the taller and rangier Phil Davis, who spent most of his fight against Evans on his back taking brutal ground-and-pound.
Advantage: Evans
Submissions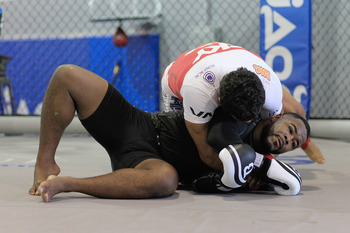 Chris Trotman/Getty Images
Neither fighter is known for his submissions.
In 21 fights, Evans has tapped out one person, right at the beginning of his career, while Henderson has been submitted three times but never submitted anyone.
However, Evans does claim a black belt in jiu-jitsu, which, together with his impeccable record on submission defense, gives him the advantage.
Advantage: Evans
Strength and Conditioning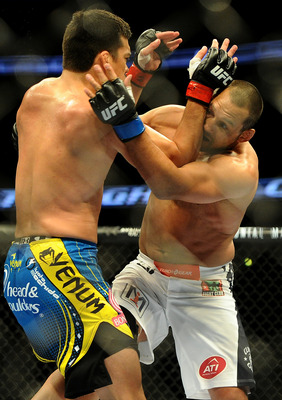 Jayne Kamin-Oncea-USA TODAY Sports
In recent fights, both men have looked out of shape and barely able to go the distance.
Against Mauricio Rua in 2011, Henderson was a spent force by the third round.
That fact was masked by the poor conditioning Rua brought into the cage (something that's becoming a habit for the Brazilian lately) and the fact that it was a war.
However, Hendo's ability to show he can go all the way hardly improved in his next fight against Machida. Even though that was just a three-round fight, his pace dropped considerably in a frustrated and languid performance.
The same can be said for Evans.
Against Jones, he was outmatched for pace and power by the light heavyweight champ, as have so many others, despite a strong start. Like Hendo's fight against Machida, that could be put down to the work of Jones, whose masterful striking frustrated and neutralised his opponent.
Against Antônio Rogério Nogueira at UFC 157 in February, he looked like the most out-of-shape version we've ever seen.
Advantage: Even
Intangibles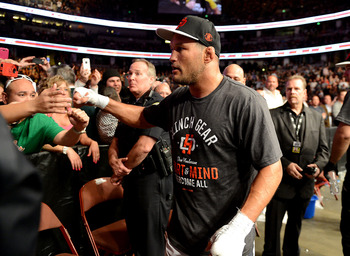 Jayne Kamin-Oncea-USA TODAY Sports
Both fighters are coming off losses, which must certainly affect their mentality coming into the fight.
For Henderson, the losses have been coupled with a long break in between of more than a year, which, at his advanced age of 42, must make competing a real struggle.
As a15-year veteran of the sport, old injuries must be taking their toll. The big question is, how he can hope to continue competing at the top level.
You can't imagine he has many more fights left in him, and the big paydays are quickly slipping away.
Evans, on the other hand, is in his prime at 33. Although he's had his share of injuries, you don't expect him to fade anytime soon.
That may be unfair to Henderson. The fighter, who only two years ago was the Strikeforce light heavyweight champ, is still capable of giving the elite, including Machida and Rua in his last two matches, a serious contest.
Prediction: Henderson by early KO or Evans by decision.
Keep Reading