Power Ranking the NBA's Deepest Benches
Harry How/Getty Images
Most of the top teams in the NBA have a superstar or two, but for success in the playoffs teams need a deep bench. Good benches give rest to the starters without disrupting the tempo of play. The best benches do this and provide some great scoring and defense of their own.
So how do the top 10 reserves in the NBA stack up?
1. L.A. Clippers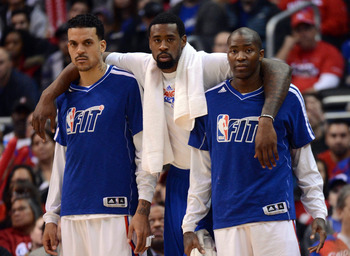 Harry How/Getty Images
The best team in Los Angeles also has the best bench in the NBA. Lead by Jamal Crawford, current favorite for Sixth Man of the Year, the Clippers' reserves have been stellar when they get into the game. As a group, the bench averages 40.6 points per game which is good for second-best in the league.
Crawford is a key part of this success with his 17 points a game, but Matt Barnes and Eric Bledsoe have also produced for the Clippers with a combined 19.5 points a night. They also have plenty of big men to give DeAndre Jordan and Blake Griffin some rest, as well as to employ a physical strategy like "hack-a-Howard" when necessary.
All of this contributes to the bench with the highest efficiency rating in the league.
2. San Antonio Spurs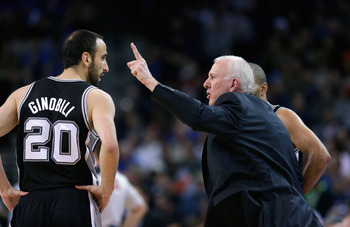 Ezra Shaw/Getty Images
No one pays attention to the boring, old Spurs and the same goes for their bench, but they have one of the deepest. In a classic Gregg Popovich team, Manu Ginobili headlines a group of reserves that all split quality minutes and know their roles within the system.
Ginobili is averaging 12.4 points, 3.6 rebounds and 4.5 assists for the Spurs and accompanying him is Gary Neal and Stephen Jackson along with centers Boris Diaw and Dejuan Blair. A few other players put in solid minutes to add to a deep, hard-working back-up unit that averages 10.9 assists a game which is the best in the league.
3. New York Knicks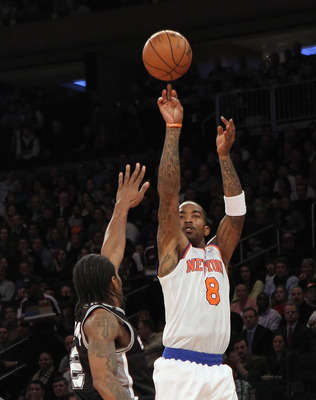 J.R. Smith
Bruce Bennett/Getty Images
New York's bench averages 39.8 points per game and 16.1 of those points can be attributed to J.R. Smith, who is having a great season with an average of 1.9 three-pointers. Another sharpshooter in the Knicks' arsenal is Steve Novak who shoots 44 percent from beyond the arc, also making 1.9 per game.
And we can't forget that the Knicks still don't know what to do with the return of Amar'e Stoudemire, who, in the 27 games he's played, has come off the bench. With the potential of Stoudemire and Smith coming in as a powerful "second shift," this bench could be the best in the NBA.
4. Denver Nuggets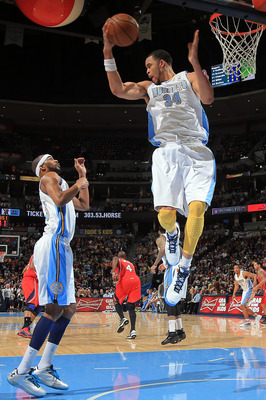 Doug Pensinger/Getty Images
Denver is an unselfish, organized and defensive team just like the Spurs, they just don't have the talent to match. They are a very solid squad, however, and their bench mirrors this as well by averaging 40 points a night.Their reserve players contribute to the highly balanced Nuggets who are third in the league in scoring—and second in the league in assists and rebounds.
Like their starters, Denver's bench consists of role players like Corey Brewer, who averages 11.3 points a game and JaVale McGee, who seems to always be on the highlight reel (for good and bad reasons). Not to mention they have veteran point guard Andre Miller to relieve Ty Lawson and keep the offense under control.
5. Golden State Warriors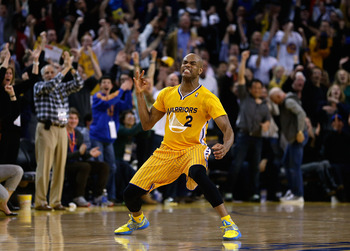 Jarrett Jack
Ezra Shaw/Getty Images
Stephen Curry and Klay Thompson have been phenomenal this season and when Jarrett Jack has come in to replace them, he's followed suit. The point guard is averaging 13.4 points and 5.7 assists as a reserve player.
Carl Landry has also shown up this season with 11.4 points and 6.6 rebounds per game, which proves to be a reliable substitute for David Lee. Golden State sits at the middle of the West and will need this bench play to continue if they hope to fight for a better seed and contend in the playoffs.
6. Dallas Mavericks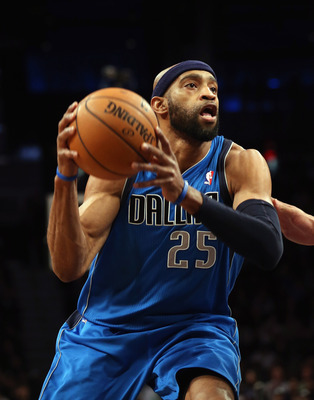 Bruce Bennett/Getty Images
Surprisingly, the Dallas Mavericks' bench leads the league in scoring and is in the top 10 in rebounds, assists and steals. Their team efficiency is also second only to the Clippers.
Vince Carter used to be one of the most intimidating players in the league, but now he is a valuable asset on a solid Mavericks bench. Carter is their third leading scorer with 13 points a game.
Dallas also has an array of big men that play often and contribute in all aspects of the game. Players like Elton Brand and Brandon Wright are the best examples.
7. Utah Jazz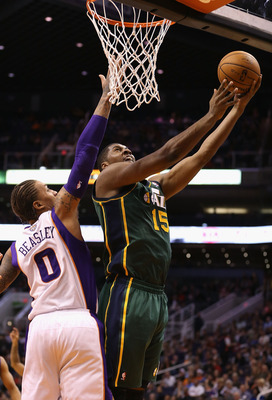 Derrick Favors
Christian Petersen/Getty Images
To keep the last playoff spot in the West, it would help the Jazz if the Lakers continue to struggle, but they also need to keep up the productivity out of their substitutes. The young big man Derrick Favors and the former Butler star, Gordon Hayward have played very effective minutes thus far for Utah.
Favors scores 9.7 points and brings down 6.6 rebounds per game, while Hayward is averaging 14 points. The Jazz's bench is ranked fourth in the league among team efficiency and trails only the Spurs' bench with 9.3 assists per game.
8. Oklahoma City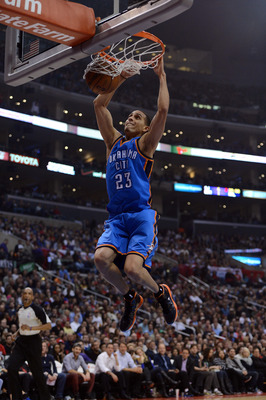 Kevin Martin
Harry How/Getty Images
James Harden made up the best bench in basketball last season before being traded to the Rockets, but Kevin Martin has done a good job filling that role. With Kevin Durant and Russell Westbrook dominating control of the ball, Martin's catch-and-shoot style has fit nicely. He's averaging 14.5 points per game, while shooting 44.6 percent.
Along with Martin off the bench sit Nick Collison and Kendrick Perkins. These big men are not the most prolific scorers, but are tough defenders and physical around the rim.
9. Boston Celtics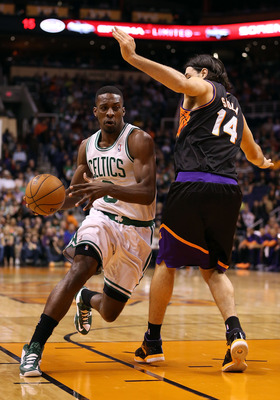 Jeff Green
Christian Petersen/Getty Images
The Celtics' success in the absence of Rajon Rondo proves how deep this team really is. Jeff Green has been sensational coming off the bench for Boston as this new offense has relied more on the young forward's production.
Green puts up 11.1 points a game, but his stats have been much improved with Rondo out. Since the All-Star break he is averaging 16.7 points, 4.3 rebounds and 2.6 assists.
Jason Terry joins him on the bench and although he's not the same sixth man he was on the Mavericks, Terry is scoring over ten points a game.
10. Charlotte Bobcats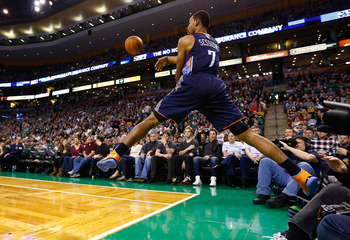 Ramon Sessions
Jared Wickerham/Getty Images
I know what you're thinking… The Bobcats are the worst team in the entire league, but when you look at the numbers their bench puts up compared to the rest of the league, they can't be unrecognized. Charlotte's bench is fifth in scoring and sixth in assists.
They mainly achieve this success with two players that average double digits in Ramon Sessions and Ben Gordon, who score a combined 26.4 points per game.
Keep Reading