Projecting the New York Jets' Free-Agent Targets
Thomas Campbell-USA TODAY Sports
Just a few days away from the start of free agency, it is time to take a look at potential free agents the New York Jets could be in the market for.
The Jets are scheduled to have just over $8 million in cap space, which, when you incorporate the money needed to sign rookies, limits the Jets' options in free agency.
Here is a position-by-position breakdown of potential targets for the Jets in free agency.
All salary cap figures provided by Spotrac.
All advanced stats provided by ProFootballFocus.
David Garrard, QB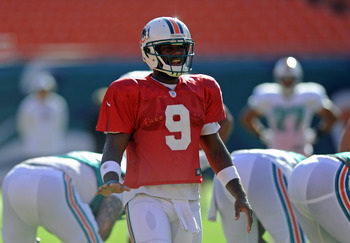 Steve Mitchell-USA TODAY Sports
Odds to Sign: 75 percent
Garrard has already tried out for the Jets—it reportedly went well and a signing appears likely.
Garrard calls the Jets an "ideal situation" for good reason: He would have a legitimate chance to win the starting job, competing with a regressing Mark Sanchez that was the most inaccurate quarterback in the NFL last year.
Garrard has a good arm and some mobility, but he does tend to struggle with his decision-making. He is not an ideal fit for Marty Morhinweg's West Coast offense, but he could at least bring an element of stability and veteran leadership to a team that is desperate for it at the position.
The biggest key for Garrard is that he must remain healthy. Training camp injuries in 2012 prevented him from being the opening-day starter for the Dolphins last year.
If he can stay out of the trainers' room, he will have a great chance to win the Jets' starting job by the start of the 2013 season.
Jeff Cumberland, TE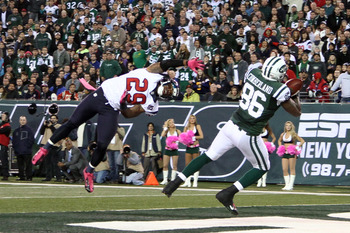 Debby Wong-USA TODAY Sports
Odds to Sign: 65 percent
According to Manish Mehta of the Daily News, the Jets have considered using a second-round tender on backup tight end Jeff Cumberland.
A second-round tender equates to a one-year, $2.023 million contract, which is solid money for a guy who was signed as an undrafted free agent in 2010.
Cumberland got extended playing time in 2012 because of a slew of injuries to Dustin Keller. He flashed some ability as a receiver, but he is not a two-way player in the mold of Rob Gronkowski. PFF graded him negatively as a run-blocker (a common theme among Jet tight ends).
The fact that Cumberland is likely to stay does not bode well for Dustin Keller's future with the team. Keller, Mark Sanchez's favorite target, should look for top tight end money and the cash-strapped Jets may look to invest in more reliable, well-rounded players.
Austin Howard, RT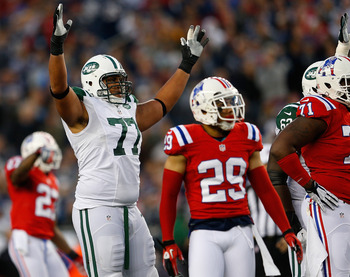 Jim Rogash/Getty Images
Odds to Sign: 55 percent
The biggest issue for the Jets' offensive line is whether or not they can retain all or any of their three free agents.
Austin Howard was one of the few pleasant surprises of 2012, emerging from the bottom of the depth chart to playing rather well as the starting right tackle for the entirety of the season. He graded as one of the top 30 offensive tackles in PFF's ratings, which included both left and right tackles.
Howard is a restricted free agent, but he should generate interest from teams in the market or a young, cheaper offensive tackle with plenty of upside.
It would make sense for the Jets to use a tender on Howard to thwart off competitors, but the Jets have not yet given Howard a tender (they have until the start of free agency on March 12th to do it). The Jets probably want to see Howard perform over a long period of time before they give him a lot of guaranteed money.
Look for John Idzik to do everything he can to keep Howard on the roster without overspending.
Glover Quin, S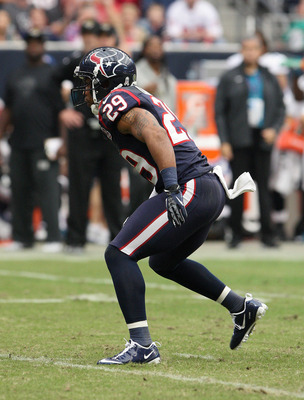 Troy Taormina-USA TODAY Sports
Odds to Sign: 15 percent
With both of the Jets' starting safeties set to be free agents (LaRon Landry and Yeremiah Bell), the Jets will need to find a way to replace them.
Coming off a Pro Bowl season, Landry is going to be quite an expensive commodity, and Bell is no spring chicken at age 35.
Meanwhile, Quin is a much younger, cheaper and more versatile option that would be a tremendous fit for the Jets. A former cornerback, Quin has the ability to cover tight ends and slot receivers.
For a team that has to play New England twice a season, having versatile safeties that can be used in a multitude of ways is extremely valuable. Keeping the same 11 players on the field helps offset the advantage gained by no-huddle offenses that the Patriots use.
The Texans will do everything they can to keep Quin in Houston and there will be other suitors in the mix for his services, but he could be a huge get for the Jets if they target him early.
Matt Moore, QB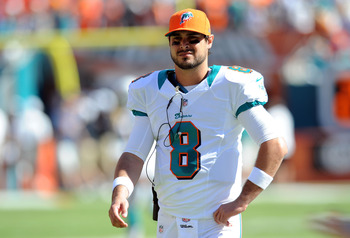 Steve Mitchell-USA TODAY Sports
Odds to Sign: 0 percent
UPDATE: Moore has signed an extension with the Dolphins.
The Jets can continue to dive into Dolphins' castoffs to help (temporarily) fix the Jets' quarterback situation.
Moore is not a specimen in terms of arm talent or accuracy and has limited upside, but he is a solid decision-maker and can make enough throws to help a team win a game without making a colossal mistake. For a team looking for a stop-gap solution at the position, Moore fits the bill perfectly.
In Week 8, he came in relief for an injured Ryan Tannehill to bring the Dolphins to a convincing win over the Jets in MetLife stadium, giving the Jets a firsthand look at what he can bring to a team.
Moore will have several suitors for the backup job on other teams, but the idea of winning a starting job gives the Jets an edge over other teams that are simply looking for a backup.
However, the Jets cannot afford to keep both Garrard and Moore on the roster—if they want to bring in Moore, their plans with Garrard will have to be canceled.
Brady Quinn, QB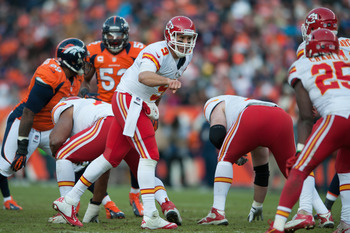 Dustin Bradford/Getty Images
Odds to Sign: 65 percent
Rich Cimini of ESPNNewYork.com makes a compelling case for Brady Quinn to land in New York—the Jets new quarterback coach, David Lee, has tutored Quinn in the past and has come away with rave reviews of the first-round bust:
I'm going to tell you this right now: Brady Quinn has a stronger arm than both the Manning brothers," Lee told the Denver Post in 2011. "No question. I worked them all out.
Whether that statement is true or not is certainly up for debate, but a connection between Quinn and Lee will give him consideration for a roster spot in Florham Park.
Quinn flourished in a West Coast offense at Notre Dame and should be a solid fit in Marty Mornhinweg's system. Quinn will likely not compete for the starting job (at least right away) but if he is brought in, he should provide solid competition for the backup job.
Nick Folk, K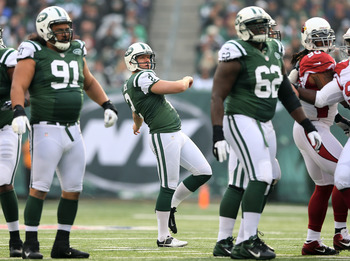 Elsa/Getty Images
Odds to Sign: 80 percent
Perhaps the most overlooked free agent is the Jets kicker, who is coming off his best season in New York.
He hit 21 of 27 field goals, with many of them being blocked. The Jets did not lose a game this year because he missed a late-game kick.
The Jets will likely try to bring him back for training camp and be the presumed starter headed into next season. However, If another team is willing to spend more than the minimum for Folk's services, the Jets need to save their money on more valuable positions and find another option.
Mike DeVito, DE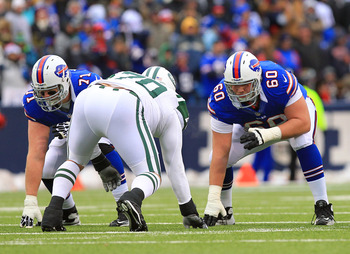 USA TODAY Sports
Odds to Sign: 40 percent
From a pure football standpoint, DeVito appears to be a logical choice to let walk in free agency.
A run-stuffing specialist, players with DeVito's skill set are simply not as valuable as they used to be as the passing game continues to take over the league. The Jets used a first-round pick on a defensive lineman two years in a row, adding Muhammad Wilkerson in 2011 and Quinton Coples in 2012.
However, DeVito's role on the Jets extends far beyond the field. He is one of the true leaders on the team, making more and more media appearances to speak on the behalf of his teammates this season. A former undrafted free agent, he is a perfect example to the younger players that hard work is what makes a player's career last in the NFL.
From an on-field perspective, DeVito is a much more reliable run defender than the younger Coples and has improved as a pass-rusher since he lost weight last offseason. Having a rotation with Coples would bring the best out of both players.
It will be difficult to keep DeVito under contract with so many other needs to address, but you can bet the Jets are going to do everything in their power to keep him in New York (and out of New England).
Charles Woodson, DB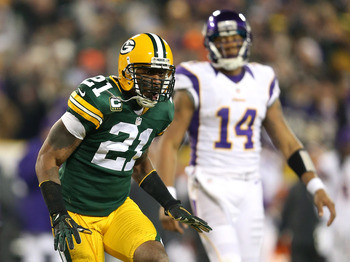 Andy Lyons/Getty Images
Odds to Sign: 15 percent
Josina Anderson has released a list of teams that would be in the market for the former Green Bay Packer, which includes the Jets:
NFL sources tell me that the Seahawks, the Dolphins, the Jets and the Giants are among teams that have called to discuss Charles Woodson.

— Josina Anderson (@JosinaAnderson) March 7, 2013
While Glover Quin would be a better option to fill the void left by LaRon Landry, Charles Woodson would be a much cheaper option. At the age of 36, he is not in the market for a long-term deal that Quin is looking for.
For the Jets, Woodson would likely be listed as a free safety but he would play a variety of roles for Rex Ryan. From covering tight ends to blitzing to playing in deep zone coverage, Ryan would move him around to get the most out of his skills.
However, Woodson's age and decline over the past year is concerning—the Packers would not release a good player for seemingly no reason. Woodson should have his snap count limited and used in sub-packages, not having to run on all three downs.
Brandon Moore, RG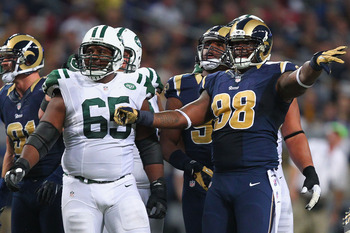 Dilip Vishwanat/Getty Images
Odds to Sign: 25 percent
With three soon-to-be free-agent starting offensive lineman, there is no way the Jets are going to be able to keep all three.
Austin Howard will likely be the higher priority simply because of the position he plays at right tackle (in accordance with his youth), which likely leaves the Jets to let at least one guard, either Brandon Moore or Matt Slauson, leave.
Slauson's future with the team was all but over when Rex Ryan decided to rotate Vladimir Ducasse every third series at left guard, seemingly to prepare for life without Slauson.
Meanwhile, Moore had a another solid season, performing much better in the run game while remaining stellar in protection. However, at 32, Moore could start to decline at any time and is not likely to take any kind of discount in what could be his final big paycheck of his career.
There was also this nugget of insider information released on Thursday, which only lessens the odds of a Moore return from Alex Marvez:
Brandon Moore says he's had "surprisingly" little contact with #NYJ about re-signing. Interested in signing with SB contender @siriusxmnfl
— Alex Marvez (@alexmarvez) March 8, 2013


I expect the Jets to at least try to keep Moore, but it appears as if their cap situation will prevent them from retaining one of the veteran leaders.
Keep Reading

New York Jets: Like this team?