Ranking the 30 Best Premier League Goals of the Season so Far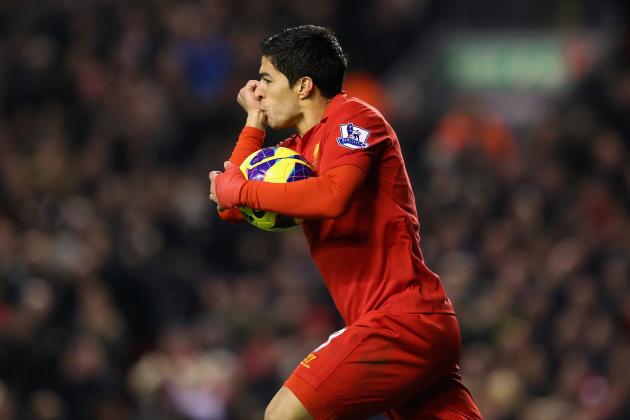 Alex Livesey/Getty Images

The Premier League often dishes up a serving of memorable goals.
We've been treated to plenty of humdingers this season. Amazing individual strikes, well-worked team moves and a handful of subtly brilliant successes makes up a list that is full of class.
Is your favourite goal included? Read on to find out.
Begin Slideshow

»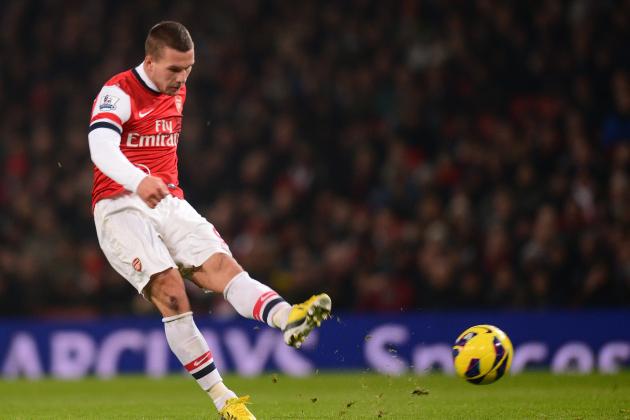 Mike Hewitt/Getty Images

Chelsea may have come up short in the 3-2 loss to Newcastle at the beginning of 2013, but Frank Lampard will be pleased with his contribution.
The Englishman smashed the ball beyond Tim Krul to give his side the lead. A simple move to kick off our rundown.
Emmerson Boyce isn't used to scoring goals. Back in October 2012, the defender gave himself a nose bleed before brilliantly flicking in a misplaced shot from his teammate.
Wigan scrambled and lost the game 2-1. Despite making a vital mistake during the match, Boyce will be pleased with his effort.
Tom Cleverley is fast becoming a scorer of great goals. Not many goals, but great ones.
The Manchester United man curled a sweet cross/shot over Steve Harper when the Red Devils traveled to Tyneside on October 7, 2012.
Did he mean it? Either way, it's a memorable strike.
Leighton Baines' goalscoring prowess has been impressive this season.
The Everton left-back is one of David Moyes most important players and offers the Toffees brutal efficiency when carrying out defensive and offensive duties.
He also loves a blast at goal. Case in point: this corker against West Brom.
Oh, Dimmy.
Since moving to London, the Bulgarian could be mistaken for one of those street performers who only moves when money is chucked his way.
Although the previous statement is rather harsh, Berbatov is the type of individual who can offer something special each week. He did exactly that in Fulham's recent win over Stoke City.
The former Manchester United man made powerful contact with a difficult volley and sent Martin Jol's men towards an important three points.
Without wanting to fuel the hype train too much, Gareth Bale's late winner against West Ham was genius.
The Welshman shifts the ball into space and loops an unstoppable shot away from Jussi Jaaskelainen. Sam Allardyce's team fought well during the 3-2 loss, but Spurs march on.
Another Spurs goal against West Ham?
It's not Bale this time. Instead, Jermain Defoe's instinctive solo run rampaged through the Hammers defence at White Hart Lane. Strength, speed and skill in abundance here.
Mikele Leigertwood is the kind of player who is more likely to stop goals than score them. Often under the radar with defensive displays, the Reading midfielder produced an absolute peach in the 3-3 draw with Fulham.
Even though the goal was scored on Oct. 27 2012, it could be hugely important come the end of the season.
Jonathan Walters has been a little off lately. The Stoke forward made plenty of headlines with two own goals against Chelsea—but two weeks earlier—he was netting a fantastic volley in the 3-1 win over Liverpool.
Technique is key here. Although Walters doesn't strike the ball as powerfully as he can, perfect placement allows it to drift out of Pepe Reina's reach.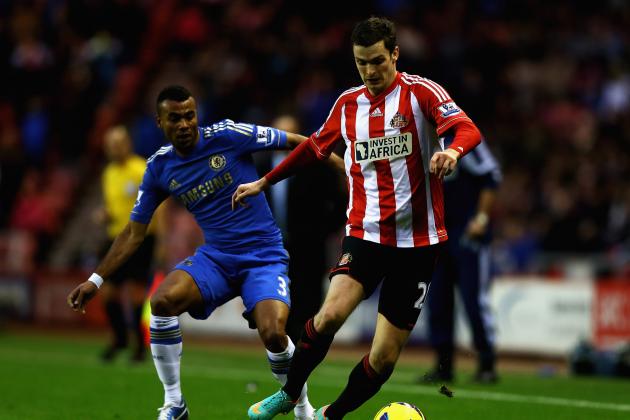 Matthew Lewis/Getty Images

Adam Johnson has the ability to produce special moments. Since joining Sunderland, the former Manchester City player has definitely taken time to settle into his new surroundings.
One of his finer moments came against Chelsea. Despite losing the game 3-1, Johnson caught Petr Cech out with a curled attempt from long range.
Unpredictable swerve eradicated the goalkeeper's presence and gave the Black Cats a consolation goal in a one-sided affair.
Injured for so long, Yohan Cabaye's Newcastle return sparked the team into life against Liverpool.
A cross to the back post found itself at Cabaye's feet. The Frenchman brings the ball down brilliantly and smashes towards goal without hesitation. Brad Jones stood no chance.
Adel "The Enigma" Taarabt has a habit of leaving his brain in the dressing room. Along with his legs.
When the Moroccan wants to play football, he's really rather good. As witnessed against West Ham, give the attacking midfielder too much space and he can lash one into the top corner from distance.
Robin van Persie has been one of the signings of the season.
At the time of writing, United's Dutchman has 19 Premier League goals to his name. His first was arguably the best.
A sweeping move saw van Persie receive one touch to leave his mark. Under pressure, Sir Alex Ferguson's new signing whipped an unstoppable shot into Mark Schwarzer's net.
Gareth Bale again.
This time, the Spurs star shows what happens when the opposition are scared. He picks the ball up on the halfway line and faces a Norwich defence that backtracks to within yards of their own goal. The result was only going one way.
Another important goal for Bale, as Spurs took a 1-1 draw away from Carrow Road.
Similar to Lampard, Steven Gerrard still has the power to change big games.
The England captain dipped a teasing shot out of Joe Hart's reach in the recent match against Manchester City. Liverpool took a respectable 2-2 draw from an Etihad stadium that barely sees points go amiss.
Great control, accuracy and opportunism from the Anfield legend.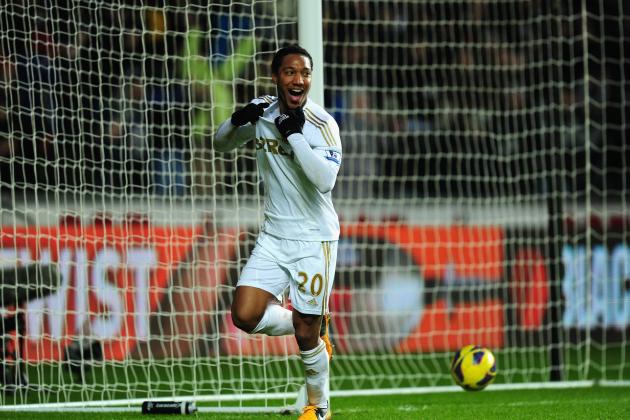 Stu Forster/Getty Images

A brilliant team goal here. Jonathan De Guzman netted a brace in the 3-1 home win over Stoke, and although his free kick was excellent, his second should take all the plaudits.
Michael Laudrup's team pick up possession in their own half. A neat backflick is built upon by an incisive pass to Michu, who splits the defence with a deft touch. De Guzman kept running throughout the buildup and slotted the ball away to complete a fantastic win for the Swans.
Check the goal out right here.
A number of great goals were scored in Chelsea's 4-0 demolition of Stoke.
Eden Hazard topped the billing with an outrageous attempt. The Belgian did well to skip away from two Stoke players and floated an ambitious strike into the top corner. Begovic may be tall, but he's not that tall.
This is a subtly brilliant goal from Yaya Toure.
Just look at the Ivorian's first touch. He controls David Silva's pass by letting the ball bounce off his foot and towards goal. Two Chelsea defenders are immediately taken out of the game and Yaya expertly curls around Cech.
Absolutely sublime.
Sebastian Larsson loves a crack from distance.
As with most of Sunderland's players, he has been largely disappointing this season. Even so, the Swedish midfielder did score a fantastic goal in January's 3-0 win over West Ham.
One touch to control a bouncing ball with his right. One to ping it with his left. Simply unstoppable.
Kenwyne Jones' run of form during late December was capped with some fine goals.
The best of the bunch came in the 3-3 draw with Southampton. Who needs shots from distance when you can flick the ball without looking?
Ryan Shotton's pinpoint cross was met by the run of Jones, who did exactly that.
Into the top 10, Stephane Sessegnon kicks us off with a great goal against Fulham.
The Benin international turns quickly on the edge of the box and only has one thing on his mind. He fires a shot into the Craven Cottage net with an urgency that has often been lacking from Martin O'Neill's side.
Jason Puncheon has settled into Premier League life with Southampton and is finely showing his potential at the top level.
The winger has often dug Saints out of trouble this season. His goal in the 2-2 draw with Chelsea was the final step in securing a point at Stamford Bridge.
Check out Puncheon's first touch. With time and space on the edge of the area, he tees himself up and spectacularly volleys into the upper regions of the net.
One word: thunderbolt.
How else can you describe Leighton Baines' goal against Newcastle? Tim Krul has featured numerous times on this list, but the Dutchman shouldn't feel hard done by.
You can't train against free kicks like that.
Steven Gerrard's goal against Manchester City featured earlier in this list. I believe Sergio Aguero's ridiculous equaliser was better.
Sure, Reina created a massive opening by sprinting away from goal. The Liverpool goalkeeper still put Aguero under pressure and wouldn't have expected the Argentinian to dip a shot into his net from the tightest of angles.
Many players would have missed by miles. Others would have passed. Aguero took advantage of one lapse, as he so often does.
Papiss Cisse announced himself to the Premier League with a handful of stunning goals in the 2011-12 season.
Although the Senegalese striker has been quiet this campaign, he managed to whack Newcastle towards victory at the end of February.
Rob Elliot's long ball eventually dropped at the feet of a striker who loves to try his luck from distance.
Was anybody really surprised where the ball ended up?
Luis Suarez deserves to be the current Premier League top scorer. Consistently excellent, the Uruguayan striker is often the provider of results for Liverpool.
He goal against Newcastle was world class.
As noted in Yaya Toure's inclusion, a beautiful first touch can make all the difference. Killing the ball dead with his shoulder and rounding Tim Krul (teehee), Suarez once again gave the Kop something to cheer about in November's 1-1 draw.
Individual brilliance is on the agenda again with Theo Walcott's goal in Arsenal's 7-3 whopping of Newcastle.
The tricky Englishman shows great determination and grit to bounce off a couple of hefty challenges with the ball. Despite a tight angle, the rapid forward dinks the ball over Tim K...you know the rest.
Suarez may be the man on Merseyside, but Brendan Rodgers' Liverpool have shown they can play some truly marvelous team football.
This is a team goal.
Tight passing and quick movement easily cuts through the Swansea defence that didn't show up during the 5-0 loss. Jose Enrique starts the attack and busts a gut to apply a smart finish in a move that deserves to be considered alongside the best goals of the season.
Rafael has improved massively this season. The Brazilian is proving to be increasingly reliable in defensive situations and offers greater threat in the opposition's half.
In Manchester United's recent 2-0 win at Loftus Road, Rafael planted a postage stamp strike into Julio Cesar's top corner. Van Persie's hard work saw the ball bounce towards the full back who blasted with conviction into the net.
The pace and direction of the ball is simply stunning.
Have you ever been told to shoot on sight?
Tony Pulis obviously mentioned this to Cameron Jerome. The substitute striker thwacked Stoke towards a 3-3 draw with Southampton at the end of 2012.
In a game that also saw Jones' goal previously outlined on this list, the Potters couldn't have found a more different route to nicking the draw.
A clever chest from Peter Crouch sees the ball drop at Jerome's feet, who takes two seconds to launch an audacious thump off the crossbar and into the net.
Do you agree with my choices? Let me know in the comments section below and be sure to follow me on Twitter right here: