Tennessee Titans Advanced Stat of the Week: Points Per Attempt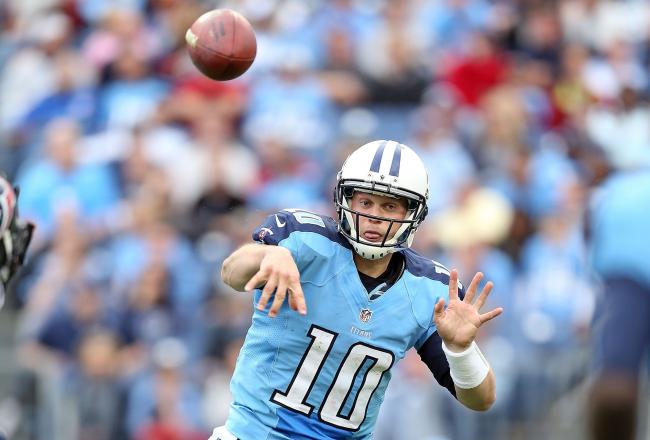 Locker has to be a more effective passer.
Andy Lyons/Getty Images
How a much a team needs to throw to score can say a lot about it.
The Titans relied heavily on the pass with Jake Locker under center.
Points per attempt (PPA) is not a commonly used stat, but is an interesting concept posted by Texans FC Jeffery Roy in a previous article.
The idea is to divide a team's offensive points scored (excluding defensive and special teams scores) and divide that by the number of passing attempts plus sacks. The stat really should be called PPDB (points per dropback), but let's keep it simple, shall we?
What the resulting number tells you is how often a team was forced to pass the ball in order to generate points.
PPA is not strictly a passing stat. It's ultimately a team efficiency stat. Obviously, short fields and a strong running game will lead to more points with fewer passing attempts. Additionally, teams pass more when trailing in games.
The teams that did well in PPA in 2012 were the Seahawks, Redskins, 49ers, Patriots, Giants, Packers, Broncos, Vikings and Texans. Of those nine teams, eight qualified for the playoffs. If you drop the list down to the top 12 in the NFL, 10 of the teams made the postseason.
The Titans had two quarterbacks in 2012, and neither fared well in this metric. Matt Hasselbeck put up 0.494 points per pass, good for a spot in the low 20s. Locker, however, put up just 0.355 points per pass. Only the Arizona Cardinals' collective quarterbacks had a lower total.
In examining the metric, it has become clear that while an ineffective run game can certainly dampen the output, it isn't the only culprit. Sometimes it harkens back to an inefficient quarterback.
So which is it with the Titans?
During games in which Locker principally played, the Titans totaled 915 yards on 218 carries. That's good for 4.2 yards a rush and 91.5 rushing yards a game.
During games in which Hasselbeck principally played, the Titans piled up 773 yards on just 140 carries. That averages out to 5.5 yards a carry and 128.8 yards a game.
Despite the fact that Locker's own running skill boosts the Titans' run game output, the fact is that the team ran the ball much more effectively with Hasselbeck.
Given the fact that most measures would grade Hasselbeck and Locker's play in a similar fashion, is there anything to be learned by the fact that the Titans were a better run team with the veteran?
Hasselbeck faced the first-, fifth-, seventh-, eighth-, 31st- and 32nd-ranked run defenses in his six games. That's an odd spread of very good and very bad run defenses and during the Buffalo game, Chris Johnson did go for 197 yards against the 31st-ranked run defense.
The Titans certainly passed the ball more often when Hasselbeck played. He averaged roughly 39 dropbacks a game to just under 34 for Locker.
Given the boom/bust nature of the Titans' run game, the most likely explanation for Locker's poor PPA is simply that Johnson simply didn't boom often enough when Locker played. There's probably no reason for it other than sheer random chance.
If Locker and the Titans are going to make the leap next year, they are going to need more efficiency in the passing game and better, more consistent support in the run game.
Whether or not PPA eventually proves to be a valuable statistic, it's clear that teams that score more on fewer passes wind up in the playoffs.
Without serious improvement from all phases of the offense, that's not going to happen for the Titans.
This article is
What is the duplicate article?
Why is this article offensive?
Where is this article plagiarized from?
Why is this article poorly edited?

Tennessee Titans: Like this team?