Ranking Every Liverpool Defender This Season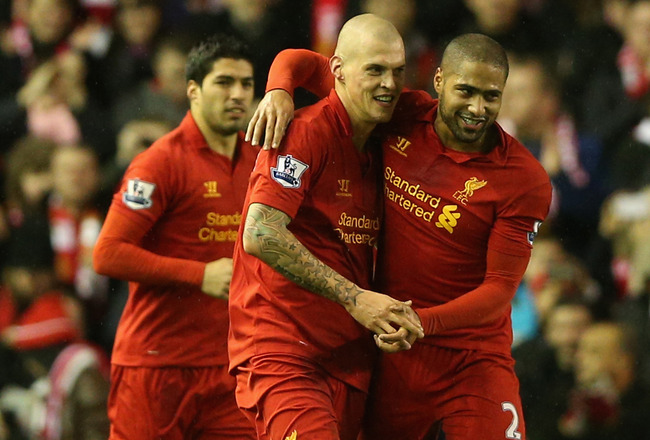 Clive Brunskill/Getty Images
Earlier in the week we took a look at the entire midfield set-up of Liverpool's first team squad and ranked them in order of their general performances for the current season.
Now it's the turn of the Reds' defenders.
Ten defenders have had their turns in the back four of Liverpool under Brendan Rodgers, not counting the likes of Jordan Henderson and Stewart Downing who briefly occupied the full-back roles at times, and had their seasons analysed in the midfielders section.
Liverpool's defence, much like the entirety of the team itself, has had an erratic season of ups and downs, conceding 34 goals in 28 league games but also keeping 11 clean sheets, the second-highest in the Premier League.
Here is every Liverpool defender for this season, ranked by how they have performed over the course of the Reds' 44 competitive matches so far.
Honourable Mention: Jon Flanagan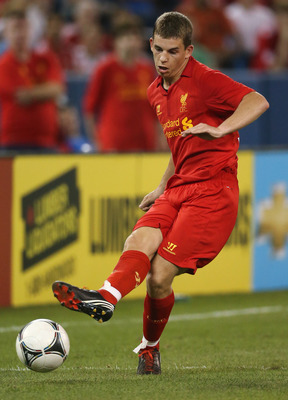 Tom Szczerbowski/Getty Images
The only player to feature less than half a dozen times in defence for Liverpool this season is right-back Jon Flanagan.
Having started the season on the periphery of the first-team, he made an appearance in the Europa League before Christmas and then one more in the FA Cup in the new year.
He was suspected to be headed for a loan move to gain more opportunities to play, but injury curtailed any chances of a move away.
Flanagan has made a total of 17 competitive appearances for the Reds, including his two this term.
8. Jack Robinson and Sebastian Coates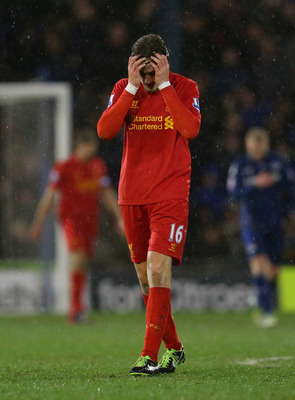 Alex Livesey/Getty Images
Jack Robinson: Six games, no goals. Left-back.
Sebastian Coates: 10 games, one goal. Centre-back.
Two youngsters who had good starts to the season, in part, but have fallen off the radar almost entirely cannot be separated, and despite their young age it is hard to say that they have not had disappointing seasons.
Left-back Jack Robinson should have really been looking to push on this season, having no real competition ahead of him to be cover for Jose Enrique in the first team, but he has made only six appearances in all competitions.
His stints in the side were initially promising, but he has failed to deliver in his last couple of appearances and is unlikely to get much of a look in unless he shows real improvement.
Robinson is spending the rest of the season on loan at Championship side Wolves to get some much-needed first team action.
Centre-back Sebastian Coates showed some imperious form early in the campaign and was tipped amongst fans to make a real case to challenge Martin Skrtel, but aside from a few one-off occasions when he started matches, he has clearly dropped to fourth-choice under Brendan Rodgers.
A few shaky mid-season displays in Europe and a poor showing in the FA Cup seem to have sealed his fate for this season, at least. The summer could yet see him depart Anfield, be it on a temporary or permanent deal.
7. Martin Kelly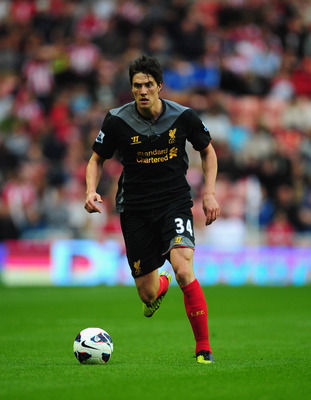 Stu Forster/Getty Images
Martin Kelly: Seven games, no goals. Right-back.
Martin Kelly started off the season in the team as the first-choice right-back and looked set to have a stand-out campaign judging by his early performances.
His placing relatively far down this list says nothing about his displays on the pitch, which ranged from good to excellent, but about the disappointment he and the team suffered when he picked up a season-ending injury against Manchester United.
A torn ACL required surgery and a long rehabilitation process, which Kelly is now in the latter stages of.
Should he make a return to action before the end of the season it will merely be as part of his rebuilding programme, rather than in expectancy of having an impact on the team, but Kelly will be hugely disappointed at missing out on the majority of Rodgers' debut season.
It will be interesting to monitor him during the summer and see whether he features more often in the centre of defence, his original position and where he might now be better off playing, or at right-back where he was making his name this season.
6. Martin Skrtel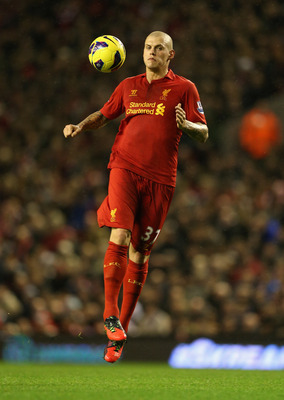 Clive Brunskill/Getty Images
Martin Skrtel: 30 games, two goals. Centre-back.
There seems to be no in-between with Martin Skrtel; the big defender is either in imperious form or a bit of a liability at the back.
With all the changes in playing style and personnel there was always going to be a period of uncertainty and upheaval in defence, and the back line has not been helped by a lack of support and protection in front of them at times.
Even so, Skrtel's meltdowns at times are reminiscent of playing against the hardest kids at school, who simply had no idea how to play.
His individual errors have cost the team dear at times, and it seems that once he loses his confidence he loses his form entirely for a significant series of games.
Skrtel's latest dodgy spell in a Red shirt has cost him his place in the team, which doesn't look as though it will be won back any time soon.
At his best the Slovakian is one of the better natural defenders in the league. The problem is, Liverpool don't see that form consistently throughout the season.
5. Jamie Carragher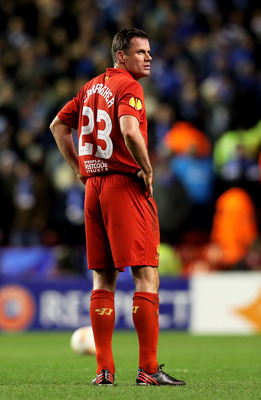 Alex Livesey/Getty Images
Jamie Carragher: 29 games, no goals. Centre-back
Having announced that this season would be his last as a professional footballer, Jamie Carragher will be desperate to cram as much game time into his last months as he can.
After 14 months watching from the sidelines as the club's third-choice centre-back, Carragher has forced his way back into the team thanks to his own unique reading and organising skills and the indifferent form of Skrtel.
Carragher's early season was hit-and-miss; his lack of pace in a high defensive line was shown up a few times and he featured as a substitute in defensive midfield roles more than once.
However his timeless approach to the game has ensured that he has been one of the better Reds defenders over the past month or two and he looks as though he'll end the season, and his career, in the first team.
Maybe he'll even score another goal before he retires, or would that be asking too much?
4. Andre Wisdom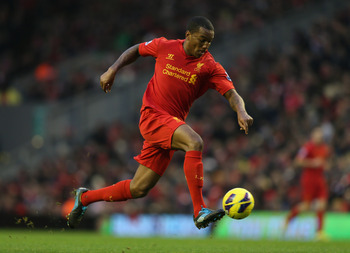 Mark Thompson/Getty Images
Andre Wisdom: 18 games, one goal. Right- and centre-back.
Having made his debut this season—and scored on it—for the first team, Andre Wisdom has made great strides in making himself a regular member of the first-team squad.
One player's misfortune is another's opportunity, and so it proved somewhat with Martin Kelly's injury for Wisdom, but he has certainly made the most of the chances he has been handed.
The biggest compliment that can be paid to Wisdom is that he has rarely looked out of place or troubled as a Premier League defender, even keeping out the likes of Jose Enrique for a spell during league games.
Of course, no youngster will get through a debut breakout season without having a few difficult moments and Wisdom has come up against attackers who have gotten the best of him, but he has always bounced back with another promising performance afterwards.
Andre Wisdom has a big future to look forward to at Liverpool.
3. Jose Enrique
Alex Livesey/Getty Images
Jose Enrique: 25 games, two goals. Left-back.
Liverpool's only senior left-back has had a clear run at making the position his own for the long-term, and despite a huge upturn in form over the past two months it is not certain he has done that.
Last term, the Spaniard started well before fading off by Christmas, and failing to pick up his form again.
This term it's been the opposite; he started out of the team, showed an appalling appreciation of what was expected from him when he was handed chances to start and then, after a run in the team in a left-sided forward position, finally started to nail down the left-back spot.
Since late December, he has blossomed into the attacking left-sided presence he was always supposed to be at the club, and though it is not a full season (or anything close) of quality performances, he has shown a higher level at times than other members of the back four.
Jose Enrique simply has to keep up this level of ability on the ball, improve further his defensive contributions and quicken his rate of releasing the ball if he wants to give confidence that the Reds shouldn't sign another big left-back this summer.
But there's no doubt that he is making a far better case for himself at present than he did earlier this season.
2. Daniel Agger
Julian Finney/Getty Images
Daniel Agger: 31 games, two goals. Centre-back.
Liverpool's first pick in the centre of defence this season has been Daniel Agger.
The Dane has played in all but one league game this season for the Reds, an improvement on his availability of recent seasons, and his presence has been a huge bonus for Liverpool for much of the year.
Like his fellow defenders, Agger has had his weak points this season and has not been at the very peak of his powers, with a propensity to allow opponents to elude him from set pieces his particular weakness this term.
Agger remains, though, Liverpool's strongest defender and by and large has been an impressive constant throughout the season.
1. Glen Johnson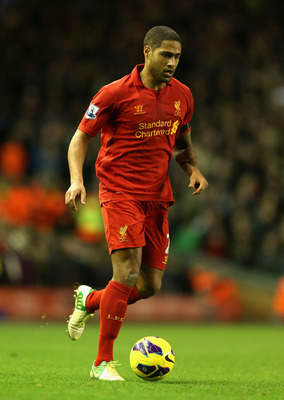 Clive Brunskill/Getty Images
Glen Johnson: 33 games, two goals. Right- and left-back.
Liverpool's best defender, and indeed the best full-back in the Premier League this season, is Glen Johnson.
He has been a model of consistency, thoroughly impressive in defence and effective as always going forward.
Johnson has been deployed on both sides of the defence, as part of a back four and as a wing back, and has remained a potent offensive weapon for Liverpool and a building block from the back in bringing the ball out as the manager requires.
With the right-back in this form, the Reds have one big position filled for the foreseeable future—the importance of the full-back roles in Rodgers' system cannot be underestimated. Johnson has been imperious and is the clear candidate to be named Liverpool's top defender of the season.
Keep Reading

Liverpool: Like this team?