The Complete Guide to Oakland Raiders Free Agency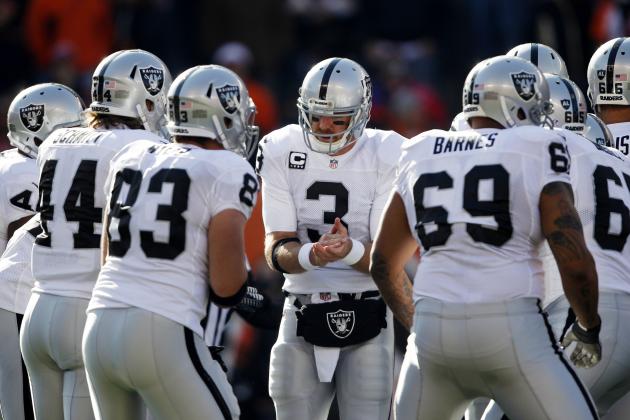 Frank Victores-USA TODAY Sports

When the 2013 NFL free-agency period gets under way on March 12, the Oakland Raiders will look to make some significant but affordable improvements to their current roster.
As with any team, there are many factors that will go into the Raiders' free-agency strategy. Of course the salary cap is one of the biggest, but also to be considered are the team's own free agents, and positions of need that they will look to target.
Here is everything you need to know with a complete guide to the Oakland Raiders' 2013 free agency period.
Begin Slideshow

»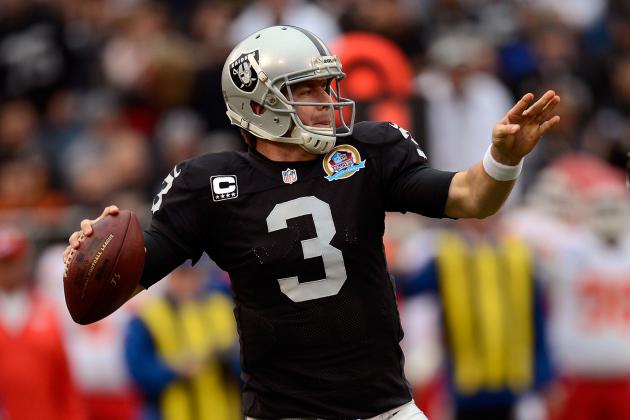 Thearon W. Henderson/Getty Images
Carson Palmer's is one of several contracts the Raiders must address to create salary cap space.
As of March 5, according to the San Francisco Chronicle's Vic Tafur, the Raiders are roughly $1.5 million under the NFL's $123 million salary cap.
The Raiders are already no doubt in the process of clearing more cap space, doing so not only to get some of their own players under contract, but also to have some extended flexibility in free agency.
Candidates for further contract restructuring or even release include QB Carson Palmer ($15.335 million cap hit), WR Darrius Heyward-Bey ($10.601 million cap hit) and DT Tommy Kelly ($11.099 million cap hit).
It remains to be seen just what Reggie McKenzie will choose to do with these three contracts among several others, but something will need to be done either way.
All salary cap numbers courtesy of Spotrac.com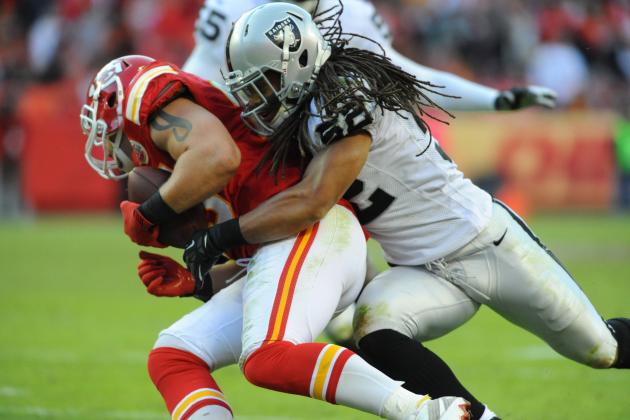 Denny Medley-USA TODAY Sports
Philip Wheeler is the Raiders' top unrestricted free agent.
Unrestricted Free Agents:
QB Matt Leinart, RB Mike Goodson, WR Derek Hagan, TE Brandon Myers, OT Khalif Barnes, OG Cooper Carlisle, DT Desmond Bryant, DT Richard Seymour, DE Matt Shaughnessy, DE Andre Carter, LB Omar Gaither, LB Philip Wheeler, CB Joselio Hanson, CB Shawntae Spencer, S Mike Mitchell, S Matt Giordano, P Shane Lechler.
Restricted Free Agents:
CB Philip Adams, CB Coye Francies.
Exclusive Rights Free Agents:
RB Jeremy Stewart, WR Duke Calhoun, OL Zach Hurd, OL Alex Parsons, CB Brandian Ross.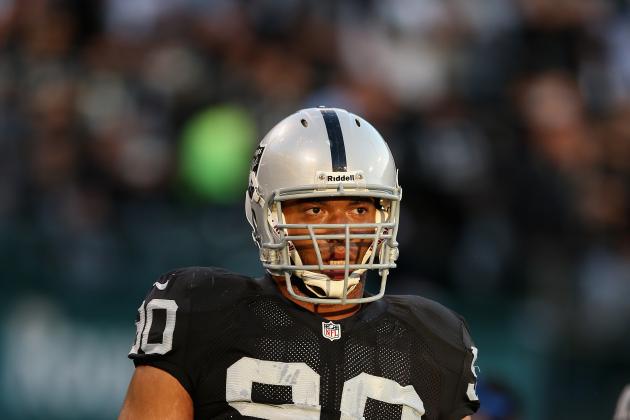 Ezra Shaw/Getty Images
This year's franchise tag costs would have been much too high for the Raiders to use.
The franchise tag deadline has come and gone, and the Raiders chose not to use it on any of their free agents. Looking at the contract numbers the tag calls for and considering the Raiders' tight salary cap situation, that decision was probably for the best.
LB Philip Wheeler, DT Desmond Bryant and P Shane Lechler would have likely been the only candidates for the tag, but negotiating long-term deals would serve the team much better financially.
Franchise tag values for LB, DT, and P ended up being $9.619 million, $8.450 million, and $2.977 million respectively.
Franchise tag numbers courtesy of NFL.com.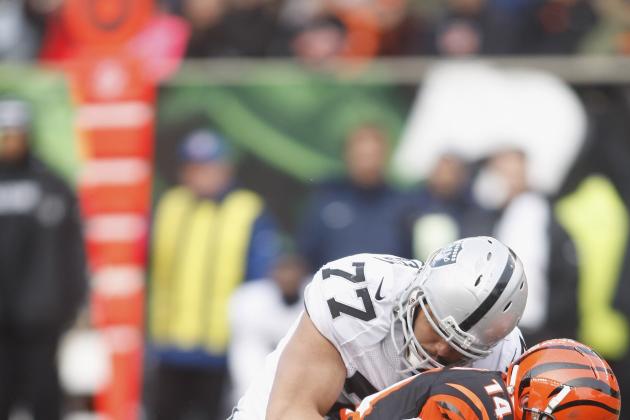 John Grieshop/Getty Images
Matt Shaughnessy is a free agent the Raiders should look to re-sign.
As of this moment, the Raiders have yet to reach agreements to bring back any of their top unrestricted free agents. Earlier this offseason, however, they did move to bring back these exclusive rights free agents:
WR Travionte Session, TE Mickey Shuler, OL Jason Slowey, LB Jerrell Harris, CB Akwasi Owusu-Ansah.
As we get closer to the beginning of the free-agency period, we can expect this list of re-signed players to only increase. If the Raiders plan on bringing back players like Philip Wheeler, Desmond Bryant, and Matt Shaughnessy, they would be wise to do so before other teams can get involved in the bidding process.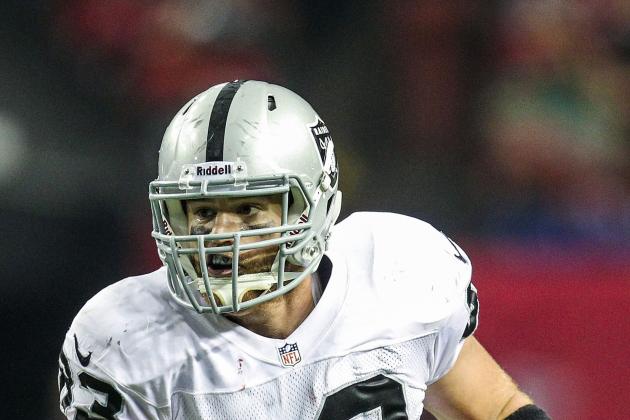 Daniel Shirey-USA TODAY Sports
If Brandon Myers does not return, TE becomes a need in free agency.
The offense was easily the weakest and most disappointing side of the ball of the Raiders team in 2012. Much of which will be attributed to Greg Knapp's offensive scheme not being a fit for the player personnel, but it surely extends beyond that.
First and foremost, the Raiders will need to address the offensive line. No matter how much talent an offense can have at the skill positions, a weak offensive line becomes a glaring issue in both the running and passing games.
LT Jared Veldheer and C Stefen Wisniewski are two very strong players, and should be considered building blocks for the group moving forward. Outside of them, each position up front could be upgraded this offseason.
With Brandon Myers likely to depart as a free agent, adding a tight end will be key as well. One that can also contribute as a blocker in the ground game will be of the utmost importance, as the Raiders attempt to get back to a dominant power running game.
If the Raiders can upgrade these offensive positions this offseason, possibly with some veteran free-agent acquisitions, it would go a long way to success in 2013.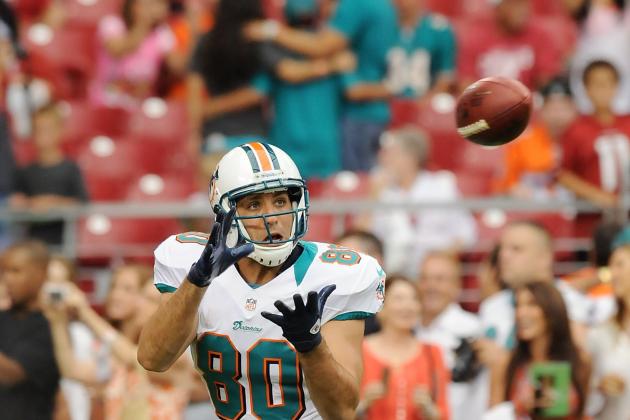 Norm Hall/Getty Images
Dolphins TE Anthony Fasano could be a free agent target for the Raiders.
This year's free-agent group is fortunately quite deep at the positions of need for the Raiders on offense. This depth at both offensive line and tight end will allow for more talented players to become that much more affordable.
Potential free-agent targets on the offensive line include Lions T Gosder Cherilus, Vikings T Phil Loadholdt, Eagles T King Dunlap, Vikings G Geoff Schwartz and Giants G Kevin Boothe.
Any of the three tackles would instantly step in as the starting RT, providing a fit for Greg Olson's gap blocking scheme as well as a much-needed improvement in pass protection.
Both Schwartz and Boothe have turned into quality starting NFL guards, and they too would be ideal scheme fits while providing significant upgrades as starters up front.
At tight end, some names to keep an eye on include Giants TE Martellus Bennett, Dolphins TE Anthony Fasano and 49ers TE Delanie Walker. All three players have the ability to adequately replace Brandon Myers' production should he not return, and possibly even exceed which.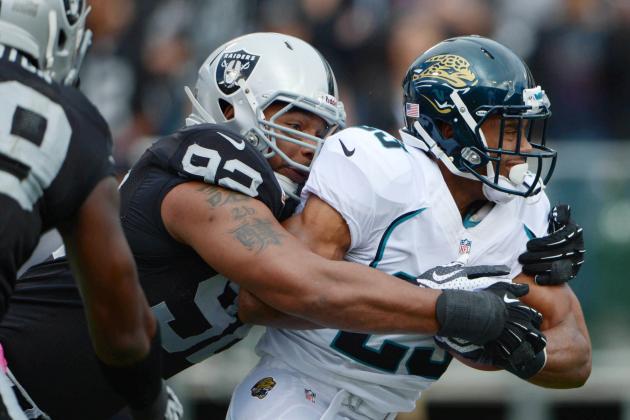 Kirby Lee-USA TODAY Sports
Richard Seymour's departure makes defensive tackle an immediate need.
Toward the end of the 2012 season, the Raiders' defense started to really take shape under DC Jason Tarver's new scheme. Some free-agent upgrades at key positions could give that unit the boost it needs moving forward.
With Richard Seymour's contract voided and Tommy Kelly's making him a candidate for release, defensive tackle becomes one of the most pressing needs for this team. Much of which could be addressed by re-signing Desmond Bryant, but that is yet to happen.
In addition to defensive tackle, finding an edge pass-rusher will be important as well. It is likely that the Raiders choose to address that need in April's draft, and quite possibly even with the third overall selection, but they will explore free-agent options either way.
As for the defensive backfield, while Michael Huff's play after switching to cornerback for the majority of last season was extremely impressive, the plan remains for him to move back to free safety. With that in mind, and the clear depth issues at corner, the Raiders would be wise to add several free agents at the position.
Addressing these three positions would go a long way to continuing the improvement of the Raiders' defense into this next season.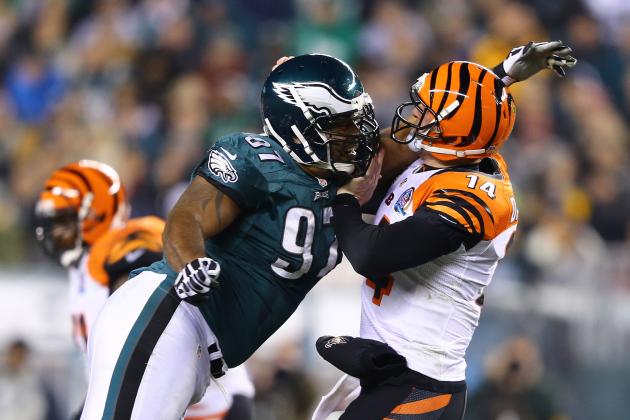 Al Bello/Getty Images
Eagles DT Cullen Jenkins is already scheduled to visit the Raiders.
While all of the free-agent groups at the Raiders' need positions on defense aren't as deep as those on offense, there are some very interesting options that could provide upgrades right away.
At defensive tackle, two names to watch are Chiefs DT Glenn Dorsey and Eagles DT Cullen Jenkins. Dorsey did not have as much success as many expected him to have in Kansas City, but he very well could have been miscast in a 3-4 front. Giving him a chance to prove his value at his natural 3-technique position in a 4-3 could be more than worth the cost.
As for Jenkins, according to the NFL Network's Ian Rapoport, the Raiders have been added to the list of teams that he will visit. Jenkins has experience in both the 3-4 and 4-3, and GM Reggie McKenzie certainly knows him well from his years in Green Bay where he had his most success.
The free-agent market for pass-rushers is relatively thin, so those at the top of the group will likely see the bidding process increase their price tag. Some players that may slide under the radar and find themselves in more of the Raiders' spending range include Chargers LB/DE Shaun Phillips, Bengals DE Robert Geathers and Cowboys LB/DE Victor Butler.
Of these three defensive need positions, cornerback is easily the deepest. Some affordable options for the Raiders will include the likes of Falcons CB Dunta Robinson, Jaguars CB Rashean Mathis and Cardinals CB Greg Toler. Adding one or more of these players, or even several other free agents at the position, would provide instant upgrades to the team's weakest position overall.