Oakland Raiders: Examining Team's Options at Quarterback for 2013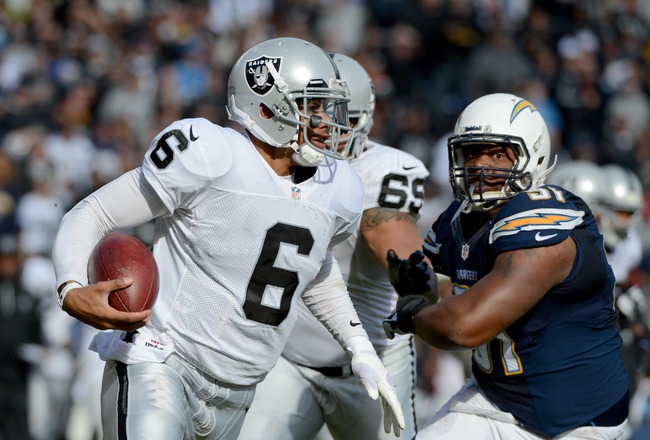 Donald Miralle/Getty Images
The Oakland Raiders haven't had a superstar quarterback for a very long time and it's rather doubtful that they'll break the trend in 2013.
That said, starting a competent player under center in 2013 could help the Raiders make huge strides and potentially compete in a improving AFC West.
Though Carson Palmer was last year's starter, there's a chance the tides turn in Oakland and a new player is under center next season. Who that player ends up being is anyone's guess.
Carson Palmer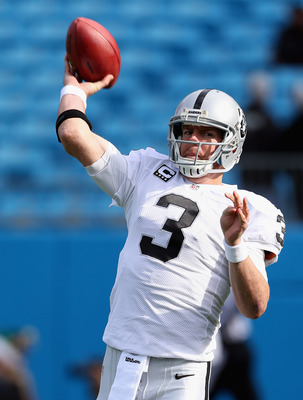 Streeter Lecka/Getty Images
2012 stats: 345-for-565 (61.1 percent), 4,018 yards, 22 touchdowns, 14 interceptions
How he can be acquired: Already on the roster
Analysis: Carson Palmer wasn't as bad as many would like to think in 2012, but he's no franchise quarterback at this point in his career.
Turnovers are becoming an issue for the veteran signal-caller and don't be surprised if the Raiders cut him and his large salary.
Palmer will represent a $15.335 million cap hit in 2013, but the Raiders could save almost $6 million by cutting him outright.
We'll show deference to the incumbent starter by listing him first here, but it's tough to see this quarterback taking the opening-day snaps for a rebuilding franchise.
Terrelle Pryor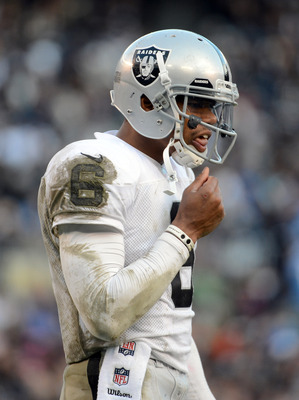 Harry How/Getty Images
2012 stats: 14-for-30 (46.7 percent), 155 yards, two touchdowns, one interception
How he can be acquired: Already on the roster
Analysis: The player with possibly the most upside on this slideshow, Terrelle Pryor is a less-accurate Cam Newton with worse decision-making skills.
If Pryor had a full offseason as the starter to get serious practice time with his receivers while he learned the Raiders' system, he could be a halfway decent player.
The Catch-22 is that Oakland wants Pryor to prove his worth before affording him the opportunity to get better, so the young field general could just be a gadget quarterback for another year.
His size, speed and athleticism predisposes him to success in the new option-oriented NFL, but he won't get a chance to play until he hones his accuracy and improves his ability to progress through reads.
Geno Smith
Justin K. Aller/Getty Images
2012 stats: 369-for-518 (71.2 percent), 4,205 yards, 42 touchdowns, six interceptions (in NCAA)
How he can be acquired: No. 3 overall pick, NFL draft
Analysis: The Raiders have been linked to Geno Smith all offseason and he would satiate the team's need for an athletic, big-armed quarterback who has experience getting the ball to fast playmakers.
If Oakland installed West Virginia's offense, wide receiver Jacoby Ford could become a superstar in Tavon Austin's role.
Smith, though something of a system quarterback with his inflated college numbers, would revitalize the Raiders' fanbase.
Personally, I don't see him as a franchise quarterback, but he's not going to fall flat on his face in the NFL. He could be a solid stopgap for a few years in Oakland.
Matt Barkley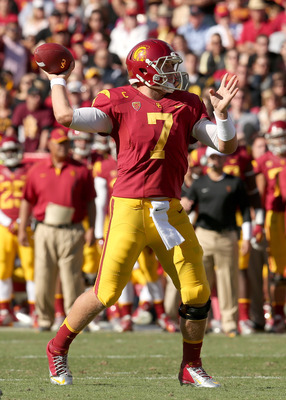 Stephen Dunn/Getty Images
2012 stats: 246-for-387 (63.6 percent), 3,273 yards, 36 touchdowns, 15 interceptions (in NCAA)
How he can be acquired: TBD pick, NFL draft
Analysis: I hesitated to put "No. 3 overall" for Matt Barkley because he's not worth taking that high and Raider Nation would light the city of Oakland on fire if the team reached that far for the USC standout.
Barkley has too weak of an arm to succeed with the Raiders, but the fact remains that he's a local, SoCal guy who has the right intangibles to deal with the pressure of playing in the Black Hole.
The Raiders would be severely limited with this signal-caller under center and could have a hard time opening up the vertical passing game, but their underneath attack could be deadly.
Getting the ball to players like Denarius Moore and Darrius Heyward-Bey with room to run could be a staple of a new, Barkley-led offense in Oakland. It's a thought.
Tyler Wilson
Streeter Lecka/Getty Images
2012 stats: 249-for-401 (62.1 percent), 3,387 yards, 21 touchdowns, 12 interceptions (in NCAA)
How he could be acquired: TBD pick, NFL draft
Analysis: The toughest signal-caller in this year's draft class, Tyler Wilson stands in line with everything the Raiders aim to represent. Oakland attempts to portray the aura that their fan base is the toughest in the NFL while their team is the meanest.
Tyler Wilson could bring a swagger to the Raiders that no quarterback since Jim Plunkett has. He backs down to no pass-rusher and isn't afraid to force a ball into double coverage if he thinks he can make the throw (decide for yourself if that makes him admirably courageous or foolishly intrepid).
If you're content to take his senior season with a grain of salt, Tyler Wilson is a surefire franchise quarterback and he represents everything the Raiders once were and desire to be again.
Ryan Mallett
Jamie McDonald/Getty Images
2012 stats: 1-for-4 (25 percent), 17 yards, no touchdowns/interceptions (backed up Tom Brady)
How he could be acquired: Via a trade with New England
Analysis: After gushing about Tyler Wilson, I think it's only fitting to talk about the player he replaced at Arkansas in Ryan Mallett.
Mallett, to be fair, doesn't have half the intangibles that Wilson has, but the former has a much better arm and can gun the ball down the field with conviction.
Oakland would be getting, in essence, the perfect signal-caller to operate a downfield offense as well as a young building block to rely on for the next several seasons.
New England's asking price may be a bit high for the Raiders' taste and it's doubtful the team would want to get into a bidding war with a team like the Browns, but it remains a possibility nonetheless.
Matt Flynn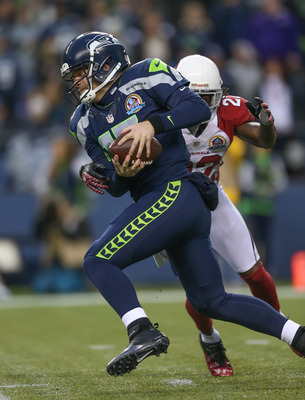 Otto Greule Jr/Getty Images
2012 stats: 5-for-9 (55.6 percent), 68 yards, no touchdowns or interceptions (backed up Russell Wilson)

How he could be acquired: Via a trade with Seattle
Analysis: Matt Flynn was sold a bum steer when Seahawks coach Pete Carroll recruited the signal-caller to the Pacific Northwest promising a starting job, great running game and competent receiving corps.
Rookie Russell Wilson took over the starting job and never looked back, so Flynn is an expendable commodity.
He's an all-around solid quarterback who can get the job done. He would be a starter on a lot of teams in the league; just not the Seahawks.
Keep Reading

Oakland Raiders: Like this team?