Indiana Basketball: Hoosiers Suddenly Facing More Questions Than Answers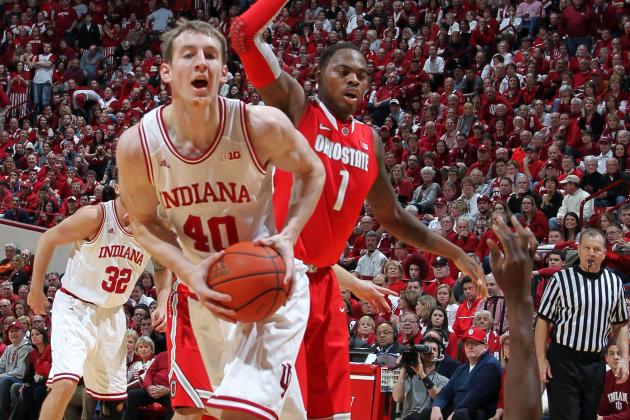 Brian Spurlock-USA TODAY Sports
Although he scored 17 points, Cody Zeller was ineffective on the glass in Tuesday's loss.
So much for the joy of Senior Night.
Three seniors—Jordan Hulls, Christian Watford, and Derek Elston—played their final game at Assembly Hall on Tuesday night, with a chance to win Indiana's first outright conference championship since 1993.
Only the Buckeyes—who had just two prior wins over ranked opponents all season and yet to win a significant game on the road—weren't invited to the party.
In fact, Thad Matta's squad, now very much in the thick of the Big Ten title race after stunning the Hoosiers 67-58, decided to crash it.
The Buckeyes outmanned Indiana's frontcourt, picked its pocket eight different times, and exposed its most glaring problem, Indiana's bench.
The loss to Ohio State was just one blip on an otherwise sterling regular season. Unless the Hoosiers can beat Michigan, which remains the only undefeated B1G team at home this season (17-0), they'll carry the stain of an unrealized goal into the postseason.
More important, Ohio State exposed a few of the Hoosiers' "trouble spots" on Tuesday night.
Here are their most pressing questions going forward.
Begin Slideshow

»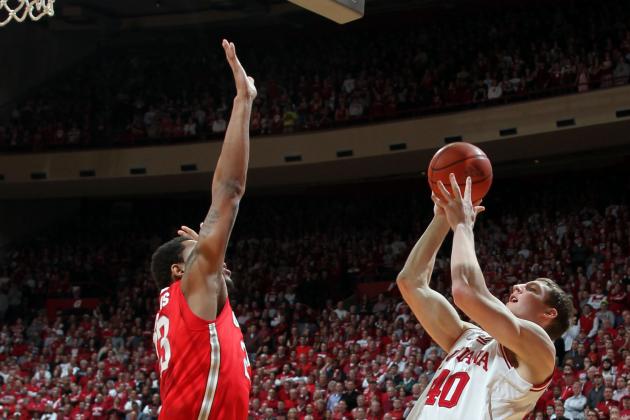 Brian Spurlock-USA TODAY Sports

Where has the preseason National Player of the Year gone?
The 7'0'' center finished with 17 points on Tuesday night, but it's the lack of rebounds that is far more stunning.
With the Buckeyes up nine and the game mostly decided, Zeller got two rebounds in the final 2:13 to match the rest of his 28 minutes of work.
That's shocking from a ton of angles, but even more given that Ohio State features a weak frontcourt.
Amir Williams, the Buckeyes' center who is routinely overmatched, even managed four rebounds in just 14 minutes. But against Evan Ravenel, the Buckeyes' 6'8'' power forward, Zeller was physically beaten.
And that's the real problem with Zeller.
The tougher guy won on Tuesday just as the tougher big man (Trevor Mbakwe) won on Feb. 26 in Minnesota. Zeller had seven rebounds in that game as well, but Minnesota won because of its second-chance effort (and its 17 offensive rebounds).
The Buckeyes scored dunks or layups on five of their nine offensive boards on Tuesday night. Maybe it's because Indiana is so adamant about running that it forgets to secure the ball, but Zeller is integral to limiting second-chance opportunities.
The Hoosiers have no trouble scoring, but seven-footers don't come along every day. Zeller needs to recognize that and stamp out his territory in the paint.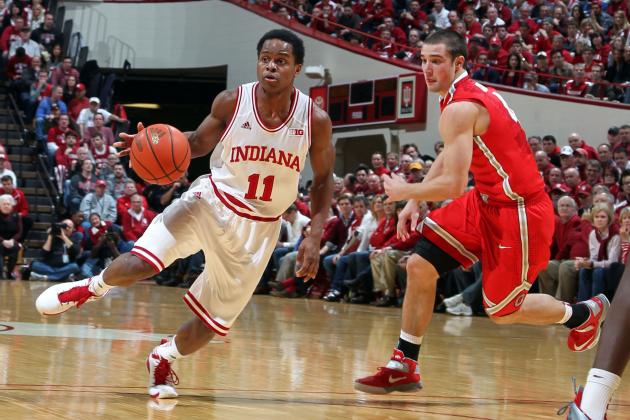 Brian Spurlock-USA TODAY Sports

If there's one thing to nitpick with the Hoosiers' offense, it's that it turns the ball over way too frequently.
According to Ken Pomeroy, Indiana's turnover percentage on offense is 19.1 percent, equaling for 10th-worst in the Big Ten. The Hoosiers do play fast, but their style can get them into trouble.
Against Ohio State, the Hoosiers had 12 turnovers, which is right around its season average. But the problem was that those turnovers were compounded when the Buckeyes pushed the ball while Indiana didn't get back quickly enough.
The Buckeyes had a 14-2 edge in fast break points.
Against defensive guards like Aaron Craft and Shannon Scott, both of whom finished with four steals, Indiana needs to be ready in transition should either of them swipe possession.
Ohio State played with its smaller lineup throughout much of the second half because even Ravenel, who's not exactly fleet of foot, proved he could get up and down the floor and beat Zeller to the hole.
Only Minnesota turns the ball over more than Indiana, and if the turnovers are to keep coming, the transition defense must improve.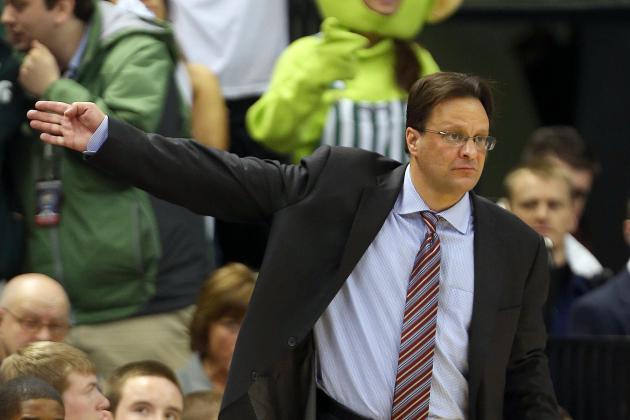 Mike Carter-USA TODAY Sports

It's one of the few downfalls of having a talented starting five, but when the Hoosiers get into foul trouble, aside from Will Sheehey, coach Tom Crean isn't sure exactly what he's going to get.
Indiana should've considered itself lucky to be down just 28-25 at halftime after both Cody Zeller and Victor Oladipo picked up two fouls each in the first half. Oladipo sat for around 13 minutes while Zeller sat about eight.
In that time we saw Indiana go deep into its bench with the likes of Maurice Creek, Remy Abell and Jeremy Hollowell on top of backup big man Derek Elston.
Truth be told, the bunch played well in the first half.
Creek hit a nice three-pointer from the wing and Hollowell snatched a few key rebounds with Zeller out.
But in the second half, Ohio State's bench outscored Indiana 12-0, they were ineffective, and it wasn't because they didn't see the court.
With Zeller struggling, Tom Crean doesn't have a proven big man to replace him, even marginally.
In short, Indiana's bench hasn't been tested much this season, but they were needed on Tuesday night and were only partially able to step up. Should the Hoosiers get into foul trouble coupled with a bad night from "Mr-Fix-It" Will Sheehey, Indiana's experience level drops off significantly.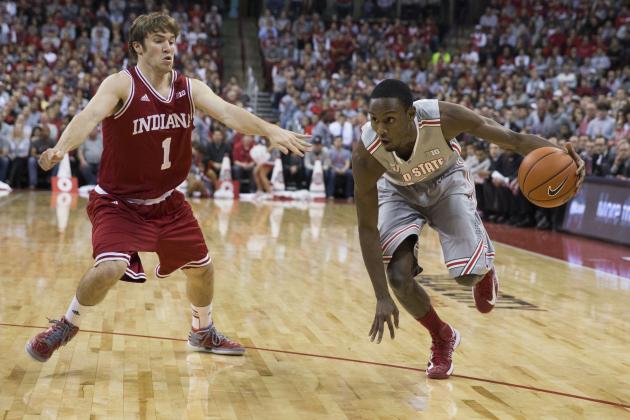 Greg Bartram-USA TODAY Sports

The Hoosiers have two defensive vulnerabilities that can usually be negated because of their offensive contributions.
Both seniors, Jordan Hulls and Christian Watford compromise Indiana's defensive possessions.
Hulls isn't quick enough to stay with shifty point guards, and if Crean leaves him in late in games instead of Sheehey, Hulls is forced to guard taller perimeter jump shooters.
As for Watford, he's got all the length in the world but isn't good at switching on screens, which is usually how teams try to beat him.
His recovery is often lazy, giving opponents easy looks from outside.
Against the Buckeyes, Oladipo was switched onto Aaron Craft throughout the latter portion of the second half, while Watford was on Thomas. Both the Ohio State players played enormous roles in springing the upset.