Brad Richards, Filip Kuba Among Most Disappointing NHLers so Far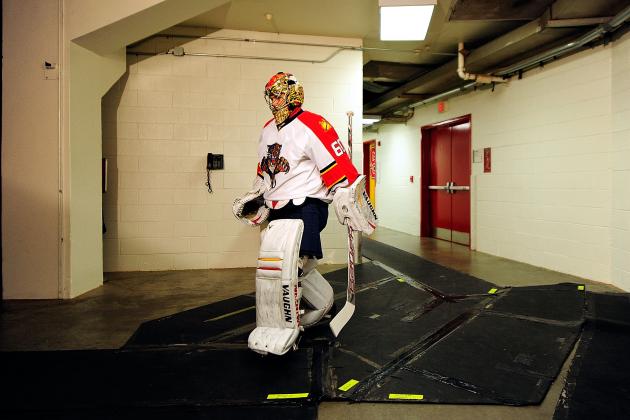 Grant Halverson/Getty Images
Jose Theodore and the Florida Panthers have endured a rough season.
The 2013 NHL season is already nearing its halfway point, and as such it's time to reflect on what's taken place over the first couple of months. As the Chicago Blackhawks surge atop the hockey world right now, some teams continue to struggle.
While every team has its star performers—even the teams that haven't been successful—some players have failed to live up to their expectations. This will highlight a few of these names.
Note: I'm not taking into account players who have missed significant time through injury to this point in the season. Those players' injuries are disappointing, but aren't necessarily their own fault.
Stats via NHL.com, Yahoo! Sports
Begin Slideshow

»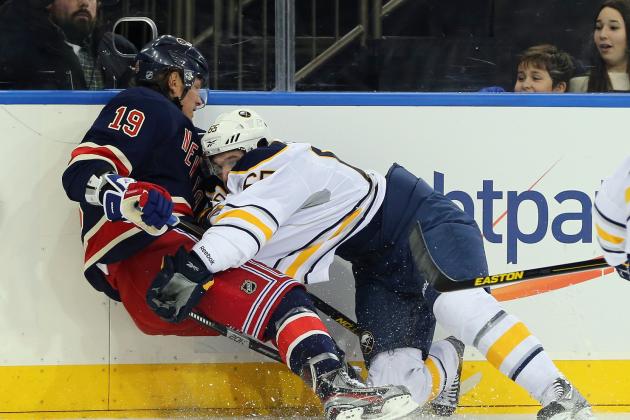 Bruce Bennett/Getty Images
Brad Richards (19) has had a down year compared to years past.
Entering the season, a line featuring Marian Gaborik, Brad Richards and Rick Nash would have been considered one of the most dangerous in the league. And while Nash and Gaborik have fared OK in an up-and-down season for the New York Rangers, Richards has slumped a bit.
This is a guy who has two 91-point seasons on his resume, as well as four other 70-plus totals. And playing alongside gifted attackers like Gaborik and Nash ought to make one's job pretty easy. But it hasn't quite worked out that way.
The Rangers as a whole have struggled, currently sitting in 8th in the Eastern Conference after being the top seed last season. And the offense's struggles in particular are puzzling given their talent, having scored fewer goals than the often-anemic Panthers.
Richards' 13 points so far are poor considering his pedigree, and his two goals are disappointing considering he's scored 20 or more in every full season he's played since the 2004-05 lockout. Additionally, his current shooting percentage of .045 would be the lowest such mark of his career.
It's been a down year for the Rangers compared to where they were just a year ago. And Richards is in the midst of perhaps his worst year as a pro.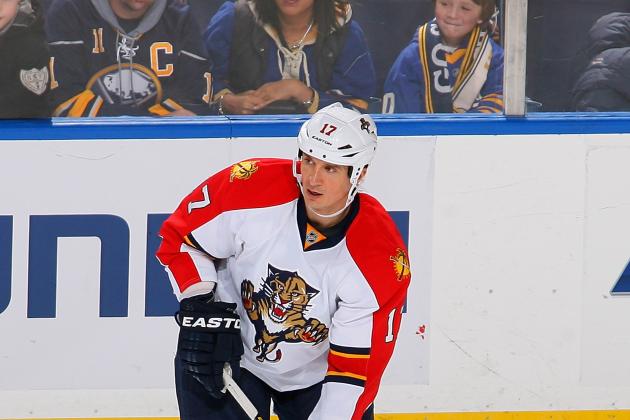 Rick Stewart/Getty Images
Filip Kuba has not been a great signing for the Panthers.
The Florida Panthers were one of the best stories in the NHL last season. After all, they're a franchise that had gone a dozen years without making the playoffs, then suddenly they win the Southeast Division.
At the start of the season, I spoke of how the Panthers could repeat as division winners. One of the reasons I gave was a series of signings that included defenseman Filip Kuba. Fast forward to now, and that signing hasn't really panned out.
The former Panthers draft pick returned to his first club in the offseason, and figured to be a good replacement for the departed Jason Garrison. But thus far, he has failed to deliver on the deal he signed.
Just four points in 21 games total—three less than he tallied in his 18 games with the club more than a decade ago. Plus, his minus-12 rating is one of the worst in the league. For getting the third most average ice time per game, he's not done much with it, totaling just 10 hits and 29 blocked shots.
He's just been a mediocre cog in a defense that's allowed the most goals in the NHL (83 in 23 games). At least Brian Campbell has 16 points to show for his minus-10.
Christian Petersen/Getty Images
2013 has seen Mike Smith drop off from last season's playing level.
As the Phoenix Coyotes made a deep playoff run in the 2011-12 season, goaltender Mike Smith shone in his first full-time starting gig. 2013, however, has seen the former Tampa Bay Lightning netminder drop off some in his production.
The Coyotes still are hanging on to a playoff spot (seventh) at this point, but are just two points above the 11th-placed Nashville Predators. One of the major reasons why they've been unable to secure a better spot has been their inability to control opposing offenses.
Smith's 2.90 goals-against average is a far cry from the 2.21 mark he put up last season, as well as the superb 1.99 from the postseason. He's allowed four or more goals in four of his last five outings, though this includes two shootout wins over the Anaheim Ducks.
A .900 save percentage puts him in the bottom tier among qualified goalies. If the Coyotes want to make another deep charge into the playoffs, or even just secure playoff status for this season, Smith's play will need to improve.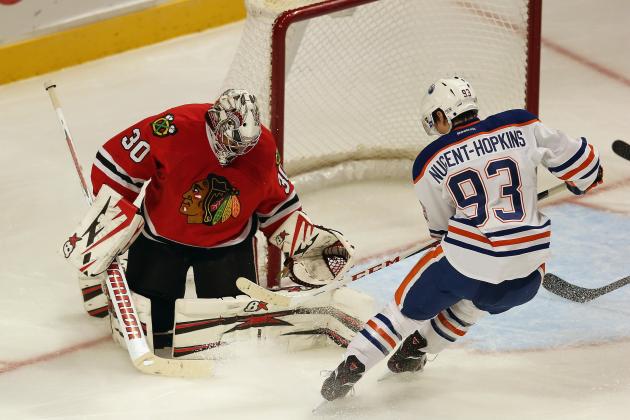 Jonathan Daniel/Getty Images
Ryan Nugent-Hopkins' sophomore season has not gone according to plan.
The Edmonton Oilers' struggles over the past few seasons have allowed them to assemble a series of high draft picks and, as such, a group of extremely talented young players. High on that list is Ryan Nugent-Hopkins, the top pick in the 2011 entry draft.
The Burnaby-born forward had a solid rookie season, notching 18 goals and 52 points in just 62 games, doing so as his team finished 14th in the Western Conference. 2013 sees the team a bit higher up the standings, but Nugent-Hopkins hasn't been a big key to that.
Sure, he is more of a distributor than he is a pure scorer, but having just one goal to his name at this point in the season is surely not what his coaches were hoping for. His eight total points are also well below what would be expected of a player of his caliber.
He's only 19, and this might just be a "sophomore slump." But he and his team will be wanting that to end soon if they're to remain in the playoff race.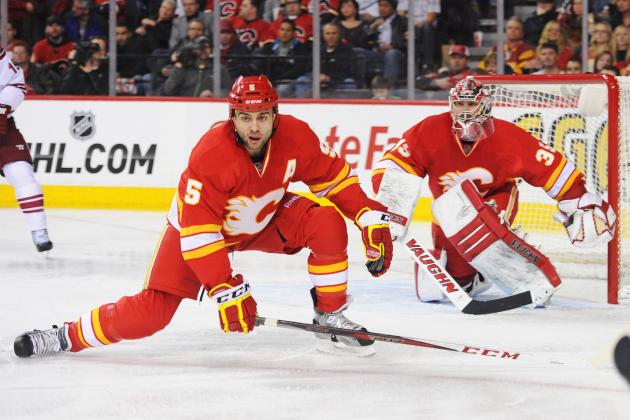 Derek Leung/Getty Images
Mark Giordano (5) has suffered through Calgary's mediocre season.
The Calgary Flames have been an odd story in recent years. Over the past two full seasons, they've finished second twice in the Northwest Division. And yet, they've failed to make the playoffs both times. Talk about rotten luck.
This year, the division still has only one playoff team (the Vancouver Canucks), but Calgary is mired in the bottom of the conference standings. With 20 points, they're in 13th place. And in this team's struggles, defenseman Mark Giordano has been a huge disappointment.
The Toronto-born blueliner has previously been a decent source of offense for his team, but this year he has just one goal and three assists, and his shooting percentage is the lowest among the team's goalscorers.
Additionally, his hit and blocked shot rates are down from previous years, and he sports a minus-3 ratio. For a defense that has allowed the second-most goals in the Western Conference, Giordano has been a weak link.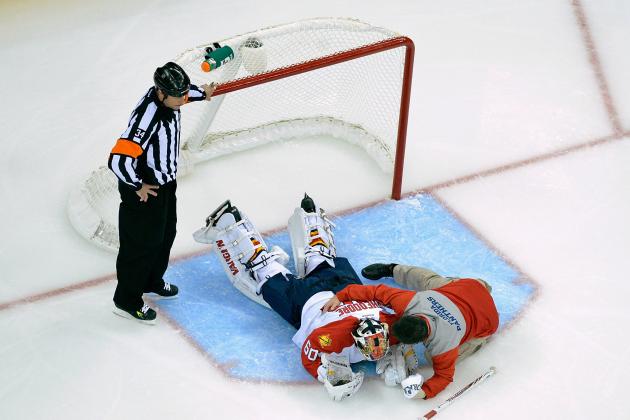 Grant Halverson/Getty Images
Jose Theodore's abysmal 2013 is now over.
As mentioned earlier in this slideshow, the Panthers have endured a hugely disappointing 2013 season. One of the players who best exhibited this struggle is goaltender Jose Theodore, who was a rock at the back last season.
Theodore suffered a groin injury in Saturday night's loss to the Carolina Hurricanes, and his impending 4-6 week absence could bring an end to what has been a disastrous season.
His 4-6-3 record is bad enough, but a 3.29 goals-against average and .893 save percentage are just flat-out poor. Part of that does come down to having a not-so-stellar defense in front of him, but Theodore overall hasn't been the steady presence he was last season.
With his contract expiring at season's end and top prospect Jacob Markstrom making his presence felt with a strong showing Tuesday night, Theodore's time in Florida might be up after this unfortunately bad season.