Nebraska Football: Grading Every Starter's Likely Replacement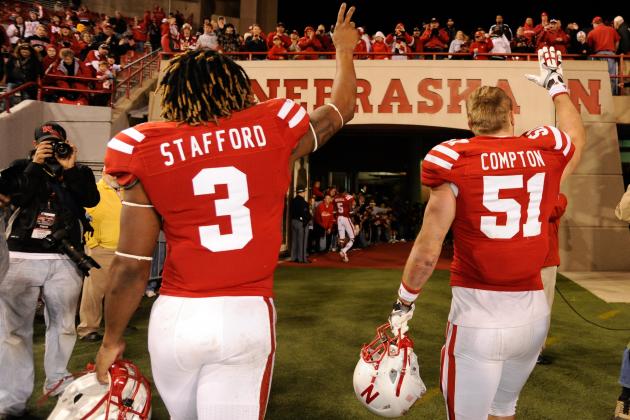 Eric Francis/Getty Images

The Nebraska Cornhuskers must reload for the 2013 season after the departure of numerous seniors, particularly on defense.
Although some open positions will be filled by obvious and proven successors, the Big Red will also need to rely on untested and relatively unknown players next season.
Based on Patrick Runge's projected starters for 2013 (that way I can divert all arguments regarding these projections to him), let's take a look at the pre-spring grades for those players most likely to fill the Huskers' starting lineup vacancies.
Begin Slideshow

»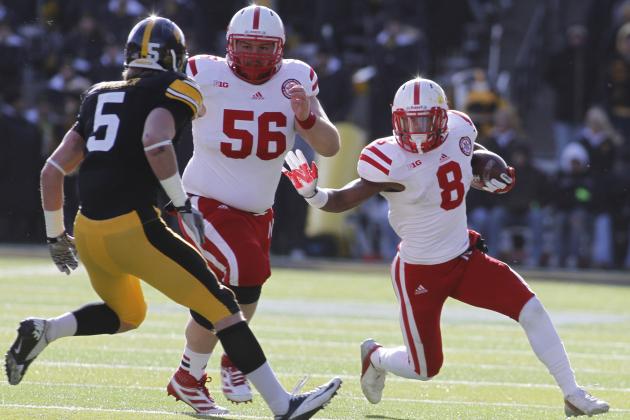 Matthew Holst/Getty Images

After Rex Burkhead's constant struggles with injuries during his senior campaign, it is hard to consider Ameer Abdullah a newcomer to the starting lineup. But technically, Abdullah is a replacement.
And what a replacement he is.
Despite Nebraska's immense love for Burkhead, Abdullah's electrifying play in 2012 inspired whispers of his superiority to the much-maligned starter. Abdullah's speed and quickness is paired with his underrated power to make him a threat every time he touches the ball.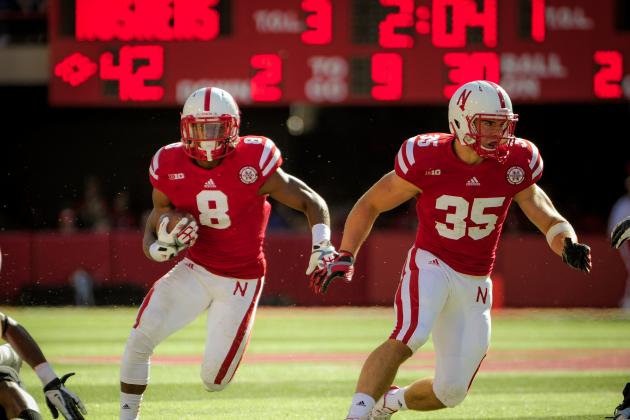 Eric Francis/Getty Images

Similar to Ameer Abdullah, calling Andy Janovich a replacement does not tell the whole story. Even though Mike Marrow and C.J. Zimmerer were supposed to bear most of the burden at fullback in 2012, Janovich crashed the party.
His impressive physicality for his age has thrust him into the discussion for the starting job. While Marrow and Zimmerer will both still be around next season, it will be no surprise if Janovich jumps them both.
At a position that boasts more depth than perhaps any other, Janovich might just overtake the incumbent and earn a more permanent place in the Huskers' backfield.
Eric Francis/Getty Images

Replacing walk-on Seung Hoon Choi may be Jake Cotton.
Perhaps the toughest replacement to grade, Cotton certainly has the size and pedigree to perform well for the Huskers. At 6'6" and 295 pounds, he has all of the measurables to make great contributions on the offensive line.
But much remains unknown. Thanks to the extremely close games in which Nebraska frequently found itself, Cotton was rarely able to be judged against the caliber of opponents he will see this season (hence, the Idaho State photo). So let's reserve most judgment until the season is under way.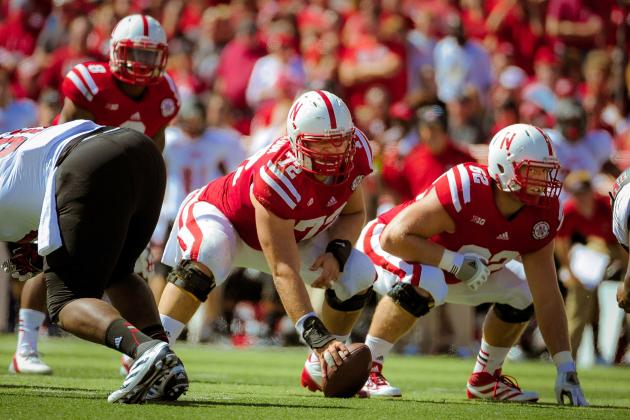 Eric Francis/Getty Images

Simply put, it is tough to have a great deal of confidence in a player who will only start because the man who beat him out for the position a year ago is now gone. Heading into the 2012 season, Justin Jackson was chosen over Cole Pensick for the starting center job.
After Jackson went down with an injury, Mark Pelini filled in but left a little to be desired in his performance. So now, the competition has reopened and optimism is at a minimum.
Fortunately for the Huskers, Pensick will be surrounded by quite a veteran group on the offensive line. He will not need to be a superstar, just a dependable role player.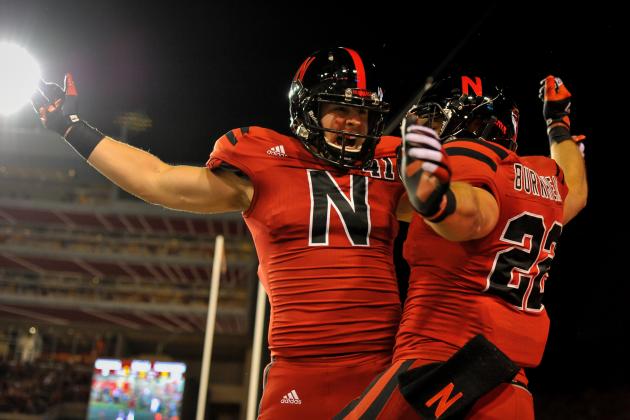 Eric Francis/Getty Images

Jake Long will have enormous shoes to fill at the tight end position next season. For a couple years, the tandem of Kyler Reed and Ben Cotton have provided extraordinary production.
But now Long will take the reins.
He does not quite have the size of Cotton nor will he display the athleticism in the open field like Reed, but Long will provide a hybrid of the two styles and prove to be a very capable replacement.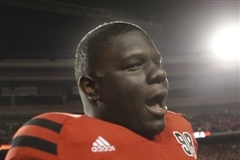 via 247sports.com
One of the newest faces to the Blackshirts' defense in 2013 will be Vincent Valentine.
Despite not seeing much of the field as a freshman, Valentine turned many heads on the scout team a season ago as he frequently gave Nebraska's seasoned offensive line fits.
Practice experience and game experience are two entirely different things however. So while reports of Valentine's excellence on the practice field are encouraging, one should hesitate to believe that this will translate perfectly to Saturdays.
So for now, let's stick with a conservative B grade.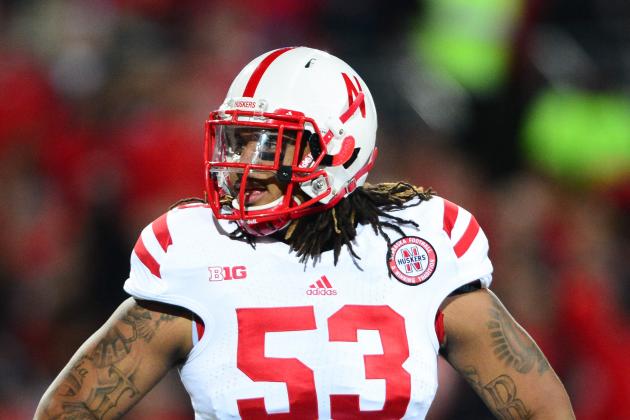 Andrew Weber-USA TODAY Sports

With the departure of Chase Rome from the program, the door now swings wide open for Thad Randle to secure a starting spot on the defensive line.
The good news: Of all the replacements filling in on the defensive line, Randle boasts the most experience. He is a veteran player who has been in the system for longer than the other replacement starters.
The bad news: He is a veteran from a defensive line that was frequently torched by quality offensive lines last season. And to make matters worse, Randle was a backup on that subpar unit.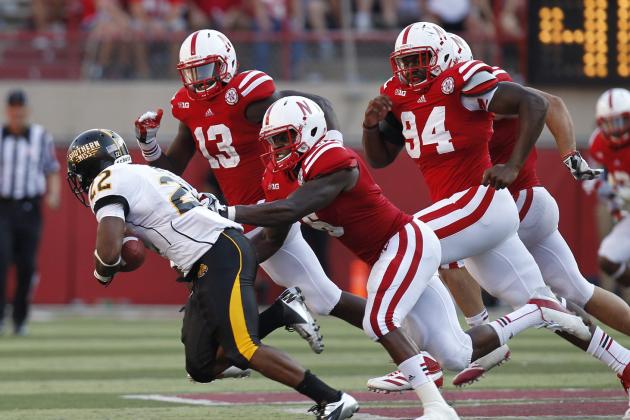 Bruce Thorson-USA TODAY Sports

The other new face on the defensive line may be defensive end Avery Moss, who will add much needed size to the Blackshirts' front four.
A year ago, largely thanks to injuries, Nebraska was forced to use players like Cameron Meredith on the interior. Barring another streak of bad luck next season, the Huskers should be able to send players like Moss to the outside and add much needed size up front.
As is the case with many of the Huskers' replacements, Moss lacks in substantial on-field experience which will likely result in some growing pains early in the season.
Eric Francis/Getty Images

One of the biggest knocks against the Blackshirts in 2012 was the lack of athleticism at the linebacker position. Despite the veteran leadership they provided, Will Compton, Alonzo Whaley and Sean Fisher simply could not guard the perimeter when they were called upon.
Well, David Santos will be a welcome addition to solve this problem. Although he will have much to learn as he becomes accustomed to the Huskers' defense, Santos' strength and speed will be evident from the outset.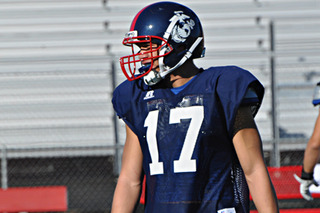 via 247sports.com
Picking Jared Afalava out of the giant mess of linebackers aspiring for this last spot is certainly a tough call. Thomas Brown and Michael Rose must also be considered serious contenders.
But with any of them, Nebraska will face the same situation—a young player that has shown some great potential in high school and in practices at Nebraska but lacks any real game experience.
So whether it is Afalava or someone else, there is the chance for something special to materialize. But a lot will depend on Bo Pelini, John Papuchis and the other coaches' abilities to coach up the raw talent into the overall defensive scheme.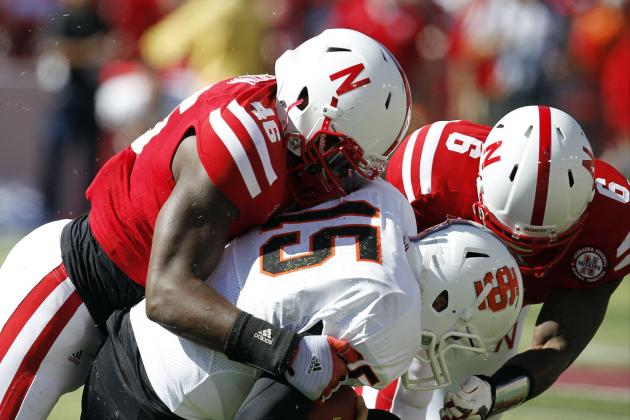 Bruce Thorson-USA TODAY Sports

It is tough to be too optimistic about Corey Cooper after his dismal debut against Wyoming two seasons ago. The Blackshirts were hurting for cornerbacks and turned to Cooper, a natural safety. A couple long completions and a touchdown later, the experiment was over.
Beyond this rough afternoon in Laramie however, Cooper has been commended for his development within the ranks of Nebraska safeties. And now, it is his time to take the reins.
Playing behind a couple veteran cornerbacks, Cooper will have a great chance at finding success in 2013.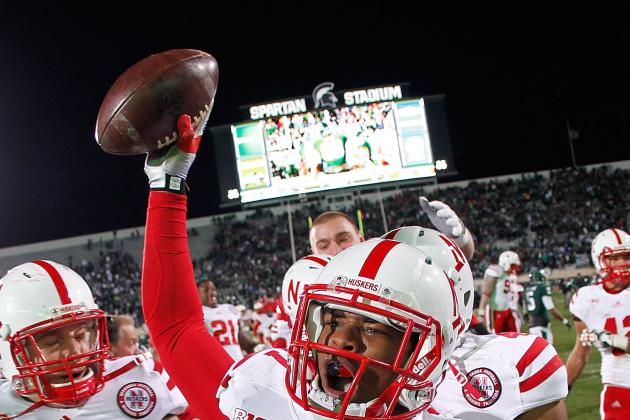 Gregory Shamus/Getty Images

A couple years ago, Charles Jackson committed to play in Lincoln as one of the most heralded recruits of his class. With a blazing forty-yard dash time and a huge vertical, Jackson has all the makings for a big time defensive back.
And 2013 will be the first time that talent takes center stage.
So despite his somewhat limited game experience at Nebraska, let's stay optimistic and give Jackson a B+ grade.