The Complete Guide to Baltimore Ravens' Free Agency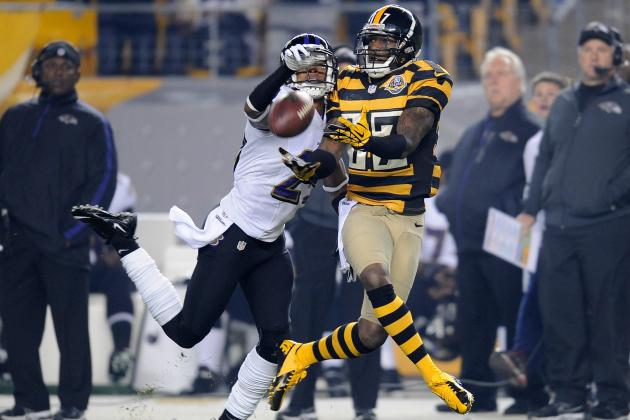 Joe Sargent/Getty Images

There is only a week left for the Baltimore Ravens to prepare for the beginning of NFL free agency. It's a testimony to the sport's popularity that an offseason event like free agency still draws lots of attention, and this year's free agency should be another enjoyable one, with lots of marquee players hitting the open market.
The Ravens have to be thankful to have resolved Joe Flacco's contract situation a few days ago. Of course, his deal is probably more expensive than they wanted to pay, but that's the price needed for stability at the quarterback position.
Here's a guide for what the Ravens' free agency plans will look like.
Begin Slideshow

»
Christian Petersen/Getty Images

During this fiscal year, the Ravens will give Joe Flacco a cap impact of $6.8 million. It's a good move by the front office, as now the Ravens are not cap-crippled and they will have at least an opportunity to try to resign their important free agents.
The Ravens are now at $11.263 million under the salary cap's limit of $123 million. They definitely have to be pleased that they didn't have to make Flacco their franchise player, which would have seeped out a lot more of their franchise money.
Again, Ozzie Newsome and the Ravens' front office have come through for the team. The Ravens have done an excellent job improving their salary-cap situation, and the end result will hopefully mean that they get to keep more players.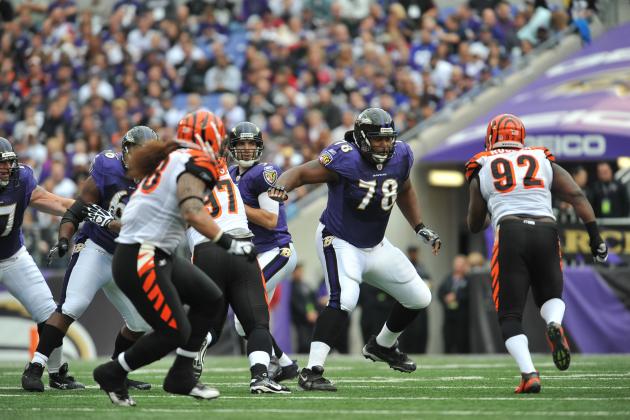 Larry French/Getty Images

Here's a look at the team's free agents, both unrestricted and restricted. In addition to their free agent status, the players will also be divided into categories of unlikely to return, possibly returning and very likely to return.
Unlikely To Return
Cary Williams, CB, UFA
Paul Kruger, OLB, UFA
Billy Bajema, TE, UFA
Ryan McBean, DL, UFA
Ricky Brown, LB, UFA
David Reed, WR, RFA
Possibly Returning
Ed Reed, S, UFA
Sean Considine, S, UFA
Ma'ake Kemoeatu, DL, UFA
Chris Johnson, CB, UFA
Ed Dickson, TE, RFA
Ramon Harewood, OL, RFA
Morgan Cox, LS, RFA
Very Likely To Return
Dannell Ellerbe, LB, UFA
Bryant McKinnie, LT, UFA
James Ihedigbo, S, UFA
Dennis Pitta, TE, RFA
Arthur Jones, DL, RFA
Ron Chenoy-USA TODAY Sports

As mentioned earlier, the Ravens have to be very grateful that they reached a deal with Joe Flacco and that they do not have to use the franchise tag on him. Under the franchise tag, the Ravens would have had to give him either a $19.1 million exclusive franchise tender or a $14.896 million non-exclusive tender.
Still, Flacco's contract will have a slight impact on the salary cap, likely coming in between $6.8 million and $7 million. This leaves the Ravens with $11.263 left to work with in cap room.
Ozzie Newsome had stated that Flacco was the only candidate for the franchise tag, so it's not at all surprising that the Ravens decided not to use it. Ed Reed is too old to use the franchise tag, while both Dannell Ellerbe and Paul Kruger have yet to be consistent enough to warrant such money.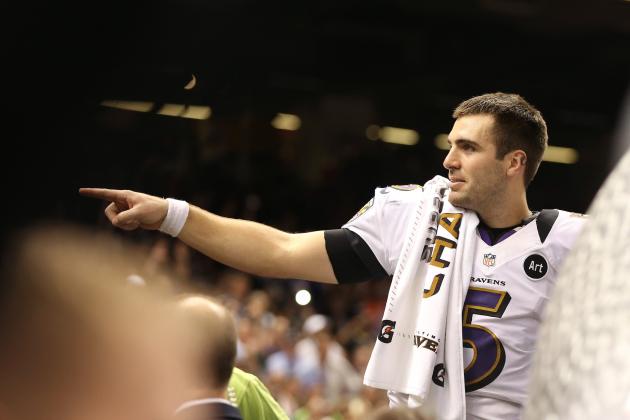 Mark J. Rebilas-USA TODAY Sports

Signed:
Joe Flacco, QB
The Ravens' only offseason signing was a huge one. Joe Flacco is not only the current richest quarterback in the NFL, but he is also the richest player in NFL history.
Not surprisingly, the deal is incredibly front-heavy, with Flacco scheduled to be paid $51 million over its first two years. The numbers will likely go down a bit in future seasons and Flacco could have to restructure at some point, should the Ravens have an offseason where they need to resign several players.
Paying anyone the most money in NFL history is a gamble. For the Ravens, they have to hope that Flacco plays more like he did in the 2012 playoffs, and that his ascension under Jim Caldwell was not a fluke.
Retirements:
Matt Birk, C
Ray Lewis, LB
While not actual signings, it's worth noting that both Ravens who said they would retire have officially done so. Both Lewis and Birk have ended their spectacular NFL careers by filing their retirement papers. No Favre-esque flip-flopping—at least not yet.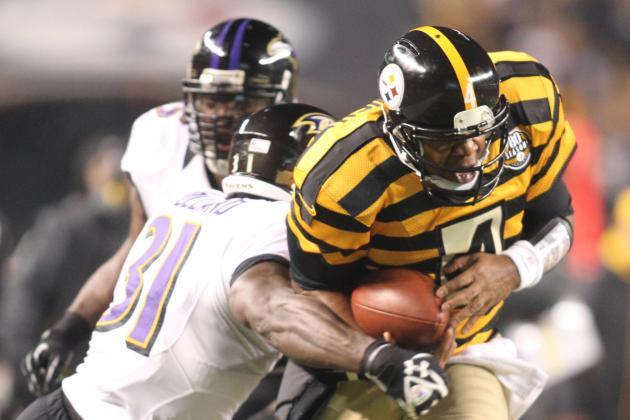 Charles LeClaire-USA TODAY Sports

Middle Linebacker Depth
This section is entirely contingent on whether or not the Ravens re-sign Dannell Ellerbe. If they resign him, both he and Jameel McClain should be solid starters at middle linebacker. If he doesn't return, though, the Ravens will have almost no depth at the position.
Either way, there is need at this position. Many mock drafts have the Ravens grabbing a middle linebacker in the first round, so if that prediction manifests, their draft pick could possibly challenge for a starting spot. The Ravens do need depth at middle linebacker, though, and if there's a cheap free agent who fits the bill, it's a good bet that they'll go for him.
Free Safety Depth
Like with middle linebacker, this position is contingent on what happens in free agency. Ed Reed is very unpredictable, and the fact that he serves as his own agent makes it a pretty big mystery as to what will happen with him.
Could Sean Considine or Omar Brown start at free safety if Reed leaves? It's not really something you want to find out. If Reed goes, the Ravens will have to be active in searching for a new starting safety.
Starting Defensive Tackle
The Ravens were ranked 20th in rush defense, largely because of poor efforts from the defensive tackle position. Terrence Cody has at this point in his career played like a bust. He doesn't deserve a starting role, although at the same time it's difficult to think that the aging Ma'ake Kemoeatu has a lot to offer as a starter, either.
This results in the Ravens really needing a new defensive tackle. After their key free agents are resigned, expect them to go for someone who can help out in this area.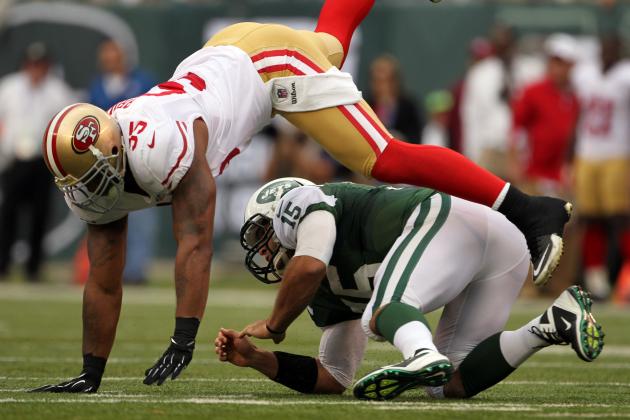 The Star-Ledger-USA TODAY Sports

Ricky Jean-Francois
Despite just defeating him in the Super Bowl, the Ravens have shown some interest in signing the backup 49ers nose tackle. Ricky Jean-Francois was a rotational player in San Francisco's 3-4 defense and he was able to play both nose tackle and defensive end during his time with the 49ers.
Jean-Francois also got high marks as a run stopper, an important component for a team trying to improve its run defense. His pass-rush abilities are not as good, but considering that other Ravens usually take care of providing that, it likely wouldn't be too much of a hindrance if Jean-Francois came to Baltimore.
Richard Seymour
Even though he sounds like a big name, Richard Seymour is clearly on the downside of his career. He's 33 years old and has bad knees, an injury that allowed him to appear in only eight games all of last season.
Seymour does have plenty of high-quality experience, though, and he still had a great rating by Pro Football Focus, despite his low snap count. He wouldn't be the first player to leave Oakland's toxic environment and play better simply because of being elsewhere. At the very least, he could provide depth and experience for the nose tackle position.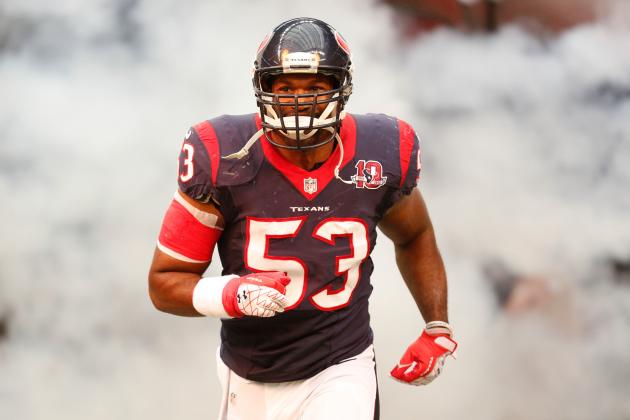 Thomas Campbell-USA TODAY Sports

Bradie James
Over the past few seasons, the Ravens have developed an interesting trend where they sign former Houston Texans and find a way to get the most out of them. Recent examples include Vonta Leach and Jacoby Jones, both players who were named to the Pro Bowl in 2012.
This trend could potentially continue with the acquisition of Bradie James, the backup who shined during the absence of Brian Cushing. Cushing will be back in the Texans' lineup next season, which means James could be gone after only one season in Houston. He had a solid season with 77 tackles, and now at 32 years old he shouldn't command a very expensive pay check.
Erin Henderson
Erin Henderson is another player that could come pretty cheap. He excelled last season after being forced into a starting role due to injuries, and he ended the year with 79 tackles. Henderson also didn't have any penalties called on him in 2012, so he could bring discipline and leadership to the Ravens' locker room.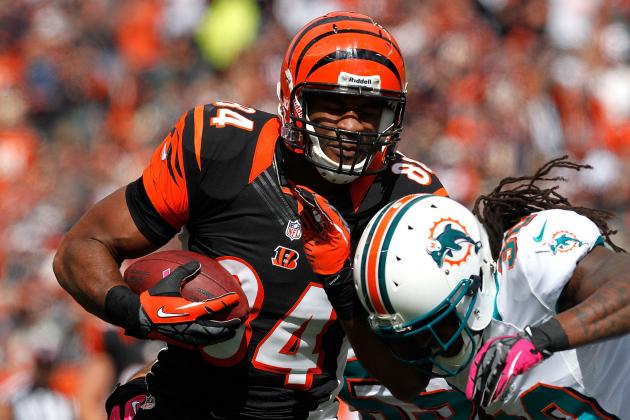 Tyler Barrick/Getty Images

Chris Clemons
There's simply no guarantee that Ed Reed will return at this point, regardless of how good the two sides feel about each other. So the Ravens might need to look for a potential starter at safety—someone like Chris Clemons.
Clemons had a great year with the Miami Dolphins, where he didn't give up a single touchdown in coverage. He also accumulated 98 tackles and made two interceptions while not missing a single game. He's the kind of player that could potentially develop into a worthy starter, especially if he can improve upon his career year in 2012.
Louis Delmas
Louis Delmas demonstrated his value to the Detroit Lions this past season by the time he missed due to injury. Their secondary was woeful down the stretch, and their 24th ranking against the pass was a big reason why they ended the year on an eight-game losing streak.
Delmas is definitely a more injury-prone player, as he only appeared in eight games in 2012. He is a young player, though, and there is definitely some potential for growth, if he could only stay healthy.