Breaking Down the Top Candidates for the 2014 U.S. Olympic Hockey Team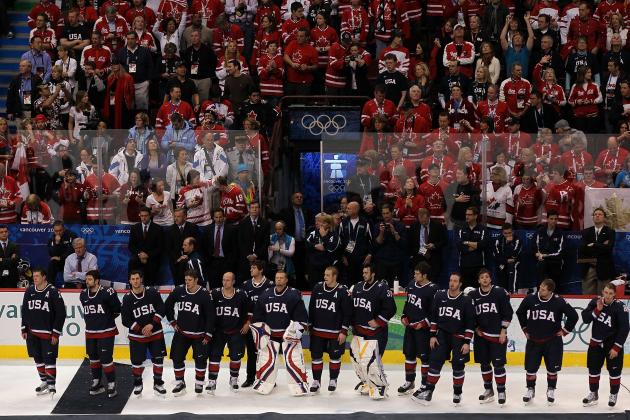 Jamie Squire/Getty Images

Of the 23 players who won a silver medal for the United States men's hockey team in the 2010 Winter Olympic Games, 14 will still be in their 20s when next Olympic tournament is conducted next year in Sochi, Russia.
All of those 14 Americans, along with a sprinkling of 30-somethings, are credible candidates to return. That is, of course, if the NHL lets them, a prerequisite that remains an uncertainty.
There will be at least two slots open for skaters, though, as defenseman Brian Rafalski and forward Chris Drury both retired in 2011. Based on the direction their game has taken, a few other 2010 Olympians are difficult to envision playing in the 2014 tournament.
But there should be a surplus of suitable replacements with the concomitant emergence of a few players who made international headlines of their own in 2010 with a World Junior gold medal for the U.S.
There are a few others who have matured their game to a can't-miss status for when the time comes to assemble a nation's best, most useful talent available. They were afterthoughts at the time of the last Olympics, but will more likely serve as stunners if they are not selected to the 2014 roster.
Assuming the NHL commits to sending its players to the Sochi Games, here are the top five candidates for a roster spot in each position from goal to left and right defense to center to left and right wing.
Unless otherwise indicated, all stats and information for this slideshow were found via nhl.com and are through games of Monday, March 4.
Begin Slideshow

»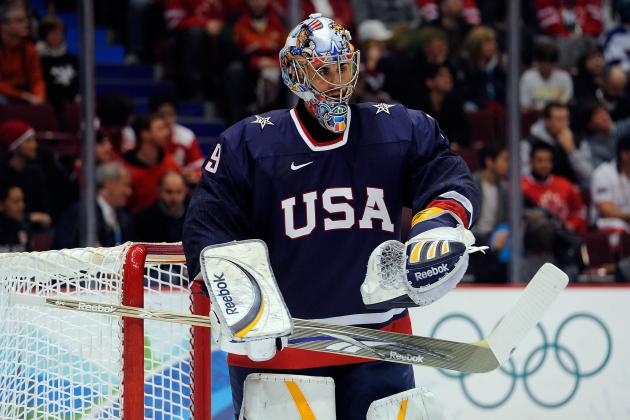 Kevork Djansezian/Getty Images

Craig Anderson: The Illinois-born journeyman was a pleasant surprise to start this season, rolling up an 8-4-2 record with a .952 save percentage and 1.49 goals-against average before going down with an ankle injury.
Accordingly, the key question as to Anderson's Olympic chances is "Can he bring back and sustain the compete level that delivered a solid first month to 2013 before his injury?"
Jimmy Howard: Howard has been subjected to yeoman's work with a depleted Detroit Red Wings' defense before him. But his output as a rookie in 2009-10 (career-high .924 save percentage) and last season (career-high six shutouts and 2.13 GAA) are more indicative of his capabilities.
A product of the U.S. National Team Development Program and the 2002-03 World Junior Championship team, Howard may be the top candidate to be a first-time Olympian among American netminders.
Ryan Miller: A veteran of the 2006 Turin Games (though he didn't see action) and the 2010 Vancouver Olympics, Miller is also the top minute-muncher among goalies of his nationality. He was second on that leaderboard only to Jonathan Quick in 2011-12, when he missed time with a concussion, and first in 2010-11.
With his energy, familiarity with the tournament and expected motivation after surrendering the gold medal-clinching goal in 2010, the U.S. starting job is Miller's to lose.
Jonathan Quick: While he has struggled to start his Stanley Cup title defense with the rest of the L.A. Kings, Quick is the reigning Conn Smythe recipient and a Vezina finalist for a reason.
His end-of-season numbers have improved with each successive season since he became a full-time NHLer in 2009-10 and he still has ample time to turn 2013 around. He recently showed signs of that with a three-game winning streak Feb. 19-25.
Cory Schneider: Schneider turned in a respectable 25-game performance in 2010-11 and appeared bound to claim the Canucks' starting position after 2011-12. He has yet to deliver another convincing follow-up, though, which makes him look like a dark horse for the third-string position on Team USA at this point.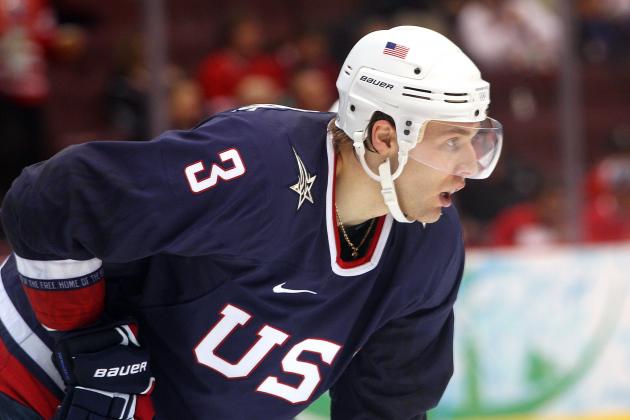 Cameron Spencer/Getty Images

Dustin Byfuglien: Within months of the previous Olympic Games, which he did not play in, Byfuglien broke out on offense with an 11-goal postseason en route to a Stanley Cup title with the Chicago Blackhawks. He has since posted back-to-back 53-point seasons with a hard-luck Atlanta/Winnipeg franchise.
Byfuglien's size has not been put to the best use on the home front, being on one of the NHL's more plebeian teams as he has physically matured. But it might come into more appreciable view if put on a competitive international team for a short tournament.
Matt Carle: Carle led the Philadelphia Flyers in ice time last season and is doing the same now with the Tampa Bay Lightning. He has not represented Team USA in any fashion since he left the development program for the USHL in 2002, but can reverse that trend with more of the energy and reliability he has ripened to.
John Carlson: He went the way of many of his Washington Capitals teammates in this regard, but in his first two full NHL seasons, Carlson saw his rating plummet from a plus-21 to a minus-15.
The 23-year-old will need to show sufficient polish in his day job, especially as selection time approaches, to have any chance of skating in Sochi. With that said, his 30 assists as a rookie in 2010-11, one year after he scored a World Junior overtime clincher, leaves something to build on.
Tim Gleason: As evidenced by the fact that he kept his rating on the plus side during non-playoff seasons with the Hurricanes in 2007-08 and 2011-12 and even in 2009-10, Gleason is an effective defensive defenseman.
Unless multiple players of a similar mold emerge and make a better impression, his services in that role will surely be required the same way they were on the 2010 Olympic team.
Jack Johnson: The American captain at the 2012 World Championships, Johnson has seen action in six IIHF tournaments since turning pro. Those include the 2010 Olympic Games and, as a consolation prize for playing on several wretched teams in L.A. and Columbus, five World Championships.
In his international career, Johnson has dressed for 43 games with Team USA since the spring of 2007, scoring 10 goals and 19 points. There aren't many active players one would expect to be more familiar with these types of short-term tournaments.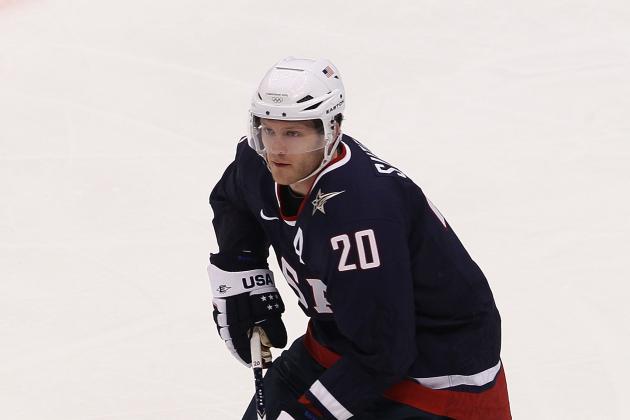 Bruce Bennett/Getty Images

Ryan McDonagh: It would not be a stretch to envision New York Rangers' head coach and Massachusetts native John Tortorella taking the reins for the Americans. Right now, other than Philadelphia's Peter Laviolette, no other candidate comes to mind.
If that happens, or even if it does not, one of his best defensemen of the previous two seasons is a sound candidate for first-time Olympic participation.
McDonagh made a seamless transition to NHL defense without much delay, flaunting maturity in the form of a plus-16 rating in 2010-11 and a sophomore surge of plus-25 last year. Immediately before that, he saw action in back-to-back WJC tournaments, including a gold-medal triumph in 2009-10.
Brooks Orpik: Penalty killing could be one asset that makes Orpik a go-to additive for the Americans. He is averaging 3:57 of shorthanded ice time per night with the Pittsburgh Penguins and was in the three-minute range in that column each of the past two years
Kevin Shattenkirk: Through 21 games, the 24-year-old Blues blueliner leads all U.S.-born defensemen with 15 assists and 17 points overall along with a 2-6-8 scoring log on the power play.
Ryan Suter: In the past, Suter has worn the Star-Spangled Sweater in the development program, nine World Championships of three different levels and, most recently, the 2010 Olympic Games.
In the present, Suter is the ice-time leader among American defensemen as a Predator last season and against this season with the Wild, with whom he is starting to thaw out after a so-so first three weeks.
Keith Yandle: Bearing an enviable skill set that has made him the subject of mass trade chatter of late, particularly last summer, Yandle has emerged as one more two-way threat who can be brought on as a first-time U.S. Olympian.
Honorable Mentions: Erik Johnson, Tyler Myers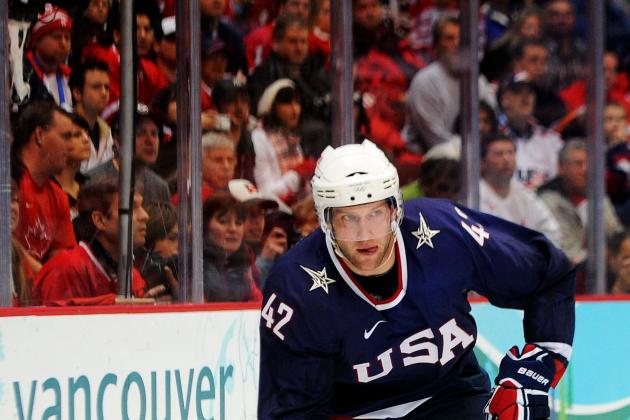 Kevork Djansezian/Getty Images

David Backes: The St. Louis Blues' captain can assure himself a second Olympic passport by continuing to bring the same exemplary leadership that earned him a Selke Trophy nomination in 2011-12. Plain and simple.
Ryan Kesler: Recent injuries are a natural cause for doubt, but if Kesler is healthy and on his game, his all-around, Selke-caliber skill set and experience from the 2010 Olympic Games will make him hard to overlook.
Joe Pavelski: Another veteran of the Vancouver Games who has been a key cog on the San Jose Sharks power play. Of his 141 goals and 321 points in 451 career games, he has collected 46 and 120, respectively, with the man advantage.
Paul Stastny: Just as he did in each of the previous three seasons, Stastny has taken more faceoffs than any other American center this year with 418, winning 52.9 percent of them. He had 55.4 percent success at the dot last season while taking an unsurpassed 1,424 draws and won 53.2 percent out of 1,524 in 2010-11.
When his team has possession, often as a result of those wins, Stastny has hit the 20-goal range in three straight campaigns. With five strikes in 20 games, he would have been on pace to do the same if this were a full-length, 82-game schedule.
Derek Stepan: Stepan boasts multiple common threads with McDonagh. He is a two-time WJC veteran who won gold in 2010 and an integral component of Tortorella's depth chart who has demonstrated sound responsibility in his first two-plus professional seasons.
Unlike his fellow Wisconsin dropout McDonagh, though, Stepan did not require any time in the minors before delving into The Show. Not bad for a product of the NCAA, where players have shorter-than-ideal seasons as their last touch of preparation for the pros.
Honorable Mention: David Legwand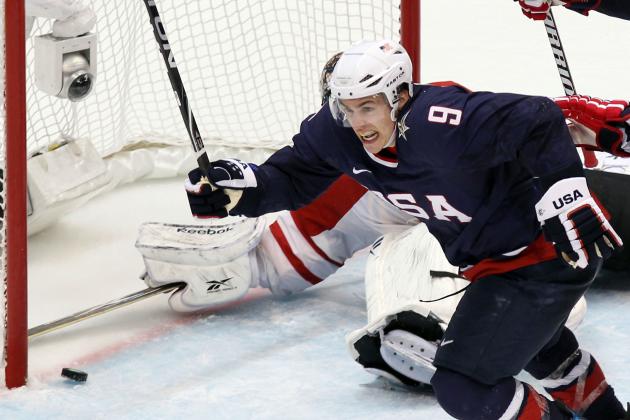 Alex Livesey/Getty Images

Erik Cole: Cole has openly left his career in doubt beyond 2012-13, stating in January that he may retire on account of the NHL's new CBA. But if he chooses to continue playing, based on his most recent performances with Montreal and now Dallas, the 34-year-old Oswego, N.Y. native could give the U.S. some invaluable, productive veteran presence up front.
Ryan Malone: Reeling off the last point on Cole, the 33-year-old Malone can also provide sufficient seasoning balanced with scoring prowess.
Max Pacioretty: The Connecticut native broke out in his first full NHL campaign with 33 goals and 32 assists in 2011-12. After a slow start saw him post a 0-5-5 transcript in his first 10 appearances, he is now piloting the Montreal Canadiens again with 20 points.
It would take either an untimely letdown or a decision to revert to amateur Olympic rosters for Pacioretty to not go to Sochi in 2014.
Zach Parise: Although it was not as recent, his electrifying equalizer late in regulation of the 2010 gold medal game comes to mind at the mention of Parise more readily than his injury-plagued 2010-11 season.
Cole and Malone have seasoning while the other candidates for one of four left wing openings should be on an upward trajectory in the production department. In this position, Parise has the best balance of experience and scoring along with leadership, being the former Devils captain.
James van Riemsdyk: His size (6'3, 200 pounds) and scoring touch made him a key cog on various U.S. teams at younger levels in the seasons between 2005-06 and 2008-09.
Now in his fourth NHL campaign, which he has started with 12 goals and 17 points in 23 games, van Riemsdyk looks ready to go on display in the ultimate international tournament.
Honorable Mention: R.J. Umberger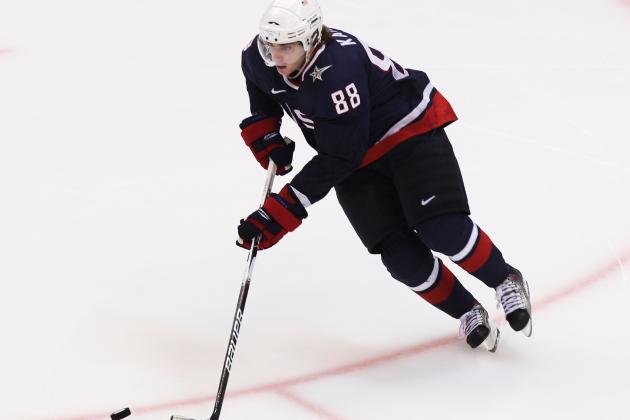 Alex Livesey/Getty Images

Dustin Brown: The captain of the team that beat Parise's Devils for last year's Cup, Brown joined his teammate Quick in an initial stumble to start the Kings' title defense. But he is now on pace to kick enough ice chips over that with a 3-2-5 scoring log and a plus-three rating in his last 10 games.
Come what may, Brown is usually an effective, exemplary lunch-pail player, which is most ideal in high-stakes hockey. Look no further than his last two full regular seasons and the 2012 playoffs.
Ryan Callahan: Another NHL captain and another potential Team USA returnee from 2010, Callahan has generally been at his best on both ends at the puck in the postseason. While the Stanley Cup playoffs are hardly a fraternal twin to the Olympics, Callahan's qualities can still be useful in that setting.
Patrick Kane: Is there anybody more dynamic among U.S.-born players, or maybe any player from any country, in the NHL right now? Furthermore, even if Kane were not off to a carbonated stream of 26 points in 22 games this regular season, would it really have much bearing on his Team USA chances?
The 24-year-old Kane may have the most overwhelming and appreciably consistent resume of any candidate on this list. He contributed five points in six games during the last Olympics and followed up with 10 goals and 28 points for the Blackhawks en route to the 2010 Stanley Cup.
His team has not advanced to the second round since, but he has packed 10 points in 13 playoff tilts over the last two years.
Before all of that, in 2008, he went 3-7-10 in seven World Championship games.
Phil Kessel: Dating back to a 6-0 win over Montreal on Feb. 9, six of Kessel's last nine points have been shared on the same scoring play with van Riemsdyk, his new Maple Leaf ally. Overall, Kessel and van Riemsdyk have collected 17 points each, including eight apiece by way of assisting on each other's goals.
If the chemistry between those two Toronto wingers gains sustained traction, the U.S. management and coaching staff would be remiss not to make them Olympic associates.
Bobby Ryan: Together with Kane and Kessel, Ryan would give the Amerks no shortage of youthful, yet appreciably experienced, pure scoring depth down the right side. He rounds out a quintet of candidates for this position who were all on the last Olympic team.
Honorable Mention: Blake Wheeler