Syracuse Basketball: 5 Keys to Beating Georgetown in Regular Season Finale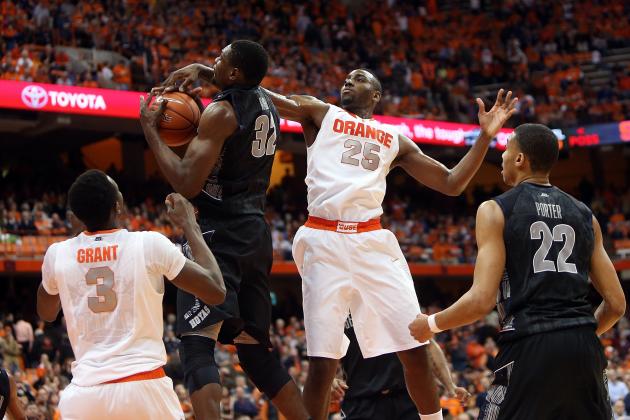 Nate Shron/Getty Images

Even though it doesn't seem right, this Saturday does in fact mark the last regular season Big East game between Georgetown and Syracuse.
It would be easy to attach an inordinate amount of historical significance to this game. But the Orange can't worry about any of that.
This isn't about "Bouie and Louie," Pearl, Sherman, Owens, Moten, Rautins or even Scoop.
The 2012-'13 Syracuse Orange needs to beat the Hoyas for themselves. There's no more time to find what they need to make a run in the NCAA tournament.
If this season is to be considered a success, the Orange need to win this game in order to get their mojo back.
Here are the most important five keys of the season.
Begin Slideshow

»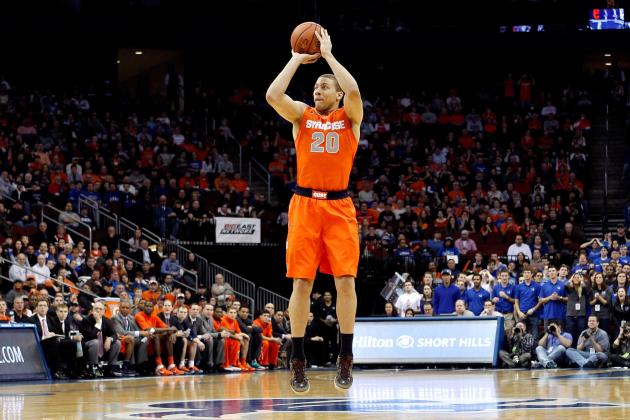 Chris Chambers/Getty Images

Look at that perfect form. That shot was taken against Seton Hall when Triche made 10-of-18 from the field, including 4-of-7 from long distance, in scoring a career-best 29 points. Brandon had six rebounds, five assists and only one turnover in that game.
The Orange needs that Brandon Triche. Badly.
His struggles have been well documented. He can't make a three and he can't hold on to the ball. That's not a good combination.
I don't know the answer to the mystery of where Triche's game has gone. I don't know if Jim Boeheim, Mike Hopkins, Adrian Autry or Gerry McNamarra have the answer either.
Ultimately only Brandon does. Let's hope he finds it.
Nate Shron/Getty Images

As Dan Patrick would say, you can't stop Otto Porter, you can only hope to contain him.
Porter, the favorite for the John R. Wooden Award, torched the Orange in the Carrier Dome for 33 points, hitting 12-of-19 from the field. The rest of the Hoyas hit 7-of-35.
The Orange aren't alone, as Porter lit up Connecticut and Rutgers in his next two games for a total of 50 points, making 13-of-24 shots. For the season he's hitting 51 percent from the field, including 47 percent of his 3-point attempts.
Should the Orange resort to a box-and-one? Should C.J. Fair, James Southerland and Brandon Triche take turns harassing Porter?
I don't see coach Boeheim doing that. Instead, Syracuse is just going to have to locate him early and often.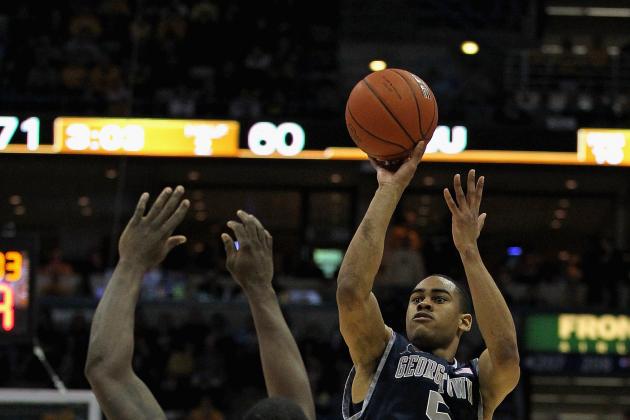 Jonathan Daniel/Getty Images
Markel Starks
Porter isn't the only Hoya who can hit from long distance. Markel Starks hits 39.8 percent and D'Vauntes Smith-Rivera makes 35.6 percent.
Georgetown lost their best inside player when Greg Whittington was declared academically ineligible. Surprisingly, the Hoyas have gone 13-1 since losing Whittington's 12 points and seven rebounds per game.
They've done it from the perimeter and the Orange will need to shut that down by extending their zone and being aggressive.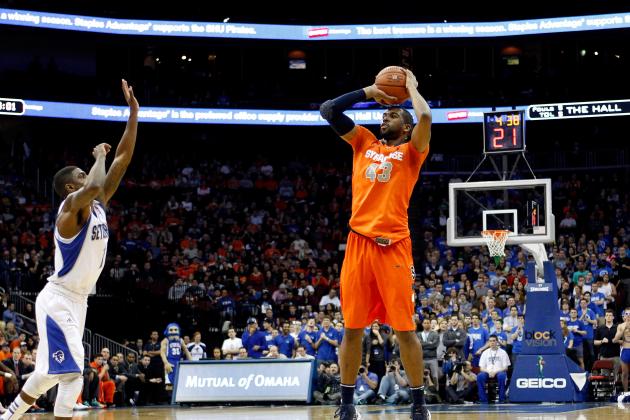 Chris Chambers/Getty Images
James Southerland
A Southerland three put the Orange up 12-4 early against the Hoyas in the Dome. Syracuse's next four shots were missed three's. They never recovered, shooting just 4-of-20 from three in losing by 11.
Since making 4-of-7 three's against Seton Hall, Brandon Triche is only 2-of-16. He and MIchael Carter-Williams have struggled and need to be smart about their shot selection.
Interestingly, James Southerland has been on fire from long distance since returning from suspension. He's hit a nice 39.7 percent for the season and a very impressive 43.4 percent in the seven games since his return.
It will be important for the Orange to take smart shots and not rush them. Going inside first will be important.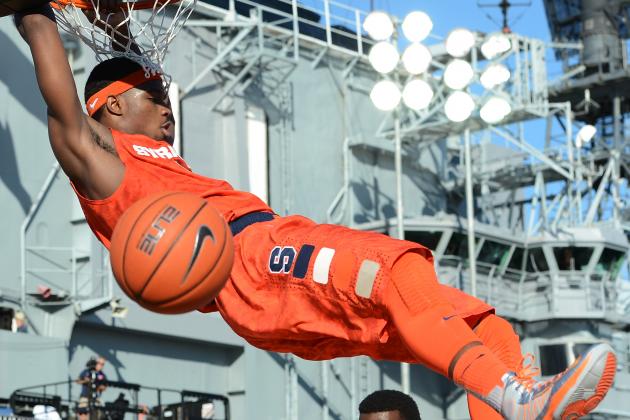 Harry How/Getty Images
CJ Fair
The Orange may be averaging 73 points per game but you wouldn't know it from their games lately. They've always been known as a running, dunking, fun team. They need to be just that again.
This will be a battle of styles as Georgetown only averages 65 points and will want to slow the game down. In their last meet, Georgetown's 2-3 zone forced the Orange to hit from the outside and we've seen over and over again this season that they can't do that very well.
It's a simple concept. Syracuse needs to force turnovers and rebound defensively to trigger their transition game to get easy baskets and lessen the need to make jump shots against the Hoyas zone.