As the St. Louis Cardinals reflect on the unfinished business of 2012, they have to feel proud and disappointed at the same time. Being one win from the World Series was not something Cardinals fans thought would have been possible in mid-August.
However, the Cardinals showed their teeth like a back-alley Rottweiler and made their push into the playoffs. Now as 2013 is upon us, the Cardinals are poised to improve on their 88-74 record from last season.
The Cardinals have a lot going for them. Keith Law of ESPN ranked their farm system as the best in baseball. They are rich with talent and have flexibility when it comes to settling on a rotation with all the young arms in the cupboard.
It is my opinion that the Cardinals' Opening Day rotation will be as follows:
Wainwright
Garcia
Westbrook
Lynn
Miller
That leaves the bullpen in a strong position. Joe Kelly and Trevor Rosenthal are being given an opportunity to nail down the fifth starter spot, but they will most likely end up in the bullpen. The bullpen was a sore spot last season. But with the addition of Kelly and Rosenthal, as well as Mitchell Boggs and Jason Motte, the bullpen should be a strength this year.
The 2013 version of the Cardinals offense should also be a bright spot. Derrick Goold of the St. Louis Post-Disptach suggested that the Cardinals also boast baseball's best offense coming into 2013.
The Cardinals return five hitters—Beltran, Freese, Holliday, Craig, and Molina—who all hit 20 or more home runs last season. It is not out of the realm of possibility that Beltran, Holliday and Craig will all crush 30 or more home runs this season.
And phenom Oscar Tavares is knocking at the door and chomping for an opportunity to bring some offense to St. Louis.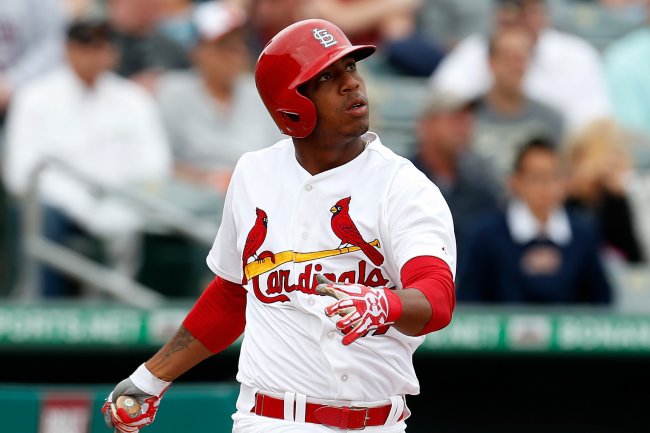 Chris Trotman/Getty Images
Tavares has impressed so far in spring training. He is hitting .292 with six RBI in seven games. He crushed a grand slam last week against the Miami Marlins and has shown he deserves a longer look. Bernie Miklasz of the St. Louis Post-Dispatch makes the case for Taveras to make the Opening Day roster.
The only real issue hanging out there for the Cardinals is the middle infield. According to Bernie Miklasz of the Post-Dispatch, Rafael Furcal is not progressing with his elbow injury. Instead, playoff hero from last season Pete Kozma may be the everyday guy at shortstop to start the season.
Second base is wide open as well. Prospect Kolten Wong is getting a long look, but so far hasn't hit well in spring training.
Thus far, Wong is batting .200 in his 15 spring training at-bats. Hopefully he'll turn it around; otherwise, he'll be at Triple-A Memphis to start the season. At this point, either Daniel Descalso or Matt Carpenter will find their way into the lineup starting at second before it's all said and done.
So, to sum it all up, once the middle infield is solidified, the Cardinals don't really have any holes. That leads me back to the article heading: What will the Cardinals record be this season? With a better-than-average starting rotation, a lineup that should produce a ton of runs and a bullpen that can hold a lead, the Cardinals should finish 96-66 and win the NL Central.