No. 14 Ohio State Ruins No. 2 Indiana's Senior Night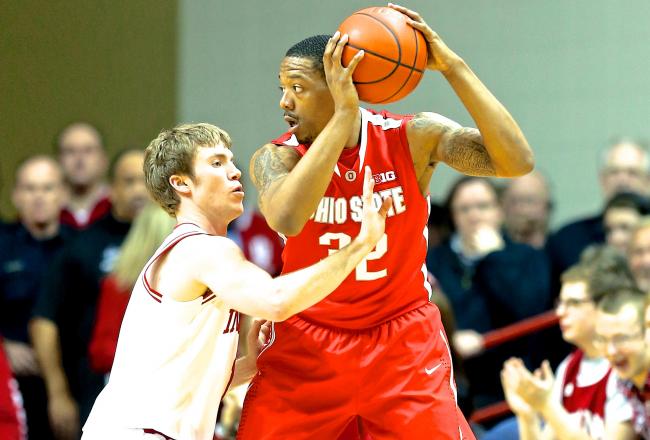 Ohio State 67, Indiana 58 (FINAL)
Indiana's Senior Night festivities took on a slightly melancholy tone, as Ohio State snatched a hard-fought victory at Bloomington's Assembly Hall.
Ohio State star Deshaun Thomas, the Big Ten's leading scorer, had a subpar night by his lofty standards. Thomas knocked in 18 points on 6-of-17 shooting, but his supporting cast was the story.
Aaron Craft produced 15 points, four rebounds, four assists and four steals on the night, and he was far from the only Buckeye making plays.
Sam Thompson, Evan Ravenel and Shannon Scott combined for 25 points themselves, with Scott adding three assists and four steals of his own.
IU's Victor Oladipo managed only seven points after being held scoreless in the first half. Cody Zeller, like Oladipo, missed a chunk of the first half with foul trouble, but rallied to produce 17 points.
Indiana drops to 13-4 in the Big Ten, a game ahead of the Buckeyes and 1.5 up on Michigan, Michigan State and Wisconsin. The potential remains for a four-way tie atop the conference if Indiana can't defeat Michigan at the Crisler Center Sunday.
To cap off the evening, a tweet from a co-worker of mine at 104.5 The Zone in Nashville, an Ohio State-loving good ol' boy:
It's nights like tonight I'm glad Bruce Pearl had BBQ parties (cc: Aaron Craft)

— JT (@JT1045) March 6, 2013
Good night, all. Tear up the comment thread, but try not to smear anything on the walls, K?
Rabjohns neatly sums up some of IU's deficiencies tonight:
Indiana's issues tonight: Just 13 FTAs (avg 26.9), outscored 14-2 on break, 10-7 on 2nd chance pts and 28-24 in the paint.

— Jeff Rabjohns (@JeffRabjohns) March 6, 2013
Ohio State 66, Indiana 58 (:27.6 2nd Half)
Signs of life for IU until Jordan Hulls missed a fallaway three-pointer.
Deshaun Thomas at the line is only slightly less automatic than death and taxes.
Ohio State 64, Indiana 55 (1:30 2nd Half)
That man Craft producing in every way possible tonight.
In other news, Travis Miller of Purdue blog Hammer and Rails lets us know what we could be in for if IU doesn't step strong in these last two games:
Looks like the potential chaos scenario of a 4-way tie in the Big Ten is alive. It's up to Michigan now.

— Travis Miller (@HammerAndRails) March 6, 2013
And the glee almost radiates off that tweet, doesn't it?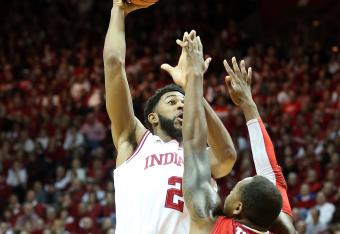 Ohio State 61, Indiana 53 (2:30 2nd Half)
OSU's defense has been crazed over the last eight minutes. Four steals and two blocks since 10:35.
Watford finds the opening for a three, breaking a 9-0 run.
CBS Sports' Jeff Borzello has a nominee for Player of the Game:
Aaron Craft: 13 points, four boards, four assists, four steals. Yep, that'll work.

— Jeff Borzello (@jeffborzello) March 6, 2013
Ohio State 59, Indiana 50 (4:15 2nd Half)
Deshaun Thomas is starting to heat up, and Tom Crean needs to discuss some things.
IU attacking the basket is a good thing, but not when it's Yogi Ferrell taking on a man a foot taller than him. Ferrell is now 3-9 from the floor, as is Watford.
Ohio State 56, Indiana 50 (4:51 2nd Half)
Aaron Craft and Shannon Scott have both made tremendous plays in the last five minutes. More teams should consider the two-point guard attack.
Five players with more than seven points for OSU. That hasn't happened since Valentine's Day against Northwestern.
And despite what Ted Valentine thinks, that day was not named for him.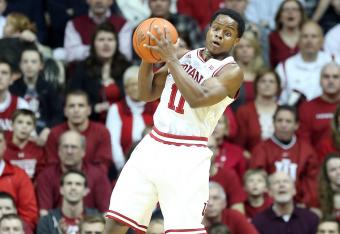 Ohio State 50, Indiana 47 (7:07 2nd Half)
This time, Yogi gets a positive result from barreling into the paint. He draws a foul on Aaron Craft which looked, to these journalistically objective eyes, fairly dubious.
Perhaps the angle was bad, but eh.
Ohio State 48, Indiana 45 (7:40 2nd Half)
Yogi Ferrell and LaQuinton Ross trade out-of-control drives. On every possession, the bodies are hitting the floor. ESPN needs to play some Drowning Pool going into the next break.
Ohio State 48, Indiana 43 (9:30 2nd Half)
Shannon Scott doesn't get the press that Aaron Craft does, but he's come out of nowhere for strips at least three times tonight.
Offensively, though, Victor Oladipo gives him the swat and the scowl. Not in my house, youngster.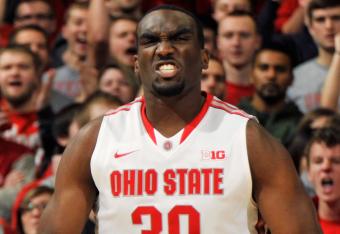 Ohio State 44, Indiana 43 (11:51 2nd Half)
Good scoring balance for Ohio State, as the Hoosiers are putting cuffs on Thomas. Thomas leads with 10, Craft and Thompson nine each, and now Evan Ravenel is kicking in with eight points and six boards.
Much better night for him than getting berated on the sideline.
Indiana 41, Ohio State 40 (13:17 2nd Half)
Absolutely gorgeous give-and-go between Oladipo and Zeller. #SCTop10
Meanwhile, Shannon Scott is more unimpressed than McKayla Maroney, banging in a three at the other end.
Good news for IU: Deshaun Thomas is 5-15 from the floor. Bad news for IU: Cody Zeller has all of one rebound.
Rabjohns points out the Hoosiers' vulnerability to foul trouble:
IU final 4:49 1stH w/o Oladipo, Zeller - zero points. IU 1st 4:57 of 2nd half w/Oladipo, Zeller - 12 points.

— Jeff Rabjohns (@JeffRabjohns) March 6, 2013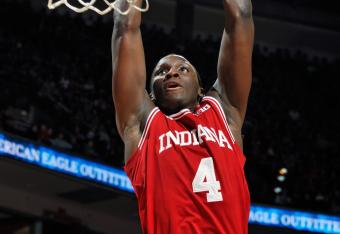 Indiana 37, Ohio State 34 (15:03 2nd Half)
Thankfully for Amir Williams, Thad Matta had a conversation with him without the coach's face turning purple. Amir's out with three fouls.
In the category of People Who Are Actually Contributing Something Productive, Oladipo scores a sick up-and-under layup. He draws a "Sidney Moncrief Jr." label from Dan Dakich.
Considering Moncrief had a decent NBA career, I'm sure Vic will take it if he's aware of who Moncrief is.
Indiana 32, Ohio State 32 (16:57 2nd Half)
Intentional matchup or slow on rotation? Either way, IU took a while to find Cody Zeller with the much smaller Lenzelle Smith on him. Drew a foul, though, so that helps.
Indiana 32, Ohio State 30 (17:30 2nd Half)
OSU gets as many offensive boards in a minute as it did in the whole first half, but comes up empty.
Meanwhile, Oladipo gets his first three and Zeller scores quickly as well. Certainly should, they're well rested enough.
More bad news from the box score for IU: only four FT attempts against 30 FGA's. That's a .133 free throw rate for a team that carries a .488 FTR on the season.
A pair of Sheehey 1-and-1 misses didn't help matters.
I believe the clinical term is...yuck.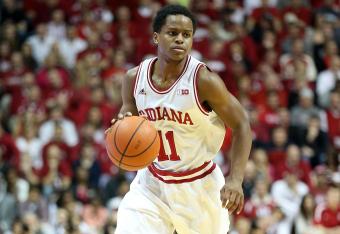 I'd advise IU fans not to look at the shooting numbers. They're pretty ugly.
...
Eh, since I'm a full-service blogger, here ya go. 10-30 from the floor, no shots for Oladipo and a combined 3-16 from Watford, Sheehey and Yogi. Yogi leads all IU shooters with six attempts.
As I've said before, when Yogi's taking the most shots, that's a bad night.
Ohio State 28, Indiana 25 (HALFTIME)
IU's lowest-scoring first half of the season. A large length of time went by with both Zeller and Oladipo on the bench, so should IU be thrilled to only be down three?
My money says yes. Of course, my money's also quite lonely because there's not much of it.
The Columbus Dispatch's Bob Baptist sounds an ominous note for IU. After all, that's his job:
Indiana's last points at 4:47, not long after Zeller left. #Buckeyes 28-25 with 21.9 seconds left and possession for last shot. #buckbk

— Bob Baptist (@BBaptistHoops) March 6, 2013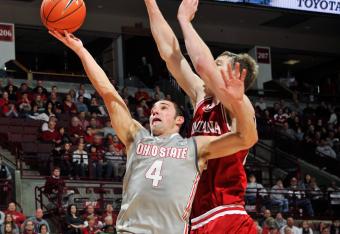 Ohio State 28, Indiana 25 (:22 1st Half)
Looked like a brief cold spell until OSU's Aaron Craft gave Yogi Ferrell the hippy hippy shake for the and-one.
With both teams' big men out of the game, this tempo is hard to keep up with, especially for a friendly blogger. Or me, even.
Indiana 25, Ohio State 23 (3:18 1st Half)
By the way, for OSU, Sam Thompson, Amir Williams and Evan Ravenel have two fouls each. Not a ton of whistles, but they're concentrated.
Indiana 25, Ohio State 21 (3:48 1st Half)
Two fouls each now on Zeller and Oladipo. IU having to play a small lineup with Watford in the pivot.
This tells us quite a bit about where freshman Hanner Mosquera-Perea stands. Except for the inevitable spit-roasting of a 16 seed in the first round (Yeah, it's the first round and those Tues-Wed games are play-ins. What of it?), I'd be surprised to see Perea in the postseason.
This article is
What is the duplicate article?
Why is this article offensive?
Where is this article plagiarized from?
Why is this article poorly edited?

Indiana Hoosiers Basketball: Like this team?