Complete Guide to Pittsburgh Steelers' Free Agency
Jared Wickerham/Getty Images

With the NFL's annual free agency frenzy set to begin, the Pittsburgh Steelers are preparing like every other team with both internal and external free agents.
For the Steelers, this is a tricky exercise because the team must balance filling their many needs with the constraints of their salary cap situation.
Here's a guide for free agency as it pertains to the Pittsburgh Steelers.
Begin Slideshow

»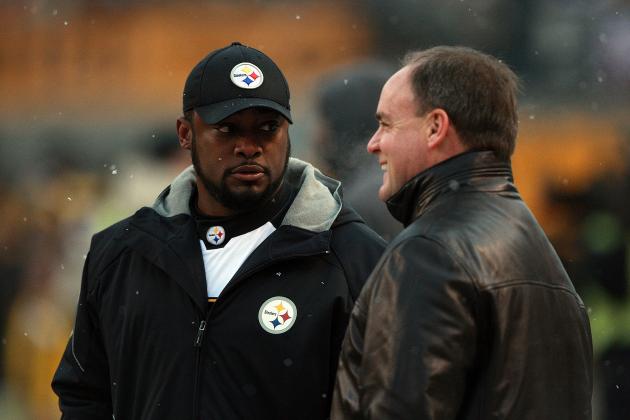 Karl Walter/Getty Images

The Pittsburgh Steelers have done a ton of work in recent weeks to start bringing down their salary cap number for next season. They've restructured the contracts of Ben Roethlisberger, Lawrence Timmons and others to bring themselves under the cap.
Pittsburgh has done an excellent job once again of getting themselves in position to sign draft picks and add a couple of helpful pieces on the free-agent market.
Currently, the Steelers sit at around $2.9 million under the NFL's salary cap, according to Spotrac's figures.
They still need to do some work with contracts to get further under, but they are off to a great start.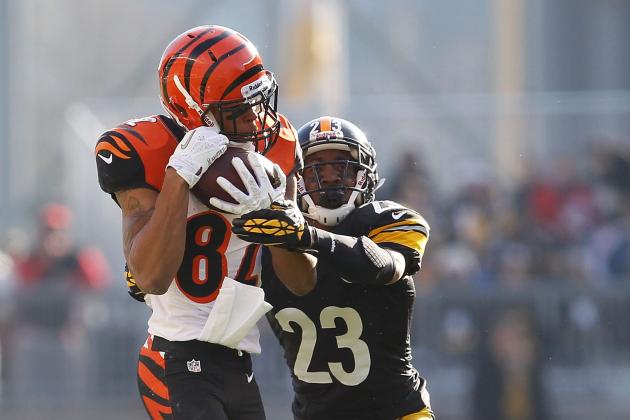 Gregory Shamus/Getty Images

Here's a look at the team's internal free-agents, both unrestricted (UFA) and restricted (RFA). This list is organized by the chances that the player will be brought back by the Pittsburgh Steelers.
Not Returning
Mike Wallace, WR, UFA
Rashard Mendenhall, RB, UFA
Byron Leftwich, QB, UFA
Stevenson Sylvester, LB, UFA
Casey Hampton, NT, UFA
Unlikely to Return
Ryan Mundy, S, UFA
Will Allen, S, UFA
Max Starks, OT, UFA
Ramon Foster, OG, UFA
Doug Legursky, OG, UFA
Brandon Johnson, LB, UFA
Possibly Returning
Isaac Redman, RB, RFA
Larry Foote, LB, UFA
David Johnson, FB/TE, UFA
Leonard Pope, TE, UFA
Plaxico Burress, WR, UFA
Charlie Batch, QB, UFA
Keenan Lewis, CB, UFA
Very Likely to Return
Emmanuel Sanders, WR, RFA
Jonathan Dwyer, RB, RFA
Greg Warren, LS, UFA
Steve McLendon, NT, RFA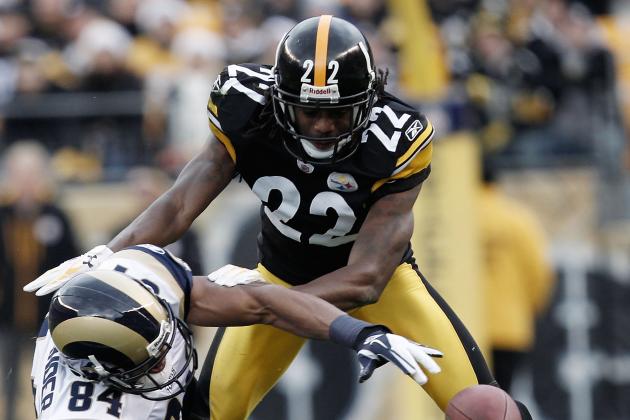 Jared Wickerham/Getty Images

Here's a look at the players the Pittsburgh Steelers have already signed or re-signed to contracts.
Signed
William Gay, CB
Gay was brought back after a year away from the team on a three-year pact that is both team-friendly and gives Pittsburgh a good option opposite Ike Taylor or in the nickel if Keenan Lewis cannot be retained. If Lewis is retained, Pittsburgh could boast one of the best corps of cornerbacks in the NFL.
Re-Signed
Justin King, CB
King was brought back on a short deal to provide depth at the cornerback position as the team figures out what to do with Keenan Lewis and decides how best to bolster the depth chart if he cannot be retained. The signing of Gay makes King expendable and he will likely be among the first cuts.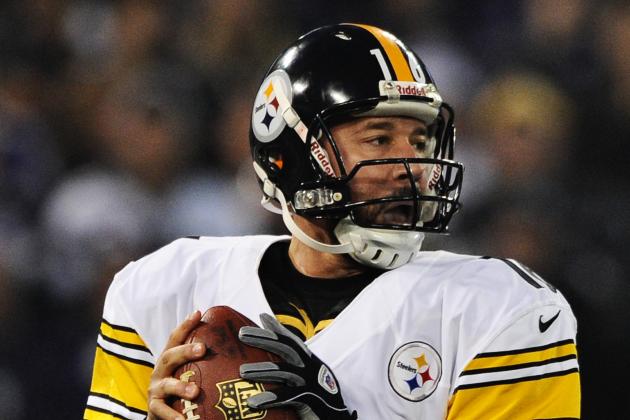 Patrick Smith/Getty Images

Backup Quarterback
The Pittsburgh Steelers need help behind Ben Roethlisberger, who has played only one full season in his entire career (2008) and often misses a game or two to injury. Last season, his three-game absence exposed the lack of effective depth behind him.
Charlie Batch performed well in one of his two games but was a disaster in the other. Byron Leftwich proved once again that he cannot stay healthy and isn't very effective in Todd Haley's system.
Starting Running Back
Whether they address it in the draft or in free agency, the Steelers absolutely need to get their next starting running back.
Jonathan Dwyer and Isaac Redman may return to provide depth, but they are not effective starters and cannot be expected to fill the role in 2013. The lack of an effective running game ruined the Steelers in many games last season.
Wide Receiver Depth
Mike Wallace and Plaxico Burress are free agents. Burress may return to work out of the slot but Wallace isn't coming back to Pittsburgh unless something unbelievable happens.
The Steelers will return Emmanuel Sanders to the roster and he will likely start opposite Antonio Brown. Jerricho Cotchery is on the roster as well but his role is uncertain. Beyond that, there's nothing certain.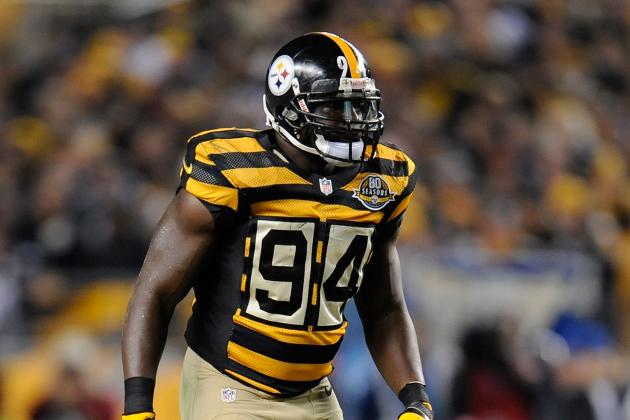 Joe Sargent/Getty Images

Inside Linebacker
Lawrence Timmons is solidified on one side of the defense. The other spot, manned by Larry Foote in 2012, is up in the air at this time. Sean Spence could claim that spot if he returns from his injury with the same ability that made him a third-round choice last season.
If not, Foote could return or a draft choice or free agent could take over. One thing is for sure, there must be some attention paid to this spot or the Pittsburgh defensive front is in jeopardy.
Safety Depth
With Will Allen and Ryan Mundy both destined to join other teams after being disappointments in 2012, Pittsburgh will be looking for other players to fill the backup spots behind Troy Polamalu and Ryan Clark.
Both of those spots are essential to success because of the age of the starters and the chances of Polamalu suffering another injury that forces him from the lineup. He wasn't reliable in 2012 at all and he must prove himself healthy before the team can feel comfortable again.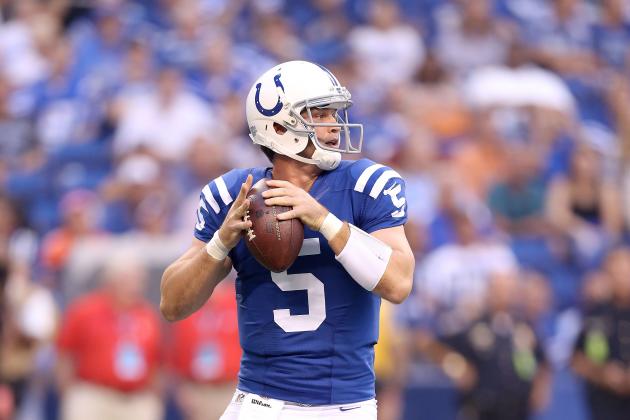 Andy Lyons/Getty Images

Drew Stanton, QB
Stanton has been a competent backup for several years in the NFL, but he doesn't project as more than that. He's one of the better players in a very-weak quarterback market. Assuming Matt Moore pursues a starting job, Stanton is the best option to pursue for the backup job.
Plaxico Burress, WR
Burress has a good rapport with Ben Roethlisberger. He's also tall and has good possession skills. Those are tools the Steelers could use badly. They will need a red zone target until Heath Miller is ready to return to the lineup and lack a receiver with the skill to run the fade effectively.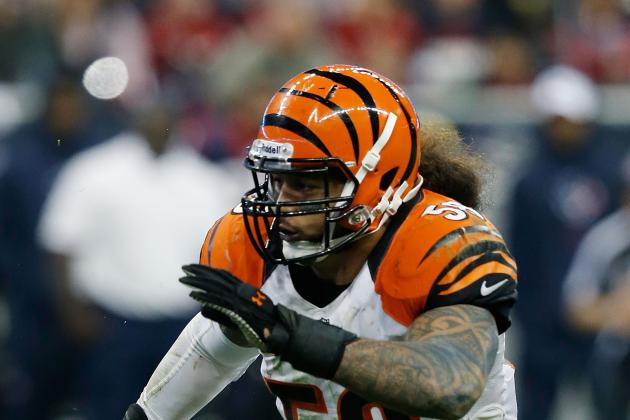 Scott Halleran/Getty Images

Rey Maualuga, ILB
Maualuga has been squeezed out in Cincinnati by Vontaze Burfict and needs to re-establish his value on the market. He may be cheaper than his talent commands simply because he's gone more on reputation than statistical achievement in recent seasons. It could be a James Farrior-esque buy-low scenario.
Brodney Pool, S
Pool had a nightmare 2012 season and never latched on with a team after being released by the Dallas Cowboys. He could be a good candidate to back up Troy Polamalu as he tries to re-establish himself with a better defense and a better set of coaches. He's a Tyrone Carter-type player that may just be a better backup than a starter.