L.A. Lakers vs. Oklahoma City Thunder: Live Score, Results and Game Highlights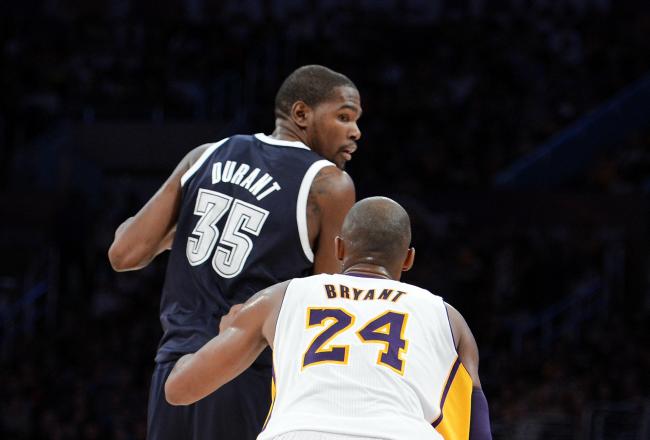 Harry How/Getty Images
Commentary from the Oklahoma City Thunder's 122-105 victory over the L.A. Lakers at the Chesapeake Energy Solutions Arena in Oklahoma City, OK on Mar. 5, 2013.
Keys to the Thunder Win:
1) Not Turning It Over: The Thunder had just two turnovers in 48 minutes of basketball. That's impressive.
2) Steve Nash Can't Handle Russell Westbrook: Westbrook had his way the entire night, getting it going mid-range, taking it to the basket—and, at times—just bullying Nash. Westbrook took 29 field goal attempts en route to 37 points, and he also grabbed 10 rebound and dished five assists. He was the indisputable "star of the game" according to Marv Albert on TNT.
3) Bench Scoring: The Thunder got 39 points off the bench to the Lakers 20.
Sore-elbowed Kobe subbed out now after 39 minutes. Lakers play tomorrow night in New Orleans to try to get back to .500.

— KEVIN DING (@KevinDing) March 6, 2013
4) Keeping Dwight Howard out of the paint: Yes, Dwight Howard is ailing, but he still attempted only seven field goals. Better still, he made just one.
THUNDER 122, LAKERS 105 — FINAL
Scott Brooks cleared his bench and Kobe Bryant checked out. This one's pretty much in the books now.
THUNDER 120, LAKERS 105 — Under 1 minute, 4th
Russell Westbrook's steal and dunk capped a 10-0 run and gave Westbrook a game-high 37 points.
That's likely a dagger dunk.
THUNDER 120, LAKERS 105 — 1:32 4th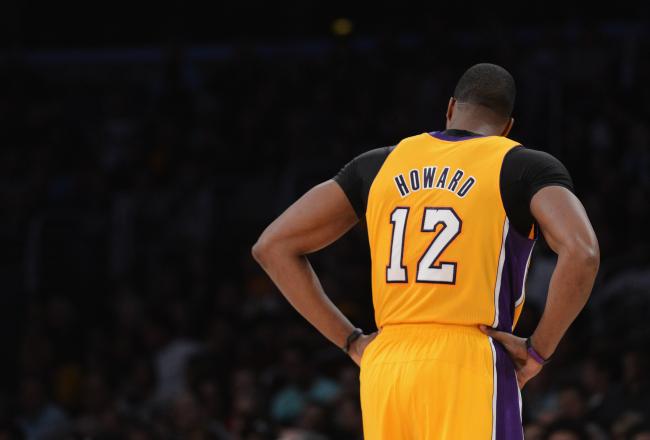 Kevin Durant initiated contact with Dwight Howard, and drew a questionable foul call, Howard's sixth foul. Durant will go to the line with the Thunder up eight, while Howard will sit the remainder of this game. Howard is one of the few bright spots in the Lakers otherwise horrible defense.
THUNDER 115, LAKERS 105 — 2:16 4th
NBA record for fewest turnovers by a team is two, according to Lakers PR. OKC still has one with 6:26 to play.

— KEVIN DING (@KevinDing) March 6, 2013
The Thunder are really taking care of the basketball, and it's covering a multitude of other blunders. They may set a record tonight against the Lakers, too.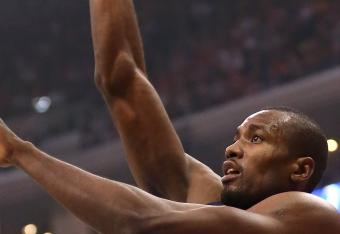 Serge Ibaka's corner three prompted Mike D'Antoni to call a 20-second timeout as the Thunder went ahead by nine again. Ibaka is 5-of-7 from the floor for 11 points, and it was his first three-point attempt of the game.
THUNDER 114, LAKERS 105 — 3:41 4th, Lakers 20-second timeout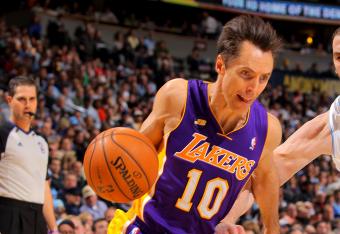 After missing his first six shots of the game, Steve Nash has hit seven of his last eight and has 20 points. He's one of the best shooters of all-time.
THUNDER 111, LAKERS 105 — 5:36 4th
Stat of the game for me is found in ball movement or lack thereof.Thunder 19 assists.Lakers...9.

— Mark Willard (@Mark_T_Willard) March 6, 2013
It sure doesn't make Mike D'Antoni look like much of an offensive mastermind either. D'Antoni is one of the most overrated and worst coaches ever.
THUNDER 110, LAKERS 102 — 6:26 4th, Lakers Timeout
8:40 to play, the Thunder lead the Lakers 104-95. Westbrook with 34, Kobe with 28. Guessing we'll see a lot of those two down the stretch.

— Dime Update (@DimeUpdate) March 6, 2013
It's going to be a showdown.
A fan at the #OKC game hit a half court shot for $20000. Lakers should have the same deal with Dwight Howard for every free throw he hits.

— Tony Dijamco (@TonyDijamco) March 6, 2013
But what if he drilled them at his 82 percent practice clip?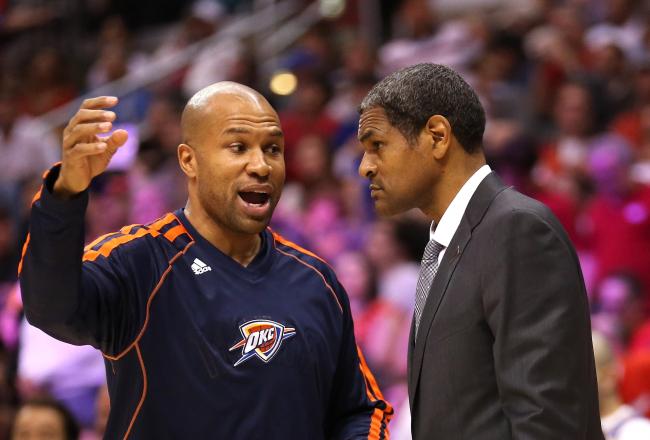 Derek Fisher has looked really impressive tonight and will more than make up for not having combo guard Eric Maynor, who was dealt to Portland at the trade deadline. Fish has 10 points on 3-of-4 shooting (2-of-2 from three-point range), and he's also come up with a couple key steals.
D-Fish is 38 years-of-age, but he's a career 37 percent three point shooter and his veteran leadership and floor spacing abilities will prove crucial for the Thunder in the playoffs this year.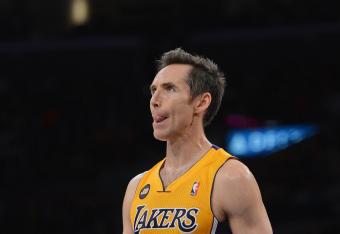 Steve Nash is trying to get the Lakers back in this, and the point guard now has 17 points on 6-of-13 shooting, as well as four assists and four rebounds.
Earl Clark has a double-double with 13 points and 10 rebounds, but he has also turned it over five times.
Clark seems to get nervous at times during games still, or at least that has been my observation. It seems like sometimes he tries to decide what he is going to do with the ball before the defense gives him reason to make a move. That's something that can be corrected over time.
THUNDER 97, LAKERS 89 — End of 3rd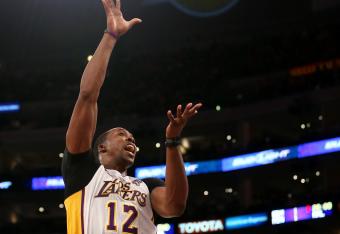 Dwight Howard has been grabbing boards (12 total, five offensive), but has just five points on 1-of-7 shooting. He's playing in pain and Kobe Bryant is doing so now, too, which is only fair since the Mamba was the one who requested Dwight play through pain to begin with.
It's not that we've ever doubted Kobe would play through pain, but he's continuing to do it late in his career, making no exception for himself as he plays through this elbow injury.
Howard clearly is less able to handle the rigors of playing at less than 100 percent, and he hasn't been the player we saw in Orlando at any point in the 2012-13 NBA season.
THUNDER 93, LAKERS 83 — 1:49 3rd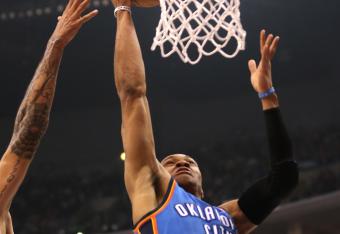 Another turnover led to a Russell Westbrook three-point play opportunity and Kevin Durant's third assist of the night. No. 0 has a game high 29 points.
THUNDER 89, LAKERS 79 — 2:31 3rd, Lakers Timeout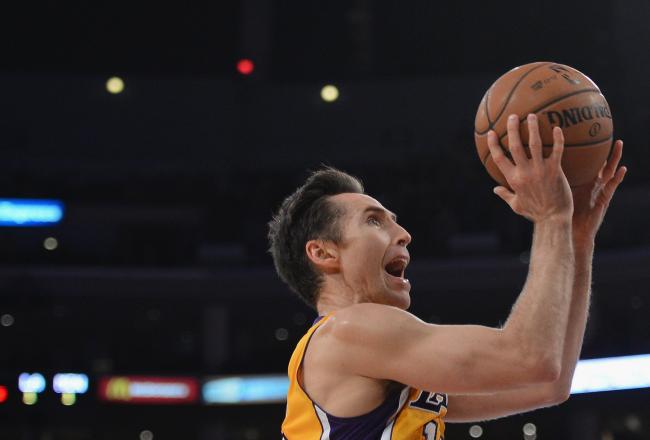 Steve Nash's three-pointer gave him 13 points and brought the Lakers within six points. Their offense looks a lot more fluid here late in the third quarter, and they've stopped turning the ball over. Sounds like a formula for winning.
THUNDER 85, LAKERS 79 — 3:13 3rd
Kobe with the 3 plus the foul. He's keeping the Lakers alive offensively, but LAL has shown no signs of stopping OKC. 85-75, OKC.

— Dime Update (@DimeUpdate) March 6, 2013
We're seeing another special performance from Kobe Bryant. While the details of tonight's injury may not fully be known, it's a near-certainty that the Mamba is feeling some nice pain in his elbow, which he told TNT was "just a sting."
THUNDER 85, LAKERS 76 — 2:48 3rd
Current #Lakers lineup (Kobe, D12, Nash, Metta and Jamison) is outscoring opponents by 21 pts per 100 possessions—bit.ly/Vf53MP

— Dan Favale (@danfavale) March 6, 2013
Interesting tidbit via Dan Favale of B/R.
The real difference maker in this game is the fact that the Lakers have a dozen turnovers and the Thunder have just one. One turnover in over a half of basketball.
THUNDER 83, LAKERS 71 — 5:43 3rd, Thunder Timeout
The Lakers began the game 0-of-10 from the floor but have began the second half 5-of-8 from the field.
They'll get back in this game if they can manage to get some stops. But with the way it's gone for Steve Nash with Russell Westbrook, it's tough to imagine the Lakers coming back in this one, nevermind winning it.
THUNDER 81, LAKERS 69 — 7:40 3rd
Lakers Nation: This is why we all love @kobebryant! What a warrior and competitor!

— Earvin Magic Johnson (@MagicJohnson) March 6, 2013
Kobe is playing through significant pain. Even so, he is 6-of-11 from the floor (2-of-3 three-pointers, 6-of-7 free throw) for 20 points. Great players can do things like this; great players can play through pain.
THUNDER 77, LAKERS 62 — 9:22 3rd, Thunder Timeout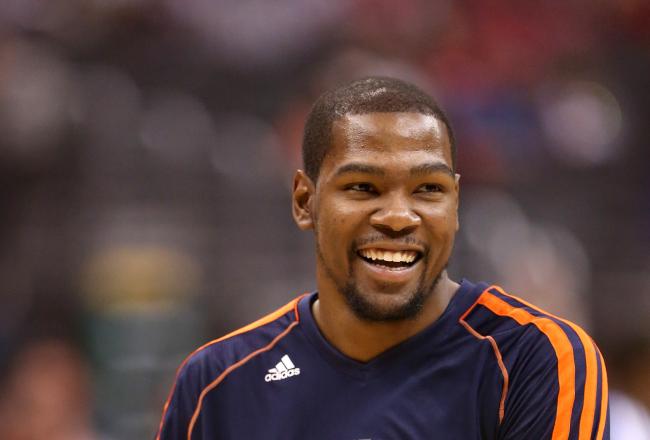 Watching this game makes me feel like I'm watching a video game between someone that's really good at the game (as the Thunder) and someone who can't properly work the controller (the Lakers).
Odd turnovers, allowing inexplicably easy offensive rebounds, hasty shots—the Lakers are doing it all.
Even down to going to the best two players excessively: Durant and Westbrook have scored 39 points so far already. This is a video game, live on TNT.
THUNDER 71, LAKERS 55 — Halftime
But Kobe can't get it done against OKC on his own. That's like playing 2-on-1.
Kobe starting to heat up a bit - important cause not many others on Lakers feeling it tonight

— Eric Pincus (@EricPincus) March 6, 2013
THUNDER 62, LAKERS 52 — 1:51 2nd
That's one way of looking at it. Maybe Dwight Howard should not have rushed, given his play.
Lakers Dwight Howard said he rushed back, could have sat out longer. In other words Derrick Rose and Andrew Bynum are soft.

— Ben Maller (@benmaller) March 6, 2013
THUNDER 58, LAKERS 46 — 3:37 2nd
Russell Westbrook goes right at Kobe Bryant with no fear and sticks a J to break up the Lakers' 8-0 run.

— Dime Update (@DimeUpdate) March 6, 2013
Russell Westbrook may be a top-5 player in the NBA, not just a top-5 point guard. He's attacking the best of the best without fear.
Kevin Martin is 3-of-7 from the floor, and all seven shots have been threes.
He has 11 points, matching Kevin Durant. Russell Westbrook leads all Thunder scorers with 15.
The thing about trading James Harden is that Kevin Martin has assumed his role gracefully; the team hasn't gotten worse. Having a third fiddle as good as Harden was a costly redundancy with two true alpha dogs already on the team.
THUNDER 58, LAKERS 46 — 4:15 2nd
This article is
What is the duplicate article?
Why is this article offensive?
Where is this article plagiarized from?
Why is this article poorly edited?