Tennessee Football: 6 Most Important Spring Practice Position Battles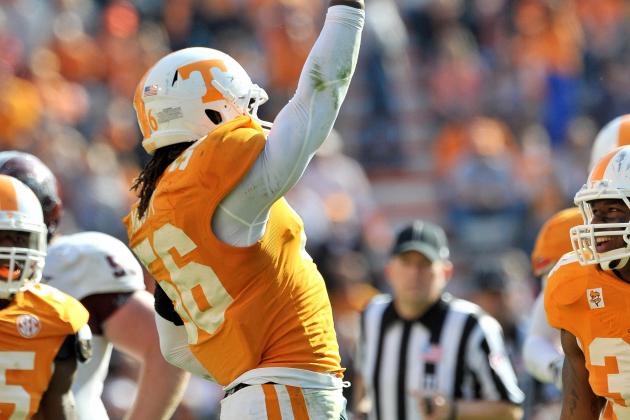 Jim Brown-USA TODAY Sports

Spring practice is just around the corner for the Tennessee Volunteers, and the position battles for 2013 are already heating up. Under a new coaching staff, no position is safe, but I've got six spots that are likely to be the hottest contests.
One unit that is safe is offensive line. From tackle to tackle, it's the best unit on the team and maybe in the conference. That's a tall order to fill, but with anywhere from two to four future first-rounders out of five starters, it's destined to be elite and not spark many spring battles.
On the other hand, wide receivers and cornerbacks look like two units that need some players to make a serious step forward in order for the Vols to compete this fall. The players currently enrolled at Tennessee will have the first crack at playing time during spring practice.
Here are the six positions that will be the biggest battles.
Begin Slideshow

»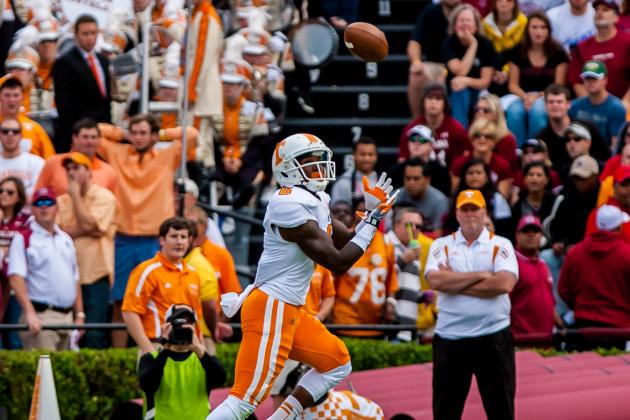 Jeff Blake-USA TODAY Sports

The Volunteers lost their top three wide receivers from 2012 this offseason. The position is wide open, but there is a lot of exciting talent ready to fill in.
Vincent Dallas is the most experienced in terms of age and on-field action. He doesn't have as high of a ceiling as the other players, but I would expect him to take hold of one of the starting jobs.
Alton "Pig" Howard was an important part of the offense as a freshman and should only see his workload increase in a spread offense. He's another player who ought to have a starting spot secured by spring's end.
The third wide receiver position is wide open. Though they won't be at spring practice because they're still in high school, but MarQuez North, Ryan Jenkins and Josh Smith are three guys that could vie for playing time, especially North.
Early enrollee Paul Harris will be in the mix this spring. Redshirt freshmen Jason Croom and Drae Bowles were just as aggressively recruited as this year's crop of receivers was, so they'll get serious looks, too.
Then there is Jacob Carter, a former practice squad member who saw significant minutes last fall. He could fill the Zach Rogers role well in 2013, a trusty receiver who knows his role.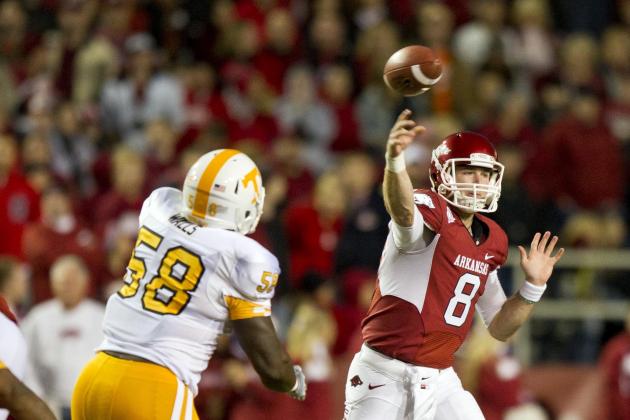 USA TODAY Sports

The defensive line is set at three of the positions. Daniel McCullers and Maurice Couch will man the middle, while Jacques Smith has the end.
The other end will be a battle.
Corey Miller, Marlon Walls, Trevarris Saulsberry, Jordan Williams and LaTroy Lewis will all battle it out this spring for the last spot, and I don't see a clear favorite as of now.
Volquest.com has Williams as the starter, but otherwise, there is no sign that one particularly player has the inside track, so this will be one of the more interesting positions to watch throughout the spring.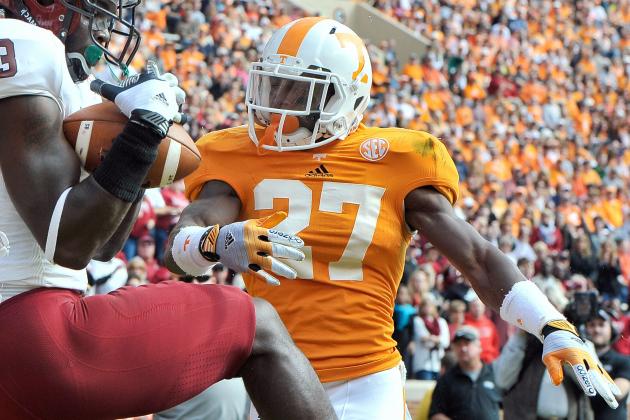 Jim Brown-USA TODAY Sports

Though Justin Coleman started most games his sophomore year in 2012, he hasn't made the mark on the secondary like Tennessee had hoped.
He has no interceptions in two years as a Vol.
Still, he is by far the most experienced cornerback on the team and is a pretty solid lock for a starting spot. The other one will be a contest.
Daniel Gray and Eric Gordon are really the only to viable options from last year, which is why Butch Jones brought in Lemond Johnson and Riyahd Jones as early enrollees. They'll compete this spring, and Jones is a particuarly intriguing option since he's an experienced JUCO transfer.
Jalen Reeves-Maybin is another early enrollee most likely slotted for safety, but his athleticism is effective at any position.
There will be no battles at safety. Brian Randolph and Byron Moore are your starters and will be great. Mark my words.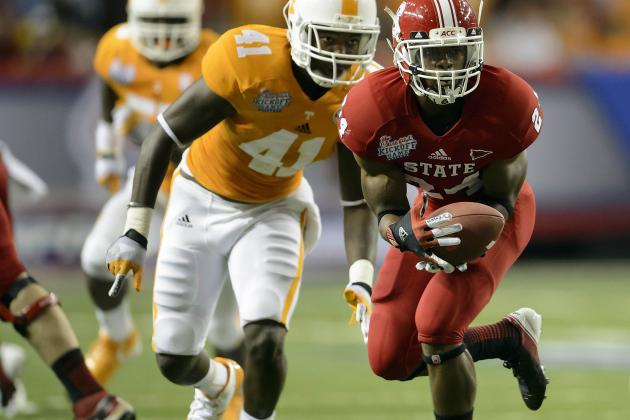 Paul Abell-USA TODAY Sports

Like the defensive line, there is all but one linebacker position filled. A.J. Johnson and Curt Maggitt are no-doubters and could both end up as First Team All-SEC players.
But one outside linebacker position is up for grabs this spring.
The top contender is senior Dontavis Sapp, who started two games last year. He has just 21 tackles in his career, but delivered one of the hardest hits of 2012 during the NC State game.
Kenny Bynum is another player who will battle for the starting spot. After receiving offers from West Virginia, North Carolina, NC State and Butch Jones' Cincinnati team, Bynum picked Tennessee but missed his freshman year with a knee injury.
He has a relationship with the coaching staff and had performed well in the summer before suffering the injury but will return to form this spring.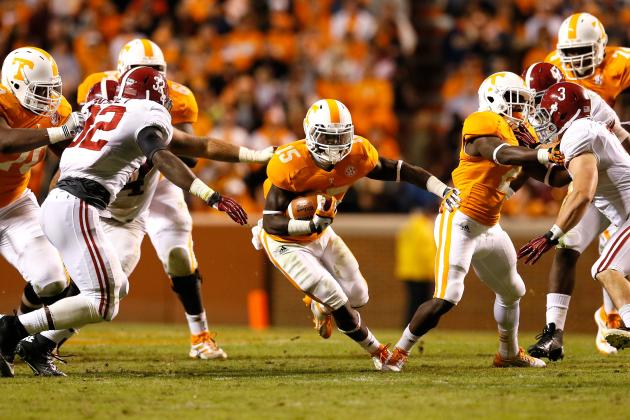 Kevin C. Cox/Getty Images

Rajion Neal was the opening week starter in 2012, but by midseason, Marlin Lane had slowly started taking more carries from him before pushing Neal into a 50-50 carries share with him by the end.
Brand new running backs coach Robert Gillespie is likely to come to the same conclusion as the previous staff: Tennessee has two good but not great runners.
In that case, you really can only look at what each player's potential is. Neal, a rising senior, is a hard-nosed runner who is still getting comfortable at tailback after being shifted around his first two years.
Lane, a rising junior, has more speed and playmaking potential than his counterpart. He is almost exactly same size as Neal, but he moves smoother and has a bigger burst.
Neal's stock was trending downwards at the end of last season, and I believe it will continue to become Lane's job.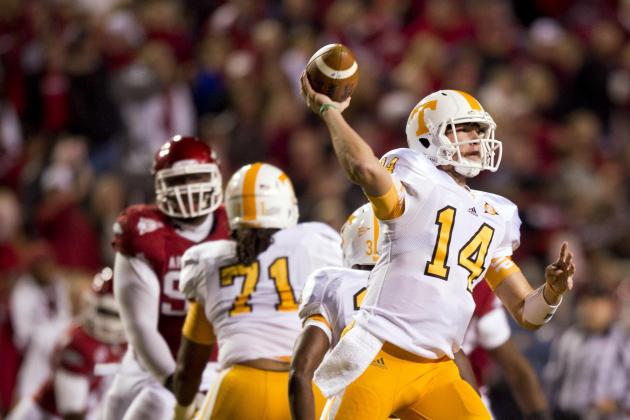 USA TODAY Sports

Spring practice's biggest and most important position battle will be between Justin Worley and Nathan Peterman at quarterback.
Worley is a rising junior and has seen time as a starter in each of his two seasons. He hasn't overly impressed yet, but he also hasn't had consistent reps as the main man for an entire offseason, either.
This could be the year that Worley shows Tennessee why he was named the Gatorade National Player of the Year as a senior in high school.
Then there is Peterman, a more mobile quarterback than Worley. He chose the Volunteers over Cincinnati and Butch Jones last year. Jones obviously thinks Peterman fits his offense well, so the redshirt freshman has an advantage in that arena.
Worley has the spring edge overall because of his experience playing in the SEC and with the elite offensive line, but this is a position battle you should closely monitor.