Biggest Takeaways from Week 2 of MLB Spring Training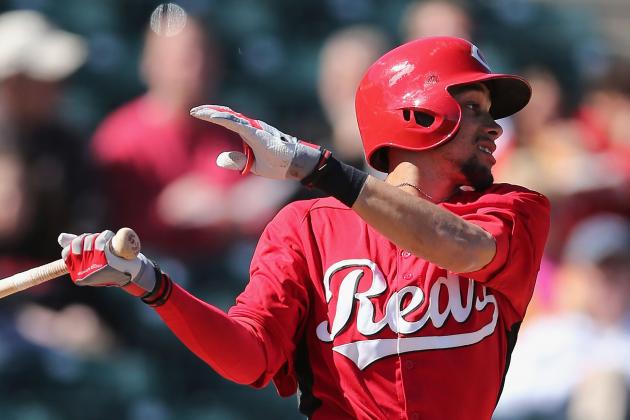 Christian Petersen/Getty Images

Just as MLB teams began to get comfortable and into a groove, along came the World Baseball Classic to interrupt spring training and take some of the best players in baseball out of exhibition games.
Now, more than ever, spring training results and individual performances need to be taken with a grain of salt.
To paraphrase what Inigo Montoya told Vizzini in the cinematic classic The Princess Bride, those numbers do not mean what you think they mean.
But they aren't completely irrelevant either.
It's a fine line baseball fans must walk, one that gives the proper amount of credit to what's being accomplished on the field while acknowledging that many of the players on said field don't necessarily belong there.
Not yet, anyway.
With that in mind, let's take a look at the more notable things that have caught our eye through the first weeks of the exhibition season.
Begin Slideshow

»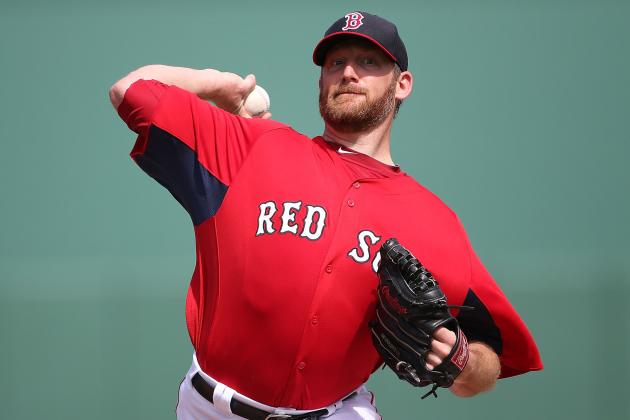 Leon Halip/Getty Images
Dempster's been dynamite so far in a Red Sox uniform.
While there's nowhere to go but up after a team hits rock bottom, redemption can be fleeting if the starting rotation isn't up to the task. No matter how many runs a team scores, if its starters can't keep the opposition in check, it's all a futile effort.
There's nothing futile about what we've seen from the trio that sits atop Boston's starting rotation so far this spring. Clay Buchholz, Ryan Dempster and Jon Lester have been outstanding each time they've taken the mound.
Over a combined 18.1 innings of work this spring, the group has surrendered one earned run, scattering seven hits while walking six (four belong to Lester) and striking out 16.
As Lester told Michael Silverman of the Boston Herald, he believes that it's important the group has been able to find success early this spring:
Anybody who says (in spring training), if they get their brains beat in, 'Well, it doesn't matter' ­— well, it does, it affects you. You want to have positive feedback on the things you're working on. But, when it's said and done, after that start go 'OK, I got the things accomplished that I was trying to do. I threw a lot of changeups or I threw a lot of curveballs,' whatever you're trying to work on.

So you can look at it both ways, but when you come down to it, we're all competitors. I want to win this game just as much as I want to win a regular-season game, so I want good results.
While John Lackey's numbers haven't been great (four hits and four earned runs in three innings of work), the team is pleased with the veteran's progress as he shakes off the rust after missing the 2012 season due to Tommy John surgery.
Actually, the bulk of the rotation has given new manager John Farrell reason to smile:
A lot of quality strikes. With each outing, this being Jon's third, I think they've done a very good job of establishing their fastball. As they've got into their third outings, they've gotten into their full complement of their pitch mix.

Much was the case last night with John Lackey and today with Jon Lester. They're starting to get the proper progression through camp, they're getting a feel for all their secondary stuff. It's been a pretty good work schedule for all three so far.
Spring training success doesn't automatically translate to the regular season, but so far, there's reason for optimism in Beantown.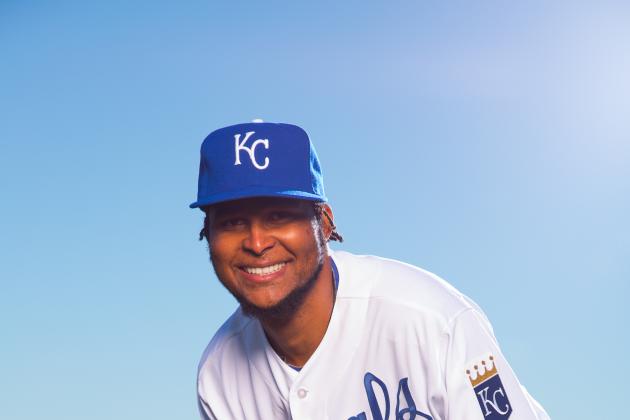 Rob Tringali/Getty Images
Ervin Santana has reason to smile.
It's easy to discount that the Kansas City Royals are 11-1 in Cactus League action, but maybe we shouldn't be so quick to do so. The Royals are doing everything well.
The three starters whom general manager Dayton Moore traded for during the offseason—Wade Davis, Ervin Santana and James Shields—have combined to allow only one earned run and 10 hits over 14 innings of work, striking out 12 batters while issuing only one free pass.
Overall, Kansas City's pitching staff leads baseball with a 3.46 ERA, and the starting rotation sits third overall with a 2.67 mark.
First baseman Eric Hosmer's sophomore slump seems to be behind him. The 23-year-old posted a .391/.462/.696 slash line, four extra-base hits and eight RBI in nine games before being selected as Mark Teixeira's injury replacement for Team USA in the World Baseball Classic.
While nobody in their right mind expects that the team will hit a collective .332 during the regular season, the core of the Royals lineup—Hosmer, Mike Moustakas and Salvador Perez—are all starting to hit their strides. Billy Butler and Alex Gordon, meanwhile, are in the thick of their primes.
Getting past Detroit in the American League Central will be a tall task, but anyone who doubts this team will contend for one of the two wild-card berths in the American League is in for an unwelcome surprise.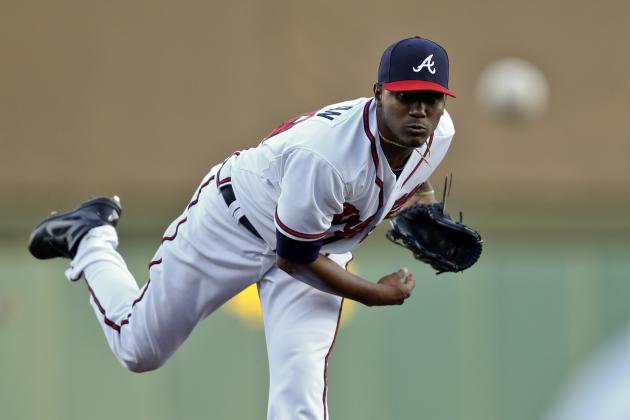 Derick Hingle-USA TODAY Sports

After a monumentally disappointing 2012 that saw him get shelled not only in Atlanta but at Triple-A Gwinnett, where he went 7-9 with a 5.08 ERA, the shine seemed to be fading from Julio Teheran's star as one of baseball's best pitching prospects.
At the Braves' request, Teheran headed to the Dominican Winter League and polished his game, refining his slider and developing a two-seam fastball. The 22-year-old right-hander now has four pitches with which to attack batters.
Attack batters is exactly what he's done this spring. In three Grapefruit League starts, he has allowed only two earned runs and four hits over nine innings of work. He has walked two batters and struck out 12, showing the poise and confidence that made him such a ballyhooed prospect.
None of this has been lost on Braves manager Fredi Gonzalez, who was effusive in his praise when he spoke to David O'Brien of the Atlanta Journal-Constitution:
He's done that (developed his slider), and the thing is really moving down. Then he's got the power four-seam fastball he can use to punch out a guy up in the strike zone. If those two pitches come along with the two breaking balls, he's going to be a force to be reckoned with.
With Brandon Beachy likely sidelined until the second half of the season as he recovers from Tommy John surgery and Randall Delgado traded as part of the package that saw Justin Upton land in Atlanta, the Braves need Teheran to take the next step in his development and contribute at the big league level.
So far, it looks like Teheran's going to do far more than contribute. He's poised to break out and prove the naysayers wrong.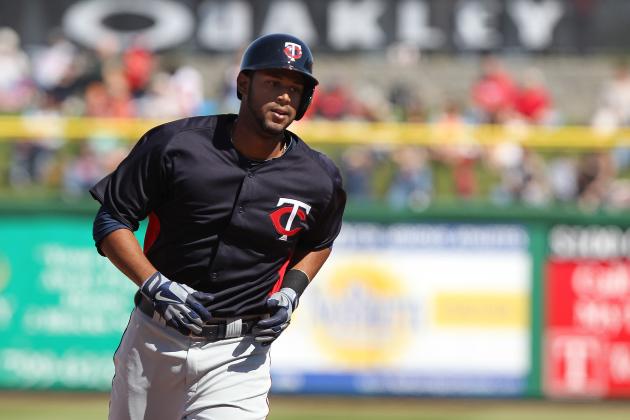 Kim Klement-USA TODAY Sports
Denard who?
Coming off a winter that saw the Minnesota Twins trade away their two best center fielders, Denard Span and Ben Revere, many wondered who exactly would fill the void left by their departures.
Enter 23-year-old Aaron Hicks, the Twins' first-round pick in the 2008 MLB draft and the team's fifth-best prospect, according to Baseball America.
A switch-hitter, Hicks flashed a combination of power and speed at Double-A New Britain in 2012, finishing the season hitting .286 with 45 extra-base hits (21 doubles, 11 triples and 13 home runs) while going 32-of-43 in stolen-base attempts.
Hicks has been impressive this spring, hitting .407 with six extra-base hits (four home runs), 12 RBI, nine runs scored and a stolen base. His performance has made a fan out Twins manager Ron Gardenhire (h/t ESPN 1500):
He's a laid-back kid. He's paying attention. He's done some real nice things out there. I like him there just fine. He's the prototype there. ... Whether he can handle the leadoff role or not, I haven't decided that. But I'm not afraid of that. He's fun to watch.
While the man initially thought to be the favorite for the full-time job in center field, Darin Mastroianni, has played well enough (.364 batting average), he doesn't have the all-around game or upside that Hicks does.
You certainly won't hear Gardenhire referring to him as a "prototype." With Hicks' high ceiling and performance thus far, the team's decision as to who gets the nod in center field has become more difficult.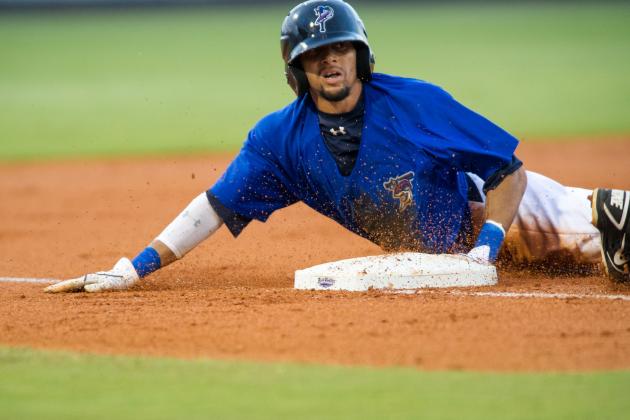 Michael Chang/Getty Images
Not so fast, Billy.
He might be faster than a speeding bullet, but Billy Hamilton has shown that he's not yet ready for prime time this spring with the Cincinnati Reds.
The 22-year-old switch-hitting center fielder, who posted a combined .311/.410/.420 slash line with 155 stolen bases at two levels of Cincinnati's minor league system in 2012, has struggled this spring. He's failed to show the knack for getting on base that would allow him to utilize his biggest weapon.
In 20 plate appearances this spring, Hamilton has gotten on base four times, with a pair of singles and a pair of walks. He's struck out eight times, and he's not effective if he's not on base.
While things might get a little dicey with Shin-Soo Choo patrolling center field this season at the Great American Ballpark, rushing Hamilton to the big leagues is the last thing the Reds should do.
A full season at Triple-A to refine his approach at the plate should put Hamilton on track to take over for Choo heading into the 2014 season.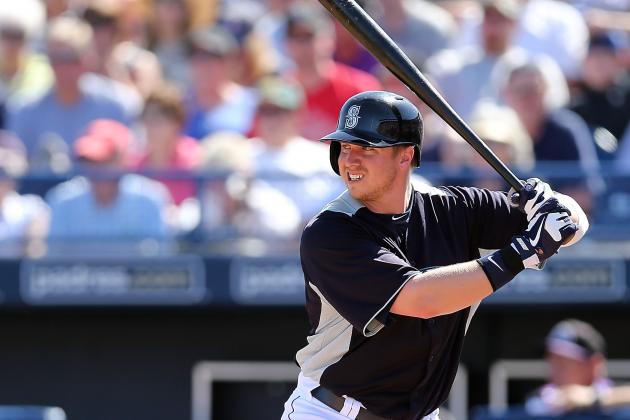 Christian Petersen/Getty Images
Is this the year Justin Smoak figures it all out?
Talk about going from worst to first.
After scoring 619 runs in the 2012 season—the lowest total in the American League and fourth lowest in all of baseball—the Seattle Mariners lead baseball in runs scored (104) and home runs (30) this spring.
That's an average of nearly 7.5 runs per game, a total that's simply unsustainable during the regular season, especially when you consider the Mariners' lack of plate discipline. The team has drawn only 39 free passes while striking out 119 times, the most of any team this spring.
During the regular season, splits like that will doom a team's lineup to mediocrity faster than having to face the ace of Seattle's pitching staff, Felix Hernandez.
There's reason for optimism in the Emerald City, but that optimism is best served as the cautious kind.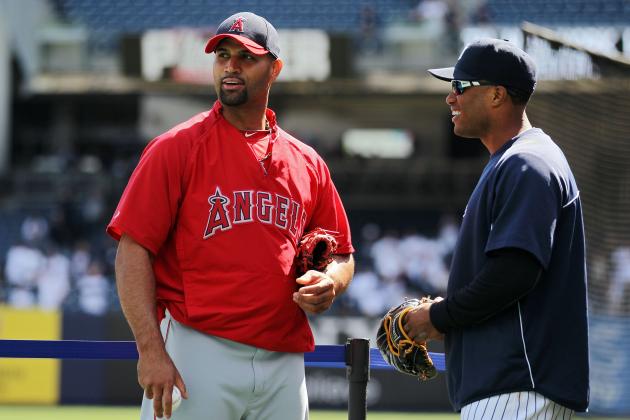 Nick Laham/Getty Images
Things haven't gone according to plan for either team this spring.
What does $362 million* buy you in 2013?
A combined 6-17 record and a cozy room in the basement of the American League this spring.
While both the Los Angeles Angels and New York Yankees are sure to improve during the regular season, expectations may need to be tempered in both cities. Each team has a significant issue to overcome.
Pitching is the problem for the Angels, as the staff has thrown to a 7.11 ERA and 1.68 WHIP in 13 games.
There's no reason to worry about Jered Weaver, a perennial Cy Young award candidate, but skipper Mike Scioscia has been left with more questions than answers so far in Cactus League action.
It's just the opposite for the Yankees, where the pitching has been excellent but the hitters have been anemic at the plate.
Already without third baseman Alex Rodriguez, the team has lost center fielder Curtis Granderson and first baseman Mark Teixeira for at least the first month of the season with a broken forearm and strained wrist, respectively.
For the first time in a long time, the Yankees find themselves needing to manufacture runs without putting the ball into the stands.
As noted, there's little chance that both teams will be wallowing in the basement of their respective divisions this summer, especially with the Houston Astros joining the Angels in the AL West.
Yet there's significant reason for concern. It could be a long season for both squads, one that ultimately results in a change of leadership in the clubhouse.
*Estimated combined Opening Day payrolls of the Los Angeles Angels and New York Yankees, via Yahoo! Sports' Jeff Passan.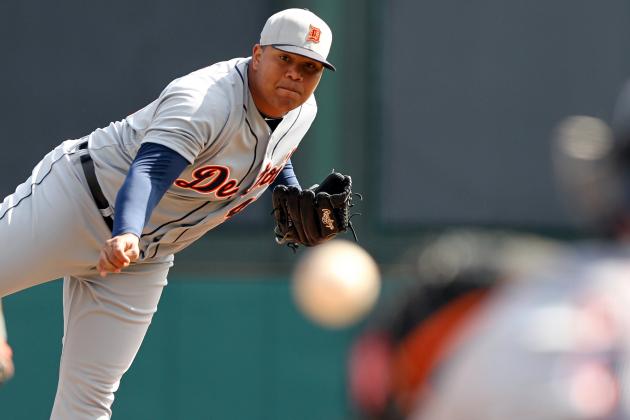 Kim Klement-USA TODAY Sports
Rondon has been anything but impressive.
At the end of the 2012 season, there was no secret that Jose Valverde had worn out his welcome in the Detroit and that the Tigers would look elsewhere for someone to take the ball in the ninth inning.
Many were surprised when it became clear that 22-year-old prospect Bruce Rondon was going to be the choice, considering Detroit's lofty payroll and that the team is a perennial World Series contender.
To say that Rondon has been shaky would be like saying Prince Fielder is kind of a big guy.
While Rondon has fanned six batters in 3.2 innings of work, he's allowed five hits and three earned runs. More troubling than that has been Rondon's inability to command his pitches, walking five batters and forcing the Tigers to rethink their bullpen strategy.
Moving another reliever, whether it be Joaquin Benoit, Phil Coke or someone else, into the closer's role remains an option, but doing so only creates another bullpen void to be filled.
CBS Sports' Danny Knobler says that the team is actively trying to trade for an established closer. But it may not be until the very end of spring training, when other teams have their bullpens in order, that the Tigers could pull such a deal off.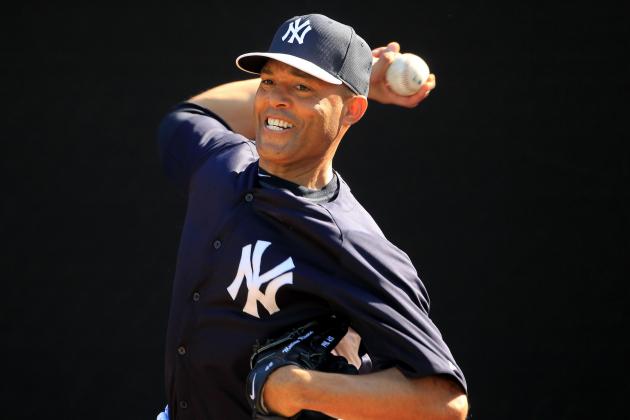 The Star-Ledger-USA TODAY Sports

You'll have to forgive me, as this isn't something we learned.
Consider it a public service announcement.
If the New York Yankees are coming to your neck of the woods this summer, make it a point to head out to the ballpark.
For it's the end of an era, as the immortal Mariano Rivera announced Saturday that the 2013 season will be his last (via Yahoo! Sports' Tim Brown).
Rivera, the greatest relief pitcher in MLB history and one of the most dominant pitchers that the game has ever seen, has far too many accomplishments and major league records to list here.
We'll never see another pitcher quite like Mo in our lifetimes. Not only has he been incredibly dominant, doing so with one pitch (we could call him the "King of the Cutter"), but he's carried himself with a kind of class and dignity that you don't see as often as you'd like.
So grab your kids and grandkids, your nieces and nephews, and get out to bid Mariano farewell.
If you'd want the youngsters in your family to emulate any athlete, you'd be hard pressed to find a better choice than Mariano Rivera.
Want to talk baseball? Hit me up on Twitter.