Purdue
(14-15, 10-7 home)
Venue: Mackey Arena
7:00PM ET / 4:00PM PT, March 06, 2013
Team Leaders
| | Points | Rebounds | Assists |
| --- | --- | --- | --- |
| Michigan | T Burke 18.9 | M McGary 5.6 | T Burke 6.9 |
| Purdue | T Johnson 12.9 | A Hammons 6.3 | R Johnson 3.9 |
On Wednesday, Purdue plays host to No. 7 Michigan at Mackey Arena. Tipoff is set for 7 p.m. ET and can be viewed on the Big Ten Network.
The Boilermakers lost to the Wolverines 68-53 on Jan. 24 and are 4-3 against them over the last four years. They are in eighth place in the Big Ten and Michigan is in second. Both teams continue to fight for position.
That fight will be on full display in this one.
Both Purdue and Michigan are coming off big wins. The Wolverines battled Michigan State on Sunday and was able to start March on the right foot after an up-and-down February. The Boilermakers, meanwhile, beat up No. 17 Wisconsin on the road in convincing fashion.
In that 69-56 win over the Badgers, D.J. Byrd put up 22 points and eight rebounds for Purdue. In addition to his 10.0 points per game, he is also chipping in 3.9 rebounds per game. He'll certainly need to play well for his team to compete with the No. 7 team in the nation.
For the Wolverines, Trey Burke finished with 21 points and eight assists in the 58-57 win over Michigan State on March 3. He contributes a team-leading 18.9 points per game, 6.9 assists per game, and 1.6 steals per game. There's no doubt he's the player to watch in this one.
Comparing team stats, Michigan looks to have the edge in one significant category, scoring, where the Wolverines have the upper hand over the Boilermakers, 75.4 points per game to 64.4 points per game. From a tempo-free perspective, Michigan is strong in the following categories: turnover percentage at 14.9 and effective field-goal percentage at 55.9.
Michigan StatSmack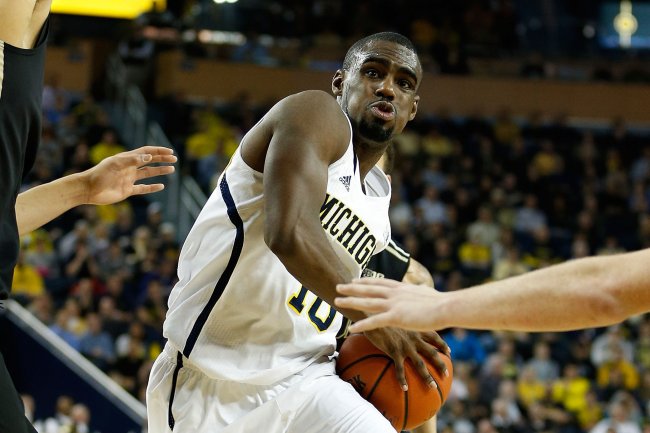 Gregory Shamus/Getty Images
A.J. Hammons is ranked 9th in the Big Ten in rebounds and 2nd in the Big Ten in blocks.
D.J. Byrd is ranked 4th in the Big Ten in three-pointers.
Purdue has a much lower in-state cost per year according to Kiplinger than Michigan ($19,459 vs. $23,019).
Michigan has to pay up to win. The coach for Purdue has a much lower base salary than Michigan ($1,398,120 vs. $1,600,000).
Purdue has more NCAA Tournament wins over the last 10 years than Michigan (nine vs. two).
The Purdue blocks leader (A.J. Hammons, 57 blocks) has more blocks than the Michigan blocks leader (Mitch McGary, 18 blocks).
The Purdue rebounding leader (A.J. Hammons, 183 rebounds) has more rebounds than the Michigan rebounding leader (Mitch McGary, 162 rebounds).
AP voters think more highly of Purdue and ranked them in the AP Top 25 more often over the past 10 years than Michigan (76 vs. 51).
You'll do better on next semester's exams, right? Purdue currently has a higher Academic Progress Rate (995 to 1000) than Michigan, per the NCAA.
Purdue has a better overall winning percentage over the last 20 years (63.1 percent to 56.8 percent).
MICH Players
Mins
Pts
Reb
Ast
Stl
Blk
TO
A+
Trey Burke
0
19
3
7
2
0
2
A-
Tim Hardaway Jr
34
15
5
2
1
1
2
B+
G. Robinson III
33
11
5
1
1
0
1
B
Nik Stauskas
30
11
3
1
1
0
1
B
Mitch McGary
18
6
6
0
1
1
1
C+
Jordan Morgan
18
5
5
0
1
0
1
C
Caris LeVert
12
3
1
1
0
0
0
C
Jon Horford
9
3
2
0
0
1
1
C
Max Bielfeldt
7
2
2
0
0
0
0
C-
Spike Albrecht
7
1
1
1
0
0
0
D+
Blake McLimans
3
1
1
0
0
0
0
D+
Eso Akunne
3
1
1
0
0
0
0
D+
Matt Vogrich
6
1
1
0
0
0
0
D+
Corey Person
2
1
0
0
0
0
0
PUR Players
Mins
Pts
Reb
Ast
Stl
Blk
TO
B
Terone Johnson
32
13
5
3
1
0
2
B-
A.J. Hammons
24
11
6
1
0
2
2
C+
Ronnie Johnson
30
10
4
4
1
0
3
C+
D.J. Byrd
31
10
4
3
1
0
2
C-
Rapheal Davis
17
5
4
1
1
0
1
C-
Anthony Johnson
19
5
3
1
0
0
1
C-
Donnie Hale
16
4
3
0
0
0
1
D
Sandi Marcius
8
2
2
0
0
0
1
D
Jacob Lawson
12
2
2
0
0
1
0
D
Travis Carroll
9
2
2
0
0
0
0
D
Jay Simpson
8
3
2
0
0
1
1
D
Stephen Toyra
3
0
1
0
0
0
0
D
Dru Anthrop
8
1
1
1
0
0
0
D
Neal Beshears
2
0
0
0
0
0
1