Best Counterpunchers in the UFC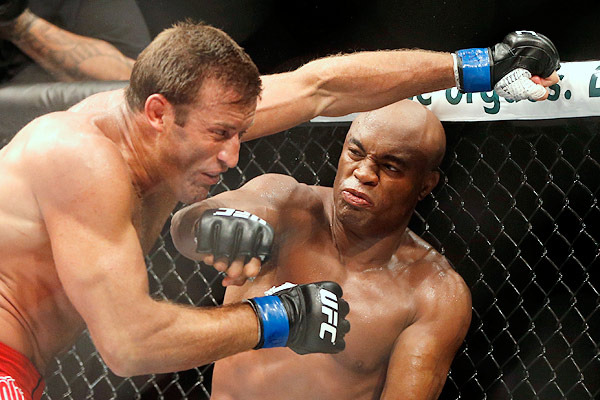 Mark Kolbe/Getty Images
espn.go.com
The essence of a good counterpuncher can be summed up with one distinct word: precision.
When a fighter hones in on elite marksmanship, blazing technique and an unmatched sense of tranquility, his ability to surpass expectation drastically increases.
Counterpunching ultimately separates great fighters from consistently potent killers. It's what culminates into backs against the cage, spinning heads and badly beaten jaws.
The beneficiaries of such a talent are truly few and far between, but they most certainly exist in today's sport.
Here are the best counterpunchers in the UFC today.
Begin Slideshow

»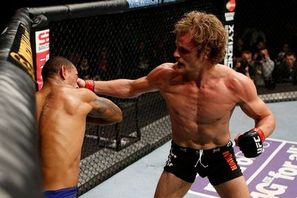 www.visir.is
Before you jump out of your La-Z-Boy, let the slide breathe.
Sure, Gunnar Nelson has only banked two fights in the UFC, but despite his minuscule body of work, he has proven that he deserves to be mentioned on this list.
First of all, Nelson is still relatively unknown around the sport, and that is a true shame. Secondly, he has run through two formidable welterweights in DeMarques Johnson and Jorge Santiago despite being the smaller fighter.
The fact of the matter is that the 24-year-old has displayed an elite ability to avoid strikes while maintaining a distinct Karate stance. As a result, Nelson's versatility and unorthodox approach have supplied him with a serious counterpunching game.
His name may not command the respect that other contenders on this list do, but Nelson's technique is steadily evolving every time he competes.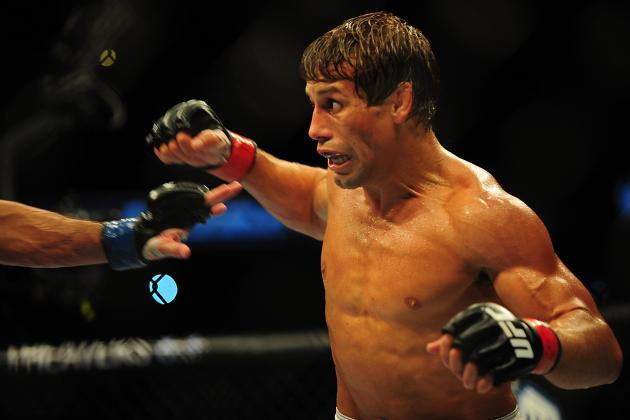 Anne-Marie Sorvin-USA TODAY Sports

Despite being unfairly categorized as a declining contender, Urijah Faber still has some of the fastest hands in the UFC.
His ability to sling jabs, hooks and uppercuts while moving backwards continues to separate him from nearly every other fighter in the bantamweight division.
Faber's compact stature may still be an issue against longer opponents, especially when it comes to successfully counterpunching, but his willingness to exchange strikes inside and on the edges gives him a unique ability to pressure opponents from all facets.
Sometimes, speed is all you need.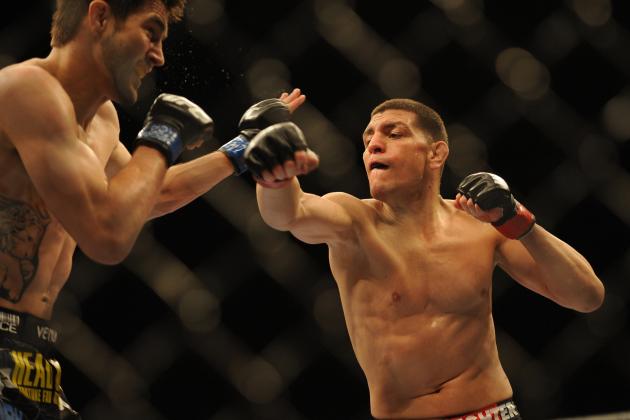 Kelvin Kuo-USA TODAY Sports

Nick Diaz sports one of the most fascinating counterpunching arsenals around.
He isn't quite the fastest and he's never going to be the most technical. Instead, the brash Californian uses mental fortitude to attack opponents where it hurts.
Whenever Diaz is able to get in the head of another fighter, especially a guy who relies on his striking, he forces adversaries to leap, lunge and reach for attacks that aren't necessarily there.
Diaz uses this technique to invite fighters to exchange with one of the most consistently potent strikers in the sport.
He's sort of the Venus flytrap of mixed martial arts.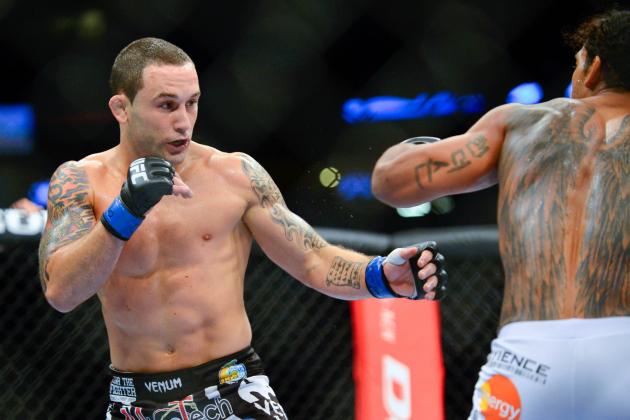 Ron Chenoy-USA TODAY Sports

Some guys get it, some guys don't.
Frankie Edgar gets it.
What that means is that Edgar knows he's never going to be the strongest or biggest fighter in his weight class. He realizes that he must utilize speed, technique and unparalleled footwork in order to be a successful contender atop the division.
Edgar has showcased these skills in the past, which has rewarded him with the capability to exchange with more physically intimidating guys like Benson Henderson, Jose Aldo and Gray Maynard.
He's easily one of the best fighters in the sport today when it comes to going tit for tat.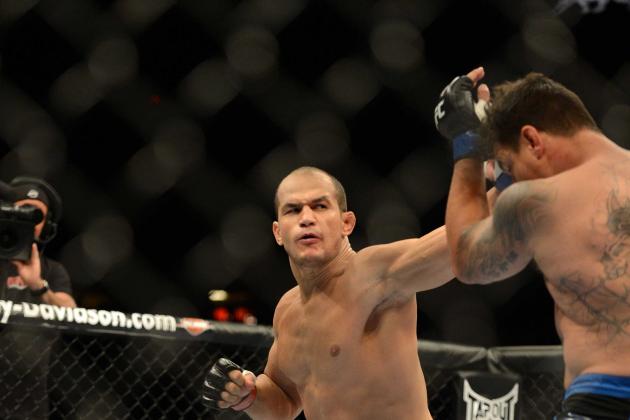 Ron Chenoy-USA TODAY Sports

Junior dos Santos' boxing skills are off the charts.
Quite frankly, the MMA community has never seen a fighter, let alone a heavyweight, with the precise punching that the Brazilian brings to the cage.
In turn, dos Santos has evolved into one of the best counterpunchers in the sport today. Sure, he often strikes first, but there's a reason why he was only hit a total of 122 times in his UFC career before his recent loss to Cain Velasquez.
Those numbers, alongside his track record of devastating finishes, help prove that dos Santos is nearly impossible to get to. And once a fighter tries to touch his chin, he counters with world-class boxing.
It's truly a devastating combination.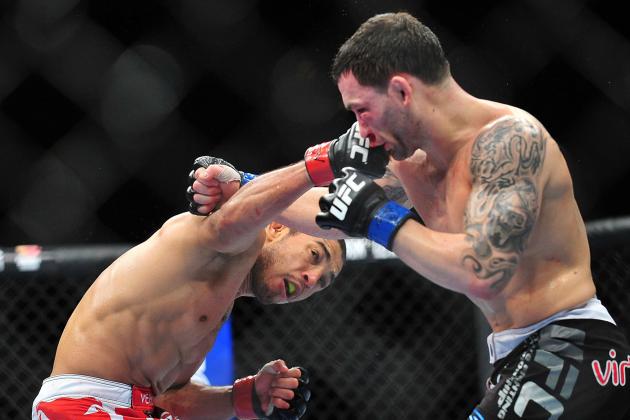 Gary A. Vasquez-USA TODAY Sports

At this point in his career, considering he has made every UFC victory look easy, Jose Aldo may very well be the best pound-for-pound fighter in the world.
The Brazilian has gained such recognition by implementing one of the most well-rounded standup games in the sport.
He can strike first, counter with devastating leg kicks or punishing knees, and make opponents pay when they try to take him down.
With natural strength and speed on his side, as well as a dedicated training regimen, Aldo is one of the toughest fighters in the world to land a shot against.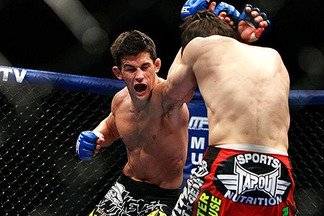 espn.go.com
Even though Dominick Cruz has been riddled with injuries for nearly the past two years, he's still one of the best strikers in the UFC today.
His technique may be a little rangy and less explosive than other top bantamweights in the sport, but the undisputed champion has no other choice when you consider his dynamic reach advantage.
It's a true rarity to see Cruz get tapped on the chin during a fight because he's so good at shifting angles, getting inside and out, and using his physical prowess to pepper opponents when they try to end his title reign.
A future showdown against fellow bantamweight standout Renan Barao will truly be a testament to Cruz's overall arsenal. Not just his long limbs.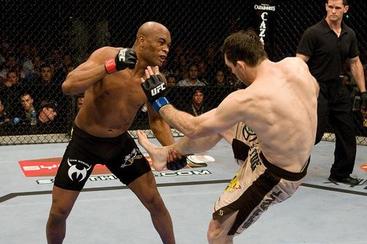 sportv.globo.com
As good as Anderson Silva truly is, it's astonishing that some people still don't consider him a top counterstriker in the UFC.
The bottom line is that if a guy can literally sit right in front of an opponent and sway his head back and forth to avoid every punch possible, then throw one strike and secure a finish, he deserves to be at the top of this list.
What makes Silva such a good counterpuncher, especially when he fights at light heavyweight (look at what he did in all three fights), is the fact that he possesses sneaky speed, excellent footwork, even more excellent head movement and unorthodox strikes that can get him out of any sticky situation.
He's the greatest in the world for a reason. The guy can do it all.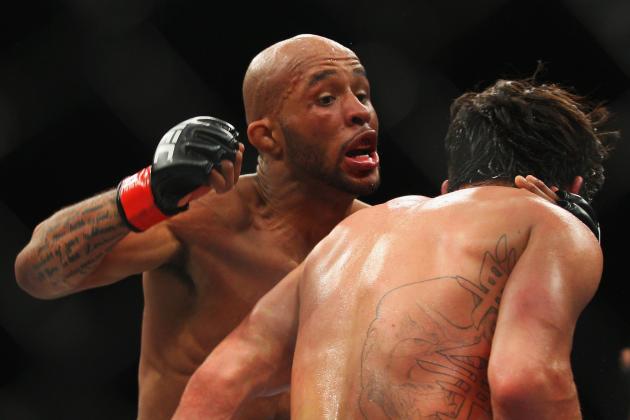 Mark Kolbe/Getty Images

Like the way power resides atop the heavyweight throne, sheer speed takes the crown amongst the flyweights.
So it shouldn't come as a surprise that the king of the UFC's smallest division is also the pound-for-pound fastest puncher in the sport.
Demetrious "Mighty Mouse" Johnson nearly breaks the sound barrier every time he slings lightning-fast jabs to stop angry opponents in their tracks.
The fact of the matter is that Johnson has the ability to out-punch, out-hustle and out-counter any flyweight around. He has mastered it in the past, and unless Dana White makes him wear heavier gloves to even the playing field, he'll continue to utilize his innate speed in the future.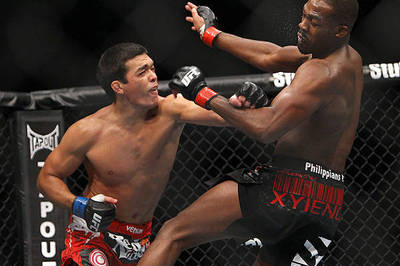 www.mmaplayground.com
Any time counterpunching is mentioned in a conversation about MMA or the UFC, Lyoto Machida should be the first name that comes to mind.
It's literally his whole game.
The Brazilian has made a career out of poaching on unsuspecting and overly aggressive fighters. He did it against Rashad Evans, Ryan Bader, Thiago Silva and even Jon Jones for five straight minutes before getting choked out.
Machida's recent bout opposite MMA legend Dan Henderson may have produced a poor showing, but that's partially due to the fact that "Hendo" possesses enormous power in both hands.
As long as he's capable of stifling game plans, utilizing speed, technique and his overall intelligence, Machida will continue to be the most elusive counterpuncher in the sport.
For more UFC news and coverage, Follow @DHiergesell