Duke Crushes Virginia Tech on Senior Night in ACC Battle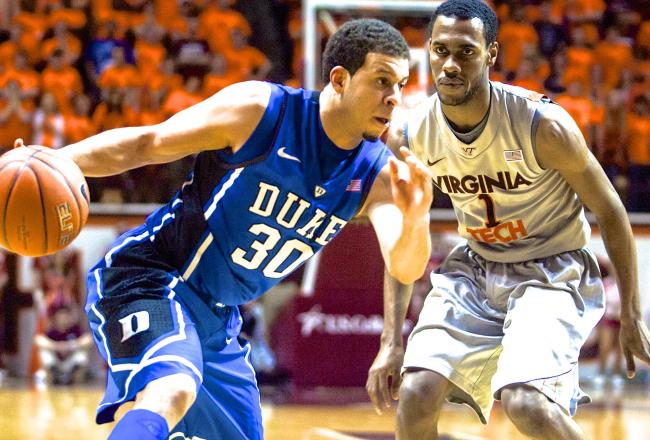 On senior night in Cameron Indoor Stadium, Duke got all it could handle from lowly Virginia Tech for about 35 minutes.
Eventually, the Blue Devils pulled away and defended home court to the tune of 85-57. It kept alive their faint hopes for a co-ACC championship, but Miami would have to lose its final two games.
As for Virginia Tech, it was the same old story. Erick Green, the nation's leading scorer, had his way against Duke's defense and ended up with 25 points, but it was nowhere near enough. The Hokies have had a season to forget.
The victors tonight looked like one of the nation's elite teams once again with the return of Ryan Kelly. How far Duke goes in March is yet to be determined, but chances are it won't be losing to the likes of Lehigh again this year.
Duke 85, Virginia Tech 57 FINAL
It was close for a while, but Duke and its seniors pulled away in a big way in the final minutes. Impressive performance in the last home game of the season. Blue Devils went 16-0 at home, marking the 17th undefeated home slate in program history
Tyler1Todd Z coming in!Duke Basketball!!!

— Mark Watson (@BlueDevilNation) March 6, 2013
Here comes the obligatory walk-on substitution and elated cheer from the crowd.
Duke 78, Virginia Tech 55 (2:50 second half)
In today's age of one-and-done rental players, hard not to appreciate the careers of Curry, Plumlee and Kelly, regardless of how you feel about Duke.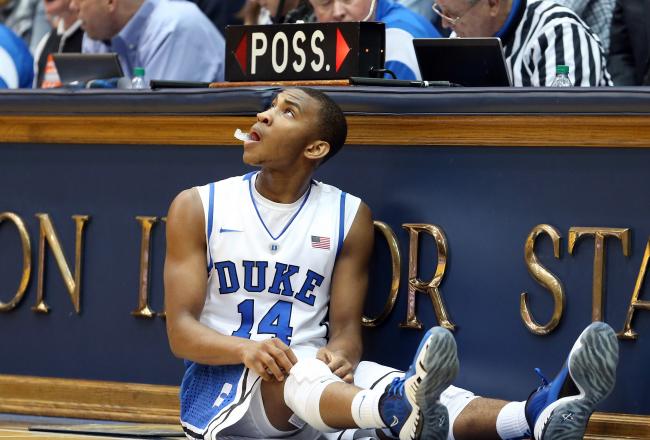 Sulaimon taking advantage of his minutes with Curry on the bench. Hasn't played much today.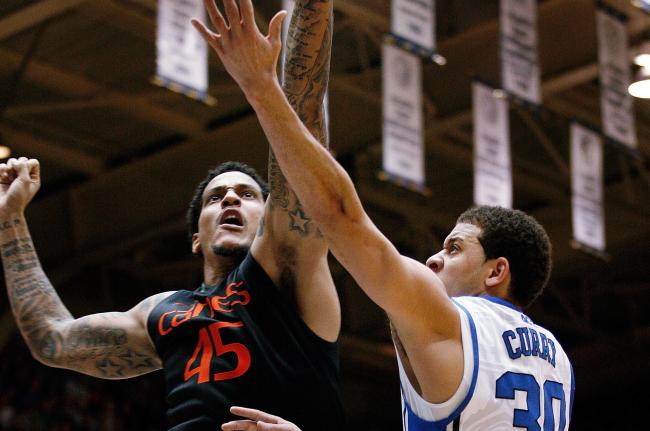 Duke 73, Virginia Tech 55 (4:22 second half)
Curry limps off the floor. At this point this game is over. May be wise to take the starters out to avoid injury.
Will say this: I've watched Mason Plumlee enough live and on TV over the past 3-4 weeks to conclude he should not be ACC POY.

— Mark Giannotto (@HokiesJournal) March 6, 2013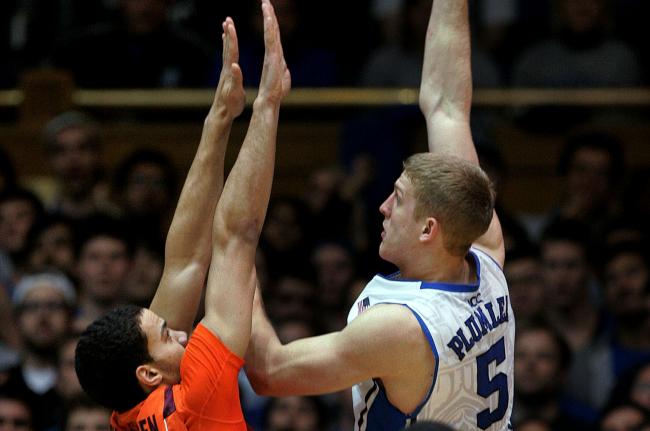 Duke 65, Virginia Tech 55 (5:59 second half)
Plumlee posting up far too close to the basket if you are Virginia Tech. Unstoppable from there.
Elmore: "Green beating defenders like they were rented mules." Dear #PETA...

— Crazie-Talk (@crazietalker) March 6, 2013
Duke 64, Virginia Tech 53 (6:38 second half)
Give credit to the Hokies, who simply aren't going away. Doesn't feel like they have a chance in the world to actually win, but still fighting.
Robert Brown misses 2 FTs and a gimme lay-in. Quinn Cook then boxes out Marshall Wood and grabs a rebound. Welcome to Erick Green's world..

— Mark Giannotto (@HokiesJournal) March 6, 2013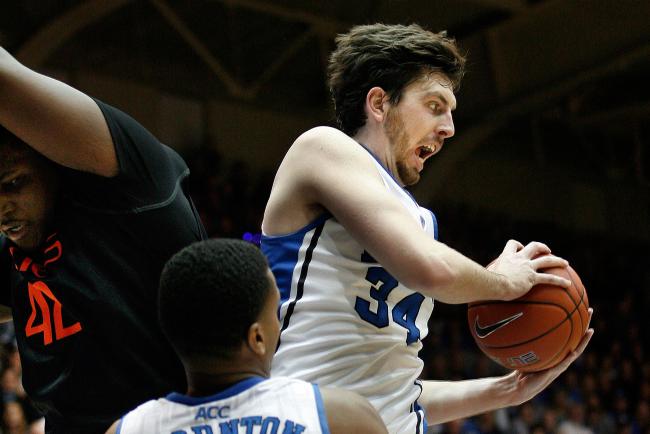 Ryan Kelly looks straight out gassed right now. Understandable.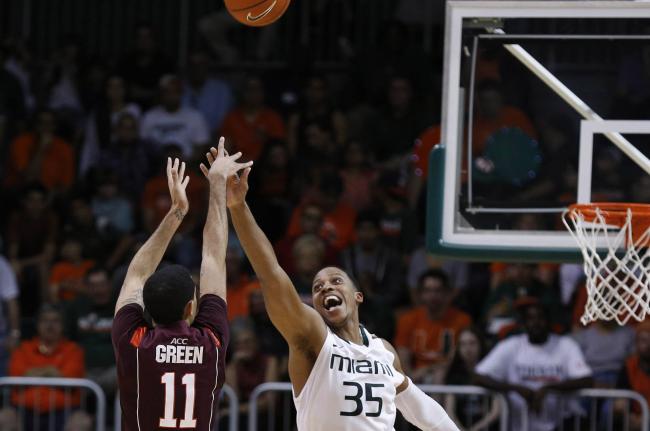 Duke is really pressing up on Green, but he continues to find ways to score. Of course, this being Virginia Tech it will be nowhere near enough.
Interesting question from Laura Keeley of the Raleigh News & Observer:
We've heard all year about how much better #ACC teams are at home. My question: why is Virginia Tech so much better on the road?

— Laura Keeley (@laurakeeley) March 6, 2013
Duke 57, Virginia Tech 47 (10:41 second half)
Duke gets a layup after forcing a turnover by smacking the ball handler across the arm. Shocking Virginia Tech doesn't have any technicals.
And the Hokies get called for three consecutive ticky-tack fouls in one possession. Welcome to Cameron.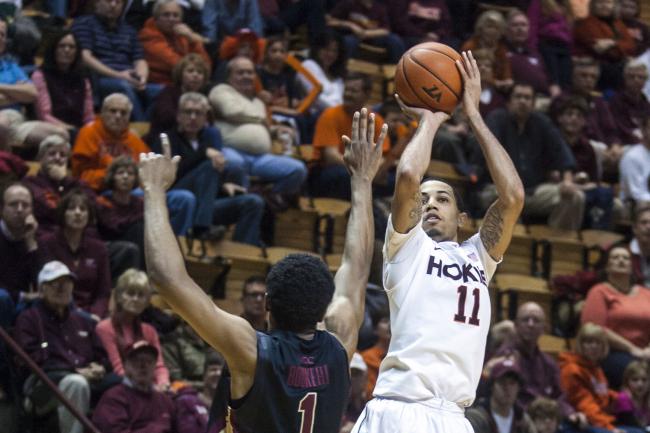 Duke 51, Virginia Tech 42 (13:35 second half)
Green trying to will his squad back into this one, but he is missing free throws. Don't see that every day.
And he's now in. Trying to get in a rhythm before the tournament starts.
Sulaimon is yet to play in the second half.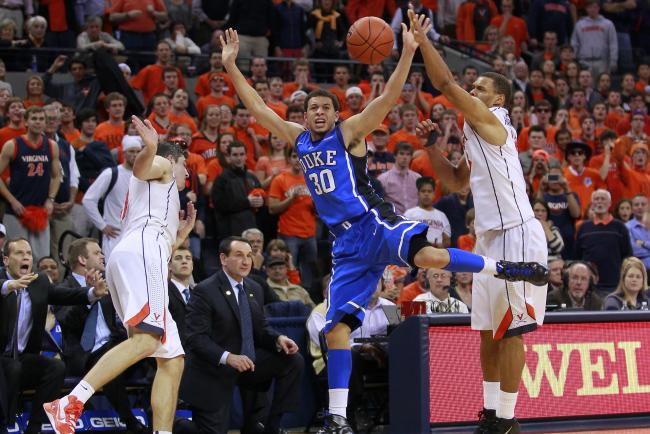 Some day teams will force Curry to put the ball on the floor consistently. Some day.
The #Hokies certainly lack a defensive stopper this year, but a lot of their decisions on ball screens are inexcusable at this pt.

— Mark Giannotto (@HokiesJournal) March 6, 2013
Cameron is ALIVE! Curry another 3 ball.

— Mark Watson (@BlueDevilNation) March 6, 2013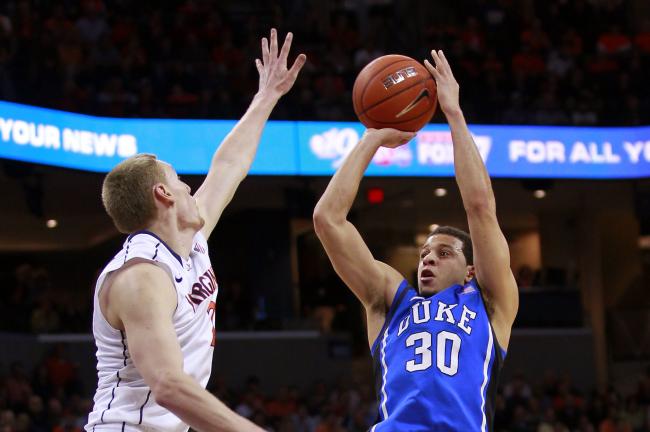 Duke 51, Virginia Tech 39 (15:47 second half)
Seniors taking over for Duke. Curry draining threes, and this thing is about to get ugly.
Duke 45, Virginia Tech 37 (17:14 second half)
Cook stays in and the Blue Devils extend the lead to eight. Really feels like the Devils are about to take off.
Quinn Cook picks up his third foul early in the second half. Imagine he will ride some pine for a bit.
This article is
What is the duplicate article?
Why is this article offensive?
Where is this article plagiarized from?
Why is this article poorly edited?

Duke Basketball: Like this team?