Nash Leads Rangers in 4-2 Victory over Flyers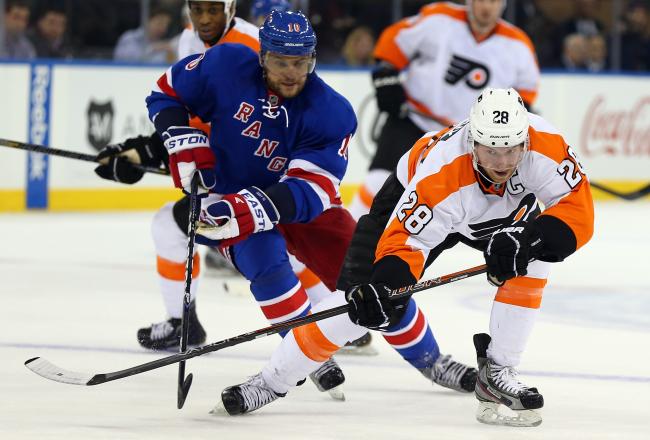 Elsa/Getty Images
Tuesday night the Rangers defeated in the Flyers for the second time this season.
They extended their run of 10 victories in 11 games against the Flyers dating back to the 2010-11 season.
It was a tale of three periods. An undisciplined first which ended 2-2 made way for a tight scoreless second period. It was in the third, though, that Rick Nash showed exactly why Glen Sather was willing to give up four valuable pieces to obtain his services.
He used his speed a skill to stifle the Flyers with two third period goals, and with some help from Henrik Lundqvist between the pipes, the Rangers were able to hold on.
It simply wasn't Philly's night tonight. Giroux was invisible, Bryzgalov was poor and, in the end, the Flyers didn't have enough zone time and the valiant efforts of Simmonds and Voracek went to waste.
The Rangers jump the Flyers and grab the eighth playoff spot in the East while improving their record to three games over .500, while the Flyers fall one game under. The Rangers have two game in hand on Philadelphia as well.
FINAL, Flyers 2 Rangers 4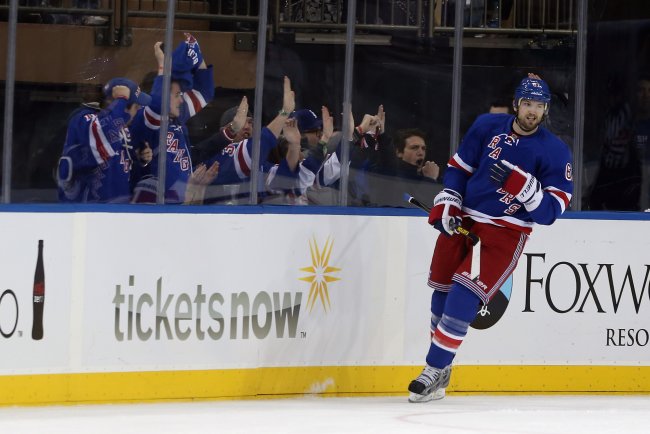 Bruce Bennett/Getty Images
Player of the game tonight for the Rangers was Rick Nash. Ryan Callahan was clutch in the first period, but two huge third period goals from Nash were the difference in this one. Good to see Nash doing what he was brought here to do.
For the Flyers it was Wayne Simmonds. He worked well with Jakub Voracek and they were ultimately the only players to score for the Flyers tonight. Simmonds' speed and ability to work the corners are the really the only things the Flyers will want to take away from this game.
That's a wrap for tonight, thanks for reading and good evening.
END REGULATION, Flyers 2 Rangers 4
How did that no go in? Lundqvist stands tall with 30 seconds on the clock as the Flyers give him all they've got. Fans shower Th King with love.
Flyers crashing the net real hard late.
Bryzgalov to the bench with 1:50 left in the third.
Hartnell needed to have a positive physical presence tonight, but unfortunately for the Flyers he ran around like a goon all night.
Teams skate five-on-five, Hartnell and Bickel (?) get misconducts and are escorted from the ice.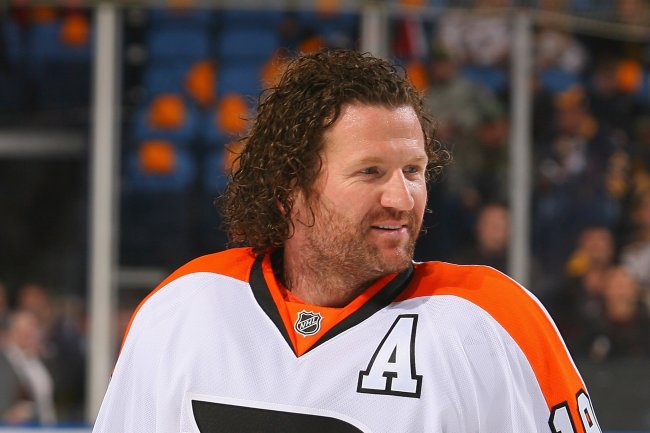 Rick Stewart/Getty Images
Wow, Hartnell hits Nash near the Rangers bench then punches Michael Haley, who was on the bench, in the face. Hartnell went over the boards a bit and Haley made some contact. Hartnell not amused and let Haley have it.
Oh boy. Simmonds was off to the races there. Made a nice pass and headed into the zone but just a hair offside. Scary when a guy that big can move that fast. 4:30 left in the third.
Flyers kill off the Hartnell minor. Have five minutes to try and tie this thing.
Bad line change causes that rush for Nash, but Bryz with another bad poke check. 4-2 #NYR #Flyers

— Anthony SanFilippo (@AnthonySan37) March 6, 2013
Rick Nash with his 2nd of the night and 7th of the season. All his goals have been in the 3rd period!

— Don La Greca (@DonLagreca) March 6, 2013
PHI PENALTY 12:22 Third Period - Hartnell goes for cross checking in the offensive zone.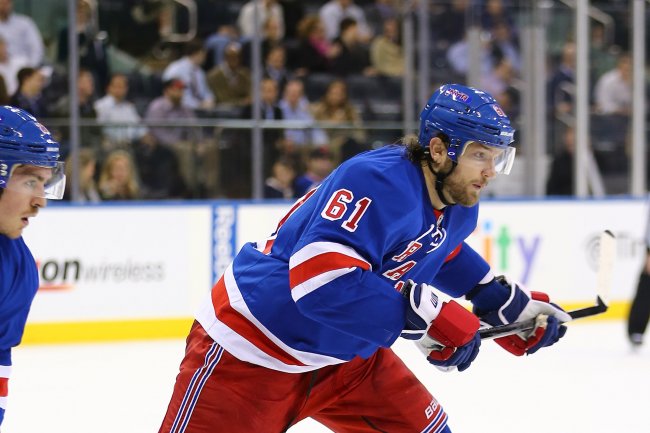 Al Bello/Getty Images
Rick Nash breaks in, is hooked and still beats Bryzgalov with a sweet move.
NYR GOAL 11:42 Third Period - Rick Nash, Flyers 2 Rangers 4
Flyers kill it off. Rangers rally a bit toward the end. That kill could spring the Flyers.
Here's the Rangers power play we all know and love. Can't even keep the puck in the zone for more than 10 seconds.
PHI PENALTY 8:49 Third Period - Gagne for holding in the offensive zone.
Giroux making things happen there, although he's been terribly quiet tonight. Nash stepped up for the Rangers, the Flyers will need a guy like Giroux to step up if they're to tie this game.
Remember, Staal doesn't wear a visor either. As bad as it looked, it certainly could have been a lot worse. Hope he's going to be all right.
That last replay of the puck hitting NYR Marc Staal in the face, possibly in the eye area, was as frightening as it gets. Hope he's OK.

— Bob McKenzie (@TSNBobMcKenzie) March 6, 2013
Timonen slap shot hits Mrac Staal in the face. He is writhing on the ice. Bleeding. Garden is silent.. ugh

— Pat Leonard (@NYDNRangers) March 6, 2013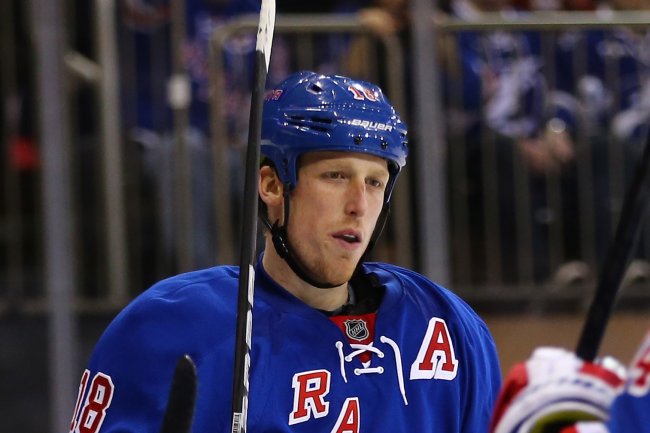 Al Bello/Getty Images
Horrifying moment as Staal takes a deflected Timonen shot right to the face. After squirming around on the ground a bit he heads to the Rangers' dressing room for repairs. Not sure if we'll see him again tonight.
Nash provides that piece of skill that can win a game that's tied going into the third, like I mentioned earlier. Let's see if they can hold on.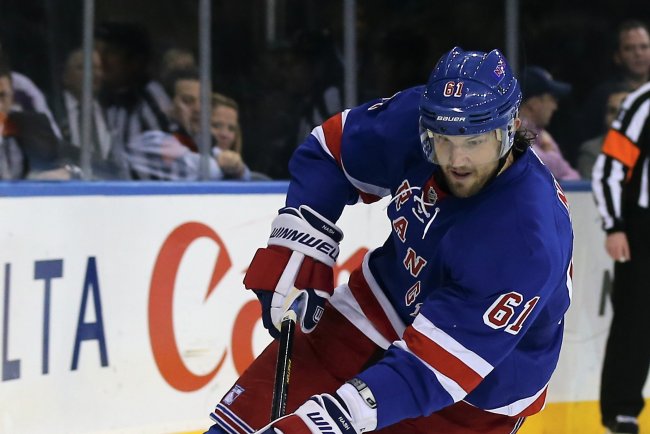 Elsa/Getty Images
Rangers lucky to be up. Hartnell and Co. were buzzing in the Rangers end, Lundqvist had to make some big saves, one of which sprung Nash and he was able to bury a wrister streaking down the right side.
This article is
What is the duplicate article?
Why is this article offensive?
Where is this article plagiarized from?
Why is this article poorly edited?