Miami Football: Spring Practice Position Battles Tracker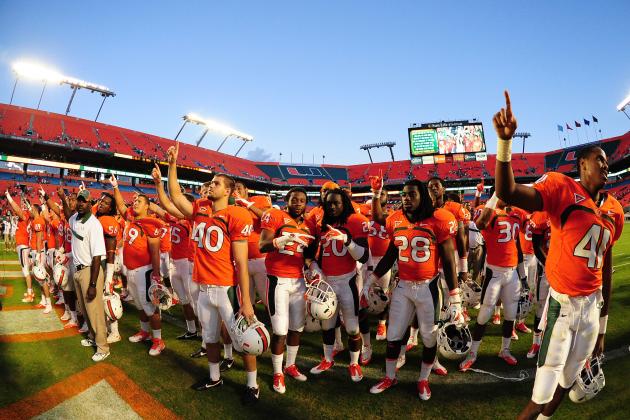 Scott Cunningham/Getty Images

After the season the Miami Hurricanes had last year, there is a lot of optimism floating in the air in South Florida. With a total of 19 starters returning, this is a team that feels good about itself heading into spring practice.
The Hurricanes recently kicked off spring ball as they prepare for the spring game that takes place on April 13, 3 p.m. ET.
There are a lot of things to feel positive about with an experienced quarterback, deep receiving crop and a defense that returns nine starters from a year ago.
However, a 7-5 record from last season isn't what Miami is satisfied with, meaning there is still a lot of improvement that can be made.
Spring practice provides the team with that opportunity to get even better and the players and coaching staff are taking full advantage of it.
Here is the 2013 Miami Hurricanes spring practice preview.

Note: This slideshow will be updated with the latest news, position battles, injuries and more.
Begin Slideshow

»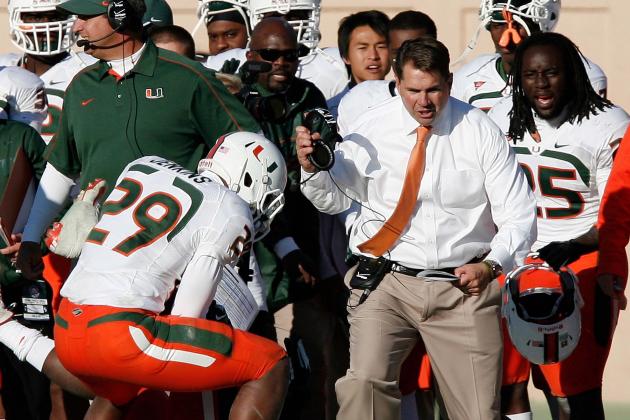 Mark Dolejs-USA TODAY Sports

Update: April 15
The spring game for the Miami Hurricanes was much how last year's regular season turned out for this team. The offense completely carved up the defense and there was nothing that could be done to stop it.
Quarterback Stephen Morris passed for more than 200 yards on 13 completions and was impressed with his receivers, according to Michael Casagrande of the Sun Sentinel.
Morris said he was pleased with the offense, "especially with the fact that we ran vanilla offense. . . . I was happy with the receivers. They didn't drop too many and they did an unbelievable job of knowing what they've got and knowing their assignments and executing them."
As for the defense, linebacker Denzel Perryman led the way with two interceptions, according to the report.
Update: April 8
Quarterback Stephen Morris showed last season that he is more than capable of starting for the Hurricanes. According to Michael Casagrande of the Sun Sentinel, Morris has now continued to improve and is communicating better with his players.
"I've matured so much on the field and especially off the field," Morris said. "So I just want everybody around me to be on the same level — just communicating better with the guys around me."
Morris has also improved his arm strength during the offseason and is able to now do 14 bench press reps of 225 pounds, according to the report.
Update: April 5
Heading into the spring, most would have just assumed that Ryan Williams was the man for the backup quarterback position. Not so fast. According to Christopher Stock of 247Sports, Gray Crow is right in the middle of the competition and has impressed head coach Al Golden.
(Gray's) doing good, he's fighting right there with Ryan. Golden said. That's where the battle is right now, it's right there. Those guys are fighting for 2. Gray has a strong arm, he has to continue to build his confidence, command the huddle, make good decisions, get us out of bad plays. He's not there yet, but he has the requisite skills—he has the arm and he's snapped off a few for us last week and we just have to get that out of him every day.
Update: April 4
According to Michael Casagrande of the Sun Sentinel, defensive lineman Dyron Dye is out indefinitely with an Achilles injury that required surgery.
With a little bit of positive news, Casagrande is also reporting that running back Dallas Crawford looks faster than a year ago and should be ready to backup Duke Johnson this season.
Update: April 1
One of the players to keep a close eye on this spring is cornerback Tracy Howard. One of the top recruits of the 2012 class, he is expected to see a much bigger role this season. According to Christopher Stock of 247Sports, he is doing a terrific job this spring, but he is far from being satisfied.
To be honest I wasn't too happy with my performance. Howard said. I feel I can totally dominate. I feel I was kind of solid, but I don't feel I graded out that good. I think I did OK to be a top 20 cornerback, but I want to be No. 1. I didn't feel I played up to my full potential. I feel I played alright, but there's a lot of things I can still get better at. I just want to totally dominate across the board.
Update: March 25
The Miami Hurricanes held their first spring scrimmage of spring practice and Al Golden liked what he saw, according to Dieter Kurtenbach of the Sun Sentinel.
I'm excited about where we are. Golden said. We've got a long way to go. I've learned to be careful around here, but we had a good first scrimmage — that's it...But that's why we come out here. It's gotta be different, it can't just be another practice everyone has to be tested, me included.
Quarterback Stephon Morris completed 17 of 31 passes for two touchdowns and two interceptions, while Duke Johnson racked up more than 100 all-purpose yards. For more news and notes, checkout the report provided by Christopher Stock of 247Sports.
Update: March 13
Miami has a lot of experience returning from a year ago. In fact, the 19 starters returning are by far the most in the ACC. So with so many veterans back on the roster, it can make things difficult as far as younger players cracking the starting lineup.
Don't tell that to linebacker Raphael Kirby.
The sophomore who is returning from an injured ankle after spending all of last year as a backup, is now pushing guys for the starting middle linebacker position and is holding his own early on, according to Christopher Stock of 247Sports.
It's a great honor (to be on the first team), but it comes with hard work and a lot of push from the coaches. Kirby said. This offseason they pushed me. The biggest thing was to get my weight up and just learning the plays, and being able to direct the defense at middle linebacker.
According to the report, Kirby is holding down the middle linebacker spot, with Denzel Perryman at weakside and freshman Alex Figueroa on the strongside.
Update: March 12
A few Hurricanes this spring are looking to make bigger strides than a year ago. One of those guys is Dyron Dye, who has spent much of his career at the tight end position. The problem is that he came to Miami as a highly recruited defensive end.
Dye has spent the offseason losing a considerable amount of weight and seems to have convinced the coaching staff to move him back to the defensive side of the ball, according to Christopher Stock of 247Sports.
At the end of the season we have our evaluations and I talked with Golden and I asked him if I could go back and help out back on d-line. Dye said. I told him that I felt the team needed me there because we had tight ends coming in. He agreed with me.
As for the battle at the safety spot, Rayshawn Jenkins has actually added on a few pounds and has been practicing with the first team at the position. According to Christopher Stock of 247Sports, he has also improved in the weight room and is really becoming one of the early spring standouts.
"I feel faster plus I gained 15 pounds," he said. "I was 200 when I ran that. I'm 215 now but I feel more explosive and faster. Swasey really has you in the weight room squatting and power cleaning."
Jenkins is currently in a tight battle with Deon Bush, A.J. Highsmith and Kacy Rodgers for the safety position.
Update: March 8
In somewhat of a slow news day, the Miami Hurricanes have decided to become the latest team to release a Harlem Shake video. Sure, spring practice should be taken seriously to a point, but it is nice seeing guys loosen up a bit and can enjoy themselves between sweating it out on the gridiron. Also, you just knew the team that helped invent swagger wasn't going to get left out on something like this.
To see the video, click here.
Update: March 6
According to Susan Miller Degnan of the Miami Herald, there have been plenty of position changes this spring. Some of them include Tyriq McCord switching from defensive end to outside linebacker and Dyron Dye and David Perry both becoming defensive ends after playing tight end.
If you are paying attention to this year's spring practices and notice a few names not participating, it is because they have all been held out for various reasons.
According to Andrea Adelson of ESPN, Thurston Armbrister, Malcolm Lewis, Shane McDermott, Gabe Terry, Eduardo Clements, Robert Lockhart Jr. and the aforementioned David Perry will all be sidelined. Also, linebacker Eddie Johnson remains suspended after violating team rules.
According to Christopher Stock of 247Sports, Rayshawn Jenkins is the latest safety to wear the No. 26 jersey number that was worn by former Hurricane great Sean Taylor. Jenkins had previously worn No. 29, but has decided to make the switch and take on the added responsibility that only Anthony Reddick and Ray Ray Armstrong have done since Taylor finished his career in 2003.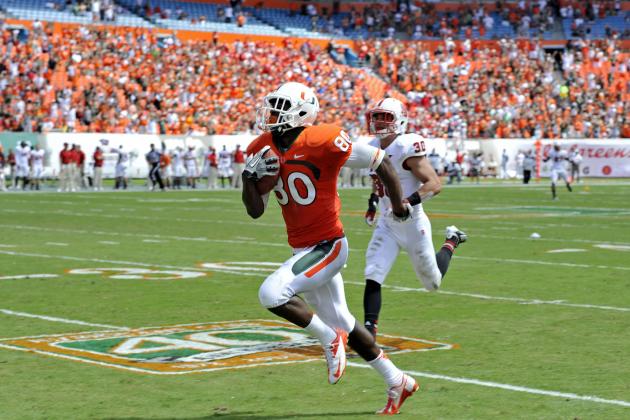 Steve Mitchell-USA TODAY Sports

Wide Receiver
Miami is deep at the wide receiver position which usually means there will be a lot of competition for playing time. There is little doubt that Phillip Dorsett will continue to hold down one of the positions after leading the team in receiving a year ago, but the other spot can be thrown up in the air at this point.
The two battling for the job would be Allen Hurns and Rashawn Scott. Scott finished second on the team with 35 receptions, but Hurns was able to hold his own as well with a solid 28 of his own. Scott has also had his fair share of off-field issues as well, which hasn't exactly helped him hold onto the starting position.
Prediction On Who Wins the Job: Phillip Dorsett and Rashawn Scott
Actual Winners: TBD
Backup Quarterback
I don't think there is any doubt that Stephen Morris will remain the starting quarterback for the Hurricanes. When you throw for more than 3,000 yards and 21 touchdowns, you have established yourself as somebody who can get the job done.
However, a backup for emergency situations must be found in spring practice. Ryan Williams was the backup last season and has the most experience, but don't count out redshirt freshman Preston Dewey just yet. He is an athletic kid who has a strong arm, and he plays the game with terrific poise.
Another signal-caller that will be competing this spring is another redshirt freshman in Gray Crow.
Prediction on Who Wins the Job: Preston Dewey
Actual Winners: TBD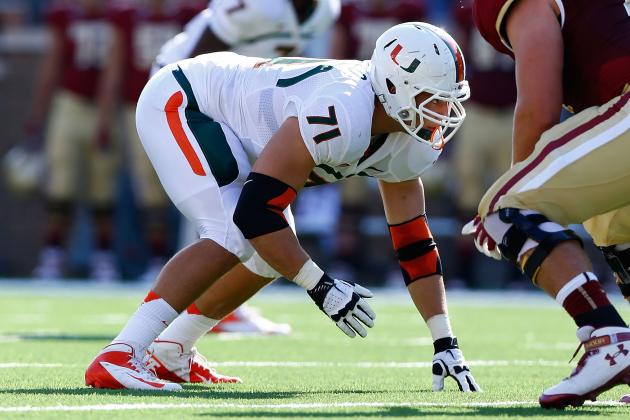 Jared Wickerham/Getty Images

Defensive End
Although the defensive line has a ton of experience, the defensive front of this Miami defense struggled mightily a year ago. The Hurricanes finished 11th in the ACC last season with only 13 sacks on the year, which is simply inexcusable.
It goes without saying that this unit must improve if the overall defense is going to take steps in the right direction.
The defensive tackle positions are likely in good hands with both Olsen Pierre and Curtis Porter anchoring the middle, but the defensive end spots are the ones to focus on this spring.
A group that was inexperienced and wet behind the ears has a bunch of guys fighting for playing time including Shayon Green, Jalen Grimble, Kelvin Cain, Jelani Hamilton and Dyron Dye.
Hamilton is somebody who has added weight during the offseason and should see significant playing time this year. Cain has a ridiculous amount of athleticism and should rise up the depth chart as he looks to become one of the better pass rushers on the team. Tyriq McCord is somebody who could also earn playing time on the line, even though he shifted to the linebacker position this spring.
Point blank, Miami needs guys from this unit to step up. And I'm not sure the coaching staff really cares who it is at this point.
Prediction on Who Wins the Job: Anthony Chickillo, Olsen Pierre, Curtis Porter and Shayon Green

Actual Winners: TBD
Cornerback
There is enough talent at the cornerback position, but the experience is lacking. With Brandon McGee no longer around to be counted on, Miami has a bunch of new guys that will be thrown into a starting role.
Ladarius Gunter should be a corner that has one of the spots already locked up with the way he finished the 2012 season on a strong note. However, the other spot isn't so guaranteed, as Tracy Howard and Antonio Crawford will be the ones fighting for positioning. Crawford is the more physical player and would add toughness to this defense, while Howard is the better athlete and is slightly better in coverage.
This would be a battle to keep an eye on this spring.
Prediction on Who Wins the Job: Ladarius Gunter and Tracy Howard
Actual Winners: TBD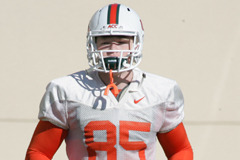 Credit: 247Sports.com
Beau Sandland, 4-Star TE - Sandland should see the field sooner than later. Not a terrific blocker, but with great hands and height at 6'6", he is too valuable not to play early. This is somebody who has experience under his belt being a JUCO transfer, and he will make Stephen Morris very happy.
Post Spring Practice Grade: B (Sandland looks comfortable on the field and still looks to be a key piece in this offense.)
Standish Dobard, 4-Star TE - Dobard is really the opposite of Sandland. Not a great route runner and may not have as good of hands, but he is terrific at holding his own in the blocking department. Another big target at 6'4", he should also see the field due to his collegiate ready size at 240 pounds.
Post Spring Practice Grade: C (Dobard is another tight end that made his impact felt. He caught a couple of passes in the spring game.)
Hunter Knighton, 3-Star DT - Knighton brings versatility to the table, as he can play either side of the ball. A massive player at 6'6", 265 pounds, this is somebody who will only continue to fill out his frame and become something special as time goes by. He could see playing time defensively or shift over to center on offense.
Post Spring Practice Grade: C (Knighton received a lot of reps throughout the spring and could see playing time down the road if he continues to improve.)
Sunny Odogwu, 3-Star OT - Odogwu may be one of the more underrated players in this entire recruiting class. Not only does he already have the frame down at 310 pounds, but he has the flexibility and length to be a productive offensive lineman. Did I also forget to mention that he has some experience playing defense as well?
Post Spring Practice Grade: C (Odogwu showed flashes during spring practices, but still has plenty of work to do before seeing any significant playing time.)
Alex Figueroa, 3-Star DE - Figueroa will see playing time right away for the Hurricanes. He is an active defender that reads plays well and is about as sure of a tackler you can ask for. He is quick to the ball and his ability to help out in run support should help him earn increased reps as practice continues to play out.
Post Spring Practice Grade: B (Figueroa has been one of the biggest surprises at the linebacker position and has even spent some time with the first-team defense.)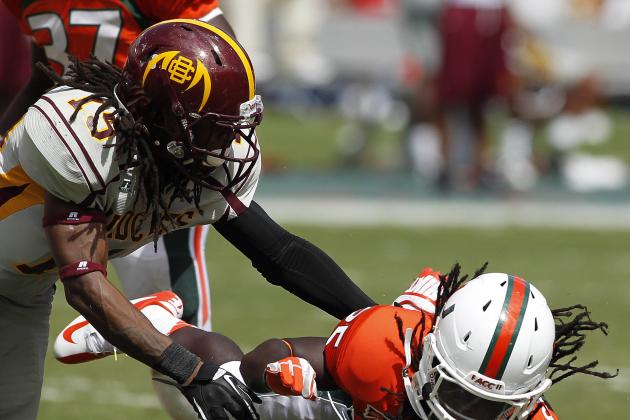 Robert Mayer-USA TODAY Sports

Offensive Sleeper: Dallas Crawford, RB - Crawford really has the potential to provide the Hurricanes with a 1-2 punch at running back alongside Duke Johnson. He isn't the biggest back in the world at less than 200 pounds, but he provides that homerun speed that Miami offenses are known for.
Recruited mainly as a defensive player coming out of high school, this is somebody who is not only a threat at running back, but does a good job of catching the ball as well. Crawford is a really a versatile playmaker and should continue to make a move up the depth chart.
Defensive Sleeper: Tyriq McCord, OLB - McCord spent his entire true freshman season coming in as a reserve, which allowed him to get his feet wet, but wasn't nearly enough for him to make a huge impact. This is an athletic player who will cover a ton of ground for this Miami defense, and will become a factor in getting after the quarterback.
He is extremely quick to the ball and is somebody who plays the game with a really high motor. McCord should become an impact player this season defensively, who could play linebacker or defensive end.