5 College Basketball Players Ready to Take over in March
Nate Shron/Getty Images
When the tourney kicks off and millions of fans have their brackets filled out, that is the time when the superstars need to step up.
All the cards are on the table. Get upset and you become a punchline. Go on a run and you become a legend. This is where players have the opportunity to improve draft stocks, cement their legacies and become a household name.
Players such as Stephen Curry, Kemba Walker, Shelvin Mack and Derrick Williams all went from big-name players to household names after breathtaking runs during the tournament.
And as for new guys following in their footsteps? Here are a few standout players who could make a name for themselves in this year's tourney.
Otto Porter, Georgetown
Jamie Sabau/Getty Images
As the season winds down, Porter just keeps getting better and better.
He has averaged just under 28 points per game over his last three contests with outstanding peripheral stats. He has catapulted a team that was nowhere near the preseason rankings all the way into the Top Five and atop the Big East.
Porter clearly has the postseason in his sights. The question is just how much more he can elevate his game. Without much help on the Hoyas' roster, Porter has Georgetown riding an 11-game winning streak with four victories over ranked teams and a double-overtime win over UConn.
The 6'8" forward is as good a candidate as anyone to go on a tear and take his team deep into the tournament. He is stampeding his way through the Big East much like Kemba Walker did in 2011. With a lot of work still to do, it shouldn't come as much of a surprise to see Porter keep up his majestic play of late all the way to the Final Four.
Deshaun Thomas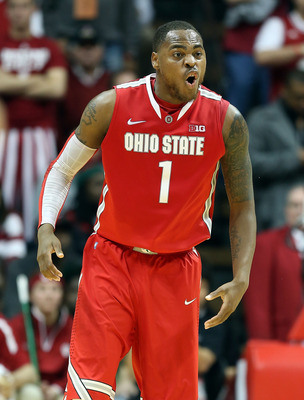 Andy Lyons/Getty Images
In his junior season, the Buckeyes now belong to Deshaun Thomas. Averaging 19.8 points per game through a grueling schedule, Thomas will be the reason for any deep run Ohio State makes in the tournament.
Recently, Ohio State has shown incredible resolve. After getting smacked by Wisconsin by 22 points, the Buckeyes responded with a four-game winning streak which includes a savage beating of Minnesota, followed by a pair of victories over top-five teams, Michigan State and Indiana.
Thomas has scored in double figures each game this year. With his Buckeyes more motivated than ever, the stage is set for Thomas to shine bright. They have been as battle-tested as any team in the country, playing ten ranked teams this season, including six that were ranked in the Top Five at the time Ohio State played them.
Nobody will feel safe against this team come tourney time. Their unquestioned leader appears more than ready to throw these guys on his back and will carry them deep into March.
Marcus Smart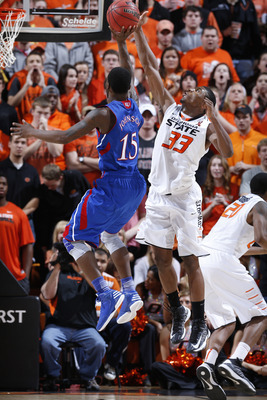 Joe Robbins/Getty Images
The stellar freshman will have the eyes of every NBA scout in the country all over him during March Madness.
Already a projected top-five pick in this June's draft, Smart would solidify his incredible hype with a huge tournament performance, which could possibly land him a number-one overall selection.
Smart is the engine that drives that Cowboys. He leads the team in assists and steals while logging huge minutes for Oklahoma State (33 per night). The youngin has thrived in big games this year and will look to shut down each team's best perimeter player in tourney time. This is the kid who made Ben McLemore disappear in a double OT game against Kansas, holding him to seven points.
Smart will look to continue raiding passing lanes and getting to the free-throw line with regularity like he has all season. He will definitely be one of the more polarizing players to watch down the stretch.
If he gets hot there is no limit to how far this team will go.
Allen Crabbe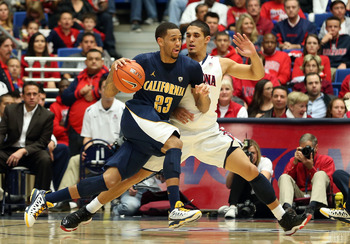 Christian Petersen/Getty Images
Crabbe has California skyrocketing up the Pac-12 standings. They have won seven in a row and nine of their last ten to all but wrap up a tourney bid. During the streak, they have knocked off Arizona, UCLA and Oregon twice.
Cal has had a very tumultuous season, but when they are on they are tough as nails. Crabbe has the ability to shoot them to victory against anyone they play, putting up 18.4 points per game this year while basically never leaving the floor.
It is anything but certain that Cal will be able to make it past the first weekend of the tournament. Their success rests very much on Crabbe's shoulders. They will be very popular candidates for pulling off a big upset or two, and once they get some momentum going, Crabbe could start ripping the nets from deep and take them much farther than expected.
Doug McDermott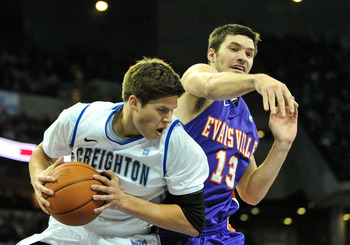 Eric Francis/Getty Images
Everyone loves the Cinderella story.
While Creighton is a little more well known than typical NCAA Cinderella stories, they have slipped considerably since a huge start to the season.
McDermott is currently the second-leading scorer in the country, and if there is anyone that can single-handedly lead their team deep into March, it is him.
McDermott is capable of getting white hot from the outside, while also putting teams in foul trouble in the paint. He is truly a gifted scorer and would be a sure bet to blow up during the tournament.
His Blue Jays have not been tested many times this season, but McDermott did drop 30 on the vaunted Wisconsin defense as well as 34 points at Cal. There is no recipe for stopping him, as he has shown unbelievable consistency all season.
The only person that can get in his way is himself. If he is up to the task, look for him to carry Creighton on a ballistic run.
Keep Reading