2013 NBA Mock Draft: Projecting Entire First Round Before March Madness Begins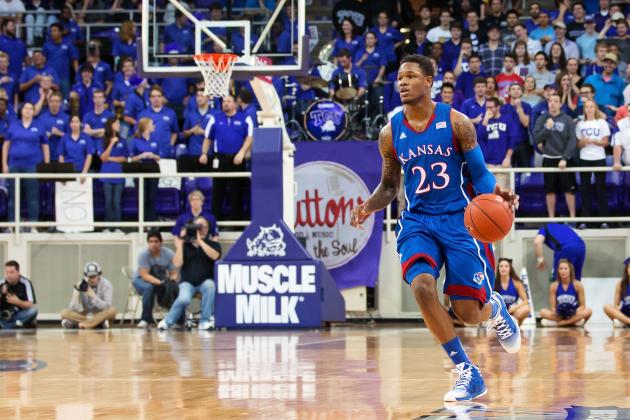 Kevin Jairaj-USA TODAY Sports

And just when you thought Ben McLemore was down...
It's been another wild week of college basketball, resulting in unpredictable finishes and a draft board that can't seem to hold still.
This is going to be an NBA draft where the lottery is likely to decide who goes where and when. Team needs will come heavily into play. A prospect could slip down the board if he's passed over for another player at his position.
Between Marcus Smart, Trey Burke and Michael Carter-Williams, one of these stud point guards is going to fall based on the lack of teams targeting a point guard in the top half of Round 1.
The projected order has changed, as we've taken into account the win-loss records of current NBA teams and adjusted accordingly.
Notes for the first round
Oklahoma City gets Toronto's first-round pick, which the Thunder acquired in the James Harden deal from Houston (originally acquired the pick in the Kyle Lowry trade).
If the Lakers miss the playoffs, their pick goes to Phoenix, which is something we anticipate.
Portland gives up a top-12 protected pick to Charlotte from the Gerald Wallace-Joel Przybilla trade in 2011.
The Atlanta Hawks receive Houston's top-14 protected pick, which they obtained from the Brooklyn Nets in the Joe Johnson deal.
Stats current as of March 5, 2013.
Begin Slideshow

»
Denny Medley-USA TODAY Sports

Ben McLemore's 36 points against West Virginia deserved a lasting standing ovation. It was his most complete offensive performance of the year, not only because it was a season high, but because he explored new avenues for points without relying strictly on the long ball.
McLemore made seven two-point field goals, five three-pointers and seven free throws, while having a hand in a number of successful possessions as a passer as well.
Instead of using the dribble to create scoring opportunities, McLemore uses off-ball movement to free himself up through down screens and change of direction.
Off-ball movement is like the getaway vehicle McLemore uses to shake tailing defenders and find space to breathe.
The common denominator amongst the all-time great shooters is their sense for getting open.
While his in-between game off the dribble could be a work in progress, McLemore projects as an elite complementary scorer in the form of a young Ray Allen.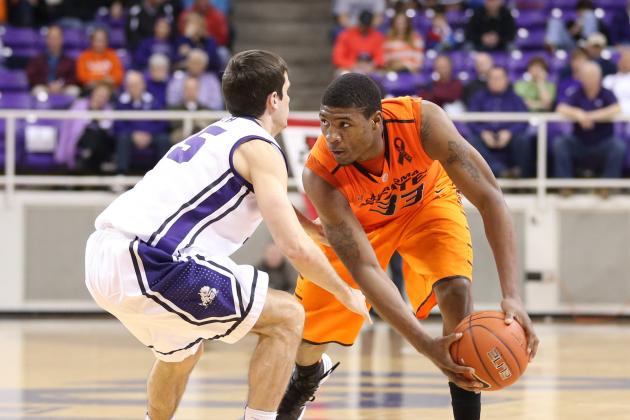 Jim Cowsert-USA TODAY Sports

The Orlando Magic appear to have some promising wings in Arron Afflalo, Tobias Harris and Moe Harkless, which is good news for eligible point guards if the lottery goes to plan.
You'd like to think Orlando will be looking to appoint a new floor general over the next few years, and with Marcus Smart available, why not strike when the opportunity presents itself?
When you look at the other candidates, not many of them make much sense.
Nikola Vucevic is developing nicely in the middle, eliminating the need for a guy like Nerlens Noel or Alex Len. Shabazz Muhammad and Anthony Bennett could be used, but they present some risk at the price of a No. 2 pick.
Ben McLemore could work, but his stock has risen to potential No. 1 overall status, and without that pick it's possible he won't be around.
Smart is a proven winner without any legitimate concerns surrounding his transition to the pros. He'd give Orlando a need and a want at No. 2 overall, and if there was ever a year to reach, this would be it.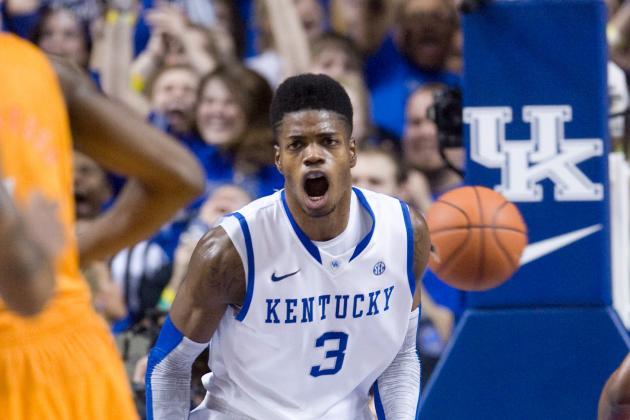 Mark Zerof-USA TODAY Sports

If the Charlotte Bobcats go with Ben McLemore, the Washington Wizards could have the chance at snagging a game-changing defensive anchor.
Even if Nerlens Noel misses the first few months of the season, the Wizards won't be in win-now mode anyway, and the chances of someone else helping in the short term will be slim.
At full strength, Noel is arguably the top prospect in the field and fills a need and a want as an athletic frontcourt center.
John Wall could use a target above the rim, and the team could use a security guard to defend its paint.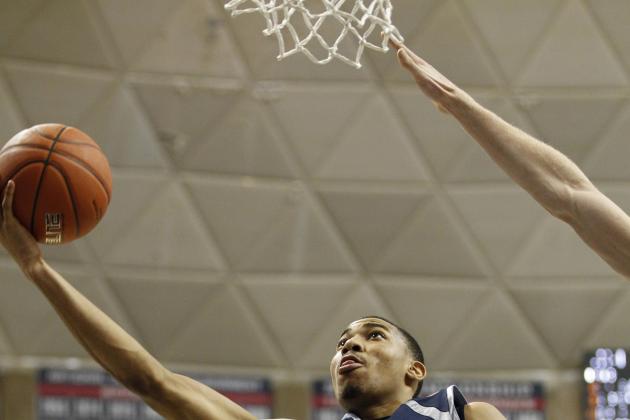 USA TODAY Sports

Otto Porter is running away with the Big East Player of the Year honors while solidifying his status as an elite NBA prospect.
After his 33-point outburst at the Carrier Dome, Porter followed up with a game-winning bucket on a swoop to the hole to knock off Connecticut in overtime.
After scoring 22 on the Huskies, he went for 28 over Rutgers on 15-of-18 from the free-throw line.
The guy can do it all. He's found his range as a shooter, and it's opened up the dribble-drive.
He's such a sure bet that it would be hard to blame a team if they wanted to reach on Porter with a top-three pick.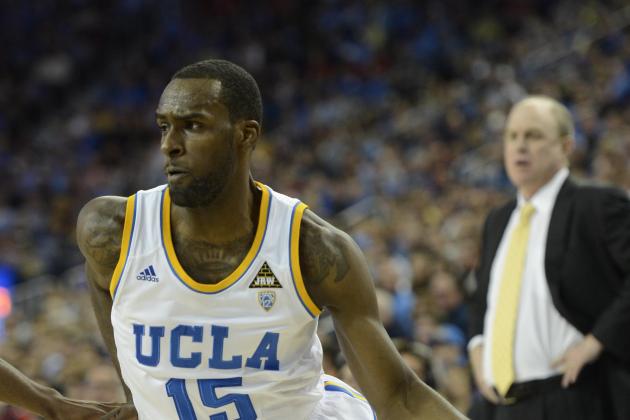 Richard Mackson-USA TODAY Sports

If Marcus Smart isn't on the board when the Sacramento Kings are on the clock, they need to go with the best player available.
Shabazz Muhammad's ability to spray the nets from every spot on the floor gives him solid value five picks deep in this draft.
UCLA has been rolling of late with Muhammad leading the charge. He's 7-of-12 from downtown during the four-game winning streak, remaining consistent as a shooter and reliable as a scorer.
His ability to knock down shots as a spot-up threat should complement DeMarcus Cousins in the post. Muhammad at pick No. 5 would result in a positive draft-day grade for the Kings.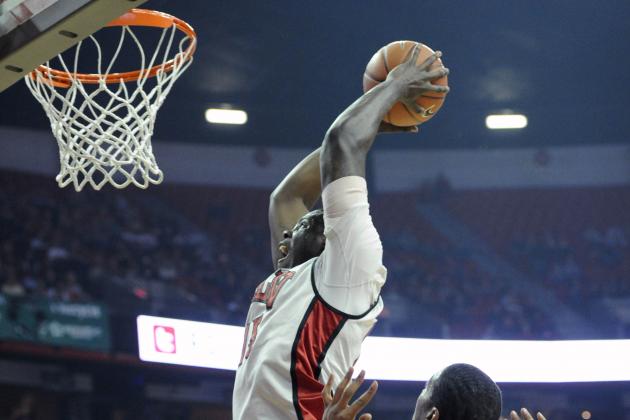 Josh Holmberg-USA TODAY Sports

Anthony Bennett just hasn't been the same since returning from a shoulder injury, so take his fallen production with a grain of salt.
The Suns need a frontcourt athlete, and Bennett fits the bill. He has the upside to justify a top-six pick, along with star-power appeal the Suns could really use in the lineup.
He's averaging 16.2 points and 8.3 rebounds in only 27 minutes for UNLV. Bennett is an impact offensive player with the athleticism and versatility to pose as a difficult frontcourt mismatch.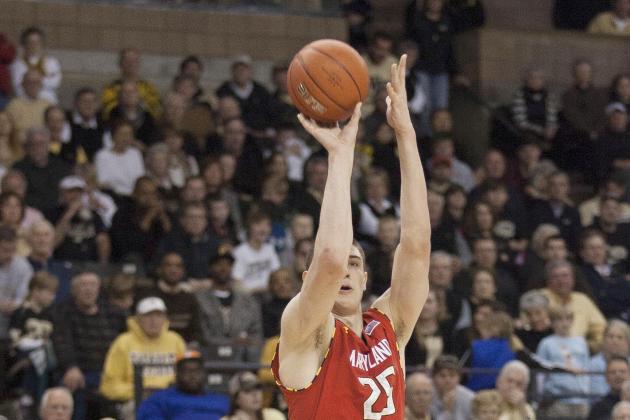 USA TODAY Sports

Let's assume the New Orleans Hornets will be in the market for a wing or a center.
While Otto Porter sounds ideal, chances are he won't be around this late with the season he's currently having.
If the Hornets decide to go big, they will likely be choosing between Alex Len and Cody Zeller, as will most teams.
Unlike Indiana and Zeller, Maryland has not allowed Alex Len to expose himself considering how little they feature him in the offense. Therefore, his stats become irrelevant during the evaluation process.
The good news for Len is that he excels in the areas that can't be taught and is improving in the ones that can.
The new Pelicans needs an above-the-rim scorer in the post, and they'd get one in the 7'1'' Ukranian center.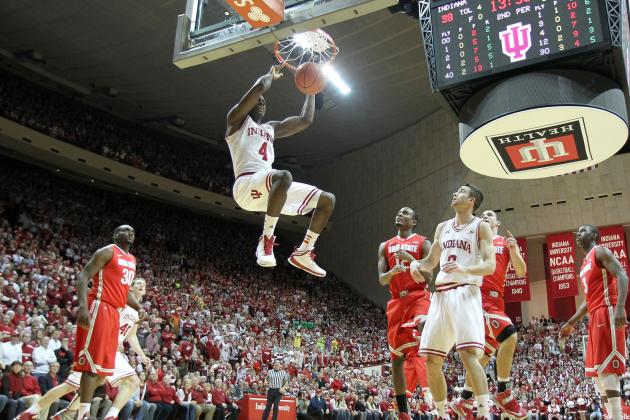 Andy Lyons/Getty Images

Victor Oladipo's scoring numbers have taken a hit, but that shouldn't be a surprise. He's not the Dwyane Wade-type scorer many have been making him out to be.
He's Victor Oladipo—a lockdown defender and offensive slasher and attacker.
Oladipo continues to make plays off the ball at both ends of the floor. He's one of the top finishers at the rim and has expanded his range out to the three-point mark.
But he's not someone who's going to create a ton of his own points in the half court.
In Minnesota, he'll inject athleticism to the wing and play off playmakers like Ricky Rubio and Alexey Shved.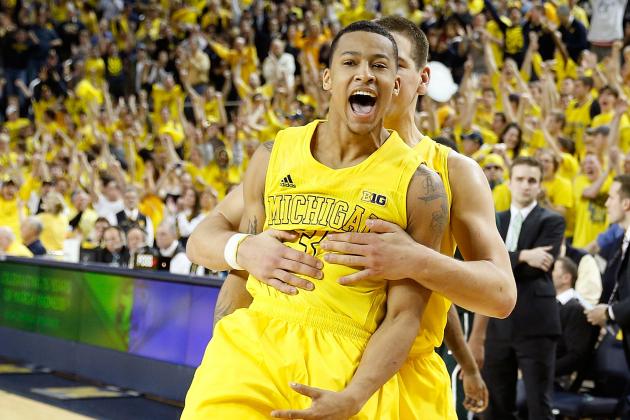 Gregory Shamus/Getty Images

Trey Burke stole the show in Michigan's win over Michigan State. He pickpocketed Keith Appling for the game-winning steal, which capped off a 21-point, eight-assist, two-turnover, winning performance.
Burke's ability to stop and start with the dribble hesitation is a nightmare for defenders who have to deal with ball screens while trying to contain him. He's getting into the seams of the defense and either finishing at the rim, converting in the mid-range or setting up a teammate.
Detroit should be familiar with the Michigan stud, and with Brandon Knight slightly stuck between positions, Burke could take over quickly as the team's new lead guard.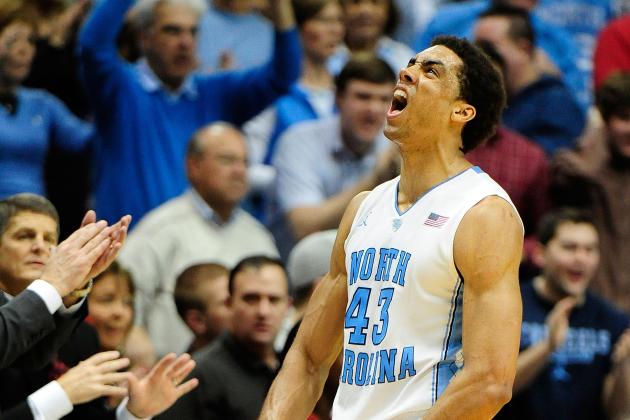 Grant Halverson/Getty Images

James McAdoo showed just how good he can be when the jumper is falling with consistency.
Against Florida State, he shot 10-of-15 for 21 points, scoring in the mid-range, both facing up and back to the basket, and attacking the rim with either hand.
He has tons of upside based on his natural talent and physical attributes, and to write him off because of rough start to his sophomore year seems unfair.
He won't have the responsibilities North Carolina has given to him today, which will play to his strengths as an off-ball contributor.
McAdoo's versatility could be used by a Philadelphia lineup that needs depth at the 4 and has a lack of athleticism on the wing.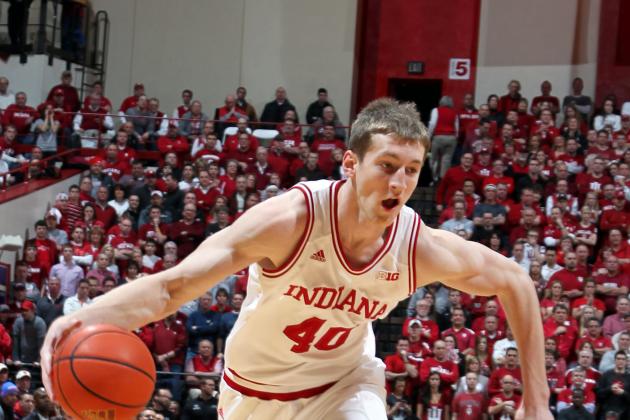 Brian Spurlock-USA TODAY Sports

Cody Zeller's stock is slipping, as he continues to look vulnerable against more athletic, stronger big men.
You can't knock his talent level. Zeller has moves to go to and others to counter with, but when forced away from the rim he struggles to make an impact.
Against Ohio State, he was outrebounded by Evan Ravenel six to four, despite Ravenel playing 20 minutes and Zeller getting 30.
Neither the Sacramento Kings, Minnesota Timberwolves nor Detroit Pistons will be in the market for a big man. If Zeller doesn't go in the top five, it's possible he slips toward the back of the lottery.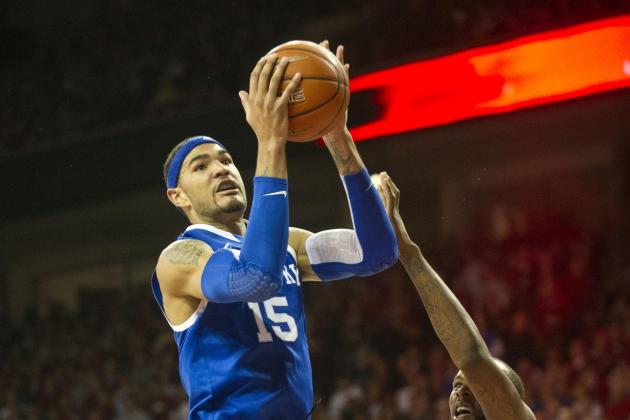 USA TODAY Sports

Willie Cauley-Stein's efficiency and productivity have been rock-solid for a big man who lacks a refined offensive post game.
Over his last four games playing regular minutes without Nerlens Noel, Cauley-Stein has a combined 17 blocked shots, while averaging 13 points and nearly nine rebounds on 66 percent shooting.
When single-covered, Cauley-Stein is capable of spinning into the lane and scoring in the post, though he struggles when forced to turn into traffic.
His skill level is only going to improve, and with elite size and athleticism, he can impact a game before his game comes around.
Without a center under contract for 2013-14, Cauley-Stein makes sense as an upside pick for Dallas.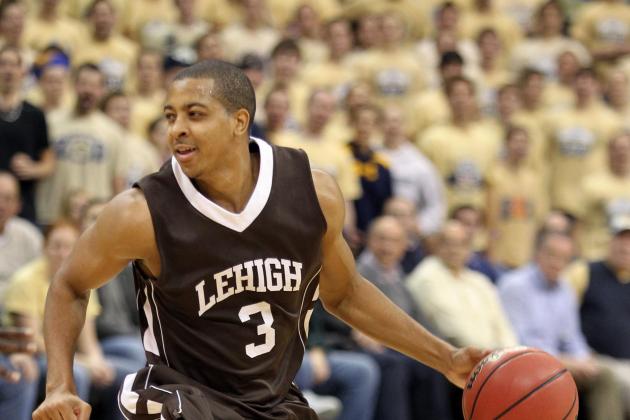 Charles LeClaire-USA TODAY Sports

After passing on a mid-major star, Damian Lillard, in 2012, the Charlotte Bobcats may not want to get burned by the same flame.
McCollum will not play in his conference tournament but should be available to participate in pre-draft festivities.
The Charlotte Bobcats could use offensive firepower, which just so happens to be McCollum's specialty. He was second in the country in scoring at almost 24 points per game before breaking his foot early in January.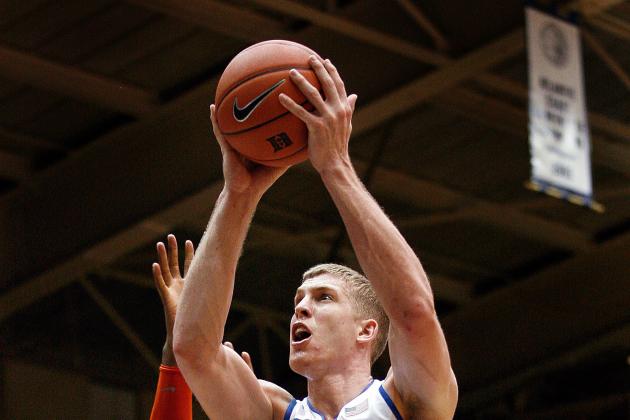 Mark Dolejs-USA TODAY Sports

Mason Plumlee's production has fallen off of late, and it's starting to look like his stock peaked earlier in the year.
However, it shouldn't affect his future outlook. Plumlee's 7'0'' size, elite athleticism and effortless mobility are all still intact, and he's shown the ability to create in the post if given space to operate.
The Phoenix Suns have two picks in the first round. If they came away with Plumlee as the second pick and Anthony Bennett with the first, I think management can go home feeling good about what went down.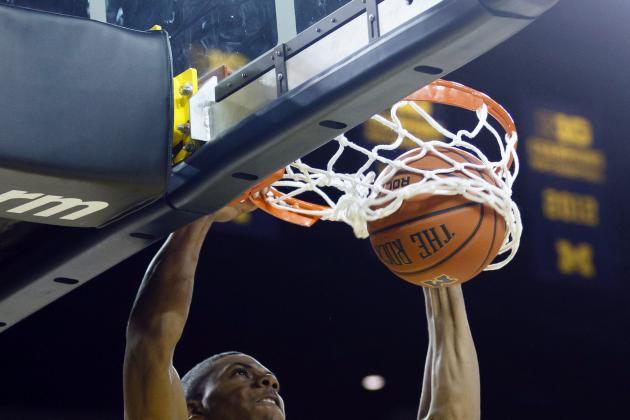 Rick Osentoski-USA TODAY Sports

Though Glenn Robinson III hasn't had much freedom in the offense, he's efficiently converting his limited opportunities.
He's averaging in double figures and shooting 56 percent from the floor despite lacking a refined skill set to that allows him to create scoring chances for himself.
He has the potential to impact the game the way Andre Iguodala does from the wing—stepping into jump shots, spotting up behind the arc and attacking the rim as a slasher off the ball.
Robinson would immediately become Milwaukee's top athlete on the wing.
The Boston Celtics need frontcourt athleticism and an above-the-rim presence. Rudy Gobert provides both at 7'2'' and has the mobility to offer versatility at the 4 and 5 positions.
The Celtics aren't going to find anyone who can keep the team in contention or can replace Rajon Rondo if he's forced to miss time.
The C's should be thinking upside, and with Gobert's unmatchable size and unprecedented 7'9'' wingspan, they'd add a weapon you can't find anywhere else.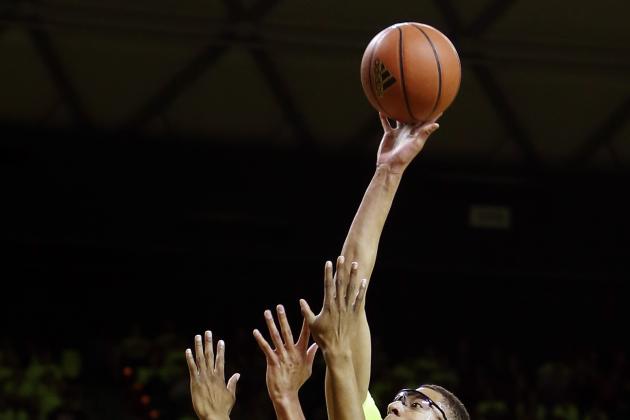 Kevin Jairaj-USA TODAY Sports

Isaiah Austin's strengths and weaknesses are on full display whenever Baylor takes the court.
Starting with the strengths, he's able to convert a few baskets every game that are simply unguardable. With 7'1'' size and the offensive repertoire of a small forward, Austin's release point is just too high on fadeaway jumpers, jump hooks or three-point attempts.
The weaknesses all center around his lack of strength and bulk, where he's easy to move on the interior and vulnerable defending the post.
There's just too much intrigue and value this deep in the draft to pass on a guy like Austin, who potentially offers an offensive package we've never seen before.
Atlanta certainly doesn't have anyone who offers this type of skill set.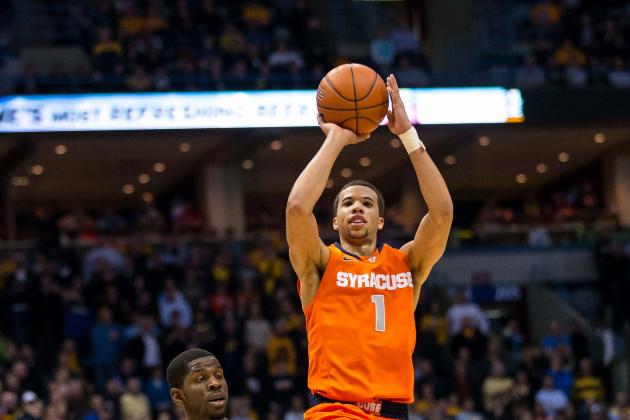 Jeff Hanisch-USA TODAY Sports

Michael Carter-Williams just hasn't been the same since defenses began game-planning for his playmaking abilities.
The problem for point guards in the draft is that only teams in the market for their specific skill sets will be giving them looks. Just ask Brandon Jennings, Ty Lawson and Jrue Holiday.
Carter-Williams won't slip past the Utah Jazz, who need a point guard as badly as anyone.
Carter-Williams is down to an eyebrow-raising 37 percent shooting from the floor, while his assist rate has dipped to under eight per game.
But his length and size for a natural point guard are too tough to pass on this deep in the draft.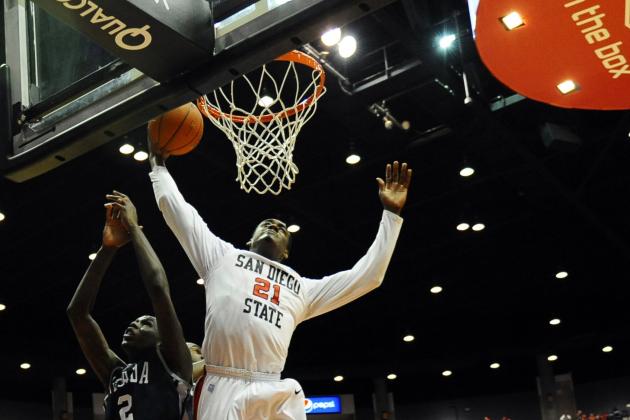 USA TODAY Sports

With Josh Smith likely on his way out of town, the Atlanta Hawks will have a glaring hole at the wing.
If the Hawks were to put together a list of the most athletic 2s and 3s on the board, Jamaal Franklin would land somewhere near the very top.
He's averaging 17 points and over nine rebounds per game, flying around the rim without the ball and attacking the rim with it.
Franklin will have the opportunity to shine at the NBA draft combine during the athletic testing and measurement process.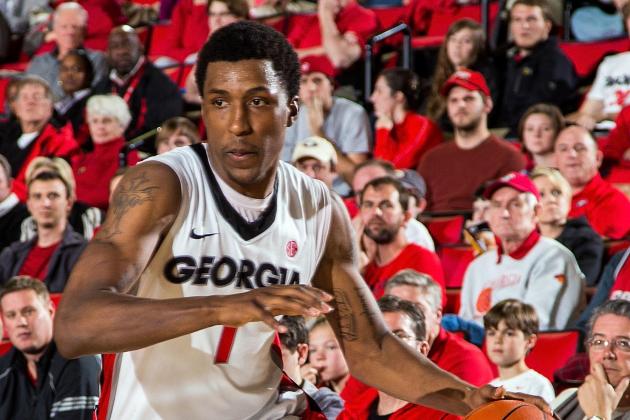 Daniel Shirey-USA TODAY Sports

Kentavious Caldwell-Pope has really found the zone.
His latest gem came in a win over Tennessee, where he dropped 25 points, grabbed nine boards and recorded four steals.
Not only is he lighting it up from deep, but Caldwell-Pope is using his athleticism to get to the rim and draw contact. He's attempted at least six free throws in each of his last four games.
All of his strengths translate to needs for the Utah Jazz. He's a lengthy, athletic shooting guard who can score on the perimeter and defend opposing wings.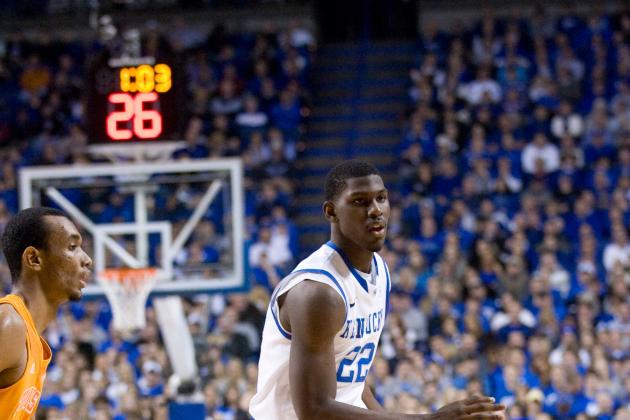 Mark Zerof-USA TODAY Sports

Alex Poythress' draft-day label will read "Project." You pay now for rewards down the road.
He's been inconsistent all year long with the inability to create in the half court, being forced to rely on others to set the table for him.
But Poythress offers too much athleticism and versatility for him to slip down the board.
Though he only takes one three-pointer a game, he's hitting them at a 44 percent clip, a promising number given the small sample size.
Poythress is still years from contributing to an NBA rotation, but he offers top-10 upside once he expands his offensive arsenal. Returning to school would be the ideal move, but it just seems unlikely.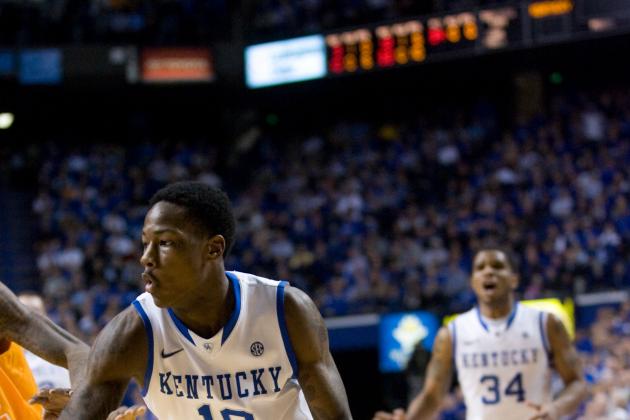 Mark Zerof-USA TODAY Sports

Like his Kentucky teammate Alex Poythress, Archie Goodwin is still a raw talent who may not pay off as a draft pick for another few years.
But with Derrick Rose in the picture, the Bulls won't need Goodwin to handle the ball. Instead, they'll need his athleticism at the 2-guard position and his ability to finish plays above the rim.
Chicago really lacks life at the off-guard slot, and even though Goodwin isn't NBA-ready, he could still be of use slashing off the ball and providing the lineup with everything Marco Belinelli doesn't.
Kentavious Caldwell-Pope is another name we've floated around for Chicago in the first round.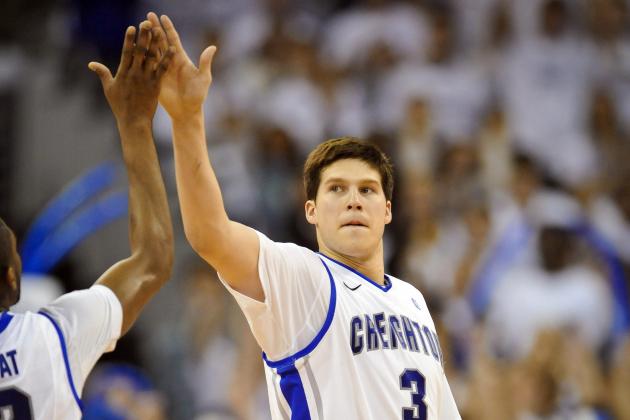 Dave Weaver-USA Today Sports

Doug McDermott dropped 41 in likely his last home game at Creighton, painting a fitting picture as to how he can help an NBA franchise.
McDermott knows how to score without using the dribble.
NBA draft busts like Adam Morrison were so used to creating as isolation scorers in college, they didn't know how to adjust playing off the ball in the pros. McDermott is the polar opposite. He moves with purpose off the ball to score using angles, or to put himself in position to catch and shoot with room and balance.
Worst comes to worst, McDermott is a serviceable, Kyle Korver-like three-point specialist. Denver could use one of those anyway.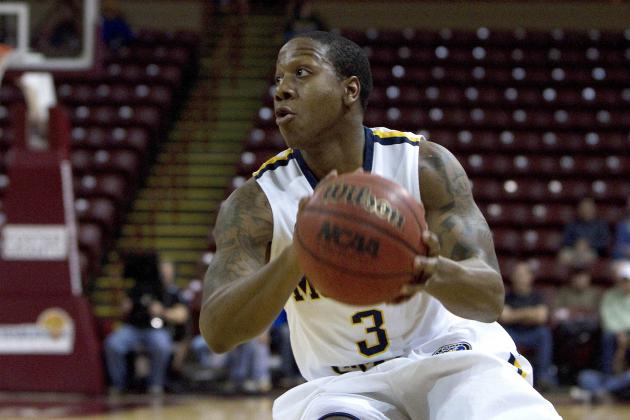 Joshua S. Kelly-USA TODAY Sports

Isaiah Canaan has been a tank for Murray State down the stretch, plowing through defenses as a one-man wrecking crew.
He's averaging more than 27 points over his last four games, shooting a respectable 46 percent from the floor and 43 percent from three. He's made 19 three-pointers during the stretch, hitting at least four in each game.
Canaan is a replica of Raymond Felton. He's a 6'1'' bulldog lacking above-the-rim explosiveness, yet he makes up for it with a shifty handle, a bounce to his step and a strong frame that can absorb contact.
He's one of the best shooters in all of college basketball and has earned the status as an honorary floor general.
With Pablo Prigioni unlikely to return next season, Canaan makes sense as a backup for New York.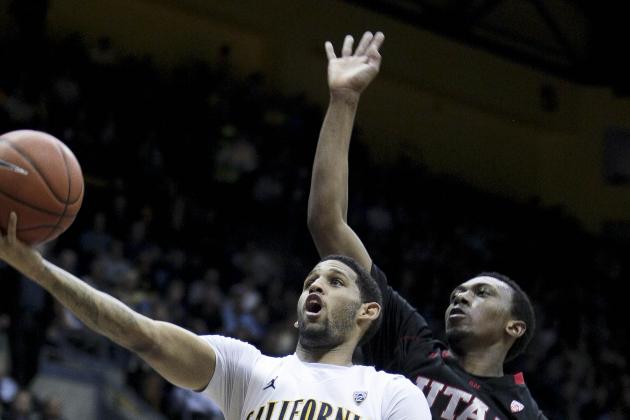 USA TODAY Sports

Allen Crabbe has serious offensive skills, and while he's not the most electric athlete, the kid has the size and instincts to make up for it.
Crabbe is really effective off the ball, with the ability to slash into the lane and go up with balance. There's some Rip Hamilton in his game with the way he runs off curls and scores without overusing the dribble.
He's a big-time shooter (makes two three-pointers per game, has shot over 35 percent in three consecutive years) and a prolific scoring wing.
His skill set could be used at either the 2 or the 3 for the Minnesota Timberwolves.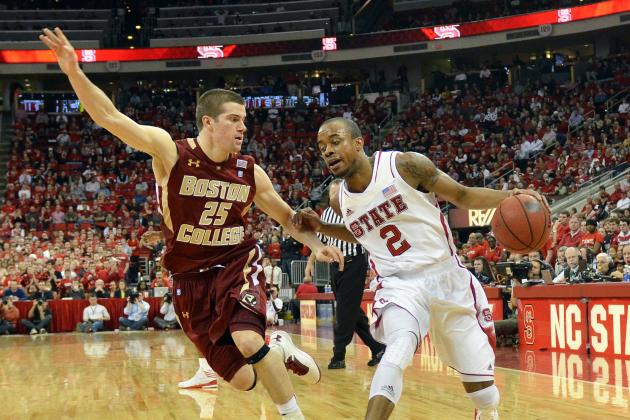 USA TODAY Sports

The Indiana Pacers are strong at every position but the point, and Lorenzo Brown has established himself as a legitimate first-round talent.
Brown is a pure distributor with the ability to manipulate the defense with the dribble and create plays for teammates.
He just dropped 12 assists on North Carolina and currently leads the ACC in dishing at seven per game.
With 6'5'' size, he already seems like a better backup option than the undersized D.J. Augustin.
James Snook-USA TODAY Sports

Kelly Olynyk's stock is soaring, but I'm not willing to give him a free pass all the way up the board.
He happens to be competing in a draft with a number of seven-footers who possess higher ceilings thanks to their athletic gifts.
Olynyk is a polished under-the-rim scorer who is completely dominating the West Coast Conference, but without the ability to impact a game on the glass or defensively, we're going to keep him at the end of Round 1 for now.
He'd be the ideal center complement to the less refined, more athletic DeAndre Jordan in the middle.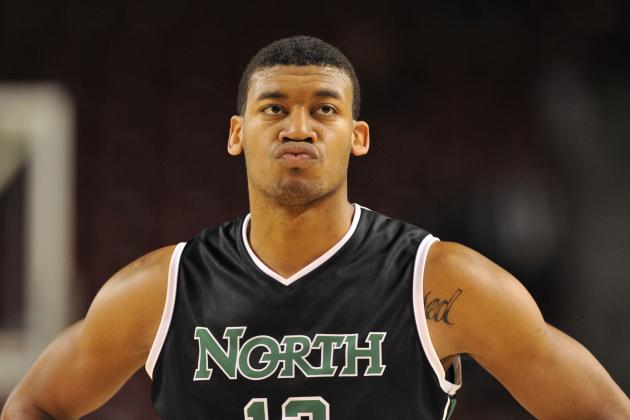 Andrew Fielding-USA TODAY Sports

Despite Tony Mitchell's drop in production, it would be hard to imagine him slipping out of the first round considering the physical tools he brings to the table.
He just hasn't found his rhythm this year as an offensive player. If he's stuck between positions in college, it's going to be awfully tough for him to find one in the pros.
But we've seen him dominate for long stretches on both sides of the ball, so we know potential is in there somewhere.
I get the feeling that Mitchell could be the Perry Jones of 2012 and slip down the board right into Oklahoma City's lap.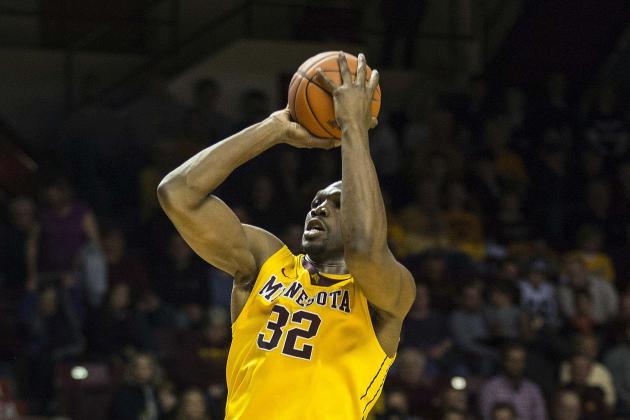 USA TODAY Sports

After manhandling Cody Zeller for 21 points and 12 boards, Trevor Mbakwe went for 13 points and 13 boards in a laugher over Penn State.
Mbakwe seems back to full strength after tearing his ACL early last year, an injury that could have prevented him from seeking lottery attention in 2012.
He has the skill set and talent, and he definitely has the toughness. The question is whether or not he has the mindset and explosiveness in his knees to make for a lasting NBA career.
James Lang-USA TODAY Sports

Mike Muscala is the type of guy that San Antonio would target as a reliable, productive, high-I.Q. prospect.
He's averaging 19 points and 11 boards, leading Bucknell to a 25-5 record atop the Patriot League standings.
If the Bison can take the conference tournament and make a push into March Madness, the stage will be set for Muscala to make a national introduction.