10 Reasons Duke Is Better Than North Carolina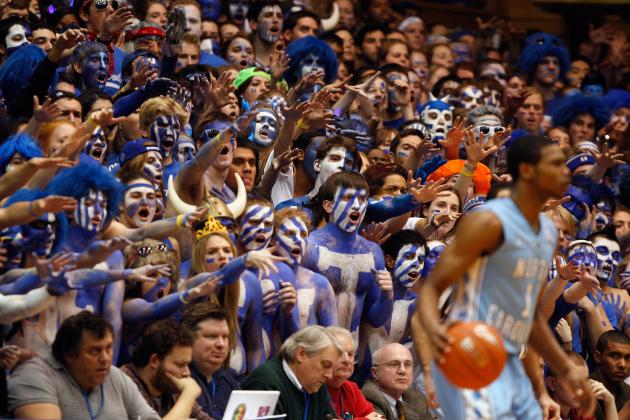 Streeter Lecka/Getty Images

The Duke Blue Devils and North Carolina Tar Heels have a bitter rivalry between them, but there is no doubt that Duke is currently the better of the two based off past and current history. This season is once more a sign that Duke owns the Tar Heels.
Let's take a look at the top 10 reasons why UNC is not close to Duke.
Begin Slideshow

»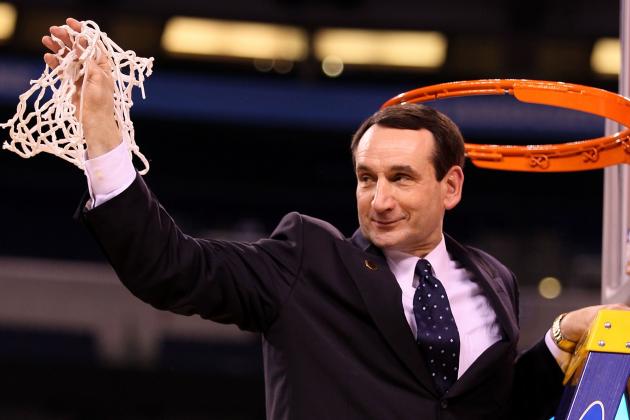 Andy Lyons/Getty Images

No team has been as consistently successful in the NCAA tournament as Duke.
Duke has the highest winning percentage in the NCAA tournament of any team, going 96-32 for a winning percentage of .750.
The Blue Devils might not lead the nation in championships, but early losses like last year's against Lehigh are incredibly rare, only happening six times in 36 NCAA tournament appearances.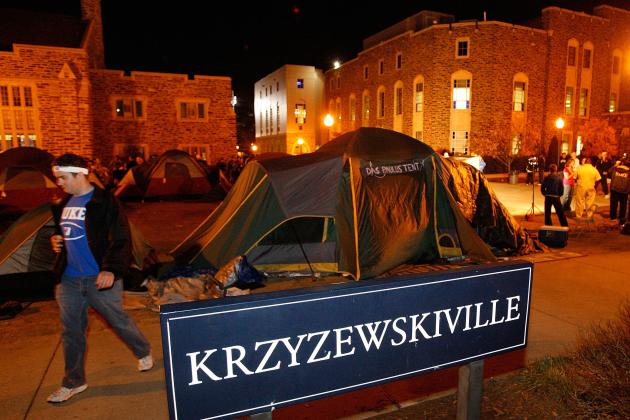 Kevin Cox/Getty Images

There is nothing like Krzyzewskiville. To see a city made up entirely of tents that the students camp in for weeks at a time is truly something special.
I've visited Duke about five times, and I've never gone and seen Krzyzewskiville empty. Twice I went on game day, and it was packed; the other times, the students were camping out for games that were more than a week away.
North Carolina can't touch K-Ville.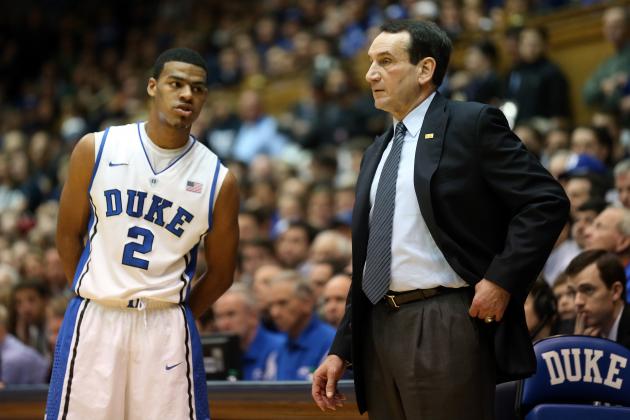 Streeter Lecka/Getty Images

Let's not forget that these are student-athletes, not athlete-students.
Both schools have a good track record of producing well-educated players when they graduate, but Duke's academics top UNC's.
According to BlueDevilDaily.com, Duke is better than North Carolina in NCSA Power Ranking (No. 3 vs. No. 27), NCSA Academic Ranking (No. 10 vs. No. 28), Admission Rate, Graduation Rate and Academic Progress Rate.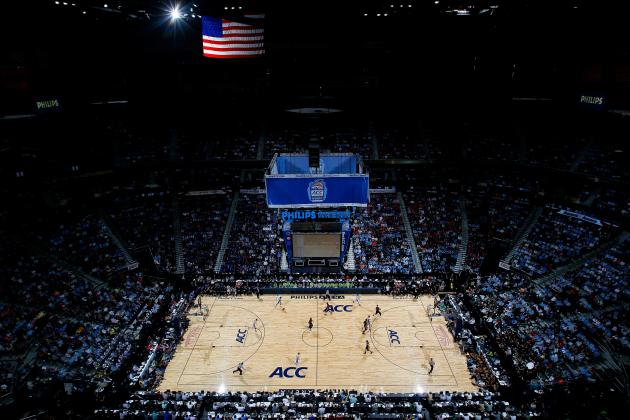 Kevin C. Cox/Getty Images

Ever since Duke and UNC moved to the ACC, the Blue Devils have been in charge for the most part.
Winning 19 conference tournaments compared to 17 won by UNC and going 12-8 against UNC in conference tournament play, Duke has dominated the conference tournaments, winning the most of any team in the conference.
Play in the ACC is really what makes this rivalry special, and Duke has owned that aspect.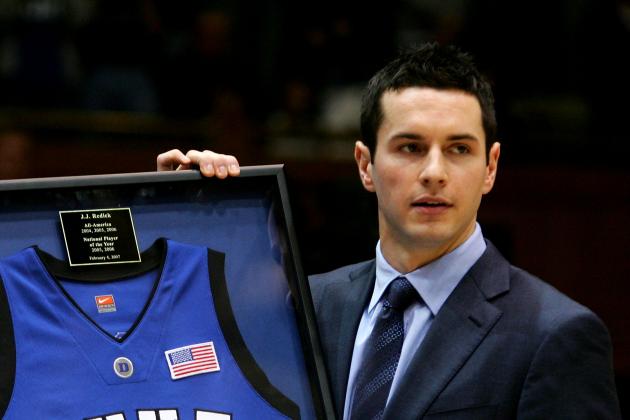 Streeter Lecka/Getty Images

Duke has nine National Player of the Year winners, while North Carolina has eight.
That might not seem like a big gap, but if Naismith nominee Mason Plumlee wins the award, that will give Duke a 10-8 edge.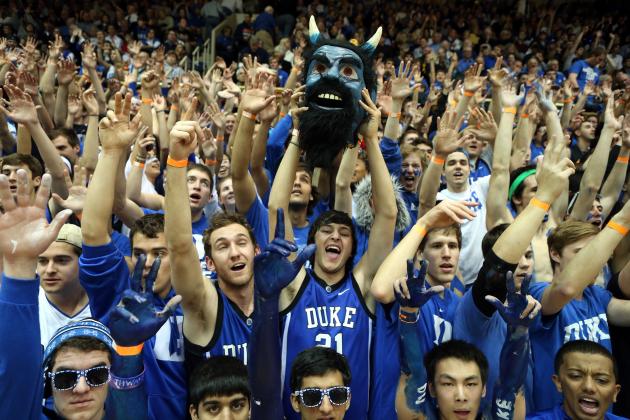 Streeter Lecka/Getty Images

Going to a game in Cameron Indoor Stadium has to be on the bucket list of every true college basketball fan.
While the stadium is much smaller than even that of UNC, the cramped atmosphere makes for incredible noise levels during games.
Having the student section right on top of the court is intimidating for every player who faces the Blue Devils, and it is next to impossible to hear yourself think during big games.
Lance King/Getty Images

Duke's ability to win stems from the fundamentals of basketball, including defense.
The backbone of Duke's success comes from its defense, and it is epitomized by the school's six National Defensive Player of the Year Awards.
Every player has to step up their game on the defensive end to earn playing time, and when Duke slaps the floor, you know they mean business.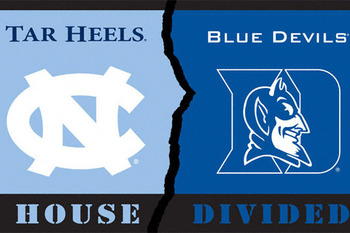 Courtesy NBC Sports
North Carolina blue just makes me sick. That's the type of color you paint a newborn baby's room, not the color of a basketball program.
Let's just move on and pretend we didn't have to look at that ugly sky blue.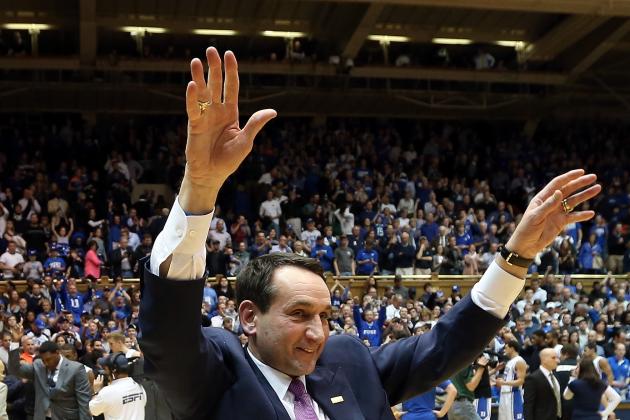 Streeter Lecka/Getty Images

While John Wooden's record as the best coach in history is untouchable, Coach K is a close second.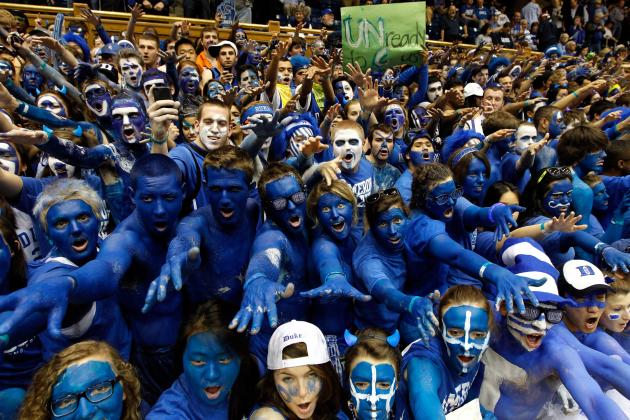 Streeter Lecka/Getty Images

There is no student section better than the Cameron Crazies.
I had the privilege of standing with the Crazies for a preseason game, and I can tell you first hand that it doesn't matter if the Blue Devils play against a D-III opponent—the Crazies will still go nuts.