Who Will Be the NFL's Biggest Spenders When Free Agency Opens?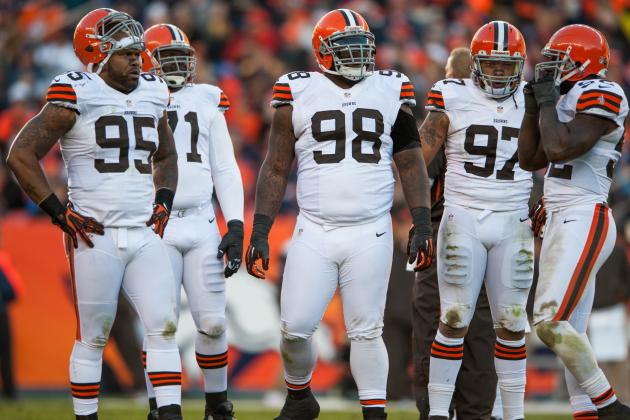 Dustin Bradford/Getty Images

The deadline for assigning the franchise tags to players for the 2013 season has passed, and in one week the floodgates will open when free agency kicks off across the NFL on March 12.
The 2013 salary cap has been set at $123 million according to Chris Wesseling of NFL.com. Some teams are still scrambling to get under that number, but others find themselves flush with cap space.
According to overthecap.com, no fewer than eight NFL clubs have at least $25 million in cap space as things stand right now. Here's a look at which of those teams will be the freest spenders when the bidding opens on available players next week.
Begin Slideshow

»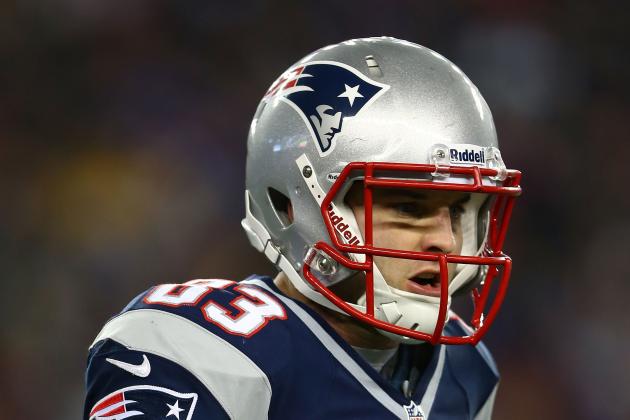 Elsa/Getty Images

Cap Space: $25.4 million
The New England Patriots have quite a bit of salary cap space, due partly to the restructured contract signed by quarterback Tom Brady last week.
However, as head coach Bill Belichick told Field Yates of ESPN last year, cap space can be "a very misleading term."
The Patriots also have a number of prominent players set to hit free agency, including cornerback Aqib Talib, right tackle Sebastian Vollmer and wide receiver Wes Welker.
Mike Giardi of Comcast Sports Net reports that the Patriots are nearing agreement with Welker on a contract extension and such deals will likely be the theme of New England's offseason.
In other words, retaining the pieces they have rather than adding others.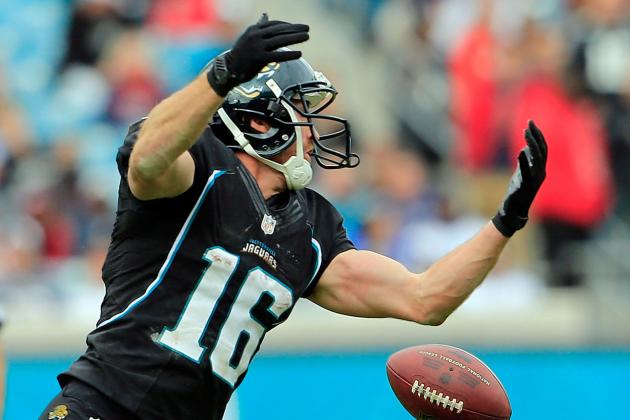 Sam Greenwood/Getty Images

Cap Space: $26.6 million
Given that the Jacksonville Jaguars have plenty of cap room and numerous holes to fill on both sides of the ball, one would think that the Jaguars would be active players in free agency this season.
Apparently that will not be the case.
New general manager David Caldwell made it clear at last month's NFL Scouting Combine that he intends to rebuild the roster in Jacksonville through the draft, telling Paul Kuharsky of ESPN that Jacksonville's approach to free agency a year ago was completely out of whack.
"I think the delusional part came with the amount of money that they spent in free agency last year and thinking they were one or two pieces away," Caldwell said. "And then to come right back and manage only a 2-14 season.

"So for us, there is a good core of players here that we feel good about. We have our work cut out for us and we're going to have a very young team coming into this season, it's going to be built through the draft and through college free agents."
The Jaguars may add a complementary piece or two, but don't expect any big splashes.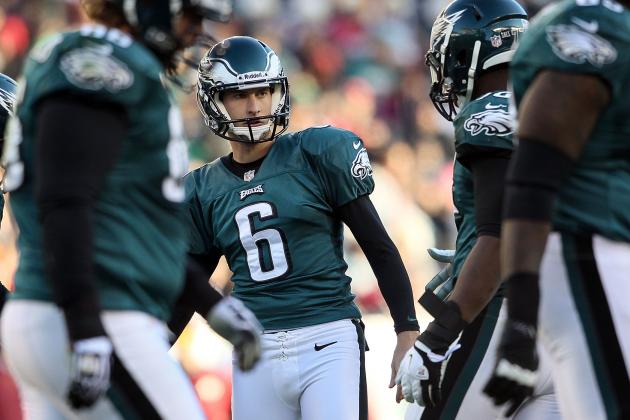 Alex Trautwig/Getty Images

Cap Space: $32.4 million
The Philadelphia Eagles are currently sitting on over $30 million in cap space, and that number could grow significantly if the team releases cornerback Nnamdi Asomugha.
That cap space will come in handy because the Eagles are also very much a team in transition.
With the team changing both offensive and defensive schemes there are plenty of areas that need improvement, from the offensive and defensive lines to the secondary.
With that said though, it will interesting to see how many of the holes the Eagles try to fix through free agency, especially given how badly the spending spree in 2011 that brought Asomugha to Philadelphia backfired.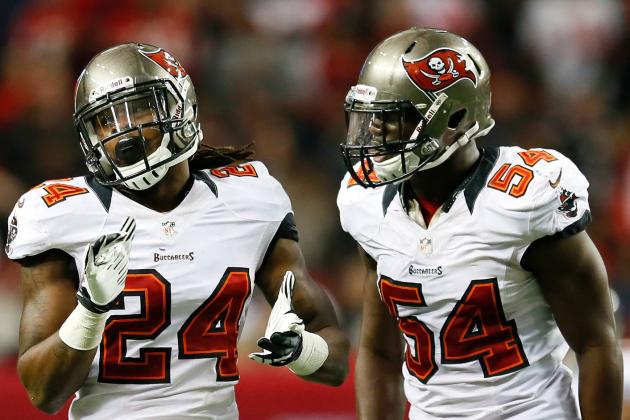 Kevin C. Cox/Getty Images

Cap Space: $32.9 million
A season ago the Tampa Bay Buccaneers were big spenders in free agency, signing guard Carl Hicks and wide receiver Vincent Jackson to fat contracts.
The Buccaneers have the cap space to once again be major players in free agency and could free up even more room with the expected release of cornerback Eric Wright.
However, Rick Stroud of The Tampa Bay Times believes that the Buccaneers will exercise a bit more financial restraint this season, especially with defensive tackle Gerald McCoy and quarterback Josh Freeman due contract extensions in the near future.
That doesn't mean that Tampa won't be active at all in free agency, however, as the release of Wright would leave the Buccaneers woefully thin at cornerback.
Head coach Greg Schiano concedes that the secondary is a sore spot for the Buccaneers, telling Stroud that "I think we need to do a better job of playing pass defense."
That's putting it mildly, coach.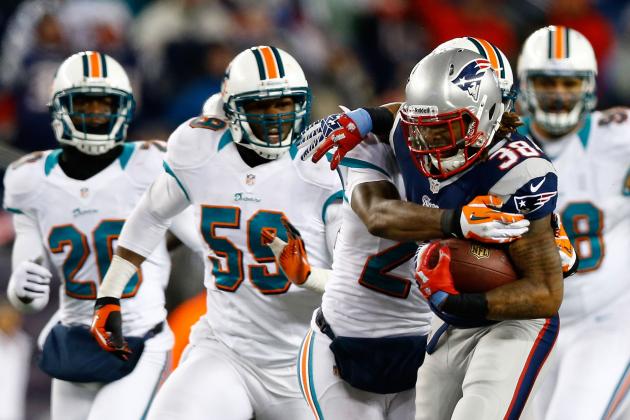 Jared Wickerham/Getty Images

Cap Space: $36.6 million
Even after shelling out nearly $8.5 million to defensive tackle Randy Starks by franchise tagging him, the Miami Dolphins still have over $35 million in cap space.
Much like their AFC East rivals in New England though, that number is somewhat misleading.
As Ben Volin of The Palm Beach Post points out, the Dolphins have a number of players set to hit free agency, including tackle Jake Long, wide receiver Brian Hartline, cornerback Sean Smith and safety Chris Clemons.
Gregg Rosenthal of NFL.com reports that the team is closing in on a deal with Hartline, and while some of the other Dolphins' free agents may well depart, the team could easily sink most of their cap space into retaining their own players.
That doesn't mean that the team doesn't have the coin to make a run at the likes of wide receiver Mike Wallace, however, and landing the speedster would be a big coup for the Dolphins.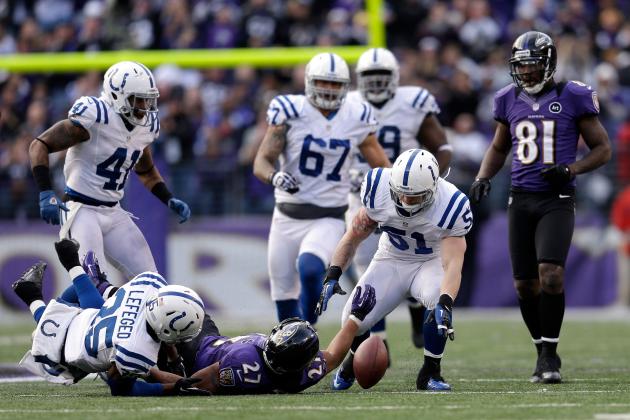 Rob Carr/Getty Images

Cap Space: $43.5 million
The Indianapolis Colts were one of the NFL's surprise teams last year, and coming off an 11-win season the Colts have well over $40 million in cap space with which to get better in 2013.
That's a good thing, because as well as the Colts played in 2012 there are still holes to fill.
The departure of Dwight Freeney leaves the team in search of a rush linebacker, and head coach Chuck Pagano could look to his old team in Baltimore and Paul Kruger as a replacement.
In fact, Kruger may not be the only Ravens player that the Colts poach, as Matt Rybaltowski of CBS Sports theorizes that Indy might also take a run at veteran safety Ed Reed.
The Colts are also light on draft picks this year, so expect them to be one of the league's more active squads once free agency gets rolling on the 12th.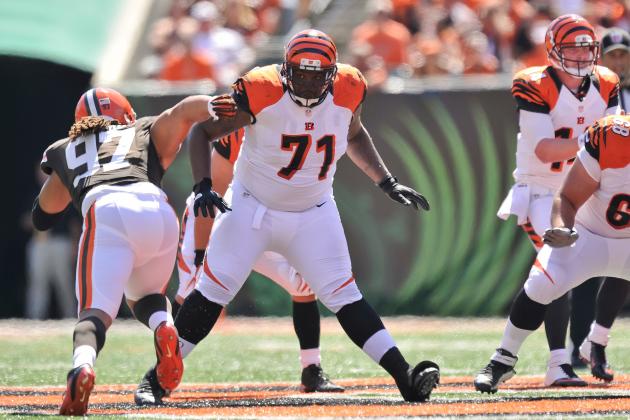 Jamie Sabau/Getty Images

Cap Space: $45.3 million
The Cincinnati Bengals entered the 2013 offseason with more cap space than any other team in the NFL and even after assigning the franchise tag to defensive end Michael Johnson, the Bengals are still awash in cap room.
The question is whether they will choose to use it.
Granted, retaining right tackle Andre Smith is a priority, but the Cincinnati front office has a reputation of being slightly more thrifty than Scrooge McDuck.
The Bengals badly need a wide receiver to complement A.J. Green and this year's free-agent crop is deep, but if the team inks a big-dollar contract it will probably be to retain Smith.
With that said, this is a young team that could be one or two players away from a deep playoff run and perhaps that will finally motivate Mike Brown to pry open his checkbook.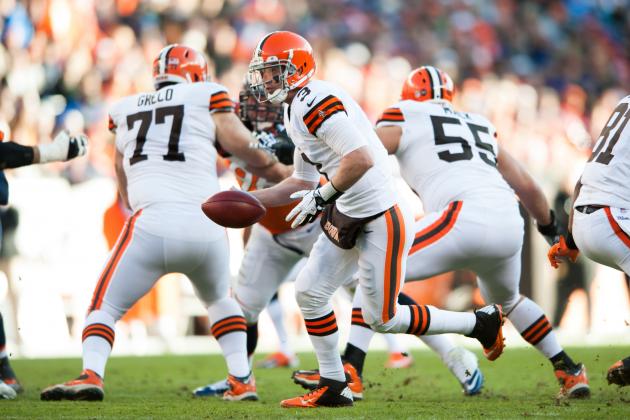 Dustin Bradford/Getty Images

Cap Space: $46.6 million
On one hand, the Cleveland Browns have well over $45 million in cap space, and as Ryan Wilson of CBS Sports points out there has been speculation that new owner Jimmy Haslam isn't averse to using that cap space to make some serious headway with the roster.
On the other hand, the Browns' roster has as many questions as answers, and the recent track record of NFL teams trying to spend their way out of the cellar hasn't been good.
Still, the Browns are a team switching to a 3-4 defense that will need to address that change, as well as an offense that's still lacking in firepower.
All indications are that the Browns will be one of, if not the major player, in free agency this season as a new regime tries to turn around the long-suffering franchise.
How wisely the team utilizes all that cap space will determine whether all that spending does any good.