College Basketball: Ranking the Top 10 Players in the Big Ten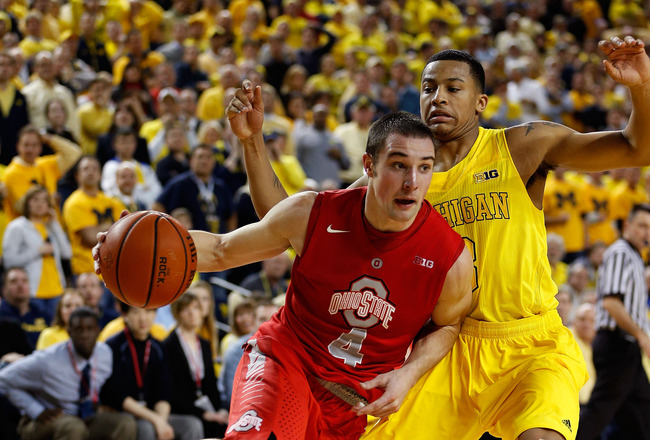 Gregory Shamus/Getty Images
When it comes to the top conference in college basketball, the Big Ten takes the cake, no questions asked.
The recent AP polls show that five teams from the Big Ten are listed in the updated Top 25 rankings, while Minnesota and Illinois are both honorable mentions in the USA Today coaches' polls.
With a loaded conference comes a ton of star power, which we have seen throughout this season in Big Ten play.
But who are the top stars in the conference?
Let's go ahead and rank the top 10 players in the Big Ten this season.
Bleacher Report Style!
10. Jared Berggren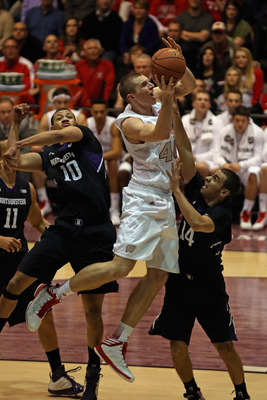 Jonathan Daniel/Getty Images
Jared Berggren has been the best player on a Wisconsin team that has overachieved this season.
The Badgers' big man leads his team in scoring at 11.6 points per game. He has also been a force down low, pulling down seven boards per night for Wisconsin.
This isn't a team that is loaded with athletes by any means, but Berggren has been the answer whenever the Badgers need a go-to guy to make a big play.
Bo Ryan seems to always have that one go-to senior on his roster, and this year, that player is Jared Berggren.
9. Aaron Craft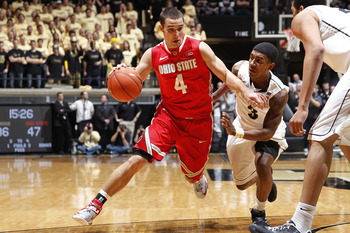 Joe Robbins/Getty Images
Aaron Craft is the type of player who isn't going to light up a scoresheet, but he is just an all-around good basketball player.
He's the one guy in the Big Ten who you just can't stand if you're an opposing fan, but you know darn well that you would love the guy if he was on your team.
Craft does it all for the Buckeyes, averaging just under 10 points and five assists per game for Ohio State. But he does his best work on the defensive side of the ball, where he makes it his job to hound opposing point guards from the tipoff to the final buzzer.
When it comes to effort, you aren't going to find a kid who gives it his all quite like Aaron Craft does.
He is a special player.
8. Keith Appling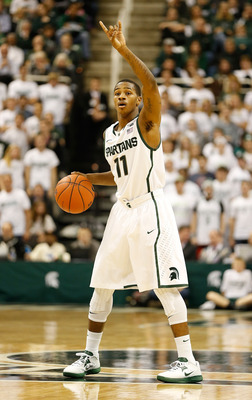 Gregory Shamus/Getty Images
Just three weeks ago, I would have listed Keith Appling in the top five of this list.
But Appling has really been struggling as of late, which cost him a few spots here.
Nonetheless, Appling is still one of the top points guards throughout the country.
The Spartans' junior captain is averaging 13.2 points per game and just under four assists per contest for the No.10-ranked Spartans.
Before his recent struggles, Appling had taken over the role as "closer" for this Michigan State team and had some brilliant finishes, which you can check out right here.
Something tells me that Appling and the Spartans will be back on their A-game come late March.
7. Tim Hardaway Jr.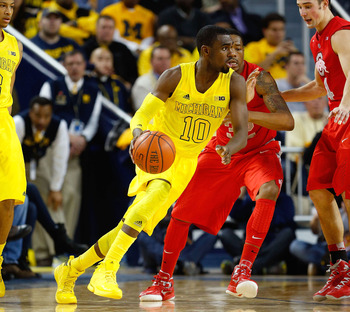 Gregory Shamus/Getty Images
Much like Appling, Tim Hardaway Jr. is a guy who would have probably been ranked higher on this list as well if it weren't for his recent struggles.
Hardaway Jr. has scored in single digits in three of his last five games, but before that, the Wolverines' junior guard hit double digits in 11 out of 12 games.
He is averaging just under 15 points and five rebounds per game for Michigan, helping lead his team to an impressive 24-5 mark heading into the final week of the Big Ten season.
If Michigan is going to make a deep run in the NCAA tournament, it is going to need steady production from Tim Hardaway Jr.
6. Trevor Mbakwe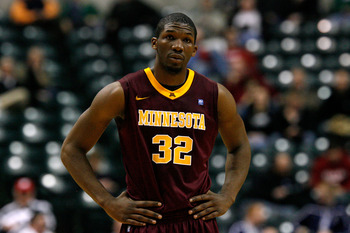 Chris Chambers/Getty Images
I think it's probably time to start referring to Trevor Mbakwe as the "walking double-double."
The Gophers' senior big man has been exceptional as of late, helping lead his Minnesota team to a 20-9 record this season.
Mbakwe is averaging 10 points per game this season, but where he makes his biggest impact is under the basket. He is hauling in just under nine boards per game for the Gophers.
In fact, Mbakwe has recorded seven double-doubles over his last 14 games, including a monster 21-point, 12-rebound performance in an upset win over No.1-ranked Indiana last week.
Mbakwe is the best player on a Minnesota team that could provide some serious matchup problems for teams in this year's NCAA tournament.
5. Gary Harris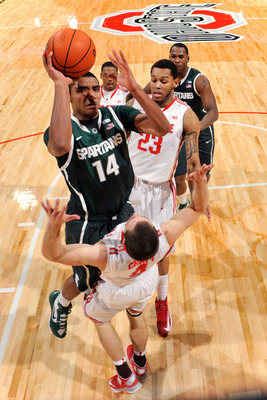 Jamie Sabau/Getty Images
Gary Harris is not only the top freshman in the Big Ten, he is arguably the top freshman throughout all of college basketball this season.
Harris has turned into MSU's top scoring option and has been a consistent threat on both ends of the floor for the No. 10-ranked Spartans.
He is leading MSU in scoring at 13.3 points per game and is shooting better than 42 percent from three-point range this season.
What makes this kid even more special is that he continues to improve as the season goes on. Harris has scored 14 or more points in eight of the Spartans' last nine games.
When it comes to Big Ten freshmen, this kid tops the charts.
No questions asked.
4. DeShaun Thomas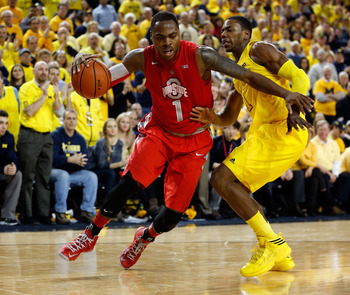 Gregory Shamus/Getty Images
DeShaun Thomas has taken a backseat to the likes of Jared Sullinger and William Bufford over the years, but when those two left for the NBA, this became Thomas' team.
The crafty Buckeye forward leads the Big Ten in scoring, averaging 19.8 points per game. He also shoots better than 84 percent from the free-throw line and grabs more than six rebounds per game.
Thomas has made the transition from a pure scorer to an all-around dominant basketball player out on the court.
Ohio State will go as far as Thomas will take it this season, which right now, looks like it could be pretty darn far.
3. Cody Zeller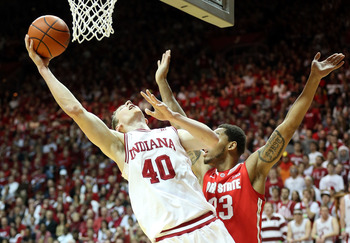 Andy Lyons/Getty Images
This year's preseason player of the year has been as good as advertised.
Cody Zeller is averaging 16.5 points per game and is grabbing eight boards per game for the No.2-ranked Indiana Hoosiers. He ranks in the top five of the conference in scoring, rebounding and field-goal percentage.
More importantly, Zeller has been the rock inside for an Indiana team that is 25-5 and looks to be in line for a No. 1 seed in this year's NCAA tournament.
He is one of the top players in the nation's top conference, playing for one of, if not the nation's top team.
That should tell the whole story right there.
2. Victor Oladipo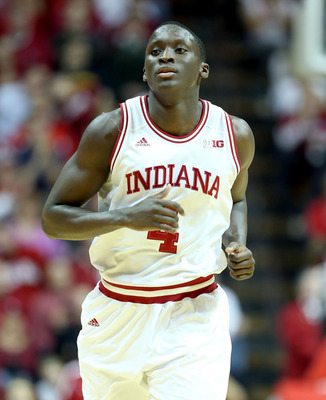 Andy Lyons/Getty Images
The top four players on this slideshow can really be listed in any which way.
Right now, heading into the final week of the season, though, it looks like Indiana's Victor Oladipo has solidified himself at the No. 2 spot on this list.
Oladipo has his "Heisman Moment" earlier this month when Indiana topped No. 4-ranked Michigan State in East Lansing. The Hoosiers' junior star was a absolute stud in that game, scoring 19 points, grabbing nine rebounds and playing clutch defense, which helped lead his team to a huge win.
However, since that time, Oladipo has struggled. He has averaged just 11 points over his last three games, two of which have resulted in Indiana loses.
But make no mistake about it, as good as Cody Zeller is, this is the guy who makes this Indiana team go. He is one of the best all-around players in the country, and the key to Indiana's success.
When Oladipo is on his A-game, this is the best team in college basketball.
1. Trey Burke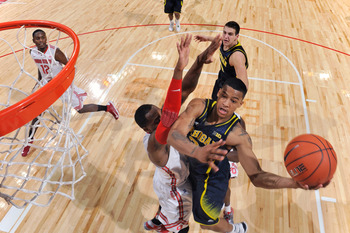 Jamie Sabau/Getty Images
This was really tough to decide who to go with here at No. 1—Trey Burke or Victor Oladipo?
Both have enjoyed exceptional seasons and both have their teams in the running for a Big Ten Championship.
How fitting is it that these two will square off against one another in the final Big Ten regular-season game of the year?
Is it fair to say that the winner of that game should be awarded the Big Ten Player of the Year award?
Burke certainly has put himself in the running for the award. The Wolverines sophomore point guard is averaging a team-best 18.9 points per game, which is also the second-highest average in the conference.
He also leads the conference in assists and has an eye-popping 3.6 assist-to-turnover ratio.
This kid has done just about everything for a Michigan team that is right in the midst of a Big Ten Championship race.
If Burke and the Wolverines can top Indiana on Sunday, then look for him to take home that coveted Big Ten Player of the Year award this season, and potentially the National Player of the Year Award as well.
He's simply that good.
Keep Reading