2013 NFL Draft: Ranking the Top 5 Wide Receiver Prospects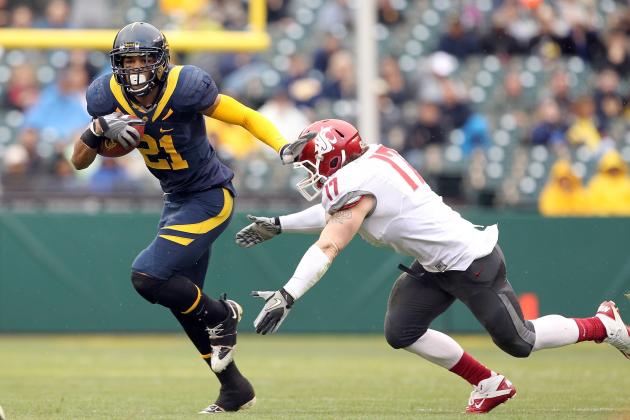 Ezra Shaw/Getty Images
Keenan Allen is part of a very strong wide receiver class that's about to enter the NFL.
The 2013 NFL draft will offer receiver-needy teams with a plethora of young and explosive pass-catchers. As many as five could be picked in the first round, with another seven or eight possibly hearing their names called on day two.
This article will rank the five 2013 NFL draft wide receiver prospects that are the most likely to have successful pro careers.
Each player has been scouted at length. Both film review and research of the prospect's background (both for health and/or character concerns) have been conducted. No stone has been unturned.
While there's been a lot of talk about the 2013 NFL draft not having a franchise quarterback amongst its group of hopefuls, the fact is that the NFL's passing game is still going to be positively impacted by this year's crop of wideouts.
So without further ado, let's take a look at the top five wide receiver prospects for the 2013 NFL draft.
Begin Slideshow

»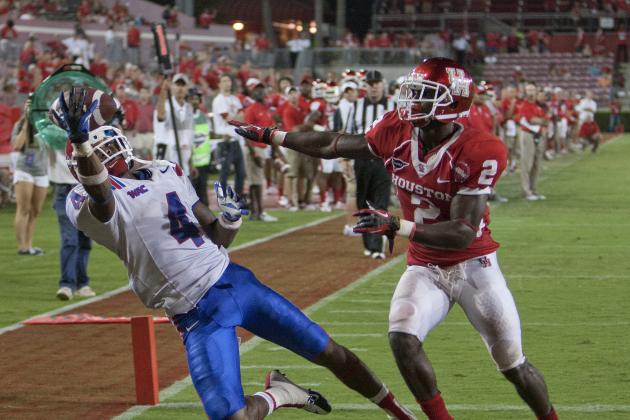 Bob Levey/Getty Images
Quinton Patton is one of the 2013 NFL draft's best wide receivers, but he's unlikely to crack the first round.
Quinton Patton has been one of the most productive receivers in all of college football over the last two years. His 2,592 yards and 24 touchdowns have filled up the box scores during that span of time.
But scouting isn't about the box score.
After evaluating Patton's film, it's obvious that he has the talent to succeed in the NFL. He is a crisp, clean route-runner who possesses top-tier feet for the position. His release off the line of scrimmage is one of his better traits and is among the best at the position this year.
His quick footwork, in combination with his shoulder and head fakes, suggests success versus physical press coverage in the NFL.
Patton has reliable hands and is a tough player who doesn't shy away from contact. He is a willing blocker and will prove to be an asset in the running game.
Patton does not project as a home-run threat in the NFL, however, and will likely be limited to a No. 2, possession-type wide receiver. While he has the potential to make a big play every now and again, he shouldn't be drafted as a player that's expected to add in the vertical passing game.
Patton will most likely hear his name called somewhere later in Round 2. He could get pushed up a few spots if a run on wide receivers starts toward the end of round one.
Patton will be in play at the following spots in the 2013 NFL draft:
Most Likely Landing Spot:
Houston Texans, Pick 57 (second Round)
Other Possible Landing Spots:

New York Jets, Pick 39 (second Round)
Miami Dolphins, Pick 42 (second Round)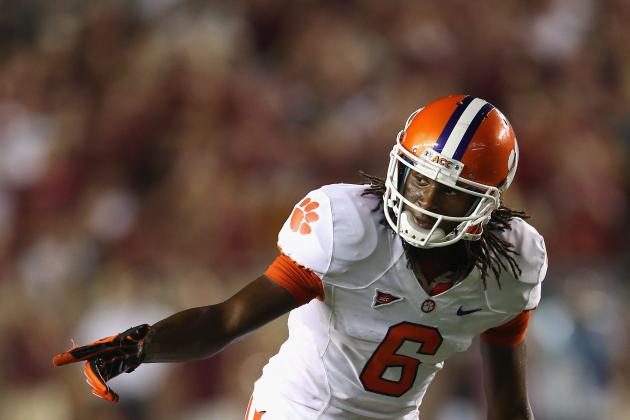 Streeter Lecka/Getty Images
DeAndre Hopkins is an explosive threat who could hear his name called at the end of Round 1.
The Clemson Tigers' 2012 offense was an explosive display of NFL talent. All of the skill positions showcased high-end athletes who will be playing on Sundays in the fall.
DeAndre Hopkins is one of them.
Measuring in at 6'1" and 214 pounds, Hopkins possesses a good combination of size and athleticism for the wide receiver position. While not an absolute blazer in the open field, Hopkins plays with a great understanding of when to play fast and when to gear down.
Hopkins' game film showcases his ability to track down the deep ball with an urgent level of speed that isn't reflected in his 40-yard dash. His 4.57 40-time at the scouting combine is not indicative of his field speed.
He's faster with the pads on.
One of the best aspects of Hopkins' game is his ability to run crisp, clean routes. He uses good angles and body positioning to naturally create separation from the defender.
Hopkins is always looking to make a big play. And while that's a good thing, it does, at times, impact his ability to make a catch. He has good hands, but he will drop a few from time to time.
There's no doubt that Hopkins has the talent to be a first-round pick in April.
Most Likely Landing Spot:
Baltimore Ravens, Pick 32 (first round)
Other Possible Landing Spots:
Indianapolis Colts, Pick 24 (first round)
San Diego Chargers, Pick 45 (second round)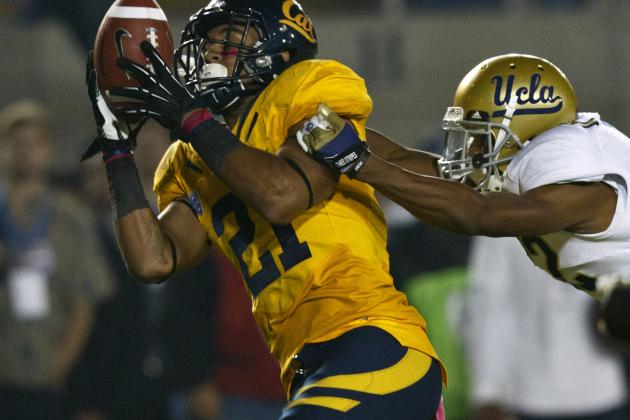 Jason O. Watson/Getty Images
Keenan Allen offers the best combination of measureables of any wide receiver in the 2013 NFL draft.
At the beginning of the 2012 college football season, Keenan Allen was widely considered to be the best wide receiver prospect likely to declare for the NFL draft. He's not the top player on this list, but he's still a first-round talent.
Allen had an up-and-down season last year. He was the victim of poor quarterback play and, ultimately, a knee injury that prematurely ended his final campaign at Cal.
The knee is still an issue.
Allen was unable to participate in the drills at the scouting combine, raising concerns as to the severity of his injury. His pro day will go a long way in determining his overall draft position.
On film, Allen presents as a player that can be a go-to guy in the NFL.
Allen is the most physically appealing wide receiver in this year's class. While he measured in shorter than expected at 6'2", Allen plays with every inch of his height and all of his 206-pound frame.
Allen is not a wide receiver that is going to run by a defender. Instead, he uses his overall size to out-physical his opponent. He's a tough player to tackle with the ball in his hands and he excels in gaining yards after the catch.
Allen has a tendency to let the ball get to his body, rather than pluck it out of the air with his hands. He will have to become a more consistent hands-catcher in order to maximize his physical style of play in the NFL.
There's little doubt that Allen will be a first-round pick in the 2013 NFL draft. However, if his knee continues to raise red flags, he could be a steal in the early second round.
Most Likely Landing Spot:
Minnesota Vikings, Pick 23 (first round)
Other Possible Landing Spots:
Houston Texans, Pick 27 (first round)
San Francisco 49ers, Pick 31 (first round)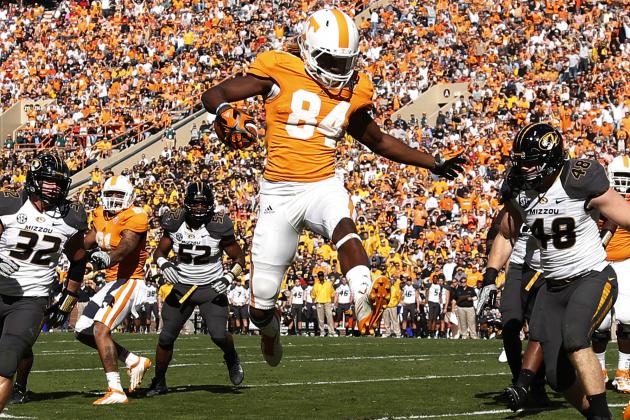 Joe Robbins/Getty Images
After only one year of major college football, Cordarrelle Patterson has become one of the best wide receivers in the country.
There aren't many players available in the 2013 NFL draft that offer as much upside as Cordarrelle Patterson.
But he's far from a sure thing.
Patterson took the college football world by storm in 2012 with his electrifying big plays. Whether in the return game, as a running back or as a wide receiver, Patterson had the kind of season that brought fans to their feet every time he touched the football.
And the NFL took notice.
Patterson is considered by many to be the top wide receiver available in this year's draft. However, his inexperience playing the position versus top-level competition is reason for pause.
There's no denying Patterson's overall athleticism and explosive ability. He has very loose hips and is able to change directions in the open-field without sacrificing any speed. Patterson's body control and ability to make defenders miss in space will result in a lot of wow moments in the NFL.
As a receiver, Patterson drops his foot in the dirt and makes sharp, quick cuts in and out of his breaks. He has good, natural hands and is able to pluck the ball without letting it get to his body.
Patterson doesn't only rely on his athleticism to beat the defender.
Time and time again, Patterson showed the toughness needed to go over the middle and make a catch even under the threat of a big hit. He's deceptively big, too. At 6'2" and 216 pounds, Patterson is able to shield the defender from the ball to make a catch in close quarters.
With all those positives, however, comes the glaring negative: Inexperience.
The wide receiver position is one that naturally comes with a steep learning curve. It can take even the most seasoned prospect a few seasons before reaching his maximum potential.
And Patterson is far from a seasoned prospect, with only one season of SEC action on his resume.
The biggest worry when projecting Patterson to the NFL is whether he will be able to handle the tough, physical, pressing corners at the next level.
His rare athleticism suggests that he'll be just fine.
Most Likely Landing Spot:
New York Jets, 9th pick (first round)
Other Possible Landing Spots:
St. Louis Rams, 16th pick (first round)
Pittsburgh Steelers, 17th pick (first round)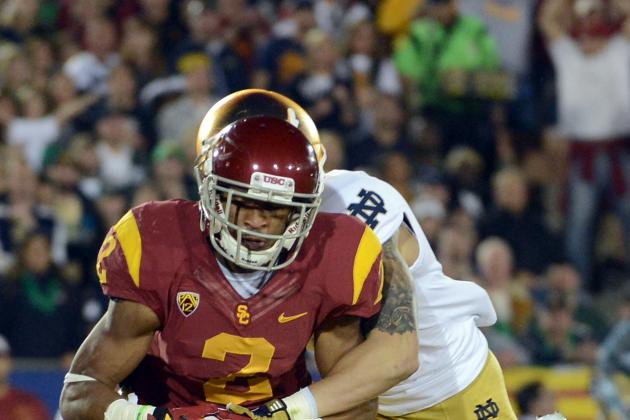 Harry How/Getty Images
Robert Woods is the most pro-ready wide receiver in the 2013 NFL draft.
Robert Woods began the 2012 college football season as a preseason All-American and USC's No. 1 wideout. He was expected to build on his 2011 campaign that saw him grab 15 touchdowns and nearly 1,300 yards.
Enter Marqise Lee.
Lee had one of the most dominant receiving seasons in recent memory and will likely be in the discussion as a top three selection for the 2014 NFL draft. As a result, It became easy to "forget" about Woods.
Don't make that mistake.
Woods is the most pro-ready wide receiver in the 2013 NFL draft class. He's a smooth, gliding athlete that makes route-running look easy. His game film showcases a player that has everything you look for in a wide receiver prospect.
At 6'0" and 201 pounds, Woods has adequate overall size for the position, but he won't be a receiver that can routinely win versus physical coverage.
And he won't have to.
Woods has great acceleration off the line of scrimmage, and his sharp, space-creating cuts cause him to be a difficult matchup for even the most experienced defensive back.
The most appealing aspect of Woods' game is the fact that his quarterback doesn't have to be perfect with his throw when targeting him. He has great body control and is a pure hands-catcher; he can pluck the ball out of the air even if it's thrown somewhere away from his body.
Woods' catch-radius extends much farther than his 6'0" frame would suggest.
In the open field, Woods isn't going to make a ton of guys miss. But he will set up his blocks, take great angles and be a threat to take it the distance.
Woods has the ability to make a play in the short, intermediate and vertical passing game. He's an all-around talent that will have very few limitations at the next level. He can play on the outside or in the slot and is a nice combination of possession receiver and big play threat.
And he's scrappy, too.
Woods will throw himself into a block in the running game.
Within the next three seasons, Woods will evolve into a legitimate No. 1 wideout in the NFL. He has a chance to be one of the better receivers in the league and should be a first-round selection.
But will he be?
Probably not. The NFL obsesses over size and speed. And Woods is, well, average in that department. But his film doesn't lie. He's a special player.
Woods might end up being the fourth or fifth wide receiver selected in the 2013 NFL draft. And while it's easy to fall in love with the checklist of attributes that guys like Keenan Allen and Cordarrelle Patterson possess, it's a player like Robert Woods that will simply produce in the NFL.
Most Likely Landing Spot:
San Francisco 49ers, 31st pick (first round)
Other Potential Landing Spots:
Buffalo Bills, 41st pick (second round)
San Diego Chargers, 45th pick (second round)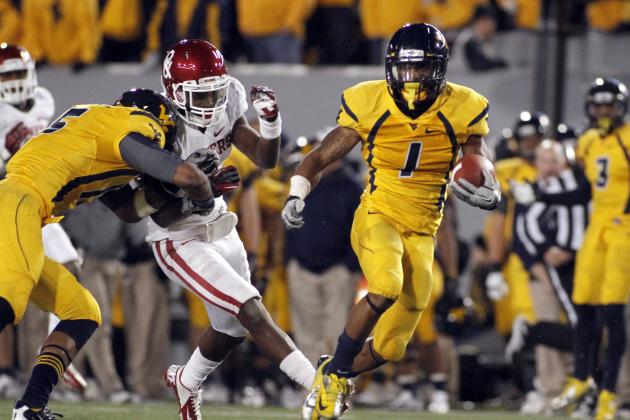 Justin K. Aller/Getty Images
A player as rare as Tavon Austin doesn't come around too often.
This may come as surprise to some. But archive this piece. You'll see.
Tavon Austin is a rare, rare athlete. In fact, he's so special that he's likely to make an impact in every conceivable way that a player can touch the ball. He'll catch passes. He'll take hand-offs. He'll return kicks. And there's one common theme every time he touches the ball: hold your breath.
Austin is a hybrid prospect. He brings his dominant high school running back resume and game-changing college wide receiver production to the slot position in the NFL.
Sure, he's only 5'8". So what? Ever hear of a 5'9" guy named Wes Welker?
What Austin lacks in height, he makes up for in speed. And Austin has more than just speed. He has juice, which is something that can't be taught. It can't be coached. It can't be developed.
You either have it...or you don't.
Studying Austin's game film is like watching two different speeds: Austin's and everyone else's.
Austin projects as an elite slot receiver in the NFL. While he may struggle versus physical coverage, it's unlikely to prevent him from making an impact on Sundays. His electric burst off the LOS and ability to find soft spots in the defense will make him his quarterback's best friend early in his career.
Now, a lot of Austin's big plays in college came as a result of him lining up in the backfield. I don't see that as his role in the NFL, and it does make his projection as strictly a slot receiver a tad risky.
But with risk comes reward. And in the case of Austin, the reward will be a pro bowl talent for many years.
Most Likely Landing Spot:
Seattle Seahawks, 25th pick (first round)
Other Possible Landing Spots:
Chicago Bears, 20th pick (first round)
Denver Broncos, 28th pick (first round)