10 Locks for 2013 College Football Hall of Fame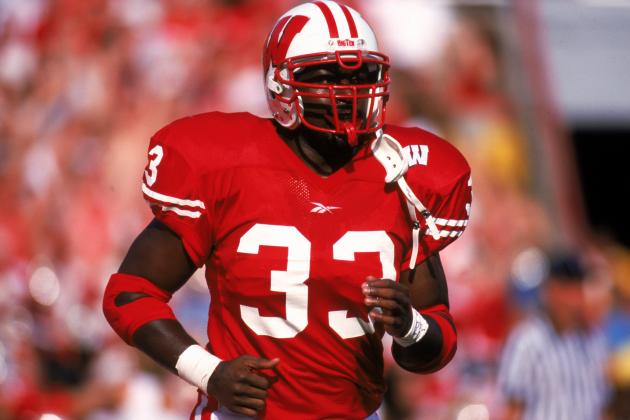 Jonathan Daniel/Getty Images

The recently released ballot for the 2013 College Football Hall of Fame class includes 82 names, with 77 players and five coaches.
Looking at the list of guys who have made their mark in college football history could take some time. It would also bring back so many different memories. The lengthy list includes players you haven't heard of in a while. It probably also includes a few names who you would be surprised haven't yet been inducted into the ultimate goal for most that have played this game.
There are players from all over the place on this list. Guys who really helped put their school on the map with the time spent on the gridiron. When you combine this group of players, you end up with eye-popping stats, many records broken and legacies that should never be forgotten.
Picking just a handful of names that are guaranteed to make the cut is difficult to do, because, truthfully, you could make a case for any name on this ballot.
However, here are 10 names that will be inducted once the announcement is made on May 7—with no questions asked.
Begin Slideshow

»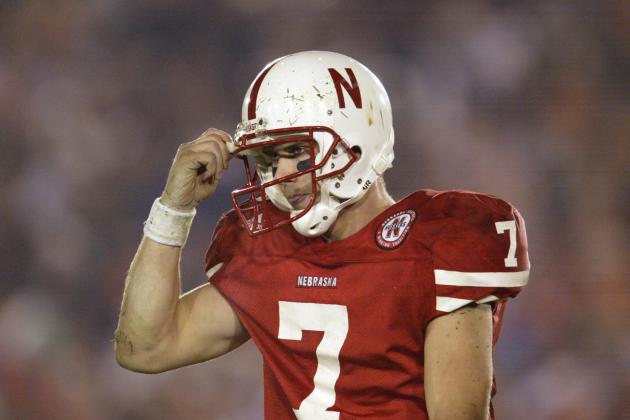 Brian Bahr/Getty Images

Eric Crouch will forever be remembered as being one of the biggest busts in NFL history. In college, however, he lit up the stat sheet and was arguably the best quarterback Nebraska has ever had.
The 2001 season was magical for Crouch, leading the Cornhuskers to a national title. He also walked away with the Heisman Trophy, Davey O'Brien Award, Walter Camp Award and he was named the Big 12 Offensive Player of the Year.
To this day, he also holds the NCAA record for most rushing touchdowns by a quarterback in a career with 59. As for school records, Crouch is the all-time Nebraska leader in total offense with 7,915 yards and has the longest run in school history, which went for 95 yards.
The kid from Omaha, Nebraska, really did his thing at his hometown school.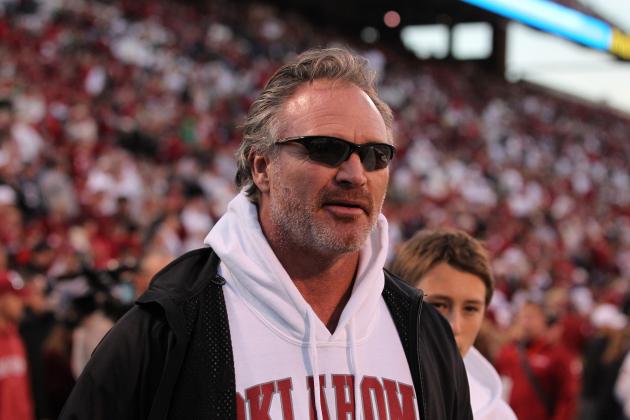 Matthew Emmons-USA TODAY Sports

Brian Bosworth may be remembered for his wild haircuts, criticism on and off the field, or even getting run over by Bo Jackson in the NFL. However, his accomplishments on the field should never go unnoticed and should receive as much attention as his antics off the field.
This was somebody who was a two-time first-team All-America pick; he holds the Oklahoma school record with a ridiculous 22 tackles in a single-game, and he won the Dick Butkus award two consecutive years as the best linebacker in college football.
Bosworth also helped lead the Sooners to a national title in 1985, as he was known for raising his level of play the brighter the lights got. He may be remembered as a goofball by some, but he was easily one of the better players the Oklahoma program has ever had.
And that is certainly saying something.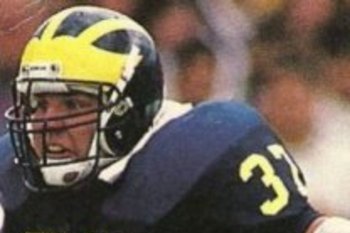 Credit: fanbase.com
Erick Anderson was one of the greatest Michigan Wolverines defensive players of all time. In fact, the linebacker who played in the late 1980s and early 1990s is the only Wolverine to lead the team in tackles in four straight seasons.
Known for doing all of the little things right, Anderson was a tackling machine and helped lead Michigan to four straight bowl games, finishing in the Top 10 every year in the polls. His 286 career tackles are second all-time in school history, and he won the Butkus Award in 1991 as the best linebacker in college football.
Anderson was another player who wasn't successful at the next level, but he will never be forgotten by the folks in Ann Arbor.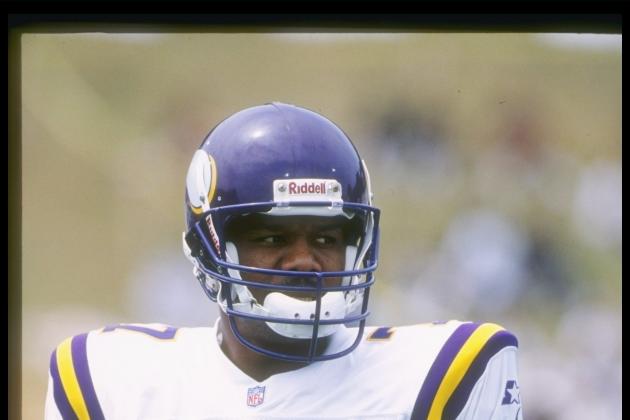 Jonathan Daniel/Getty Images

Randall Cunningham was the ultimate versatility player, the type of player college football may never see again.
Surprisingly enough, Cunningham spent a lot of his college career as a punter for UNLV, earning first-team All-American honors at the position in 1983. At the same time, he played quarterback, throwing for more than 8,000 yards and 61 touchdowns in his career. He also rushed for nine touchdowns and led the school to its first bowl game in the history of the program.
He broke a total of 18 school records, and the 11-2 season that was accomplished back in 1984 is still the only double-digit winning season in UNLV history.
Cunningham went on to have a successful career in the NFL, but it all started with a Hall of Fame collegiate career at UNLV.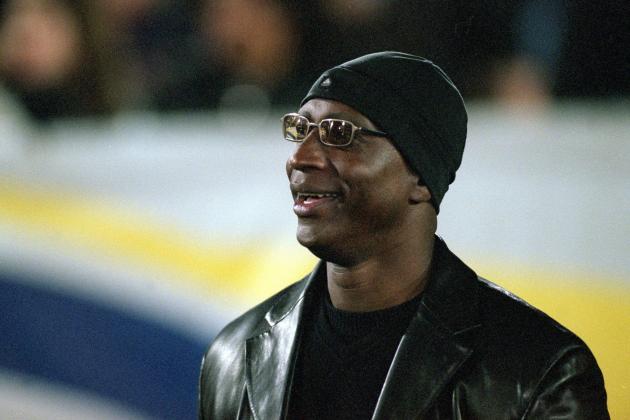 Stephen Dunn/Getty Images

Eric Dickerson was a running back who was ahead of his time. With his combination of strength and speed, he was one of those once-in-a-generation-type runners.
For SMU, Dickerson was that workhorse runner that was capable of carrying the load, but ended up splitting time with Craig James for much of his career. Even with being part of the "Pony Express," Dickerson broke 14 school records and topped 4,450 rushing yards in his career.
Being named Southwest Conference Player of the Year twice, he also finished third in the Heisman voting in 1982, as he racked up 1,617 rushing yards and scored 17 touchdowns.
Dickerson later went on to become one of the best running backs in NFL history, but he remains easily the best player SMU has ever produced.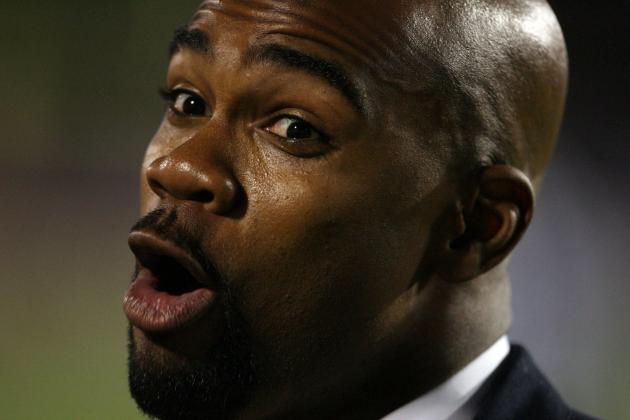 Brian Spurlock-USA TODAY Sports

Before Johnny Manziel, there was Antwaan Randle El, somebody who most thought he could do anything on the football field. This is a guy who played quarterback, ran the football like none other, caught the ball a few times and even played special teams.
Randle El passed for 7,469 yards, rushed for 3,895 yards and was responsible for 86 total touchdowns. He became the first player in FBS history to pass for 6,000 yards and rush for 3,000 in a career. He also graduated as the all-time leading rusher at the quarterback position, which has since been topped by guys like Pat White, Denard Robinson and Brad Smith.
Indiana didn't produce many victories even with the remarkable performances of Randle El, but there is no question he was one of the best and most versatile players this sport has ever seen.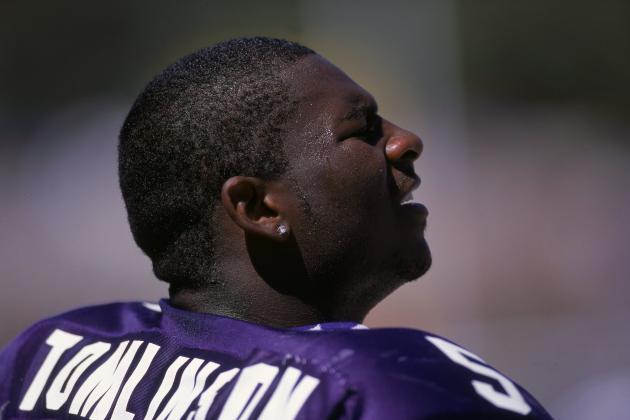 Ronald Martinez/Getty Images

Back when TCU was still trying to get its foot in the door as a legit contender, there was a running back that went by the name of LaDainian Tomlinson. A small back in stature, Tomlinson made sure to make his presence felt with his performance on the field.
In his second season on campus, he helped end a three-year bowl drought for the university. Then in 1999, Tomlinson set a single-game NCAA record by rushing for 406 yards against UTEP, which is a record that still stands today.
He finished the year with 1,974 rushing yards and 20 touchdowns. His senior year is when Tomlinson really made his mark, leading the country with 2,158 yards on the ground and winning the Doak Walker Award, as the nation's top running back.
Tomlinson helped put this program on the map, breaking 15 school records, and is still the schools leading rusher with a combined 5,387 career rushing yards.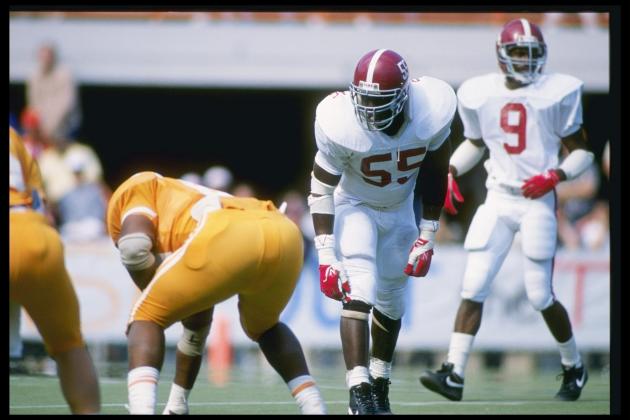 Allen Steele/Getty Images

Much like he was in his NFL career, Derrick Thomas was the definition of a true pass-rusher. This guy had a knack for getting to the quarterback and offensive coordinators couldn't come up with a game plan on how to defend him.
Thomas helped lead the Alabama Crimson Tide to four consecutive bowl appearances and was named Defensive Player of the Year in 1988. A main reason for earning that award, Thomas racked up 27 sacks on the year, which is an NCAA record that will never be broken. He also finished his career with 74 tackles for loss and had a combined 52 sacks throughout his career, which was at one point also a college record.
Thomas has shown at every level that he is one of the best at making plays in the backfield. If he doesn't make the Hall of Fame, there is little hope for the rest of these guys.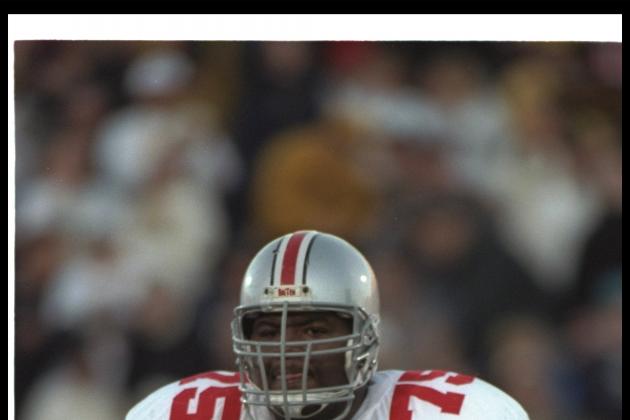 Jonathan Daniel/Getty Images

A college football head coach can only dream to end up with an offensive lineman that was as dominant as Orlando Pace was in his days with the Ohio State Buckeyes.
Whoever was trying to break free of this massive lineman had little to no hope. Pace is the only player to have won the Lombardi Award twice, awarded to the best linebacker or lineman in college football. He was one of the few offensive linemen who will ever receive any type of Heisman buzz, and the stat that drives most people wild is the fact he didn't allow a single sack in his final two seasons of play.
Pace was a Consensus All-American two years in a row, took home the Outland Trophy in 1996 and then went on to have a brilliant NFL career. There aren't many linemen who can compete with his legacy, which is why he will end up in the College Football Hall of Fame.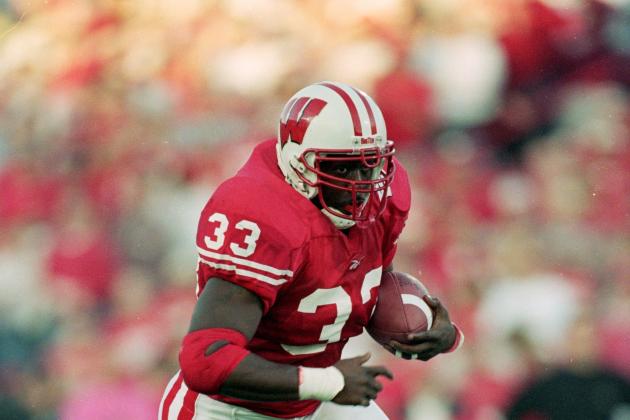 Matthew Stockman/Getty Images

When you are widely considered to be the best at your position, you are a lock to end up in the Hall of Fame.
Ron Dayne did pretty much everything you can do as a running back at the collegiate level except win a national title. Still, Dayne is the all-time leading rusher in college football, with 7,125 yards, and has taken home nearly every trophy imaginable, including the Heisman that he won back in 1999. He is also the first player ever to top 7,000 rushing yards in a career.
Dayne was an unstoppable force from the moment he stepped on the field for Wisconsin, rushing for more than 2,000 yards, as a freshman, and scoring a ludicrous 71 touchdowns.
Many of the records that Dayne broke likely will never be rewritten, as he was the type of player who may never be seen again. He is the highlight of the 2013 Hall of Fame class and is an absolute lock to be inducted this year.