Ranking the Redskins' Biggest Offseason Needs by Position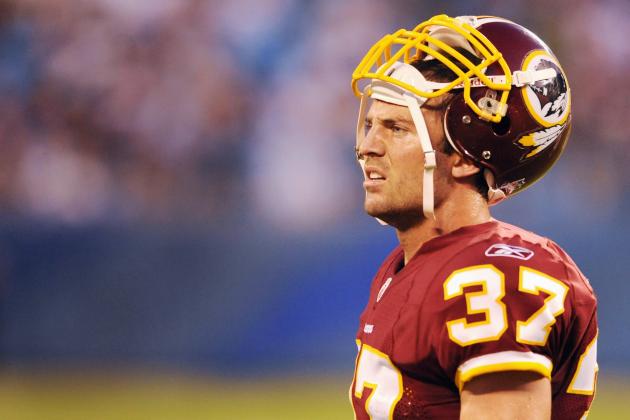 Steve Dykes/Getty Images
As it currently stands, Reed Doughty could be the Redskins' starting strong safety to begin 2013.
Things tend to change quickly in the NFL. The Washington Redskins have experienced as much change as any team in the league, particularly on offense.
Think about this: In 2011, Rex Grossman and John Beck were dueling for snaps at quarterback, Roy Helu was the next big thing at running back, Santana Moss was the No. 1 receiver, and the kicker was the immortal Graham Gano.
Just one year later, one of the worst quarterback situations in the league has become one of the best, Alfred Morris ripped the starting running back job away from everyone, Moss was relegated to the slot, and Kai Forbath set a record for most consecutive field goals made to start a career.
This sudden change on offense gives hope for the Redskins this offseason, because if they want to truly contend in 2013 they'll need another quick fix—this time, on the defensive side of the ball.
It will be very difficult. Washington has no first round draft picks and precious little cap space. That being said, something has to be done. While some units on the team are stellar, there are a few that are much less so. Only by fixing these will the Redskins turn into legitimate Super Bowl contenders.
Begin Slideshow

»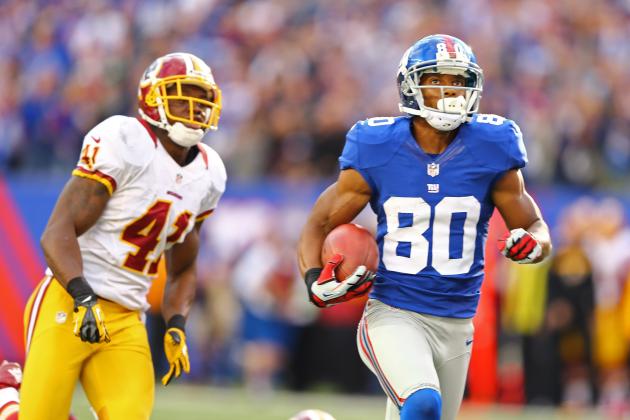 Al Bello/Getty Images
Madieu Williams' performance in 2012 was indicative of the state of the safety position in Washington.
There is no question here: The safety position is by far the most precarious situation in Washington, and there isn't an easy solution.
Through a combination of injuries and suspensions, the Redskins were forced to rely on Reed Doughty and Madieu Williams for much of 2012. Doughty was his usual "only okay" self and Williams was a disgrace. Brandon Meriweather was solid when he played (which was almost never) and Tanard Jackson never even suited up because of a drug suspension.
The inconsistency of the safeties added up to Washington fielding the 30th-ranked pass defense in the NFL.
Williams will (hopefully) be released to free up some cap space. Doughty will stay, but the Redskins can't rely on him in a starting role. That means they can either turn to free agency or the draft and at this point, the draft is looking like their best shot because of the cap situation.
Washington doesn't pick until the second round but they're lucky—the 2013 draft is blessed with a deep pool of safeties that will probably be available. This includes names like Tony Jefferson out of Oklahoma, Robert Lester from Alabama, and D.J. Swearinger of South Carolina. Any of these prospects would be an upgrade over what the Redskins currently have.
If there was a position the Redskins would turn to free agency for, it would be safety. Atlanta's William Moore and Houston's Glover Quinn are two options. That being said, it will be difficult for Washington to sign any significant free agents if they can't free up the necessary cap space.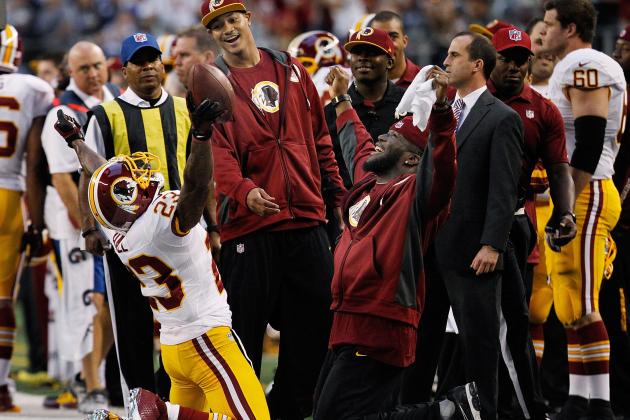 Tom Pennington/Getty Images
DeAngelo Hall had another disappointing year in 2012. The lack of depth and talent at the position has created a serious void in the defensive backfield.
One of the most important decisions of the offseason will be how the Redskins decide to handle their cornerback situation. It's no secret that this unit has been an issue for a few years now.
At the forefront of the problem is DeAngelo Hall, who has failed to live up to his potential (and his contract) in D.C. and consistently rates as one of the worst defensive backs in the league by any statistical measure. The Redskins' handling of Hall will be instrumental in deciding how much cap space they'll have to make moves in free agency.
Hall is the team's leading candidate for contract restructuring and if he's willing to take a pay cut, it will benefit the entire club. As it stands, his contract will count about $7.5 million against the cap. If he refuses to renegotiate, he could be released—and while Hall isn't exactly an all star, he probably has more potential than any other defensive back on the roster, so that would be a worst-case scenario.
On the other side of the field, Josh Wilson had a surprisingly poor year after several seasons of solid play. If the safety play improves, he'll improve as well.
There are a few cornerback prospects in the draft who are realistic for the front office to look at, such as N.C. State's David Amerson or Oregon State's Jordan Poyer. The cornerback pool isn't as deep as the safety pool unfortunately, so the Redskins will have to decide which position is facing more problems.
Dominique Rodgers-Cromartie, Aqib Talib, and Sean Smith are all viable options on the free agent market—but again, it's all about how much space the Redskins can free up. The good thing is that any one of these players would be an instant upgrade as a starter or a third DB.
Al Bello/Getty Images
Pierre Garcon boosted the Redskins' receiving corps last season but there is work to be done. The unit is solid overall, but is easily outmatched by each of its rivals in the division.
The Redskins have an interesting situation at wide receiver. They have a legitimate No. 1 threat in Pierre Garcon, who could be primed for a serious break-out season in 2013. They have a speedy slot guy with Santana Moss. And the rest of the receivers are solid in their own right, from Josh Morgan to Leonard Hankerson and everyone in between.
The problem is that the corps doesn't strike fear into the heart of anyone, and is too dependent on Garcon's performance to really act as a legitimate threat in the passing game. Redskins fans can look at the names and deceive themselves all they want. The fact of the matter is Washington has a pretty average group of pass catchers.
This becomes even more apparent when you assess the other teams in the division: Dallas has Dez Bryant and Miles Austin; New York utilizes Victor Cruz and Hakeem Nicks; the Eagles can depend on DeSean Jackson and Jeremy Maclin. In fact, comparing the Redskins to their rivals makes Washington's receivers seem quite unimpressive.
There's a slim chance Bruce Allen will look to the free agent market to upgrade the receivers. Instead, he should turn to the draft where many a receiver will be available in the early-to-late rounds that the Redskins can grab. Robert Woods out of USC is an enticing option, even if it is a bit of a reach to expect him to drop. Terrance Williams will definitely be a popular name because of his rapport with Robert Griffin III from their days at Baylor, and Kenny Stills from Oklahoma could be a good pickup as well.
Luckily, the receiver position isn't as dire as the situation in the defensive backfield. That being said, the Redskins won't be able to improve their passing game without upgrading their pass catchers.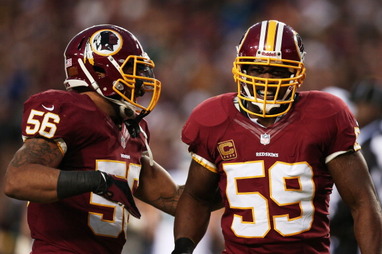 Win McNamee/Getty Images
The uncertainty surrounding London Fletcher's immediate future has cast doubt over the ability of the linebacker unit.
London Fletcher needs to make a decision now, because it will change how the Redskins approach the offseason with their linebackers.
If Fletcher is going to retire (which he probably should, even though Redskins fans love him), he needs to let the team know so that they can deal with replacing him. Washington hopes that answer is in-house, in the form of Lorenzo Alexander (who recently rejected a contract offer), but they won't be able to sign Alexander without knowing Fletcher's intentions.
In addition to the Fletcher situation, the Redskins have an interesting "problem" at outside linebacker. After Brian Orakpo was sidelined with an injury early in the year, Rob Jackson stepped in and played at a Pro Bowl level. Jackson is an unrestricted free agent, so it remains to be seen how the Redskins will treat him. It would be great to have both guys back, but Jackson proved he's starter-caliber.
The Redskins don't necessarily need to fix anything at linebacker per se—but there's no question they have many decisions to make regarding the unit. It's a solid group of players overall and could use some extra depth but for the most part, there are no serious personel issues.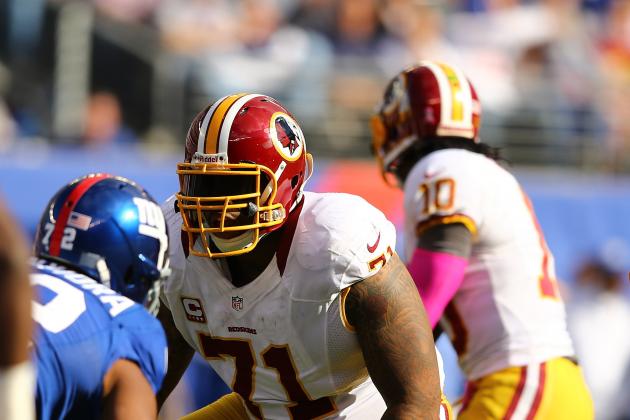 Al Bello/Getty Images
Trent Williams had a career year while anchoring a steadily improving offensive line, but there's still work to be done along parts of the front five.
The Redskins' offensive line was a nice surprise in 2012, paving the way for a dominant ground game and doing a solid job in pass protection. Trent Williams had a spectacular year and was recognized for his play with a Pro Bowl nod. Will Montgomery also had a superb year (he was deserving of a Pro Bowl appearance but Jeff Saturday was selected instead).
Chris Chester and Kory Lichtensteiger were good enough and will stay with the team undoubtedly. But the major issue on the line comes at right tackle, where Tyler Polumbus was often overmatched during the campaign. The injury to Jammal Brown pressed Polumbus into service and he struggled, leading to questions concerning how to deal with his poor play.
To be clear, Polumbus wasn't a disaster; in fact, he improved steadily as the year went on. Still, he's better suited as a backup and the Redskins will probably look to free agency if they don't think he can handle a 16-game slate.
There aren't many clear options out there at right tackle besides the Vikings' Phil Loadholt, who was a franchise tag candidate before Minnesota decided to let him test the market. As is the case with every prospective free agent target on this list, their signing depends solely on how the Redskins free up cap space. Gosder Cherilus is another option, and a more realistic one at that. He won't come with as high an asking price.
If a guy like Cherilus lands in Washington, it could push the offense into a different stratosphere. It's been years since the Redskins have had a consistent five-man unit up front, and with the talent at the skill positions next year a great line could have a huge impact.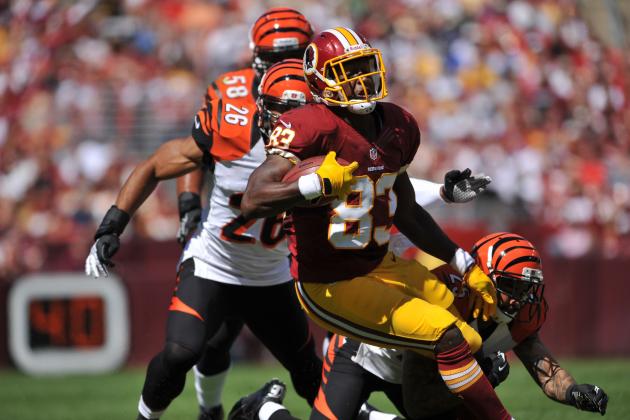 Larry French/Getty Images
Fred Davis' contract situation has put the tight end position in flux and while Logan Paulsen is an adequate replacement, the Redskins could be much better off.
There's not necessarily a problem with the tight end position in Washington—but there are questions as to how the Redskins want to handle the position.
The franchise tag deadline came and passed without Fred Davis being tapped for one more year, leading to murmurs about his future. The tag would have cost the Redskins nearly $6.5 million in 2013, but it was assumed that they wanted one more healthy year out of Davis before making a decision on his role.
Now, there's no telling what will happen. If Washington wants to retain Davis' services, they'll likely have to offer him a long-term contract. If they can't come to terms with him, they could be releasing one of the most promising young athletes in the NFL. If Davis goes off to another team and becomes a standout, the backlash will be severe.
With Chris Cooley relegated mostly to a blocking role last year, Logan Paulsen stepped in when Davis was injured and played very well. Nothing about Paulsen is pretty, but he gets the job done and will probably be the starter if Davis walks. The difference in talent between the two is enormous, but Paulsen is serviceable.
It would be unfortunate to see a player like Davis leave town so early, but that may be what happens. If he stays, he and Robert Griffin III could form a devastating connection. If he doesn't, the Redskins could be missing out on a critical piece of their offense.
If Paulsen returns as the starter, the Redskins will probably draft a tight end late or sign a cheap backup in free agency. This position is well off, but there are so many directions it could go.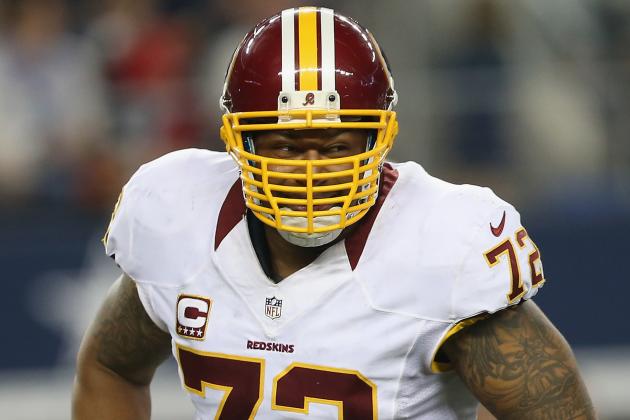 Ronald Martinez/Getty Images
Stephen Bownen has been a fixture in the Redskins' base 3-4 for a few years now, and the defensive line has been solid, if unspectacular, during his tenure.
We've entered the realm of positions the Redskins don't really need to worry about in 2013.The defensive line in Washington is nothing spectacular, but they get the job done and do it on a consistent basis.
The first job of a 3-4 defensive line is to bottle up the opposing running back and get tackles and that's exactly what this unit did in 2012. The Redskins allowed the fifth-lowest rushing yards per game in the NFL and were at times completely impossible to run on.
Jarvis Jenkins is primed for a breakout year if he can get more consistent, and Stephen Bowen and Barry Cofield have been great pickups in free agency in the past few years.
Another good thing about this unit is the depth. Chris Baker and Kedric Golston are great backups and should get more playing time next season. The Redskins could probably use a late-round draft pick to shore up the defensive end spot but for the most part, this unit looks pretty good. Nothing special, but they show up to work and get the job done.
It's been two consecutive years of good performance from the defensive line, so if it ain't broke, don't fix it.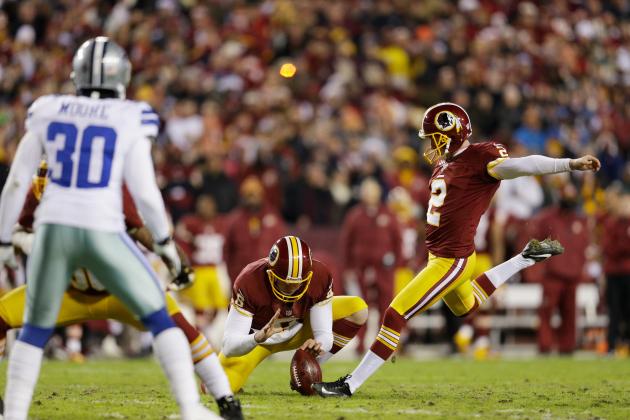 Rob Carr/Getty Images
Kai Forbath took to the field in the middle of the season and promptly set a record for field goals made to start a career, giving the Redskins their first reliable kicker since the early years of John Hall.
Redskins fans weren't ready to celebrate when Kai Forbath hit his first career field goal, but they were certainly ready to party when he hit his 17th. That kick put the rookie in the record books, giving him the most converted field goals to start a career and giving fans hope that one of the most tumultuous positions on the roster could finally be solved after several years.
From Nick Novak to Shaun Suisham, from Graham Gano to Billy Cundiff, the kicker carousel in Washington has been as frustrating as it has been comical. Forbath changed that in a hurry. He wasn't just hitting field goals, he was hitting bombs: 12 of his 17 kicks came from 40-plus yards.
Of course, fans shouldn't coronate Forbath as the next Mark Mosley yet. It was his first year and kickers are historically inconsistent from year to year. But it sure is nice to go into a season without a question of who's kicking the field goals.
An issue that will have to be resolved (and you can be sure he is working on it this summer) is the length of Forbath's kickoffs. Many of his kicks were very short, and he would often have multiple poor kicks in a game. It's a minor issue, but it will need to be rectified.
The punting situation is a little murkier. Sav Rocca had a very good year but he's 39 and will be coming off of microfracture surgery. It remains to be seen if the Redskins will retain him, but they should be able to find an adequate replacement at the end of the draft.
Overall, the kicking unit is about as solid as anyone could hope for—and that's music to the ears of Redskins fans who have endured years of terrible kickers.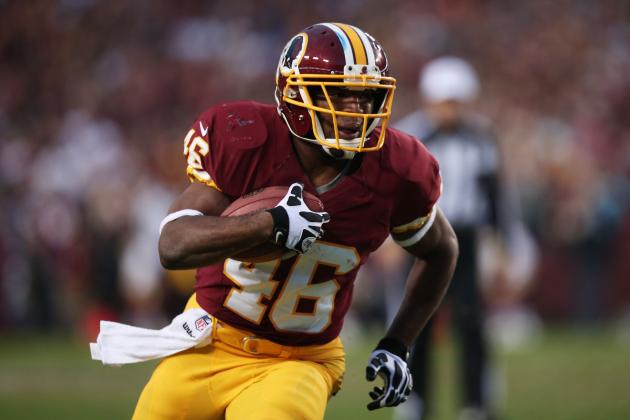 Win McNamee/Getty Images
Alfred Morris proved to be one of the best running backs in the NFL last season and solidified a unit that has been in turmoil since Clinton Portis' departure.
The Redskins struck gold with Alfred Morris, and they'd be smart to ride him again in 2013. Morris was simply spectacular in his rookie year and was the focal point of the league's top rushing attack. His violent running style and low-key personality made him an easy fan favorite and he set the franchise record for rushing yards in a season by demolishing the Dallas Cowboys in one of the biggest games in Redskins history.
Needless to say, there's not much to work on in the backfield. Morris is a stud, and fullback Darrel Young was superb as well. Young will be resigned and will once again provide the muscle in front of Morris.
The only issue is how the Redskins handle their depth. Evan Royster was unimpressive in limited action in 2012, and Roy Helu looks like he'll recover from a serious toe injury in time to make an impact in 2013. Helu plays a big part in the offseason negotiations in Washington because if the Redskins deem him unnecessary, they could free up over $500,000 by releasing him—and every penny is important with a limited cap situation.
It remains to be seen if Royster or Helu will get the majority of the third down carries, or if the Redskins will draft a back in the later rounds. But for now, Mike Shanahan has to be happy with the situation he has. Morris is a workhorse who won't go down easy, so you can pencil him in for another 300 carries in 2013. The future is bright in Washington's backfield.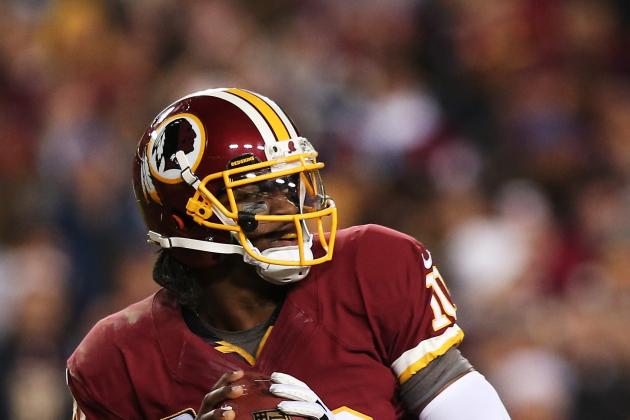 Win McNamee/Getty Images
The sky is the limit for Robert Griffin III, and with Kirk Cousins and Rex Grossman as backups, the Redskins are set at quarterback for the first time in over two decades.
The Redskins' quarterback situation is exemplary of how strange the NFL can be. A year after struggling with Rex Grossman and John Beck, Robert Griffin III and Kirk Cousins have placed a stranglehold on the position and put the Redskins in arguably the best quarterback situation in the NFL in terms of depth.
RGIII, for obvious reasons, is always an injury risk, but Cousins' superb performance in his stead in 2012 proved that Washington has something truly special under center. The only thing that remains to be seen is if the Redskins think Rex Grossman is deserving of a new contract. For mentoring purposes (and because of the fact that he's not a bad option as a third quarterback), Grossman will likely be back for another year or two in burgundy and gold.
It's been at least two decades since the Redskins were this confident in their quarterback situation. It's unbelievable: In a span of less than a year, Washington went from arguably the worst QB duo to perhaps the best.
There is a lot to work on and improvements must be made by each and every player, but things are looking up. For now, the Redskins are perfectly happy with their two young signal callers, knowing that they will always be there when the situation presents itself.