Michigan Football: Position-by-Position Spring Practice Preview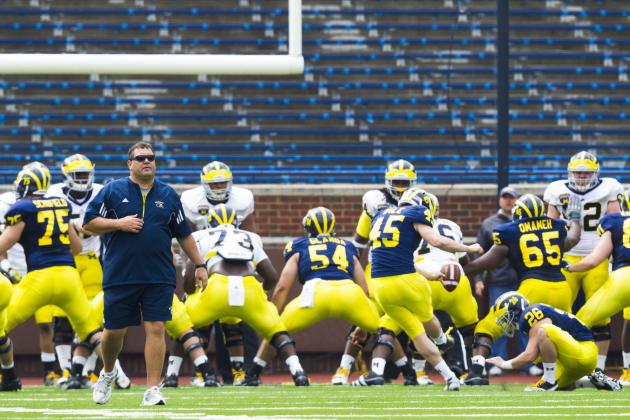 Rick Osentoski-USA TODAY Sports

Probably the best news of Michigan's offseason occurred Tuesday when starting quarterback Devin Gardner was awarded a medical hardship (redshirt) for the 2010 season.
Gardner, who played in just three games that season, now has two years of eligibility remaining.
Question marks surrounding many of the remaining positions will begin to be answered as Spring Practice begins Saturday, March 16. Four weeks of drills culminate with the annual Spring Game April 13.
Six early enrollees join the group of returnees from the squad which finished a disappointing 2012 season with losses to arch rival Ohio State and South Carolina (in the Outback Bowl).
With a pair of excellent recruiting classes behind them, the Wolverines should contend for their first Big Ten championship since 2004.
Let's check out a position-by-position preview as Michigan awaits the beginning of spring practice.
Begin Slideshow

»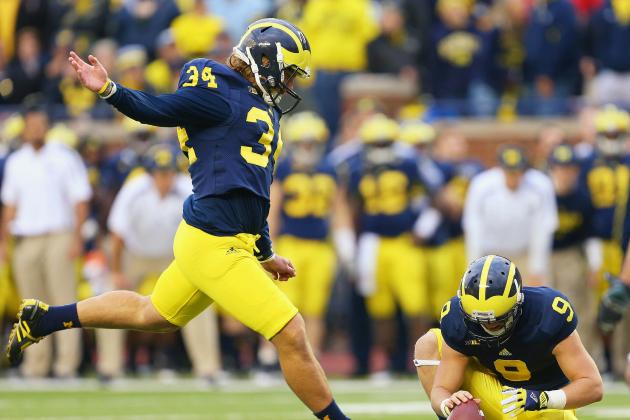 Mike Carter-USA TODAY Sports
Brendan Gibbons (34)
Michigan place-kicker Brendan Gibbons returns as a true rags-to-riches story. The strong-legged senior went from the outhouse to the penthouse between 2010 and 2011.
Gibbons made only one of his first four attempts in his redshirt freshman season before losing his job to the equally inept Seth Broekhuizen, who could hit only three of his nine attempts during the balance of the year.
After a summer of confidence-building, Gibbons connected on 27 of 33 attempts over the past two seasons, making him a favorite for All-Big Ten honors again in 2013.
Matt Wile is back to handle kickoffs and long field-goal tries, but he may be forced into the punting job again if the suspended Will Hagerup doesn't return.
Dennis Norfleet, who added both speed and excitement to the kick return job, returns while Jeremy Gallon will bring back punts.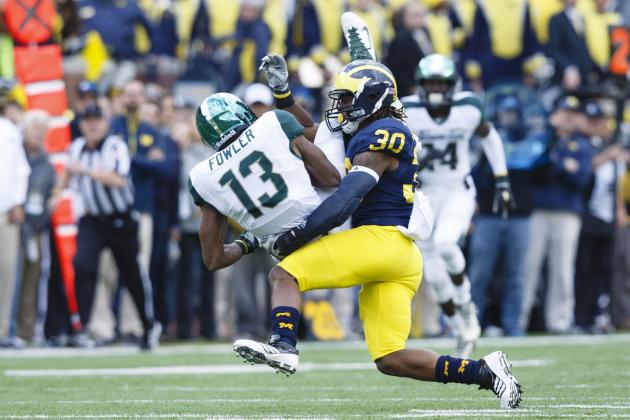 Rick Osentoski-USA TODAY Sports
Thomas Gordon (30)
Sophomore Jarrod Wilson appears ready to take over the strong safety spot vacated by the graduating Jordan Kovacs. Wilson, who was an early enrollee a year ago, saw action in all 13 games, contributing eight tackles and a fumble recovery.
Thomas Gordon returns to his free safety position, where he was credited with 81 tackles along with two interceptions.
Entering the mix is early enrollee Dymonte Thomas, who could play either safety slot in addition to Will linebacker. Thomas, the nation's No. 4-rated safety, could earn considerable playing time.
Marvin Robinson and Allen Gant add depth at strong safety, while Josh Furman and Jeremy Clark will also battle for minutes at free safety.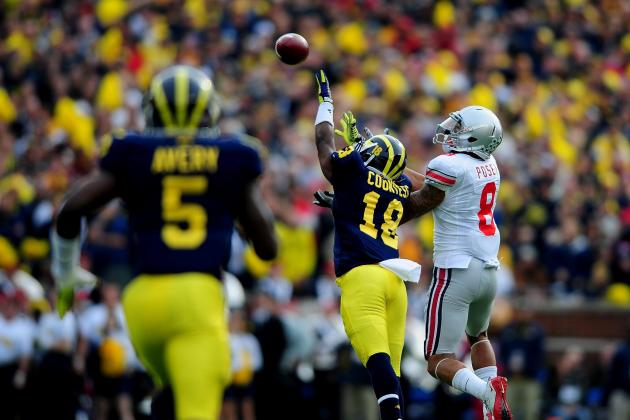 Andrew Weber-USA TODAY Sports
Courtney Avery (5), Blake Countess (18)
While they aren't quite ready for the starting lineup, you might notice Michigan's new crop of taller cornerbacks.
Channing Stribling (6'2"), Reon Dawson (6'2") and Delano Hill (6'1") should all be battling for playing time this fall.
Another corner to watch is Ross Douglas, an early enrollee who runs the 40 in 4.41.
Back from ACL surgery to start at wideside cornerback is Blake Countess. A solid cover-corner as a freshman, Countess will take it easy this spring just as a precaution.
Ramon Taylor returns for his second season at the opposite corner, with Courtney Avery again spending time at nickelback.
Michigan has plenty of depth in pass coverage but could still use someone to step up with the ability of Countess.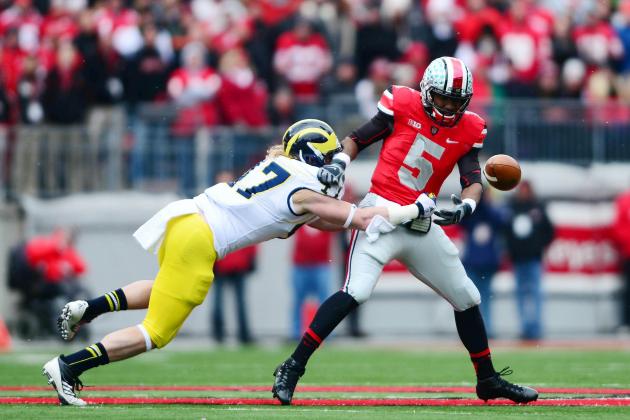 Andrew Weber-USA TODAY Sports
Jake Ryan (47)
Excellent depth at linebacker may force the Wolverines into playing more 3-4 fronts this fall.
Jake Ryan, James Ross III, Desmond Morgan, Cam Gordon and Joe Bolden all have significant experience, while Ben Gedeon, Kaleb Ringer, Michael McCray and Royce Jenkins-Stone have unlimited potential
Ryan, a second-team All-Big Ten selection, led the Wolverines with 88 tackles in 2012, including 16 for loss. He returns to his starting Sam linebacker position as a true fan favorite and a potential All-American.
Bolden, who fought departed linebacker Kenny Demens for playing time, will start this fall at Mike.
Morgan and Ross III will most likely share the Will position. When Michigan moves to the 3-4, expect the duo to be on the field at the same time.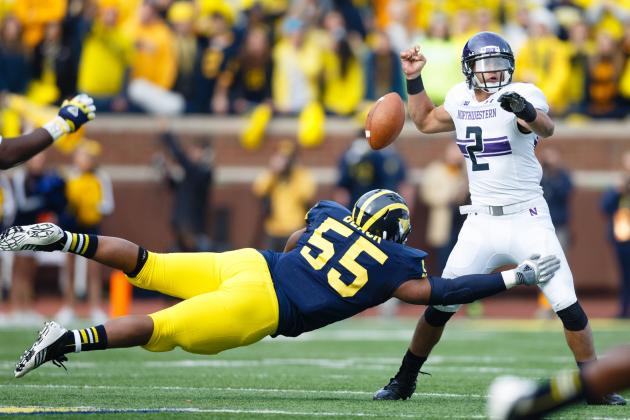 Rick Osentoski-USA TODAY Sports
Jibreel Black (55)
Defensive coordinator Greg Mattison is hoping increased competition along the defensive front will produce a more effective pass rush.
At 6'3", 340 pounds, Ondre Pipkins is expected to open the season at nose tackle this fall while 6'4", 300-pound Quinton Washington competes with Jibreel Black at tackle.
Black, who has played both end and tackle, will also be competing with redshirt freshman Chris Wormley for the strong-side end position. Wormley missed the 2012 season with an ACL injury suffered during preseason practice.
The weak-side end position is also far from settled. Last year it was shared by Frank Clark, Mario Ojemudia and Brennen Beyer. Neither was outstanding, so look for early enrollee Taco Charlton to earn a shot at winning the job.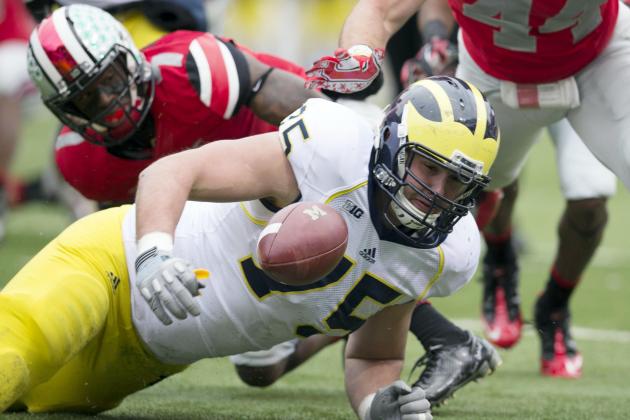 Greg Bartram-USA TODAY Sports
Michael Schofield (75)
Michigan caught a break when All-American left tackle Taylor Lewan decided to return for the redshirt senior season. Lewan's decision means that the Wolverines will have two experienced starters on the offensive line.
The only other returnee with any appreciable experience is redshirt senior right tackle Michael Schofield.
Redshirt sophomore Jack Miller is expected to start at center, redshirt sophomore Chris Bryant at right guard and redshirt freshman Kyle Kalis at left guard.
Depthwise, Michigan is in excellent shape, albeit very young. The Wolverines signed five linemen to the 2012 class, and six more in 2013.
Michigan could easily build an all-freshman second unit, with potential stars like Patrick Kugler at center, Chris Fox and David Dawson at guard and Kyle Bosch and Logan Tuley-Tillman at tackle.
Jeff Griffith-USA TODAY Sports
Drew Dileo (9)
While Brady Hoke and his staff have yet to recruit receivers who can stretch the field, at least they're finding some with size.
Sure, Michigan may open the season with Jeremy Gallon (5'10") and Drew Dileo (5'8") at wide receiver, but the Wolverines will have plenty of size coming off the bench.
Senior Jeremy Jackson (6'3), sophomore Amara Darboh (6'2") and redshirt freshman Jehu Chesson (6'3") will all see plenty of action, while incoming frosh Da'Mario Jones (6'2), Csont'e York (6'2") and Jaron Dukes (6'4") all make excellent targets.
Add a pair of pass-catching tight ends (6'5" Devin Funchess and 6'6" Jake Butt) and Devin Gardner should have several sizable targets.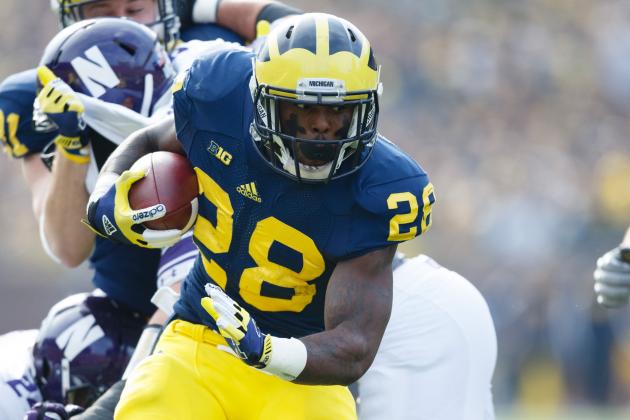 Rick Osentoski-USA TODAY Sports
Fitz Toussaint (28)
Who starts at running back for Michigan in 2013 might be the biggest mystery of all.
Will it be redshirt senior Fitz Toussaint, who stumbled through 2012 before ending his season with a nasty leg injury?
Will it be redshirt freshman Drake Johnson, who starred at nearby Pioneer High both on the gridiron and on the track?
Will it be junior Thomas Rawls who started one game for the Wolverines, finished the season with 242 yards, but never saw the field at the Outback Bowl?
Or how about one of the three incoming freshmen? The nation's No. 1 running back Derrick Green of Richmond, Va., Ohio's No. 1 back DeVeon Smith or 6'4", 245-pound jumbo back Wyatt Shallman of Detroit Catholic Central?
One thing's for sure, it won't be a smaller scatback like Justice Hayes or Dennis Norfleet. Both, however, will be seen in complementary roles like catching passes on screen, swing or flare routes in Michigan's power-first offense.
Predicting who lines up at fullback in Michigan's new pro-style offense might be a bit easier. Expect redshirt sophomore Joe Kerridge to start and occasionally carry the ball in the ball-control attack.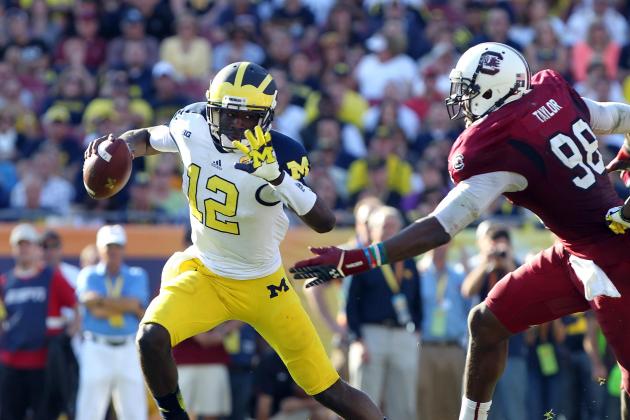 Kim Klement-USA TODAY Sports
QB Devin Gardner (12)
After Devin Gardner's season-ending five-game run as the starting quarterback, fans knew he would be Michigan's quarterback of the future.
But for how long?
The Wolverines were patiently waiting to see if Gardner would receive an extra year of eligibility due to his season-ending back injury in 2010 after he played in just three contests.
The message came through Tuesday from the Michigan athletic department that Gardner was indeed granted the extra year. He will now be eligible through the 2014 season.
At 6'4", 203-pounds, Gardner showed he versatility by starting the season at wide receiver. He caught 16 passes for 266 yards and four touchdowns while Denard Robinson handled the quarterback chores.
But when Robinson suffered a nerve injury to his throwing arm, Gardner started the following game at Minnesota and never looked back. He completed 75 of 126 passes for 1,219 yards, 11 touchdowns and five interceptions.
The only competition at quarterback this spring may decide Gardner's backup. Russell Bellomy, who stumbled at Nebraska, will battle sophomore walk-on Brian Cleary.
But should Gardner need a breather any time this fall, Michigan will most likely turn to 5-star recruit Shane Morris, who will arrive on campus this summer.