25 of the Biggest Divers in World Football Today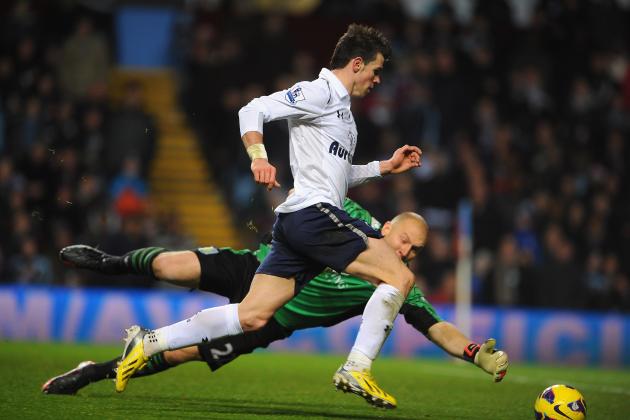 Michael Regan/Getty Images

Diving is one of the biggest frustrations in world football today—for fans, players and managers alike.
There's no two ways about it.
Diving is cheating.
Yes, there are times when a player's momentum carries them over, but some of the examples we'll see in this list are so outrageous that it's untrue.
In no particular order, join me as we take a look at 25 of the worst divers in world football today.
Begin Slideshow

»
The Manchester United striker might be one of English football's brightest prospects, but tumbling to the ground like this under no contact, won't help his reputation.
The misfiring striker returned to Newcastle with Liverpool last season, and made headlines for all the wrong reasons with this big splash.
It is one of the most blatant dives that you'll see.
The Barcelona and Brazil full-back has made his reputation being one of the most attacking defenders of his generation, but this theatrical dive against Real Madrid is just one example of the bad side of his game.
During his time at Arsenal, Emmanuel Eboue was one of the most polarizing players in England.
Dives like this one against Manchester United show why.
In a SPL game between Rangers and Aberdeen at Ibrox a few seasons ago, Kyle Lafferty's dive was one of the worst we've seen since Rivaldo's at the 2002 World Cup.
Lafferty's actions were made even more sickening by the fact that Aberdeen's Charlie Mulgrew was sent off.
Charlie probably wishes he'd have made proper contact with Lafferty after that.
While at Liverpool, the young Frenchman did nothing to improve his standing with the fans after this shocking dive against Birmingham.
To say that El Hadji Diouf's time in England has been mired in controversy would be something of an understatement.
The uploader says that Diouf's dive:
shames himself, his club and all of soccer
That's probably a bit harsh, but it's a blatant attempt to con the referee.
Robinho might have all the flicks and tricks to bamboozle his opponents, but this tumble during his time at Real Madrid failed to convince anyone watching that there had been any contact whatsoever.
The match commentator describes Pedersen's dive here as disgraceful.
That just about sums it up.
Not only does Pedersen try to cheat, but the defender is so far away from him that Pedersen has time to look at the referee's position before diving!
You'll see in this video that, during a last 16 clash at the 2006 World Cup, Fabio Grosso takes a tumble to earn Italy a penalty.
The Italians ultimately went on to win the World Cup that year.
In part, it was down to Grosso's dive against Australia.
He's probably still public enemy No. 1 down under after this!
During his unsuccessful spell in Italy with Juventus, Milos Krasic didn't exactly earn himself any extra brownie points with this clear dive against Bologna.
The first time that you watch this, it seems like Neymar gets fouled in a game between Santos and Gremio.
However, when you see the replay, the little man takes a spectacular fall in an attempt to cheat the referee.
If he's to become any sort of a success as a player, he might do well to cut this kind of thing out of his game, and concentrate more on dazzling us with the unquestionable ability and skill he has.
Again, similar to the Neymar video we've just seen, at first glance, it looks like Real Madrid's Angel Di Maria is fouled by Barcelona's Dani Alves in this Champions League clash.
Upon closer inspection, Di Maria is on his way to the deck before Alves even makes contact.
Sometimes, you can try to make an excuse for a player who goes to ground too easily.
If anyone can make an excuse for this dive from Bayern Munich's Arjen Robben, then you're a better man than me.
In this clip from a Champions League tie between Celtic and AC Milan, the dive from Alberto Gilardino is so bad that the commentators are laughing about it.
That tells you everything you need to know.
In this clip from a match between Turkey and Croatia, Hamit Altintop convinces nobody that he's been fouled.
Maybe if he hadn't went down so theatrically, he might have had a chance.
If you're like me and you didn't realize what a penchant Franck Ribery had for diving, then all you need to do is watch the first 20 seconds of this video to be convinced that the talented Frenchman isn't beyond cheating to try to gain an advantage over his opponents.
Feel free to familiarise yourself with Ribery's work, as well as one of his fellow entrants Arjen Robben.
The Manchester United winger might be quick, but the tumble he took in this clip against Newcastle is an example of how easily he likes to hit the deck.
There's no contact between Newcastle's Jonas Gutierrez and him, but later in the clip, Nani shrugs his shoulders as if to say he didn't dive.
You've got to admire his confidence!
The third Manchester United player featured on this list is Ashley Young.
This clip is an example from a game against Manchester City where he literally jumps over Milner's leg before hitting the deck, but there's more.
He did it again during a game against Aston Villa, where he went down as if he'd been taken out by a sniper, and again when Manchester United played QPR.
Instead of being renowned for his fantastic skill or his ability to score spectacular goals, Young is someone who is becoming better known for his diving than anything else.
Speaking as a Liverpool fan, some of the things that Luis Suarez can do on a football pitch are amazing.
But some are just embarrassing, like this dive against Stoke City in last October.
What makes it even worse is that instead of admitting he dived at the time, Suarez waited until this January to come clean.
It was obvious to everyone at the time—fans, players, managers and pundits alike—that he tried to cheat, so why not just admit it and get things over with at that time?
Suarez can captivate a stadium using his God-given talent.
He doesn't need to dive to do it.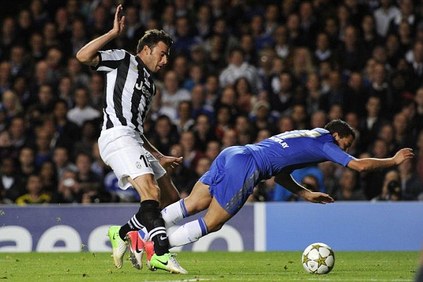 Image courtesy of www.theshedender.com
The talented Belgian draws the ire of opponents across the world with his tendency to hit the deck rather theatrically.
So much that his former manager Roberto Di Matteo said in an interview with Sky Sports last October that Hazard's tendency for going to ground early was counting against him.
It's not as prominent as it once was, but it's still an issue that Hazard needs to address.
There are countless examples of Sergio Busquets diving all across YouTube for you to find, but this one against Manchester United really takes the cake.
He's one of the worst divers in football today, and the funny thing is that he just doesn't seem to care.
He doesn't have to of course, but professionals should play with integrity.
Busquets seems to have little regard for his fellow professionals when he blatantly cheats like this.
Champions League winner, Chelsea legend and cheat are just three names you could use to describe Didier Drogba.
You can't argue with the big Ivorian's success at Chelsea, but some of his antics were beyond embarrassing.
This clip from last season's Champions League match with Napoli is a prime example of what Drogba was, and still is, capable of.
He might be emerging as one of the finest talents in world football, but Tottenham's Gareth Bale already has a reputation for diving.
Bale has already been booked for simulation more times than any other player in England this season.
There's no doubt that Bale has what it takes to make it to the top, but continuing to dive like this will earn him a reputation he doesn't want.
Cristiano Ronaldo is the master manipulator.
Ronaldo might be one of the best players that football has ever seen.
But, throughout his career, he's made a name for himself as a diver, and that reputation just won't go away.
Regardless of how many goals he scores, or how many trophies he wins, Ronaldo will always be labelled as someone who goes to the ground far too easily.
It's sad, but it's true.