How 2012's Best NHL Rookies Are Performing in Their Sophomore Seasons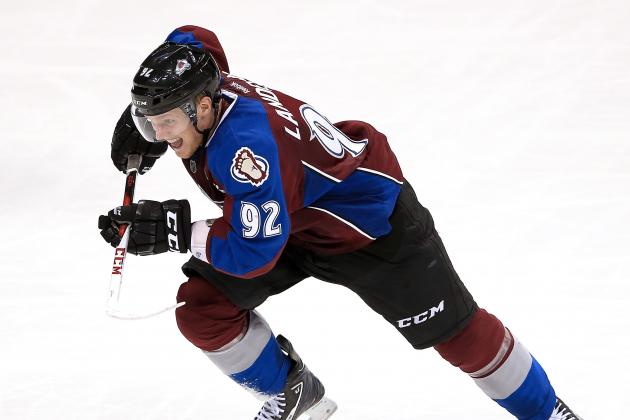 Doug Pensinger/Getty Images
A concussion sidelined Gabriel Landeskog earlier this year.
Last year's rookies are no longer feeling their way around the NHL.
Much more is expected as players reach their sophomore year. Gabriel Landeskog of the Colorado Avalanche, Ryan Nugent-Hopkins of the Edmonton Oilers and Adam Henrique of the New Jersey Devils were last year's finalists for the Calder Trophy, and Landeskog came away with that award.
Here's a look at how last year's top rookies are doing in their second year in the NHL.
Begin Slideshow

»
Gabriel Landeskog had a superb rookie season, winning the Calder Trophy as the NHL's Rookie of the Year. Landeskog had 22 goals and 30 assists last year, and he distinguished himself with five game-winning goals.
Even more than his numbers, Landeskog played with enough poise and maturity to earn the captain's designation for his team.
A 20-year-old NHL captain? Landeskog did it the old-fashioned way. He earned it.
However, the 2013 season has been anything but easy for Landeskog. He has played just nine games this year after taking a huge hit from Brad Stuart of the San Jose Sharks and suffering a concussion that sidelined him nearly a month.
Landeskog has been limited to two goals and three assists, but he did not appear to suffer any permanent damage that will keep him from getting back on track this season.
Ryan Nugent-Hopkins was a finalist for the Calder Trophy Award last year.
He is in the core group of potential offensive stars that the Oilers have on their roster that includes Jordan Eberle, Taylor Hall and Nail Yakupov.
Nugent-Hopkins had 18 goals and 34 assists as a rookie last year. He displayed the ability to hold on to the puck a split second longer than most players and then deliver the perfect pass.
Nugent-Hopkins has highly developed hockey instincts that separate him from the pack. However, the 2013 season has not been very impressive. Nugent-Hopkins has one goal and six assists and has had a difficult time finding his rhythm. He has not been living up to expectations as the season nears the halfway point.
If the league's top rookie award had included a player's contributions in the postseason, Adam Henrique almost certainly would have taken the Calder Trophy.
Henrique scored 16 goals and 35 assists during the regular season, and then scored five goals and eight assists in the postseason. He scored the goals that eliminated the Florida Panthers in the first round and the New York Rangers in the Eastern Conference finals.
Henrique has scored five goals and added three assists this season. Henrique has not been able to have the influence—especially when it comes to setting up teammates—that he did as a rookie.
Matt Read is not like many of the other players who were outstanding during their rookie seasons. That's because he was never drafted.
Read was a free agent who signed with the Philadelphia Flyers. He quickly demonstrated his ability to put the puck in the net. He had 24 goals and 23 assists last year for the Flyers.
Read has picked it up in 2013 from where he left off last year. Read has scored seven goals and six assists in his first 18 games. He has scored on 17.1 percent of his shots, an improvement from the 15.5 percent he scored on last year.
Cody Hodgson split his rookie season between Vancouver and Buffalo. He was traded by the Canucks to the Sabres for Zack Kassian last February.
Hodgson score 19 goals and 22 assists for the two teams last year, but he scored just three of his goals after he pulled on a Sabres jersey.
While Hodgson didn't do much after getting traded last year, he is off to an excellent start in 2013. Hodgson has scored eight goals and 11 assists in his first 23 games. Hodgson is averaging 18:58 of ice time and he is connecting on 13.8 percent of his shots.
Carl Hagelin has the gift of speed when he is on the ice.
That's the first thing you notice about him. If Hagelin has a step on the defense as he reaches the neutral zone, he is not getting caught.
Hagelin used his speed to score 14 goals and 24 assists last year. He was also plus-21 for the Rangers, who rolled to first place in the Eastern Conference last year.
Hagelin still has his golden wheels this season, and he has scored seven goals and four assists. His assist total is down because teammates are not converting his passes. Hagelin is one of the few Rangers who have shown the ability to put the puck in the net this season.
Hagelin is tied with Marian Gaborik for the team lead in goals through March 4.
Slava Voynov was part of the Stanley Cup winning Kings during his rookie season. As a first-year defenseman for a team that found itself during the postseason, Voynov averaged 18:32 of ice time as a rookie and proved that he could make a contribution every night.
Voynov scored eight goals and 12 assists last year. He has legitimate offensive talent from his spot on the blue line. He has three goals and nine assists in his first 20 games this year and he is averaging nearly 22 minutes of ice time per game this season.
Voynov is quite solid on the defensive end and can take advantage of his big shot to make things happen on offense.
Braden Holtby was an afterthought for the Washington Capitals during the 2011-12 regular season. He played just seven games between the pipes and he recorded a 4-2-1 record with a 2.49 goals against average.
However, he became the man in the postseason. He started all 14 of the Capitals' playoff games, he backstopped them to a first-round win over the defending Stanley Cup champion Boston Bruins and helped them get to the seventh game in the second round before they bowed out against the New York Rangers.
Holtby had a 1.95 goals against average in the playoffs and a .935 save percentage.
He has had a rather strange sophomore season for the Caps. Holtby has a 7-7-0 record, a 3.01 GAA and .907 save percentage. Despite those pedestrian numbers, Holtby has a league-high three shutouts.
He has blanked two of his last three opponents heading into action March 5.