Benson Henderson Talks Requesting Fight Against Georges St-Pierre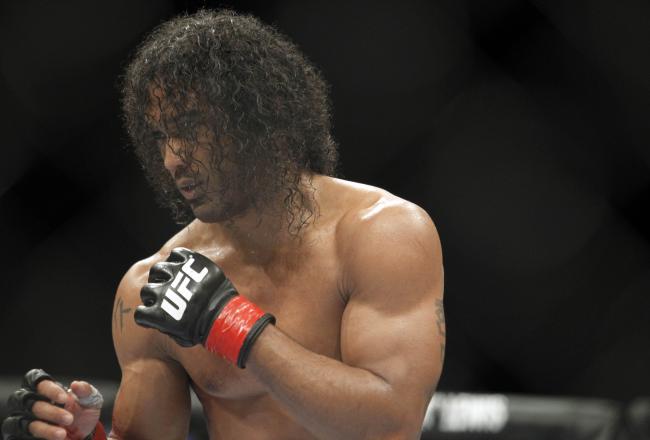 Joe Nicholson-USA TODAY Sports
Benson Henderson has explained why he called out welterweight champion Georges St-Pierre last week, and why he's OK with not getting that fight.
In an interview with MMA Junkie Radio (h/t MMA Junkie), the lightweight champion said his call-out of one of the biggest names in the sport was only in keeping with recent trends in the UFC.
Last month, following Jose Aldo's victory over Frankie Edgar, lightweight contender Anthony Pettis was quick to call out the featherweight champion in the hunt for a belt. That fight has since been confirmed.
Pettis, who recently defeated Donald Cerrone via first-round TKO, was being lined up for a title shot at 155 pounds pending the outcome of Henderson's fight against former Strikeforce lightweight champion Gilbert Melendez in April. But he's been since parachuted to a title shot in the division below.
"If I'm going to call someone out, I don't want to call someone out who's smaller than me," Henderson told MMA Junkie. "I want to call out someone who's bigger than me. So let's do the next weight class up."
That could be a veiled attack on Pettis, the last man to ever defeat Henderson and take his WEC title in 2010.
It could also be an attack on middleweigt Anderson Silva, who has been calling out GSP in the division below ever since his victory over Stephan Bonnar late last year.
"Everyone's going out calling out fights: 'Oh, I want to fight this guy, I want to fight that guy,'" said Henderson. "I didn't know – if that's how the UFC works, if that's the type of organization it is where you can just willy-nilly go around calling out who you want to fight next, then sure. If that's how the UFC as a business operates, you call out who you want next, and that's your next guy, I understand that. I'll do that – I'll call out who I want next.

"But if that's not how it's supposed to work, if that's just a fluke, just one or two rare cases of it happening in the UFC and you're not supposed to call out who you want next, then whatever. Cool – I won't call out who I want next and I'll face whoever they put in front of me, like always."
Henderson, who's defended his lightweight title twice now, is a long way from GSP's achievements, The Canadian has defended his 170-pound title eight times and is in his second stint as champion.
GSP is scheduled to defend the belt once more against Nick Diaz later this month, in a long-awaited match in Montreal.
This article is
What is the duplicate article?
Why is this article offensive?
Where is this article plagiarized from?
Why is this article poorly edited?