Luis Suarez vs. Gareth Bale: Statistical Comparison of Liverpool and Spurs Stars
photos from hamrofootball.com and mirror.co.uk
Two of the brightest stars of the Premier League will go head to head on Sunday, as Liverpool host Tottenham Hotspur at Anfield.
The Reds won 4-0 last time out against Wigan Athletic, with forward Luis Suarez hitting a hat-trick to take him 21 league goals for the season, making him the top scorer in England's top flight.
Just a day later, Spurs took on Arsenal in their North London derby match and triumphed 2-1, with attacking midfielder Gareth Bale central to their success as he plundered the opening goal of the game, his 16th of the season.
Suarez and Bale are almost unarguably the two most in-form players in the Premier League, and either one of them could decide the outcome of the game at the weekend.
Here's how they stack up against each other in the 2012-13 Premier League season so far from a statistical standpoint.
Begin Slideshow

»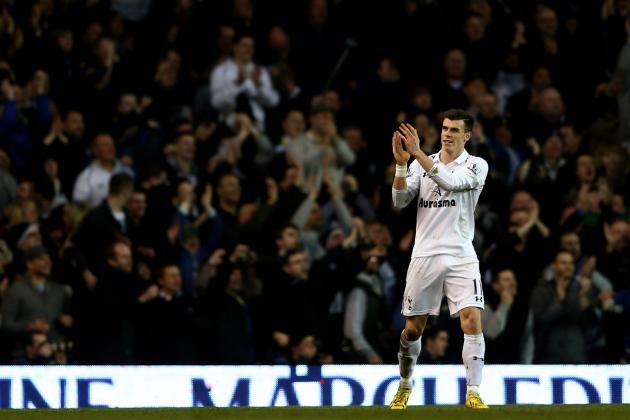 Paul Gilham/Getty Images

Percentages, averages and stats-per-game can tell us a lot of things, but context must always be applied. With that in mind, let's first take a look at the very basis of their performances this season.
| | | | | | |
| --- | --- | --- | --- | --- | --- |
| 2012-13 Premier League | Games played | Minutes played | Assists | Goals | Minutes per goal |
| Luis Suarez | 27 | 2415 | 4 | 21 | 115 |
| Gareth Bale | 24 | 2114 | 1 | 16 | 132 |
Very quickly we can draw a few conclusions from this basic data.
Unsurprisingly, both players tend to play whenever available, and as key men for their respective teams, when they play they are rarely substituted.
Suarez averages more than 89 minutes per appearance, with Bale just behind on 88 minutes.
Their minutes per goal ratios both bare appreciating, with Suarez averaging a better rate than Robin van Persie (19 goals, one every 117 mins) and Bale out-performing Swansea's Michu in the same department (15 goals, one every 150 mins).
The one other obvious difference in their end product this season is in assists, where Suarez leads comfortably, but we will look further into this in due course.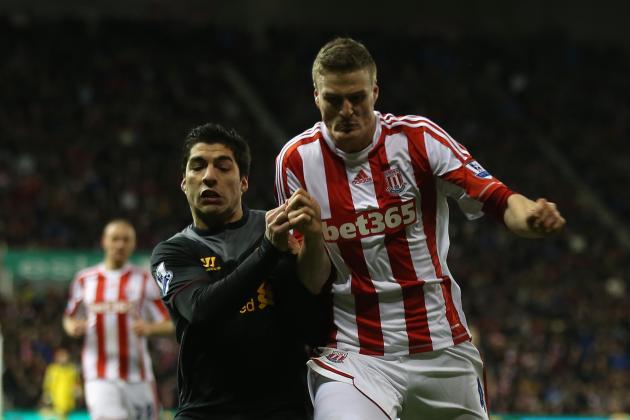 Bryn Lennon/Getty Images

Neither Suarez nor Bale are relied upon to be the main defensive players of their teams, of course, but both still have an obligation to fit into the structure and ethos of each club.
For Liverpool, pressing high up the pitch is an important tactical consideration which Suarez takes to with gusto, while Spurs also look for quick turnovers of possession, especially in the middle third of the pitch, to make the most of their attacking players' attributes.
| | | |
| --- | --- | --- |
| 2012-13 stats | Luis Suarez | Gareth Bale |
| Ground 50-50s contested | 421 | 220 |
| Aerial duels contested | 36 | 99 |
| Tackles made | 33 | 24 |
| Interceptions | 14 | 34 |
| Possession won in defensive third | 11 | 31 |
| Possession won in middle third | 55 | 53 |
| Possession won in attacking third | 26 | 6 |
| Minutes per possession won | 26 | 23 |
Both players contribute to their teams' defensive efforts, and Suarez is evidently perhaps the most hard-working forward in the league right now.
Being a forward he rarely is in a position to challenge in the defensive third, but outscoring Bale in both the central and attacking thirds of the pitch is testament to his teamwork.
His 421 ground duels is by far the highest in the entire Premier League, almost a full 100 ahead of anybody else.
Bale, on the other hand, shows proficiency in the air and makes far more interceptions in open play.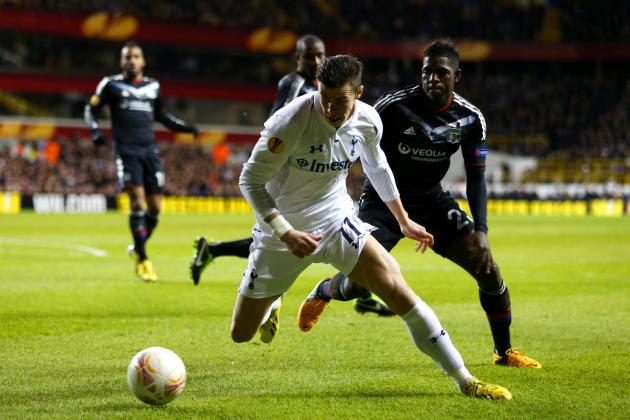 Paul Gilham/Getty Images

Perhaps the most important aspect of all is where the two players fit into their teams and how often, and indeed merely how, they contribute in open play.
2012-13
Luis Suarez
Gareth Bale
Total passes

1036
1069
Pass completion
75.1 %
67.7 %
Attacking zone pass completion
73 %
61 %
Final third pass completion
73 %
70 %
Successful dribbles
78
51
Total crosses
46
215
Crossing accuracy
30 %
23 %
Chances created in open play (non assists)

69
36
Chances created from set pieces

(non assists)

5
20
Minutes per chance created
31
37
Clear-cut chances created
11
7
Total assists
4
1
In terms of contribution to the attacking phase of play, it is clear from the statistics that Luis Suarez is by far the more reliable and consistent of the two, with a couple of notable and understandable exceptions.
Bale, as generally being used as a wide player, has more need and opportunity to cross the ball than Suarez, a central player, does. Despite having a lower success rate, Bale still provides his teammates with far more deliveries from wide areas—50 to Suarez's 14.
In addition, Bale generally tends to deliver crossed free kicks and corners for his team, where Suarez will rarely do so for Liverpool. His free kicks tend to be shots, while he is an infrequent corner kick taker.
There is not much between them in the regularity of chances created, though taking into account injury time it averages out at Suarez creating three chances for his team every match—Bale only reaches two per game, a potentially important difference.
The biggest difference is, of course, in the passing.
As the midfielder Bale might be expected to deliver more reliable passes but he gives the ball away with one from every three passes, with his attacking zone completion rate especially low. Suarez maintains consistency as he gets closer to the goal and is under more pressure from the defence, indicating a better combination of decision making and, perhaps, options to give the ball to.
The Liverpool player also ranks third in the entire Premier League for chances created.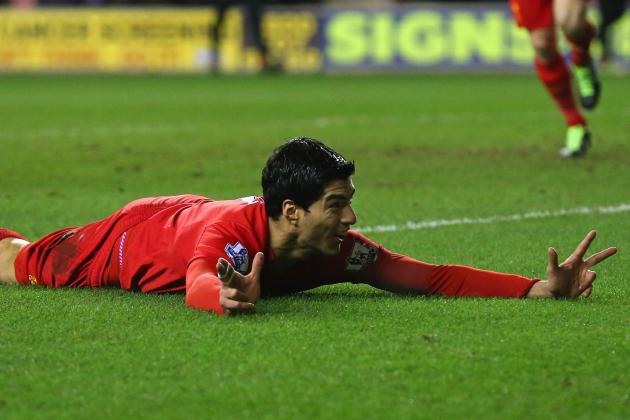 Alex Livesey/Getty Images

Both dangerous talents to the opposition in the final third, Suarez and Bale do one thing best this season: stick the ball in the net.
| | | |
| --- | --- | --- |
| 2012-13 | Luis Suarez | Gareth Bale |
| Total Shots | 116 | 94 |
| Shooting accuracy | 47 % | 57 % |
| Minutes per shot | 21 | 22 |
| Clear-cut chances scored | 14 | 6 |
| Clear-cut chances missed | 11 | 5 |
| Total chance conversion | 18 % | 17 % |
| Goals | 21 | 16 |
Again Suarez comes out on top, but it is a close call in a number of areas.
The minutes per shot statistic equates to the players both getting away around four to five shots per game, and with a chance conversion rate approaching 20 percent for both it is indicative that either player will likely score in any given match.
These two players have had the most shots in the entire league out of any player, and both maintain impressive consistency in hitting the target.
Suarez as the forward might be expected to have more chances, but the two teams line up in different styles, which allows both to almost be the main source of shots at goal.
Ultimately, Suarez as the top scorer and with the better conversion rate remains the more effective forward—but football is not a one-man game, of course.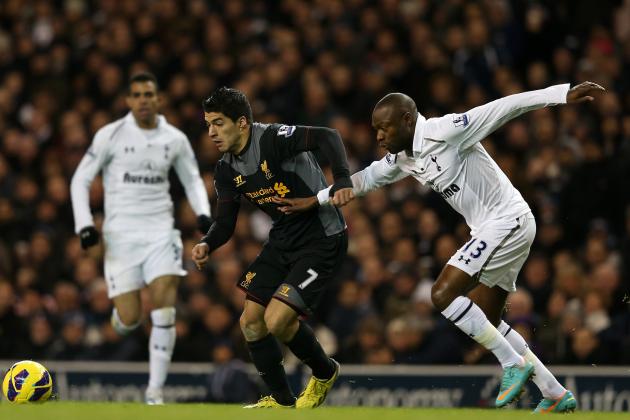 Julian Finney/Getty Images

So how do the two measure up in terms of Sunday's game at Anfield?
Liverpool, as the home team, will expect to have a lion's share of possession, leading to Suarez seeing plenty of the ball in the final third of the pitch.
His excellent in-possession contribution to the team—dribbles, final third pass completion rate and chances created—signifies that he will be a constant danger to the Tottenham defence.
Bale on the other hand possesses excellent non-metric traits; his ability to lead counter-attacks, get into the box late and cut infield also make him a big threat.
There is also the interesting subtext that neither player might feature in their recognised regular role; Suarez as a striker and Bale as a left winger.
Both players have recently featured in an attacking, central role with a true striker ahead of them. This aims to give them space to operate in, plenty of teammates in support and yet keep them close enough to goal to do their main work—put the ball in the back of the net.
Either one of them could turn out to be the match-winner on Sunday. If it's Bale, then Spurs have probably got a top four place wrapped up for this season, if they haven't already.
Should Suarez come out on top, then Liverpool will keep on believing that they can achieve something impressive before the season is out.
All statistical data from EPLindex.com and relate to Premier League matches only