5 Songs That We Associate with Liverpool Football Club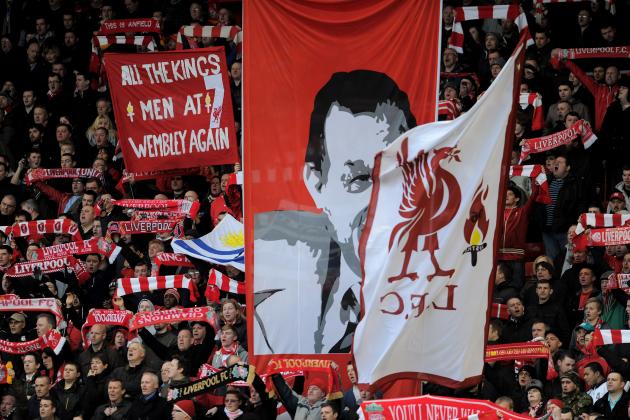 Michael Regan/Getty Images

Few sights or sounds in football are better or more impressive than the Kop, in full voice, before a big game, especially for night time European matches.
Liverpool FC's famous Anfield stadium has hosted some of the most memorable matches in the history of the game, while the traveling crowd have graced many a far-flung stadium in support of the away team.
From Southampton to Spartak Vladikavkaz, Wigan to Wembley, the Kopites leave their memorable impression by way of their songs, tributes and chants, as they cheer their team on to victory.
Like any team, Liverpool choose to remember their past successes and history, as well as laud their current first-team players, through song. Unlike other sides, though, some songs are distinctly associated with this club more than any other.
Innovative, clever, funny, poignant or respectful—songs on the terraces of Anfield often have meaning beyond the weekly cheering of the latest goalscorer who'll be booed off the pitch next week at half-time.
This is Anfield.
These are our songs.
Begin Slideshow

»
A song from the 1960s that has endured over half a century being sung at Anfield, "Poor Scouser Tommy" tells the story of a Liverpool-born supporter who is sent off to fight in the war for his country and sadly ends up being shot.
With his dying breath, he sings of his love for the club—Liverpool Football Club—to display his unending support as the most important thing in his life.
In the 1980s, this song got a bit of a makeover, as a few lines were added to celebrate Ian Rush hitting four goals in a 5-0 win over Merseyside rivals Everton, immortalising another contribution of Rushie's to the club's history.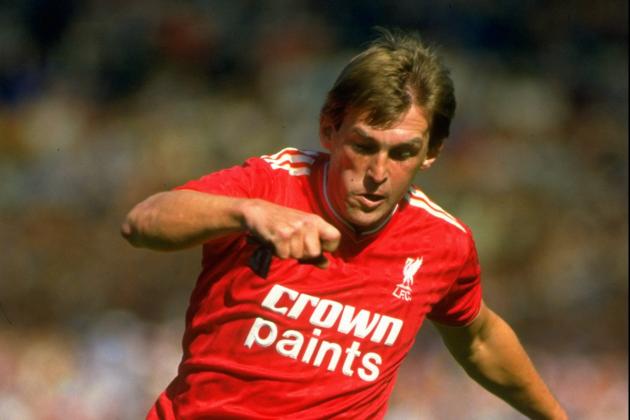 David Cannon/Getty Images

This song, or chant, isn't club-specific to Liverpool, but the meaning is.
The short, sharp, nine-clap salute, followed by the most simplistic of shouts for a two-syllable surname.
Other teams' fans might use it for their favourite player who they can't think up a more creative song for, but at Liverpool, this chant is reserved for only the most revered of all, the top-end striker who has proven himself amongst the world's greatest.
Dalglish.
Fowler.
Torres.
And now, only recently, Suarez.
When defences hear this chant aimed at someone on the pitch in Red, they know they're in for a tough game.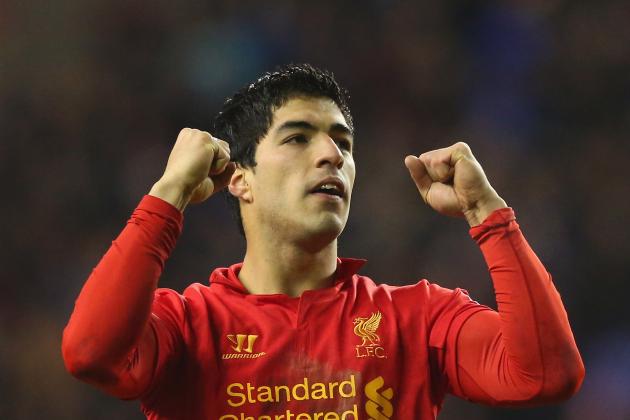 Alex Livesey/Getty Images

Speaking of Suarez...
Liverpool's No. 7, the enigmatic Uruguayan Luis Suarez, was given high honour with a song of his own from the Anfield faithful.
Being the top scorer of the team, and indeed of the entire Premier League, there has been ample opportunity to loosen the vocal chords to the tune of Depeche Mode's "I Just Can't Get Enough," in tribute to the forward.
You can now hear this song belted out from the lower reaches of the football league to North of the border in Scotland and even in a few Premier League grounds, but be in no doubt that it originated from the terraces of the Kop.
All together then:
His name is Luis Suarez, he wears the famous Red...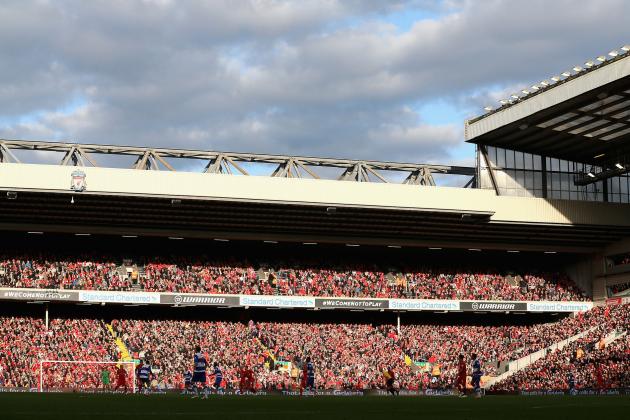 Clive Brunskill/Getty Images

The most often-heard song during matches at Anfield these days is "Fields of Anfield Road."
A rousing adaptation of "The Fields of Athenry," this song remembers the late, great Bill Shankly and Bob Paisley and their triumphs.
The chorus tends to get belted out multiple times in a row when things are going well on the pitch for the Reds.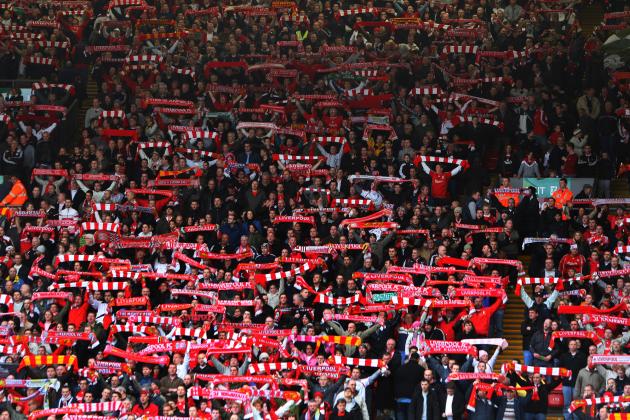 Mark Thompson/Getty Images

A song that needs little introduction to anybody with any knowledge of football.
Though other clubs claim this song too, it is Liverpool's anthem.
Sung before the start of every match and heard in the closing moments of each game too, it can spur the team on to last-ditch heroics, celebrate a well-deserved victory or let the players know that the fans remain with them through moments of turbulent, disappointing defeat.
It encompasses the meaning of being part of Liverpool Football Club and will forever be associated with the Reds, more than any other song.