Chris Leben Blames Greg Jackson for Diego Sanchez's UFC on Fuel 8 Performance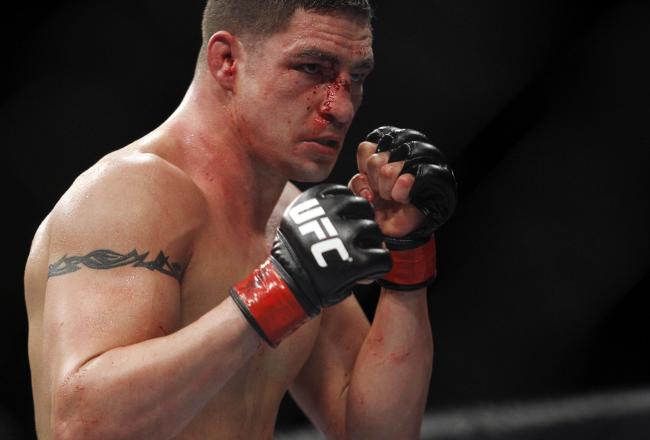 Matt Ryerson-USA TODAY Sports
UFC middleweight fighter Chris Leben has joined the Greg Jackson "unappreciation society" after he blamed Diego Sanchez's subpar performance at UFC on Fuel 8 on the controversial MMA coach.
Sanchez narrowly won a split decision against Takanori Gomi in Japan this past Saturday, in a fight some are calling a robbery.
To an extent it's true. The Sanchez we saw—who now calls himself "The Dream" rather than "The Nightmare"—was far from the reckless maniac who pushed a furious pace in his fights against the likes of Martin Kampmann and Jake Ellenberger. Leben's recent Tweet suggested he laid the blame squarely at Jackson's feet.
"@DiegoSanchezUFC what happened?! You used to move straight forward and crush guys. Too much Greg Jackson i think," said Leben (h/t MMA Mania)
Jackson is a highly regarded MMA coach whose trained champions such as Georges St-Pierre and Jon Jones. He's won Fighters Only's MMA Coach of the Year award in 2009, 2010 and 2011. However, he hasn't been without his detractors.
Many of his fighters are accused of employing a boring, negative strategy—an accusation which has come to taint Jackson's gym in Albuquerque, N.M.
Jackson was held responsible for the controversial Carlos Condit decision win last February over Nick Diaz, in which Condit spent much of the fight in retreat. He was later accused of instilling a similar mindset in Clay Guida, when the lightweight lost a decision to Gray Maynard in June.
Guida has, like Sanchez, gained notoriety as a fearless and tireless fighter. But in his fight against Maynard, his negative style failed to impress the judges or boss Dana White.
White's irritation soon turned into vitriol when he accused Jackson of being a "sport killer" for telling his light heavyweight champ Jones not to take a last-minute fight against Chael Sonnen. That decision led to the collapse of UFC 151, the first time that's happened in the UFC's history.
Such caution has done little to endear him to the MMA fraternity, least of all, it seems, to Leben, who is known to have a ferocious propensity to move forward in his fights. However, Leben himself is coming off a very lackluster decision loss to Derek Brunson at UFC 155 this past December.
Sanchez, meanwhile, was quick to thank Jackson after his win. He said that it was Jackson who told him to "go fight for your family" at the start of the final round which pushed him to victory.
"That was big time man. I'm about to get all choked up. I got my wife and she's pregnant with a baby girl, so that's what this victory was for," said Sanchez (h/t Yahoo! Sports).
Sanchez was fighting at lightweight on Saturday for the first time since his loss to BJ Penn for the title in 2009, although he did miss weight. The fighter has since announced his intention to fight Nate Diaz, the younger brother of Nick, whom he beat in 2005.
But considering the Diaz camp's frustration with Jackson-trained Condit last year, it's still open to question whether Nate would take the Sanchez fight.
This article is
What is the duplicate article?
Why is this article offensive?
Where is this article plagiarized from?
Why is this article poorly edited?