Key MLB Players to Watch in Each Division Race
Shane Victorino is looking forward to a new season with a new team.
Jared Wickerham/Getty Images
With Major League Baseball's spring training well in progress, we can look ahead to the 2013 season with a bit of a clearer picture. Teams and players are slowly rounding into form, looking to get their regular seasons off to the right start.
The new divisional alignment will see teams facing opponents they're not used to seeing on numerous occasions, meaning some tricky games could pop up and shake up divisional races. For teams that are in the thick of the title hunt, that'll mean they need their players to step up.
Here are some of the players that will be key to winning each division. We'll be selecting two from each division, so buckle up and let's go.
Stats from Baseball-Reference.com
NL East: Jason Heyward (Atlanta Braves)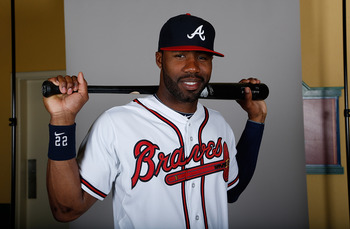 Jason Heyward is looking to build off a solid 2012 season.
J. Meric/Getty Images
The Atlanta Braves will be the biggest threat to the Nationals' hold on the division crown. And having added the Upton brothers to supplement their strong offense, they've got what it takes. But the biggest cog in that outfield might not be Justin or B.J. but rather the third man out there, Jason Heyward.
The big lefty endured a rough 2011 season, but bounced back strong last season, swatting 27 homers and driving in 82 runs. And with the Washington Nationals looking strong at the top of the NL East, Heyward will be pivotal in bringing things together for his club.
Alongside first baseman Freddie Freeman, Heyward is one of the more "established" names (in terms of time with the team) set to make the Braves' lineup. The Uptons can do some work of their own, but having a guy like Heyward behind them in the lineup will be crucial in breaking down opposing pitchers.
Plus, Heyward is a Gold Glove-winning outfielder, meaning he'll be able to save plenty of runs for his own pitchers. The kid's got endless talent, and the Braves will need him to unleash it to its fullest.
NL East: Stephen Strasburg (Washington Nationals)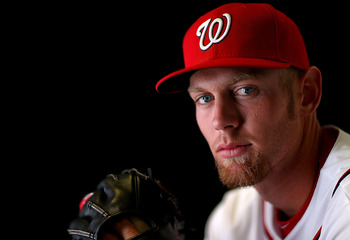 Stephen Strasburg is focused. Will batters be able to match up?
Mike Ehrmann/Getty Images
Undoubtedly one of the top pitching talents we've seen over the last 10 years, Stephen Strasburg's 2012 season was only derailed by an enforced innings cap after he had Tommy John surgery in 2010. Still, his short season was nothing short of effective.
In his 28 starts, the 24-year-old fireballer went 15-6 with a 3.16 ERA, while striking out more than 11 batters per nine innings pitched. His stuff was as nasty as ever, as he allowed just 15 home runs in his starts, while striking out more than four times as many batters as he walked.
With a clean bill of health and no innings cap in sight this time around, the sky is the limit for the San Diego State product. He can work deeper into games, giving his team more chances to win.
And given how good this Nationals team is, if Strasburg is on top of his game, they'll be doing a lot of winning.
NL Central: Andrew McCutchen (Pittsburgh Pirates)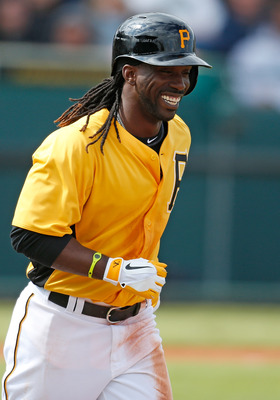 Andrew McCutchen is the star of the show for Pittsburgh.
J. Meric/Getty Images
Last week, I mentioned how I felt the Pittsburgh Pirates could contend for a playoff spot this year. They've got a lot of talent in their ranks; they've just yet to put it all together over a full season. If they're going to do it this year, it'll be down to star man Andrew McCutchen.
The Pirates center fielder was Mr. Everything for his club in 2012, posting a ridiculous .327/31 HR/96 RBI stat line. That earned him third place in NL MVP voting, but that doesn't even begin to tell the whole story of what he means to this club.
Given that he's the big star, he's easily a fan favorite. He's swiped 20 or more bags in all four of his seasons, and made just one error through the entire 2012 season, garnering a Gold Glove. He's a five-tool player, and at age 26, might still be getting better.
One player does not make a team successful, but the Pirates can surround him with solid players across the board. With that in mind, it'll be up to No. 22 to be the driving force for a possible playoff push.
NL Central: Aroldis Chapman (Cincinnati Reds)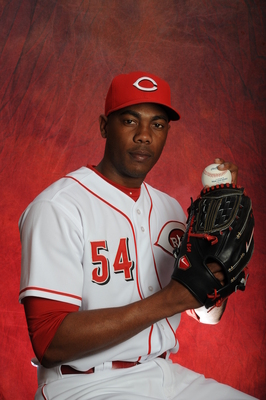 Aroldis Chapman as a starter could be a scary prospect for opponents.
Rich Pilling/Getty Images
Converting Aroldis Chapman into a starting pitcher is a big experiment for the Cincinnati Reds. But given the Cuban defector's immense talent, it's one worth taking, and one that could pay dividends for the reigning NL Central champions.
Johnny Cueto had an excellent 2012 season, but the rest of the rotation lacks a game-changing arm. Chapman provides such an arm. He can throw 100-plus easily, and mows down hitters at will, as his 15.3 strikeouts-per-nine innings ratio in 2012 suggests.
Still, the 71 innings he pitched last season over 68 games is a completely different beast than the 150-plus he'll throw over 30 or so games as a starter. Durability could be a concern, not just in terms of going deeper into games, but doing so continually over the season.
Maybe he'll get capped a la Strasburg, or maybe he'll pitch from the bullpen at times. Either way, more Chapman will spell more strikeouts, and thus more wins for the Reds.
NL West: Matt Kemp (Los Angeles Dodgers)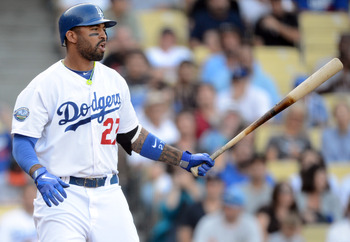 The Los Angeles Dodgers will be hoping Matt Kemp stays healthy in 2013.
Harry How/Getty Images
The Los Angeles Dodgers made a big splash in the offseason by signing free-agent pitcher Zack Greinke, creating a killer one-two punch alongside Clayton Kershaw. But without a doubt, Matt Kemp is the most important piece in the Dodgers' puzzle.
After a stellar 2011 season, Kemp's 2012 campaign was derailed by a couple of injuries that saw him miss more than a third of his team's games. Before then, he had hit 12 homers in April, and his absence over the next couple of months saw his team struggle.
With a potential outfield of Carl Crawford, Kemp and Andre Ethier, a full season's contribution from Adrian Gonzalez and a strong rotation led by Kershaw, Greinke and Josh Beckett, the Dodgers are looking like a top playoff contender this season.
In order for it to stay that way, they're going to need all they can get from their MVP-caliber center fielder.
NL West: Tim Lincecum (San Francisco Giants)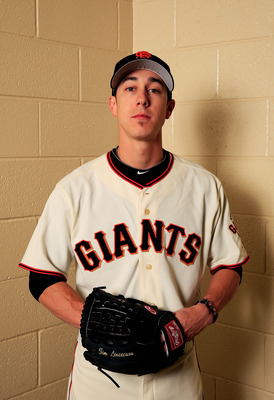 Will a new 'do bring a new Tim Lincecum?
Jamie Squire/Getty Images
The San Francisco Giants put together a sensational 2012 season, culminating in a second World Series title in three years. This time, however, they did it without getting the best out of former Cy Young Award winner Tim Lincecum.
The skinny right-hander endured his worst season as a pro, slumping to a 10-15 record with a 5.18 ERA. To put that in perspective, the ERA totals from his two Cy Young seasons (2008, 2009) add up to 5.10. Needless to say, "Big Time Timmy Jim" wasn't living up to that name in 2012.
Lincecum was reasonably effective from the bullpen in the playoffs, but he'll be back in the rotation, ready to be the second man out after Matt Cain. Perhaps not being the main man will take a little bit of pressure off him, which can help him turn things around.
The Giants still have pretty much the same makeup of the World Series team. But if they're going to hold off the Dodgers, they'll need Lincecum to get back to his "Freak"-ish ways.
AL East: Evan Longoria (Tampa Bay Rays)
Evan Longoria is ready to bounce back from an injury-riddled 2012.
J. Meric/Getty Images
Since exorcising their "Devil" prior to the 2008 season, the Tampa Bay Rays have been in the playoff hunt consistently. 2012 saw them come up a bit short, and one of the biggest reasons why is that star third baseman Evan Longoria missed more than half the season through injury.
Longoria was injured on April 30th and didn't return until August 7th. During that stretch, the Rays were a sub-.500 team, and that stagnation would prove costly, as the Yankees and Orioles made the playoffs ahead of them.
Longoria returned to the lineup well, hitting 13 home runs and driving in 36 in his 51 games after his return. Offseason back surgery combined with more rest for the hamstring that sidelined him should see "Longo" back at the top of his game.
With the AL East looking more stacked than ever, and B.J. Upton now out of the picture, Longoria will have to pick up where he left off and get his team going.
AL East: Josh Johnson (Toronto Blue Jays)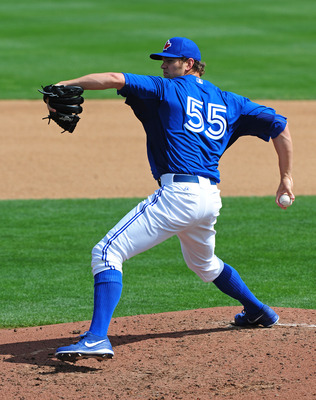 Josh Johnson will need to settle in with his new mates quickly.
Scott Cunningham/Getty Images
Also competing for the soon-to-be hotly-contested AL East crown will be the Toronto Blue Jays. The Jays brought in a plethora of top players through big-ticket moves, and the acquisition of starting pitcher Josh Johnson could be the biggest factor in the Jays' success.
Sure, NL Cy Young winner R.A. Dickey will be the center of attention in this staff. Yes, Mark Buehrle had a much better season than Johnson did in Miami last year. And true, Johnson does have a scary injury history on his record.
But at his best, Johnson is one of the best arms in baseball. His 2.30 ERA in 2010 (28 starts for a sub-.500 club) is evidence of that. Now out of the Miami mess, and with tons of talent around him, the hard-throwing righty has a real chance to thrive.
Bats like Jose Reyes and Jose Bautista will help the Jays put up runs of their own. It'll be down to Johnson and company to corral the other teams.
AL Central: Nick Swisher (Cleveland Indians)
Nick Swisher could turn the Indians' fortunes around.
Christian Petersen/Getty Images
The AL Central was pretty well handled by the Detroit Tigers last season. And with most of that AL pennant-winning nucleus intact, the rest of the teams will have to duke it out to keep pace. The Cleveland Indians are among those teams.
The Tribe were perhaps more active than any team in the offseason, with new manager Terry Francona assembling a host of talented figures. Prominent among those names is former New York Yankees slugger Nick Swisher.
The Ohio State product had been a mainstay in the Yankees lineup over his four seasons there, and he brings plenty of intangibles to the clubhouse as well. With a pretty young core group of players around, a strong veteran presence like Swisher will help bring everything together.
The Indians could shake things up in the Central, and Swisher will be the force behind such a move.
AL Central: James Shields (Kansas City Royals)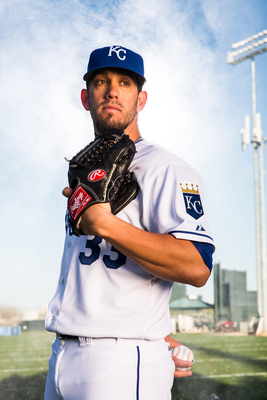 James Shields is poised to lead Kansas City's staff in 2013.
Rob Tringali/Getty Images
The Kansas City Royals finished third in the AL Central in 2012, their best finish in the division since 2003. Looking to improve on that result, the club made a big trade that sent top prospect Wil Myers and others to Tampa Bay in exchange for pitchers James Shields and Wade Davis.
Shields automatically becomes the Royals' ace, giving the club a legit top-caliber starter for the first time since Zack Greinke's departure after the 2010 season. "Big Game James" has gotten better over the last two years, including a third-place finish in AL Cy Young voting in 2011.
Shields comes over from a team that's done a lot of winning in recent years and will look to bring that sort of winning mentality to a team that's lacked such a thing for a while. And he brings one of the game's most tough-to-hit pitches, his changeup (via Royals.com).
He may not put up Verlander-esque numbers in Kansas City, but maybe he won't need to. Just keep being the great pitcher he is, and he can guide the Royals to success.
AL West: Josh Hamilton (Los Angeles Angels)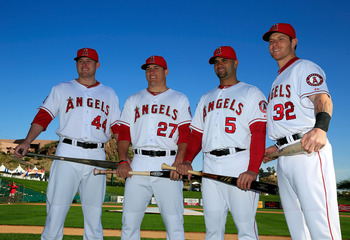 Josh Hamilton (R) joins an already-potent Angels offense.
Jamie Squire/Getty Images
After signing Albert Pujols before the 2012 season, and with Mike Trout having a historic rookie season, the Los Angeles Angels managed to miss the playoffs. In order to rectify the situation, they pulled in another top free agent: Josh Hamilton.
The former top overall pick left the Angels' division rivals, the Texas Rangers, and enters a lineup already boasting the reigning AL Rookie of the Year, a three-time NL MVP and fellow slugger Mark Trumbo. Needless to say, this is a formidable lineup.
It just becomes a matter of how Hamilton adjusts to his new scenery. His checkered past off the field raises a few flags, and a spotty injury history doesn't help either. Where he falls in the lineup could affect his production as well.
The Angels have to improve on their 2012 campaign if they're to justify their big signings. And Hamilton qualifies as such, so he'll need to step up big time to take down his former team.
AL West: Yu Darvish (Texas Rangers)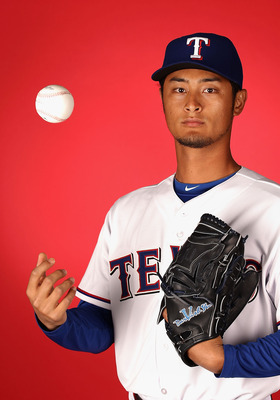 Yu Darvish is ready to take on his second MLB season.
Christian Petersen/Getty Images
One of the men on that former team of Hamilton's looking to stop him is Texas' Yu Darvish. The Japanese import was impressive in his first season in the USA, and will be hoping for more of the same in 2013.
A 3.90 isn't great, but considering his home park is the launching pad of Arlington, it's understandable. His solid 16-9 record and stellar 10.4 strikeouts-per-nine innings mark are indicators that he adjusted quickly to MLB hitting.
The Angels boast a star-studded lineup, which Darvish will likely have to control multiple times during the season. The Oakland Athletics, the reigning AL West champions, feature a deeply talented pitching core of their own. The Hamilton-less Rangers have a lot of work to do in order to keep up with these two.
And Darvish is going to have to take his game up another notch if his team wants to get back to their World Series form of a couple seasons ago.
Keep Reading