One of the biggest questions in Philadelphia right now is what should be done with 76ers coach Doug Collins at the end of the season.

With just 23 games remaining, the 76ers discovered that they'll likely be without center Andrew Bynum now for the rest of the season after he had yet another setback in his recovery from offseason knee injections.

That leaves a team who stands at 23-36, who sits seven-and-a-half games out of the eighth and final playoff spot in the Eastern Conference. It lost 10 of its past 12 games and was just blown out 98-84 at home to an Orlando Magic team who holds the second-worst record in the NBA.

There's plenty of blame to be placed across ownership, players and the entire coaching staff as to why the season has turned into such a disaster.

No matter what happens in the final 23 games, there's three reasons why the Sixers should keep Doug Collins at the end of the season.
Reason No. 1: Collins never had a chance with the players he's had to work with.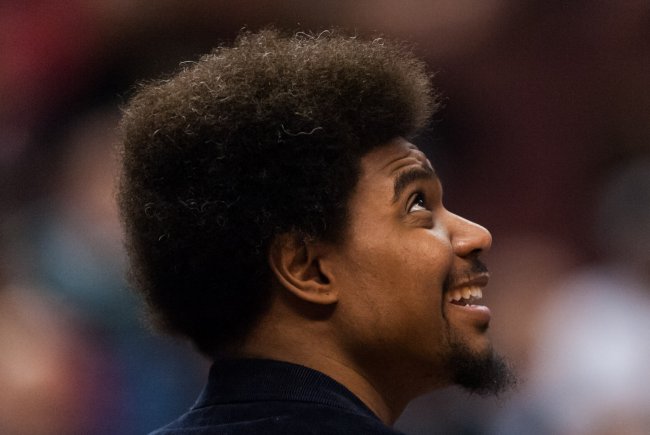 USA TODAY Sports
When you build your team around one player and expect him to play for the majority of a season, obviously your team will be doomed if that player is unable to play.

That was the case for Doug Collins as center Andrew Bynum has missed the entire season due to chronic setbacks in his recovery from knee injections in the offseason.

On top of that, starting shooting guard Jason Richardson is out for the rest of the season after having surgery for left knee synovitis, which is inflammation in the knee joint. All-Star guard Jrue Holiday and forward Thaddeus Young have each missed extended time as well.

For Collins, not having the talent necessary to win basketball games has been a huge crutch in his coaching ability. The clearest issue has been his team's inability to rebound the basketball or defend in the post. Spencer Hawes, Lavoy Allen and Kwame Brown have been extreme disappointments and seem to get dominated on a nightly basis on the blocks.

Jrue Holiday and Thaddeus Young's production have both stayed pretty consistent, but Evan Turner and Nick Young have performed as inconsistent as it gets.

If Collins had all of his players healthy this season, it would've been a totally different story.
Reason No. 2: Collins is highly respected among the ownership, other coaches, fans and the media
After the 76ers were blown out by the Magic on February 26th, Doug Collins rightfully called his team out in the postgame press conference for their utterly disgusting display.
ESPN's Stephen A. Smith and Skip Bayless discussed his blowup on First Take and had nothing but kind words to say about Collins. Here's a video of their full discussion:


ESPN's Stephen A. Smith and Skip Bayless discuss Doug Collins' recent blowup.

By Smith saying that the 76ers are lucky to have Collins means a lot. Collins truly cares about his players as well as putting a winning team on the floor and it kills him that he's unable to do so with the hand he was dealt.

Coaches such as the Boston Celtics' Doc Rivers also endorse Collins as a coach and told Comcast SportsNet back in August of 2012 that Collins should be the next coach of Team USA in the 2016 Olympic games.

Most importantly, Sixers owner Adam Aron completely endorsed Collins to remain as the coach in a recent interview with CSN Philly's John Gonzalez on Tuesday. Aron explained:


I do (expect Collins to be back next year), Aron clarified. But, what I was saying was, I hope he's not back for one year, I hope he's back for years and years and years. Having said all that, this isn't about our coach. This is about an entire organization working together to produce a winning, contending, elite team for Philadelphia and Philadelphia sports fans. This year, primarily because of the (Andrew) Bynum situation, we haven't been able to do that. There is going to be a lot of work that is going to have to go on in the offseason to take the Sixers from where we are today to where we want them to be.
Unless Collins decides to walk on his own, it seems like he has too many people in his corner for him to be fired. The ball is in his court.
Reason No. 3: Despite struggles, 76ers still rank seventh in team defense.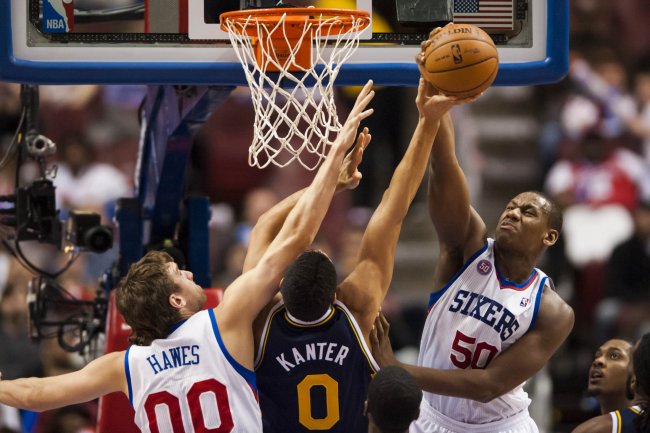 Howard Smith-USA TODAY Sports
Last season the 76ers ranked third in team defense under Doug Collins, allowing opponents to score just 89.4 points per game. This season the team ranks seventh, allowing opponents to score just 95.7 per game.

Although offensively the 76ers have been among the worst in the NBA this season, it's a promising sign that Collins has been able to keep the defensive intensity of the team up despite the teams awful record. With a more legitimate lineup of bigs who can actually rebound and scorers who can be more consistent, Collins might be able to turn things around offensively.

Out of the teams who rank in the top 10 defensively, only the Washington Wizards and 76ers are non-playoff teams if the season ended today. With a few roster adjustments in the offseason, the 76ers just might be able to turn things around offensively and make life for coach Collins a little easier moving forward.