Indiana Basketball: 5 Lessons Learned from Loss to Ohio State
Andy Lyons/Getty Images
The Indiana Hoosiers came up short against Ohio State, losing 67-58. With the loss, IU missed a chance to capture the outright Big Ten title. Indiana has a lot to work on before the NCAA tournament.
After a game like the one they just played, IU will have much to study in order to get better. The following slideshow will show what the Hoosiers should learn from their loss to the Buckeyes.
Offense Needs to Flow Through Zeller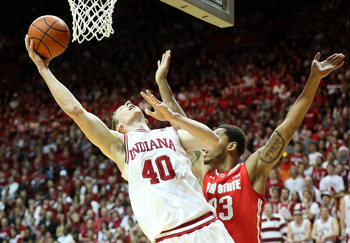 Andy Lyons/Getty Images
Cody Zeller was the only player IU could count on against the Buckeyes. He finished the game with 17 points, shooting 5-of-9 from the field and 7-of-8 from the free-throw line.
Zeller showed tonight, as he has all season, he has the ability to carry the offense.
Getting the ball to him, especially in the post, can set up other players. He fights through double teams and finds other for open shots. IU needs this dimension in their offense, going forward.
When Zeller does decide to attack the basket, he either scores or gets to the free-throw line. He is effective at the charity stripe, shooting 75 percent from there this season.
The Hoosiers need to get the ball in his hands whenever they can.
Offense Stalls Without Oladipo or Zeller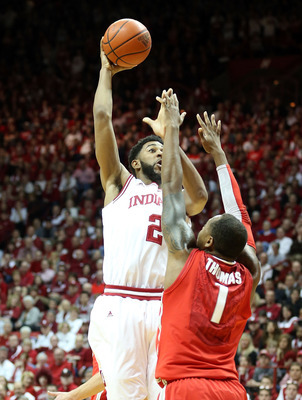 Andy Lyons/Getty Images
It was evident in the first half that when Victor Oladipo and Cody Zeller struggle, the Hoosiers are in trouble. Both were in foul trouble early, and when they had to go to the bench, IU's offense became stagnant.
This is concerning for the Hoosiers, as the NCAA tournament approaches. They are too dependent on their dynamic duo.
Someone on Indiana's roster, whether it's Jordan Hulls, Christian Watford or Will Sheehey, has to start playing better. It's possible that Oladipo, Zeller or both, could have an off game. If this happens, it's up to Tom Crean to have an offensive contingency plan so that others can score effectively.
The Hoosiers must be prepared for this situation before the start of March Madness.
Man-to-Man Defense Is Effective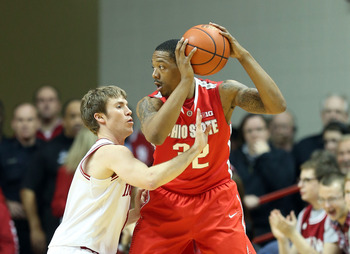 Andy Lyons/Getty Images
IU didn't win the game, but its defense was solid. Indiana played man-to-man and forced Ohio State into tough shots as the shot clock was expiring. Ohio State just made those difficult shots and sometimes that will happen in a game.
This contest showed that IU needs to scrap the zone going forward. When they used it against Minnesota last week, Indiana's defense got torched.
Against Iowa last Saturday, the Hoosiers played man-to-man and held the Hawkeyes to 60 points and won easily.
The Ohio State loss further proved that playing tough man-to-man should be what the defense does from here on out. If they can play that same type of defense, they will win more often than not.
Turnover Troubles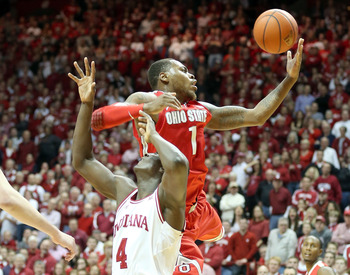 Andy Lyons/Getty Images
Indiana committed 12 turnovers against the Buckeyes. Seven of those turnovers came in the second half.
Those mistakes plagued the Hoosiers as they attempted to get back in the game. Ohio State only turned the ball over seven times, showing just how important turnovers were to the outcome of the contest.
In all of Indiana's losses this year, they have committed double-digit turnovers. Going forward, Indiana must take better care of the basketball.
Need to Push the Pace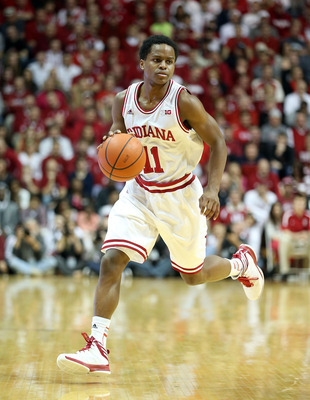 Andy Lyons/Getty Images
Indiana needs to do a better job at setting the pace of the game. Ohio State slowed the game down and forced Indiana into half-court offensive sets. This resulted in a struggling offense for the Hoosiers.
This game showed that IU has to keep the game at a high speed. Their half-court offense isn't as efficient, especially when they have trouble getting the ball to Cody Zeller.
IU is at their best when Yogi Ferrell and Victor Oladipo can get out in the open court, they are able to make transition layups or find a trailing Christian Watford/Jordan Hulls for a wide open three-pointer.
This team is fast at every position. Pushing the pace has tired opposing defenses out this season and is something they need to continue to do as a result of the loss to Ohio State.
Keep Reading

Indiana Hoosiers Basketball: Like this team?