Sign or Pass on the Minnesota Vikings' Remaining Free Agents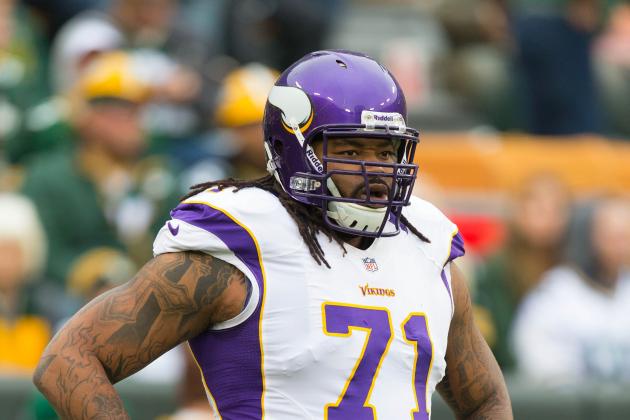 Jeff Hanisch-USA TODAY Sports
Phil Loadholt is Minnesota's biggest free agent this offseason.
The biggest move Minnesota has made this offseason was releasing Michael Jenkins after his two-year stay in the Twin Cities.
The deadline to place the franchise tag came and went on Monday, and the Vikings didn't place the tag on anyone, including right tackle Phil Loadholt.
But there will be plenty of in-house moves upcoming.
Loadholt, Jasper Brinkley, Jerome Felton and Erin Henderson highlight Minnesota's 13-member free-agent class this offseason.
Free agency begins March 12 at 3 p.m. CST, which means it's time to discuss whether these 13 will don Purple and Gold in 2013, or if they will be elsewhere. Each slide will end with a verdict of "sign" or "pass."
Let's go.
Begin Slideshow

»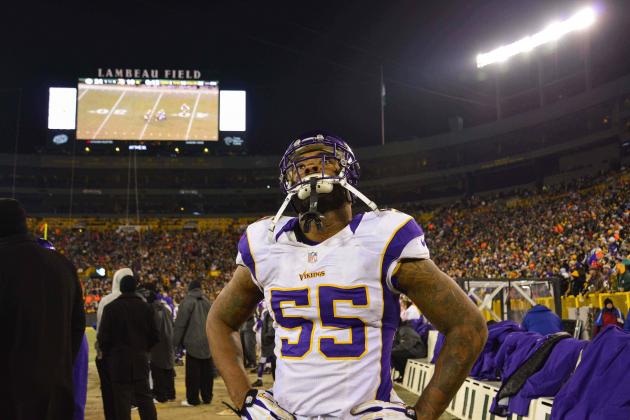 USA TODAY Sports
Marvin Mitchell played sparingly in 2012.
The main purpose of Marvin Mitchell in 2012 was to fill space on special teams.
He did a fine job of that and recorded nine tackles and two forced fumbles.
But at 28 years old (he'll turn 29 on Oct. 21) and no upside to the 2007 seventh-round pick, it'd be best for the roster spot to go to a younger player.
There are plenty of young players who can replicate his body of work.
Verdict: Pass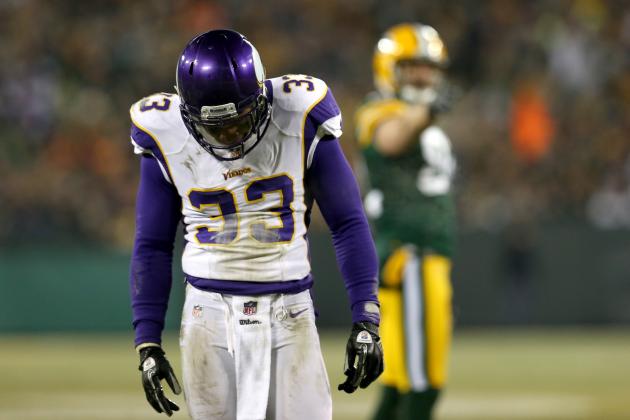 Jonathan Daniel/Getty Images
Jamarca Sanford recorded 66 tackles in 16 games last season.
When Mistral Raymond went down with an ankle injury in Week 3 against the San Francisco 49ers, it allowed Jamarca Sanford the opportunity to reclaim the job that was once his.
He didn't overwhelm or underwhelm in his time as a starter. He was very average.
Sanford recorded 66 tackles, four forced fumbles, zero sacks and zero interceptions.
The 27-year-old is known as a run-stuffer who struggles in pass coverage. That was on display in 2012.
The 2009 seventh-round pick shouldn't be given the keys to the starting position in 2013, but he'd be a good addition to the defensive backfield's depth.
Verdict: Sign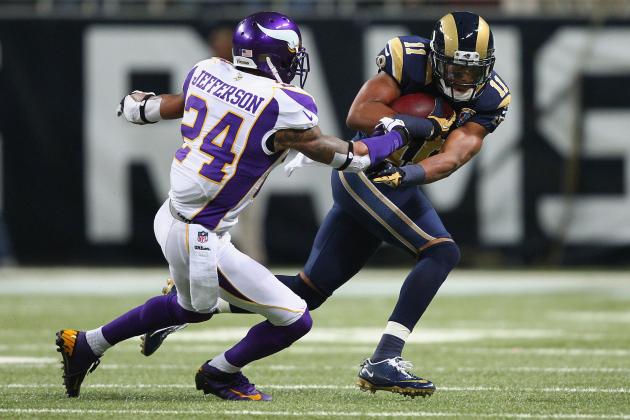 Dilip Vishwanat/Getty Images
A.J. Jefferson provides depth to Minnesota's cornerback corps.
The majority of Vikings fans seem to hope A.J. Jefferson isn't a Viking in 2013.
Yes, he was a target in the final two games against the Green Bay Packers and did get burnt often.
Minnesota doesn't want to be in a position where it has to give Jefferson significant playing time in 2013, but that doesn't mean he has no value for the upcoming season.
Jefferson, 6'1" and 190 pounds, has good size and is still young (turns 25 in April). Minnesota surrendered a 2013 draft pick to acquire Jefferson just before the 2012 season began, which means he was playing catch up on Minnesota's system after spending most of training camp with Arizona.
Minnesota should bring Jefferson back, but in a reduced role. Josh Robinson, Antoine Winfield and Chris Cook will be Minnesota's top three cornerbacks. Jefferson could compete for the fourth spot.
He won't be expensive, and could prove to be a diamond in the rough given his youth and size. He's rough now, but it's early.
Verdict: Sign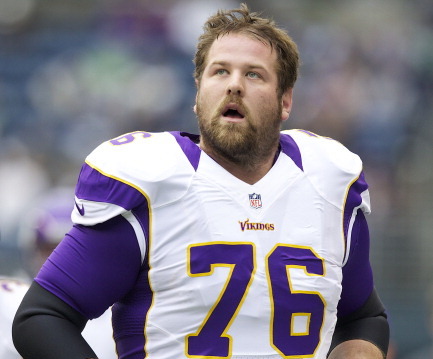 Stephen Brashear/Getty Images
Geoff Schwartz was signed to be Minnesota's right guard but injuries derailed his 2012 campaign.
The biggest problem for Geoff Schwartz in his young career is health.
Drafted in the seventh-round of the 2008 draft, Schwartz spent his first season on the Carolina Panthers' practice squad before getting promoted for 2009 and 2010.
Jeremy Fowler of the St. Paul Pioneer Press proclaimed Schwartz was prime for a breakout after playing every snap in 2010 for the Panthers, but a hip injury cost him the following year.
Then he signed with the Vikings with the intent of competing for the right guard job. But a sports hernia forced him to miss three games last season, and he never made a grand impact.
But his versatility, youth and cost make him an attractive piece. Minnesota should sign him to another one-year deal full of incentives.
Verdict: Sign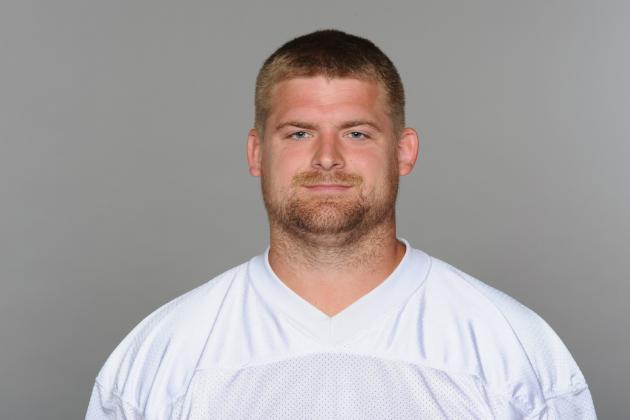 Handout/Getty Images
Joe Berger provides versatility to Minnesota's offensive line.
Like Geoff Schwartz, Joe Berger provides versatility to Minnesota's offensive line.
He served as John Sullivan's backup in 2012, and can also play either guard position.
At 30 Berger is unlikely to progress into anything other than a stable backup. But that's all Minnesota should expect out of him.
With Sullivan entrenched at center and the front office expected to fill the other two guard spots during the offseason, it makes sense to bring Berger back as a reserve.
Verdict: Sign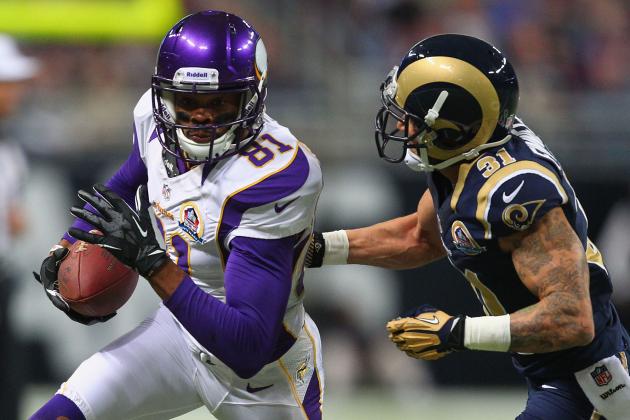 Dilip Vishwanat/Getty Images
Jerome Simpson caught 26 passes for 274 yards in his first season with Minnesota.
The inauguration of Jerome Simpson to Minnesota started off on a bad note.
After signing with the Vikings it came out that Simpson had broken the NFL's drug policy and would be suspended for the first three games of 2012. And it all basically went downhill from there.
Simpson never found a rhythm in the offense and had trouble with drops.
He didn't become the downfield threat the Vikings thought they were signing the 27-year-old receiver. His first season in Minnesota ended with 26 receptions for 274 yards with zero touchdowns.
It's sad for Simpson that Minnesota is a team desperate for wide receivers and his services won't be retained. This should be a situation where Simpson is one and done in the Purple and Gold.
Verdict: Pass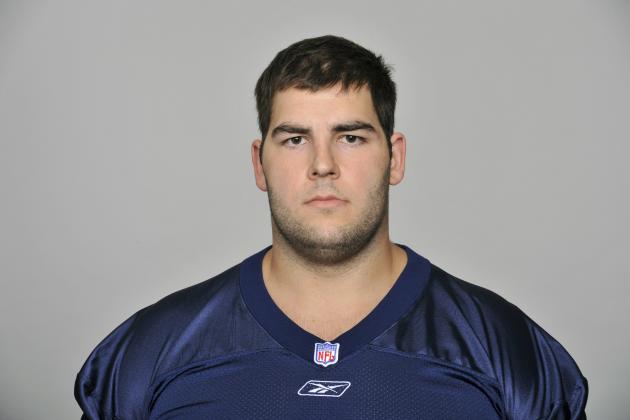 Handout/Getty Images
Troy Kropog was promoted to Minnesota's 53-man roster on Dec. 7 after Percy Harvin was placed on IR.
Troy Kropog spent much of his 2012 season bouncing around practice squads.
The third-year offensive tackle began 2012 on the Tennessee Titans' practice squad and was cut in September. The Jacksonville Jaguars scooped him up and cut him three days later. He signed with Minnesota's practice squad on Sept. 18, and was promoted to the 53-man roster on Dec. 7 after Percy Harvin was placed on IR.
Kropog was a fourth-round pick in 2009 out of Tulane by the Titans. He played six games for the Titans between 2009 and 2010 before spending 2011 on their practice squad.
He has good size (6'6" and 325 pounds), but hasn't ever demonstrated abilities to be a starter.
Minnesota can find better players to fill out its roster.
Verdict: Pass
Brace Hemmelgarn-USA TODAY Sport
Jerome Felton was named to the Pro Bowl during his first campaign with Minnesota.
Behind the blocking of Jerome Felton, Adrian Peterson rushed for the second most yards in history and came up just 9 yards shy of tying the league's mark. And because of his accomplishments Felton was named to the Pro Bowl.
Felton's first season as a Viking was a major success, and now the man wants to be paid.
The fifth-year pro offers little to the offense beyond his blocking skills. He rushed the ball zero times and caught three passes for 35 yards. He's never had more than 22 rushes or 13 receptions in a single season, and that's unlikely to change in the future.
But he's very good at what he does and that's making holes for the NFL's best back. Minnesota, until its quarterback forces the offense to do otherwise, is a run-based offense.
That means the skills of Felton are desirable and necessary.
Minnesota will have to cough up a few million per season to make it happen, but it's a worthwhile investment.
Verdict: Sign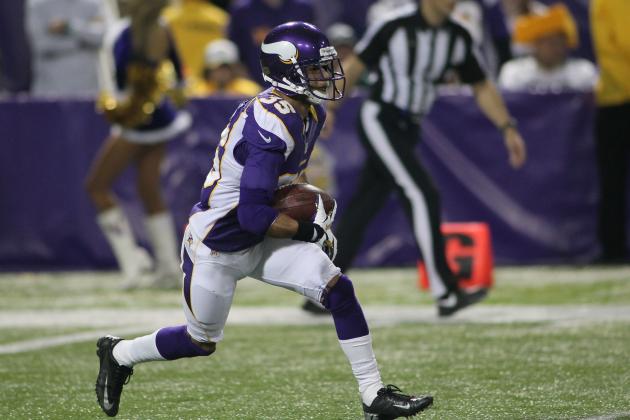 Andy King/Getty Images
Marcus Sherels is a serviceable punt returner who struggles in coverage.
This situation is simple: If Minnesota wants Marcus Sherels, then he will be a Viking in 2013.
The former Minnesota Gopher is an exclusive restricted free agent. That means if Minnesota makes an offer at the three-year veteran minimum salary then he'll be a Viking in 2013.
Otherwise he'll be gone.
What Minnesota decides to do will depend on how much it values Sherels' skills as a punt returner. That's the lone reason the Vikings would bring him back in 2013.
Sherels showed little progress as a defensive back, but continued to show skills as a punt returner in 2012, which included a punt return for a touchdown against Detroit in Week 4.
He recorded nine tackles last season.
Minnesota drafted Josh Robinson last season, who has a history with punt returns.
Sherels' limitations as a cornerback should keep him off the roster in 2013.
Verdict: Pass
Brace Hemmelgarn-USA TODAY Sports
Andrew Sendejo is a 25-year-old backup safety.
In his three-year career, Andrew Sendejo has played a combined 18 games, 13 of which came this past season as Minnesota dealt with numerous injuries and suspensions at the safety position.
Sendejo has good size (6'1" and 200 pounds), but doesn't show glimpses as a powerful tackler or as a tactical coverage man. He's plain and boring. He forecasts as a backup for his career.
In 13 games he recorded six tackles in 2012.
Beyond Harrison Smith, who's on his way to stardom, Minnesota has two players who fit that description or better (Jamarca Sanford, who I expect Minnesota to re-sign, and Mistral Raymond).
There's no need to re-sign Sendejo. Give someone else a chance.
Verdict: Pass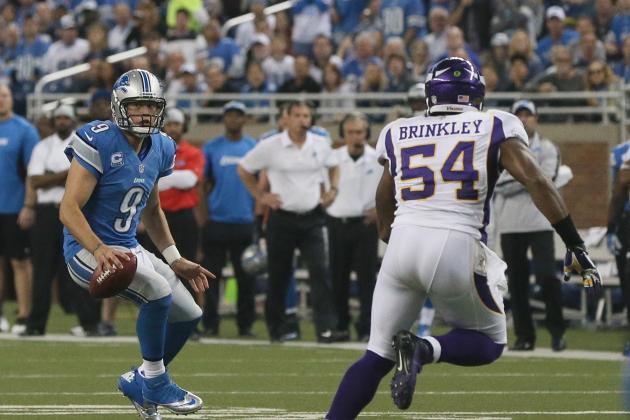 Dave Reginek/Getty Images
Jasper Brinkley recorded 97 tackles in his first season as Minnesota's middle lineabcker.
The keys to the defense were handed to Jasper Brinkley last season after three seasons serving as E.J. Henderson's backup.
Minnesota was expecting to see the same run-stuffing skills from Brinkley that it got from Henderson over the previous five seasons with similar limited abilities in pass coverage.
The limited pass coverage skills were evident, but the regressed play against the run was unexpected.
Brinkley still recorded nearly 100 tackles in his first season as the starter (finished with 97), but given the favorable setup of the defense for the middle linebacker to make plays that total should have been greater.
Too many times Brinkley allowed himself to get too easily blocked or gave bad pursuit. That's unacceptable.
Brinkley has only been a starter for one year and has three healthy seasons of experience to his name. He's not going to be a hot commodity on the market, and should be able to be retained at a reasonable price.
Minnesota should strongly look at Georgia's Alec Ogletree if he's available at No. 23, but bringing back Brinkley would be a smart move.
He's only been a starter one year and will be 28 in July, which means his best years should be right in front of him. Give him a one or two-year deal with heavy incentives.
Verdict: Sign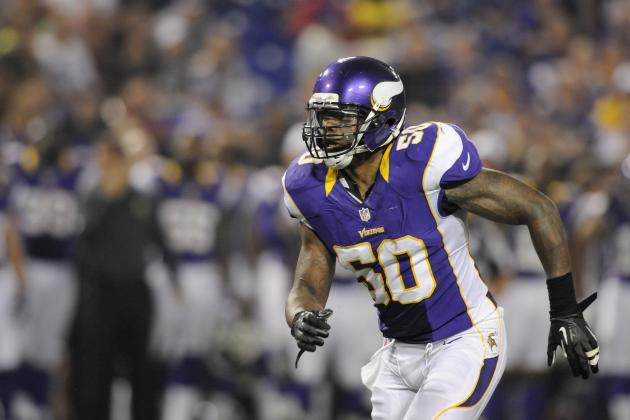 Hannah Foslien/Getty Images
In his second year as a starter, Erin Henderson showed glimpses but wasn't consistent.
This situation mirrors Jasper Brinkley's.
Erin Henderson has been Minnesota's starting outside linebacker for two seasons. He's shown glimpses of potential but hasn't ever put it together consistently.
He appeared ready for a big season through the first two games of 2012 with two double-digit tackle displays, but a concussion against the Indianapolis Colts in Week 2 derailed his season. He finished with 79 tackles, three sacks and a forced fumble in 14 games
Henderson will be 27 on July 1 and has value in that he knows the system. Also, he showed glimpses before his concussion.
The former Maryland Terrapin will draw more interest on the market than Brinkley, but still won't be overwhelmed with offers. If Minnesota wants to, it should be able to retain his services for a reasonable rate, barring a surprise big offer.
If that's the case, then he should be retained for no more than a three-year incentive-heavy deal. Minnesota should still consider addressing the position early in the draft if a talented player slips.
Verdict: Sign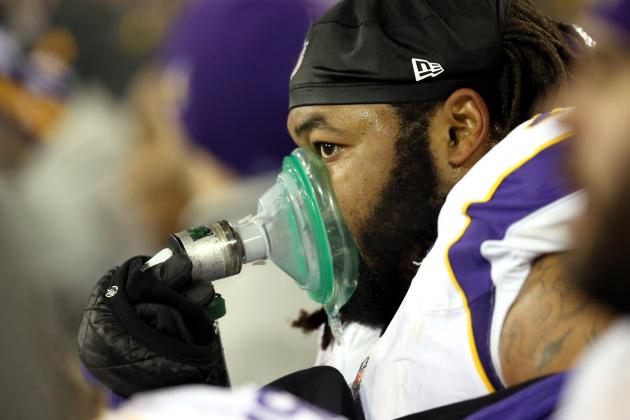 Jonathan Daniel/Getty Images
Phil Loadholt has earned mixed reviews from fans but the front office wants him back, at a price.
The front office has made its intentions clear on Phil Loadholt: It wants him back.
It tried to negotiate a new deal with him during the 2012 regular season, according to 1500 ESPN. There's clear interest on the front office's side of things, and there should be.
Loadholt really struggled in 2011. He took a massive step back in his development. But he made steps to re-gain the form that had the franchise optimistic about the future of the right tackle position after 2009.
He is a powerful tackle who can push his man off the line but doesn't do a great job getting to the second level. He showed improvement as a pass blocker this season, and showed the ability to slow faster defensive ends; of course he still got beat from time to time.
At 27 years old and with four years of experience, he should be entering the prime of his career.
He has earned a new contract, to a point. He shouldn't be paid among the game's best tackles, but he should be somewhere in the middle.
If you're not a fan of Loadholt, what would you suggest the franchise do at the position?
Verdict: Sign