Predicting Ric Flair's Long-Term Role in WWE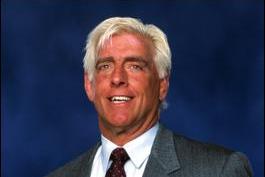 courtesy of thesun.co.uk
Ric "The Nature Boy" Flair's return to WWE was one of the most remarkable events to take place at the 20th anniversary of Monday Night Raw.
Speculation has been going on for months as to what Flair's new role in WWE will be.
Will Ric Flair have an ongoing on-camera role, or will he only make appearances here and there (like on the recent "Old School" Raw episode in the corner of The Miz)?
Let us explore five possibilities for Ric Flair in WWE.
Begin Slideshow

»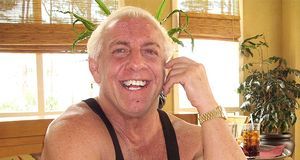 courtesy of espn.com
Ric Flair could be an invaluable asset in a behind-the-scenes role in WWE.
His knowledge stretches back to an era that most of the current stars were not even born to witness. If Flair were to become a road agent, his knowledge of how to build a match could bring some fantastic moments to WWE programming.
Knowledge from veterans is an invaluable tool to younger superstars; there are few that have more of it than Ric Flair.
However, I do not personally see Flair doing behind-the-scenes work for a variety of reasons. It does not seem in Flair's personality to be off camera. Also, I do not think Flair would want to take on any role where he would have to be one of the "liaisons between the creative team and wrestlers (per wrestlingnewsworld.com)."
This type of off-camera role does not suit Flair because it would sadly dismiss his most useful asset—his ability to sell anything to a crowd that comes his way.
Flair should not be used in a behind-the-scenes role, as he could do so much more for WWE in a more active capacity.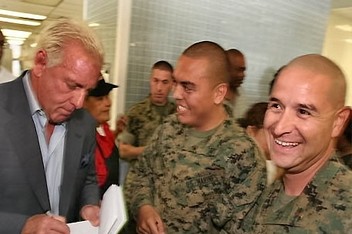 courtesy of rfgolds.com
At this point in Ric Flair's career and life, he has been through enough to openly discuss his personal life on air.
Flair is the one who has seen it all, done it all and lived through it all, in and out of the squared circle. He could be the ultimate WWE Goodwill Ambassador.
This role could solidify Flair's place in WWE history as the greatest pro wrestler of all time. Appearances by Flair on behalf of WWE will guarantee crowds.
It seems that Flair is ready to take on the mantle of being the elder statesman of pro wrestling. Leaving this as his final act in pro wrestling will ensure that his name will never be forgotten amongst fans.
As WWE's Goodwill Ambassador, Flair can be in the spotlight without having to be on WWE programming, or he can still occasionally appear and participate in angles.
This would be a fantastic role for Flair when he starts to slow down a bit more. Right now, Flair has the energy for more of an on-camera role it seems, and to not use him to his maximum capacity would be foolish.
At some point (if nothing goes awry between WWE and Flair), he will be their elder representative, but for now, he should have a more active role.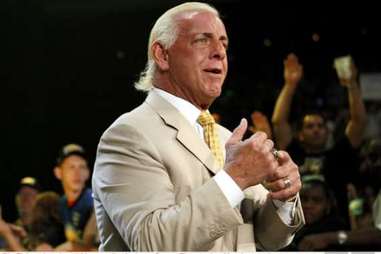 courtesy of wwemafia.com
Before Flair returned and offered his figure-four leg lock to The Miz on the 20th Anniversary of Monday Night Raw, there was some speculation that Flair would return to manage Dolph Ziggler.
I, for one, was intrigued and excited about the possibility of this happening. Ziggler has all of the traits of those who have been compared to Flair in the past (like Curt Hennig and Shawn Michaels): incredible athleticism, charisma and distinct personality.
When Flair did not go on to manage Ziggler, I was only slightly disappointed, because the plans for Flair as a manager could be for superstars lower on the card or on NXT.
Whoever is managed by Flair will have an opportunity to receive an incredible rub. The only downside is that the superstar managed by Flair needs to have at least some of the charisma Flair does to keep up with him. If Flair is paired with someone who lacks charisma, there is little Flair can do to help, other than act as just a mouthpiece.
I am not sure who Flair would serve best as a manager, as of this writing. In the role of a manager, though, Flair would be assured of camera time at least weekly, and he would definitely add excitement to WWE programming.
Recently, Flair returned from an NXT tour in Australia, where he was in the corner of his daughter, NXT superstar Charlotte (per ewrestlingnews.com). Is this a sign of events to come?
Most recently, Flair worked the corner for The Miz, as evidenced by the Old School Raw episode. The Miz and Ric Flair work extremely well together, but I do not see the partnership lasting. If Flair continues to work with The Miz, I hope that he soon turns on The Miz and returns to be "The Dirtiest Player in the Game."
A Flair heel turn one last time, managing another pro-wrestler against The Miz, could be very exciting and show a new generation of fans just how great of a heel Flair can be.
Flair can still take a bump or two, and as a heel manager he could take some funny bumps to liven up whoever he manages.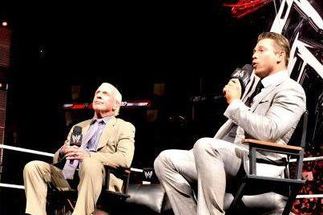 courtesy of ringside rundown
I am not familiar with Ric Flair as even a part-time color commentator in NWA, WCW, or WWE. I did find a grainy WCW Monday Nitro clip from 1996 with Ric Flair on commentary. The closest I have heard of Flair on regular color commentary is of the WCW talk show he had in 1993, "A Flair for the Gold."
Clips of this show are shone in some WWE produced DVDs most famously documenting the feud between The Hollywood Blondes and Ric Flair/Arn Anderson. Although Flair is fantastic on the microphone, I am not sure how that would translate as a color commentator during a broadcast. His style on the microphone does not seem suited to commentary, as his excitement level could not possibly go for two or three hours straight.
If Flair has never had this role before, WWE should let him try it. At least, Flair could work some commentary in for whoever he may end up managing, be it The Miz or someone else.
As a color commentator, Flair could be very useful in putting over talent. This should be done in short bursts, as to keep fans believing in the almost maniacal energy of Flair elbow-dropping his sports coat.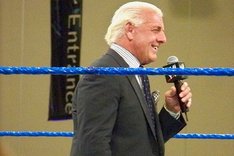 courtesy of cagesideseats.com
Ric Flair has been a general manager before; he even had a feud with Vince McMahon regarding the role.
If Flair becomes a general manager of one of the two flagship shows, he will definitely have a weekly impact. Unfortunately, general managers seem to do little more than make a match or two on Raw or SmackDown.
The talent of Flair to put over talent verbally would be squashed in this role. Also, Flair would have to play a role that is not suited to his current personality as an entertaining, crazy old legend of wrestling who likes to entertain and have a good time.
By becoming a general manager, Flair would revisit a role he has previously had, but it would not utilize his talent completely to put over other talent.
What do you think Ric Flair's role in WWE should be?