5 Players Who Will Shine in Place of Graduated Teammates This Spring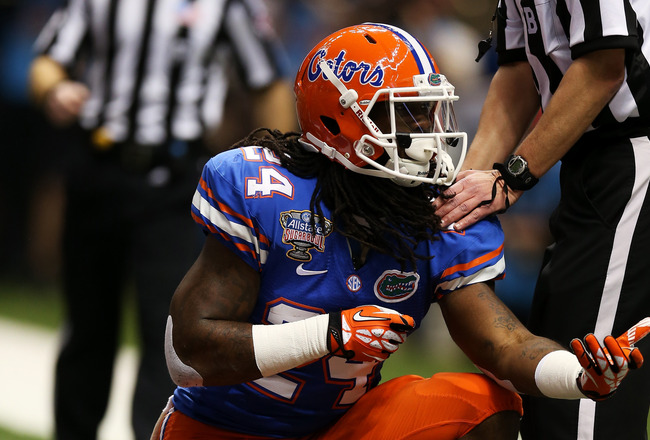 Matthew Stockman/Getty Images
A simple fact of life in college football is that players must one day graduate. Of course, some players decide to leave early as the lure of big-time football in the NFL is too great to ignore.
But one good thing that comes from the loss of top-notch players is the chance for those coming up behind to show what they can do.
And there's no better place to make your debut as a potential superstar than in spring practice.
So, which players are ready to step up in the place of those who have left for the NFL or graduated? Read on.
Taysom Hill, BYU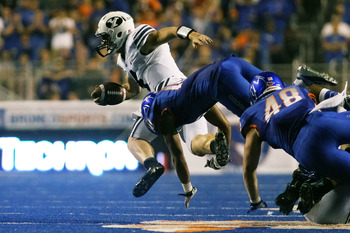 Otto Kitsinger III/Getty Images
While I admire Riley Nelson's toughness, his senior season was a disappointment. This is particularly true when you think of the quarterbacks that have come through BYU, including Jim McMahon, Steve Young and Ty Detmer.
Taysom Hill just may be the answer for what ails the Cougars at quarterback.
While Riley Nelson was elusive, Hill is a whole lot quicker and has a better arm. However, the big question is whether or not he can stay healthy behind a questionable offensive line. He tore his knee in the middle of last season. However, there's hope that he can live up to the BYU quarterback legacy more than Nelson was able to do.
Robert Nkemdiche, Ole Miss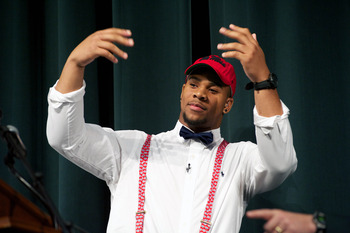 Dale Zanine-USA TODAY Sports
I'm sure there are plenty of people who don't know who Ole Miss' Jason Jones is. He made a decent contribution to the Rebels as he picked up 27 tackles and 3.5 sacks.
However, his replacement is bound to make some waves.
DE Robert Nkemdiche was the No. 1 overall recruit according to Rivals.com. He's got some great potential as he picked up 43 sacks in high school. I have a feeling a lot of people are going to be excited to see Nkemdiche in Ole Miss' spring game.
T.J. Yeldon, Alabama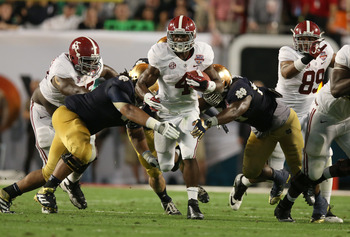 Matthew Emmons-USA TODAY Sports
T.J. Yeldon had a fantastic A-Day game last year, which proved to be great foreshadowing for his freshman year as Eddie Lacy's primary backup. Yeldon rushed for over a 1,000 yards while splitting carries with Lacy and was uncatchable against great defenses like Georgia and Notre Dame.
And now that Lacy has gone to take his place in the NFL, it is Yeldon's time to really shine.
Don't be surprised if spring ball for Yeldon turns into a springboard for a Heisman campaign for the true sophomore.
Anthony Wilkerson, Stanford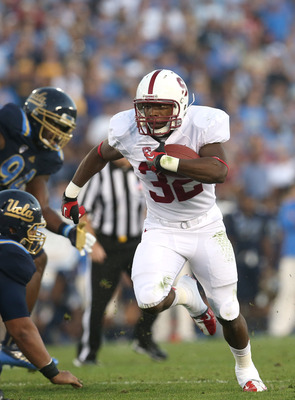 Stephen Dunn/Getty Images
Stepfan Taylor and his 1,530-yard performance is gone, leaving Anthony Wilkerson the opportunity to prove his worth as a running back.
Wikerson saw limited playing time as Taylor's backup with just 224 yards on 50 carries, but he's got decent size at 6'0" and 218 lbs, plus great speed with a 40-yard dash time under 4.5 seconds.
Stanford fans will surely miss Taylor, but Wikerson could be the next great thing for the Cardinal's new dynasty in the Pac-12 North.
Matt Jones, Florida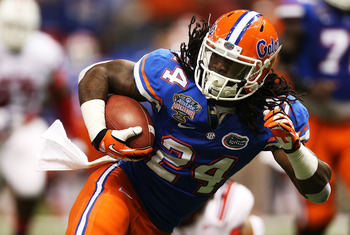 Matthew Stockman/Getty Images
On a team that is in desperate need for some offense, Matt Jones could be the man to provide it in 2013.
Mike Gillislee had a fantastic senior year in 2012 with 1,152 yards and 10 touchdowns, but now that he's graduated, it is time for Jones to pick up the torch and run with it.
Jones didn't get a whole lot of carries last season, but he did average 5.3 yards per carry. At 6'2" and 228 lbs, he's the kind of "bruise 'em" running back we expect to see in the SEC. I expect him to make an impact starting this spring as he vaults into the starting position.
Keep Reading