Fantasy Baseball Players Who Will Benefit from a New Team in 2013
Victor Decolongon/Getty Images
Outfielder Josh Hamilton was a high-profile free agency signings in the offseason, leaving the Texas Rangers for the Los Angeles Angels.
While tried-and-true players who have been with the same team for years are always nice to have on a fantasy baseball roster, new and exciting players are necessary to mix up a lineup.
While these players have proven themselves before, some of them have slumped in the past few seasons.
Heading into 2013, many of these players are finding themselves in a new uniform and a new town, ready to make an impact on the major league once again.
With many fantasy baseball drafts only a few days or weeks away, owners may want to consider players who have recently declined, but could benefit from a new team.
These players, like Josh Hamilton, Heath Bell and the Upton brothers, could end up being some of the best fantasy performers all season.
Whether it be just up the road or across the country, a new team can mean the world to a struggling player, and these players are must-haves on any fantasy teams.
Begin Slideshow

»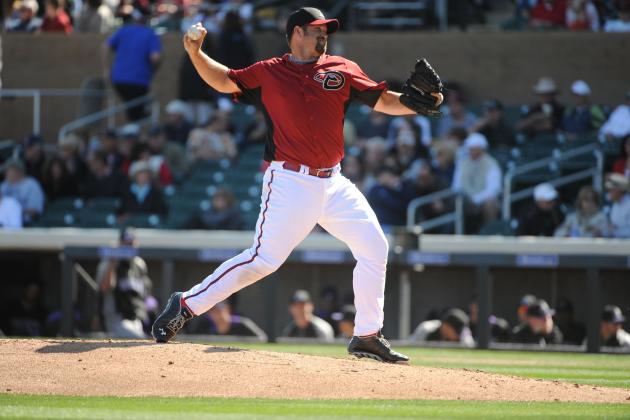 Rich Pilling/Getty Images
Relief pitcher Heath Bell struggled with the Miami Marlins, but is looking to improve his numbers in Arizona.
Heading into 2013, Heath Bell is looking to rebound from one of the worst seasons of his career.
Last year with the Miami Marlins, Bell only saved 19 games and finished with a 5.09 ERA.
Since then, Bell has changed teams and is now with the Arizona Diamondbacks. While the Diamondbacks already have J.J. Putz closing games, Bell might perform better under less pressure in a short relief role.
It's not like Bell hasn't proven himself before. Between 2009 and 2011, Bell had 132 saves, an average of 44 per season. In 2010, he had a career-low ERA of 1.93.
With the pressure off in Arizona, knowing the team can count on Putz, Bell should improve his numbers from last season.
While he might not get very many saves, his ERA and strikeout total could help any team, and in the event that Putz is injured or struggles at any point in the season, Bell would be Arizona's backup option at closer.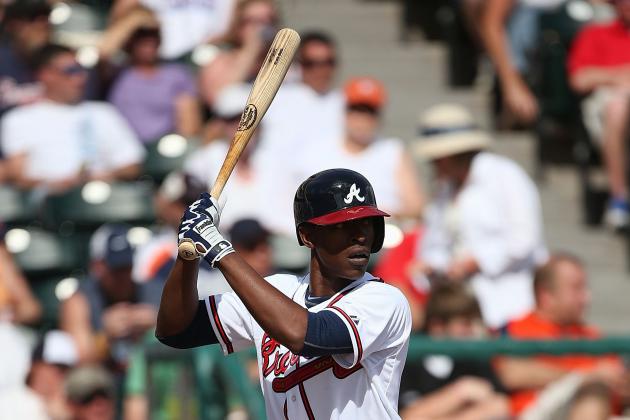 Leon Halip/Getty Images
Joining his brother in Atlanta, B.J. Upton has struggled in his career with batting average and runs batted in, two things that are sure to improve in the Braves' lineup.
The former Tampa Bay Ray, who will be joining his brother Justin on the Atlanta Braves, has never seemed to have consistency in his career.
Upton seemed to have the best year of his career in in 2007, hitting .300 while driving in 82 runs and hitting 24 homers.
In terms of power numbers, it was all downhill from there, hitting nine, 11, 18 and 23 home runs in the following seasons. His average also declined every season between 2007 and 2010.
However, the center fielder came back in a big way in 2012, hitting 28 homers and putting up a .246 average.
He was acquired via free agency by the Braves and his numbers will only go up from there. With names like Dan Uggla, Freddie Freeman and Jason Heyward surrounding him, Upton is sure to have a big 2013.
Rich Pilling/Getty Images
The biggest name in free agency this offseason, Josh Hamilton chose the Los Angeles Angels over other potential teams, including his former team, the Texas Rangers.
While Josh Hamilton had career highs in 2012 in home runs and runs, his signing with the Los Angeles Angels puts him in a position similar to his American League MVP campaign in 2010.
That season Hamilton had a .359 batting average while slugging .633 and hitting 32 homers, his previous career high.
On the Angels, Hamilton will be surrounded by fellow sluggers Albert Pujols, Mark Trumbo and Mike Trout.
This certainly isn't knocking Hamilton for his 2012 season, but in L.A., it's likely that Hamilton will put up even better numbers.
Midseason, Hamilton went into a slump, only hitting eight home runs between June and July, and he had a .177 average in July. It's pretty unreal to think the kind of numbers Hamilton could have put up had he not gone through that slump.
While a lot of his success hinges on him not being distracted by some of the pitfalls of L.A., Hamilton is a strong pick.
Leon Halip/Getty Images
In addition to his brother B.J., Justin Upton is looking to improve his numbers on the Atlanta Braves.
If B.J. Upton makes this list, it's only fair to have his brother on here as well. Just like B.J., Justin Upton has joined the Atlanta Braves via trade from the Arizona Diamondbacks.
However, Justin has struggled much more in the past than B.J. Last season, Upton had his worst season in power, slugging .430 and only hitting 17 homers.
While he scored a career-high number of runs, he still struck out 121 times.
There has always been a lot of talk surrounding Upton, and with a new team and his brother in his ear, Justin Upton could have one of the best years of his career in 2013.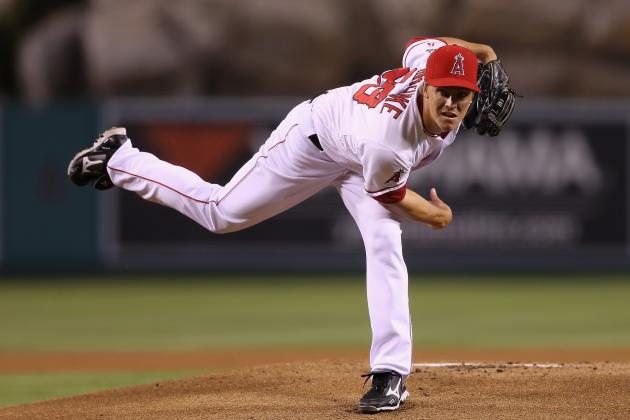 Jeff Gross/Getty Images
After spending time with the Los Angeles Angels and the Milwaukee Brewers in 2012, Zack Greinke is looking to settle down with the L.A. Dodgers.
After splitting time between the Milwaukee Brewers and Los Angeles Angeles in 2012, starting pitcher Zack Greinke has settled down on another team in L.A., the Dodgers.
The Dodgers signed Greinke to a six-year, $147 million contract, hoping he'll return to his 2009 form. Since then, Greinke has struggled, especially in the ERA category. After logging a 2.16 ERA in 2009, it went up to 4.17 in 2010, then back down to 3.83 in 2011 and 3.48 in 2012.
While Greinke finished with a 15-5 record at the end of 2012, he walked 54 batters, his highest since 2010, and struggled with the previously mentioned ERA.
Despite striking out 200 batters and only giving up 18 homers, Greinke is still going relatively low in many mock drafts. In the Sports Illustrated mock draft, Greinke fell to the middle of the fifth round, and in the Fox Sports mock draft, he fell to the last pick in the fourth round.
If Greinke is going that low, he'll be considered one of the best steals of the draft. His numbers are sure to improve from 2012, especially in a pitching rotation that already features Clayton Kershaw and Chris Capuano.
Mike Ehrmann/Getty Images
Denard Span was one of the quieter signings of the offseason, but fills the much-needed role of leadoff hitter for the Washington Nationals.
While Denard Span certainly isn't a name that jumps off the page during a lot of fantasy drafts, he could prove to fill a niche role in many fantasy lineups.
Traded to the Washington Nationals in November, Span will fit right into Washington's lineup as the leadoff hitter.
While he certainly won't get any team power numbers (his career high for home runs is eight), he steals a lot of bases, and his numbers are sure to improve in the Nationals' lineup, which is one of the strongest in the league.
Span scored 71 runs in 2012 on the Minnesota Twins, but with players like Bryce Harper, Adam LaRoche and Ryan Zimmerman hitting behind him, that number is sure to go up.
With a career .357 on-base percentage, he has the lineup behind him to drive him in.
While the center fielder won't be going in any early rounds, the change of scenery is sure to drive up his numbers, and he'll be well worth a late pick.